Lien des albums photos en bas de page
Ce soir nous avons rendez vous avec un des bluesman les plus prolifiques de ces 20 dernières années. 54 ans, 24 ans de carrière et 31 albums enregistrés. Excusez du peu ! Ted Horrowitz, alias Popa Chubby (Je vous laisse chercher la traduction de "Pop a Chubby".... ) est de retour à Bordeaux. Après avoir écumé la plupart des salles de la ville (Krakatoa, BT59, 4sans, Vigean.... ) ce soir c'est au Rocher de Palmer que nous avons rendez vous avec un des plus grands guitaristes en activité.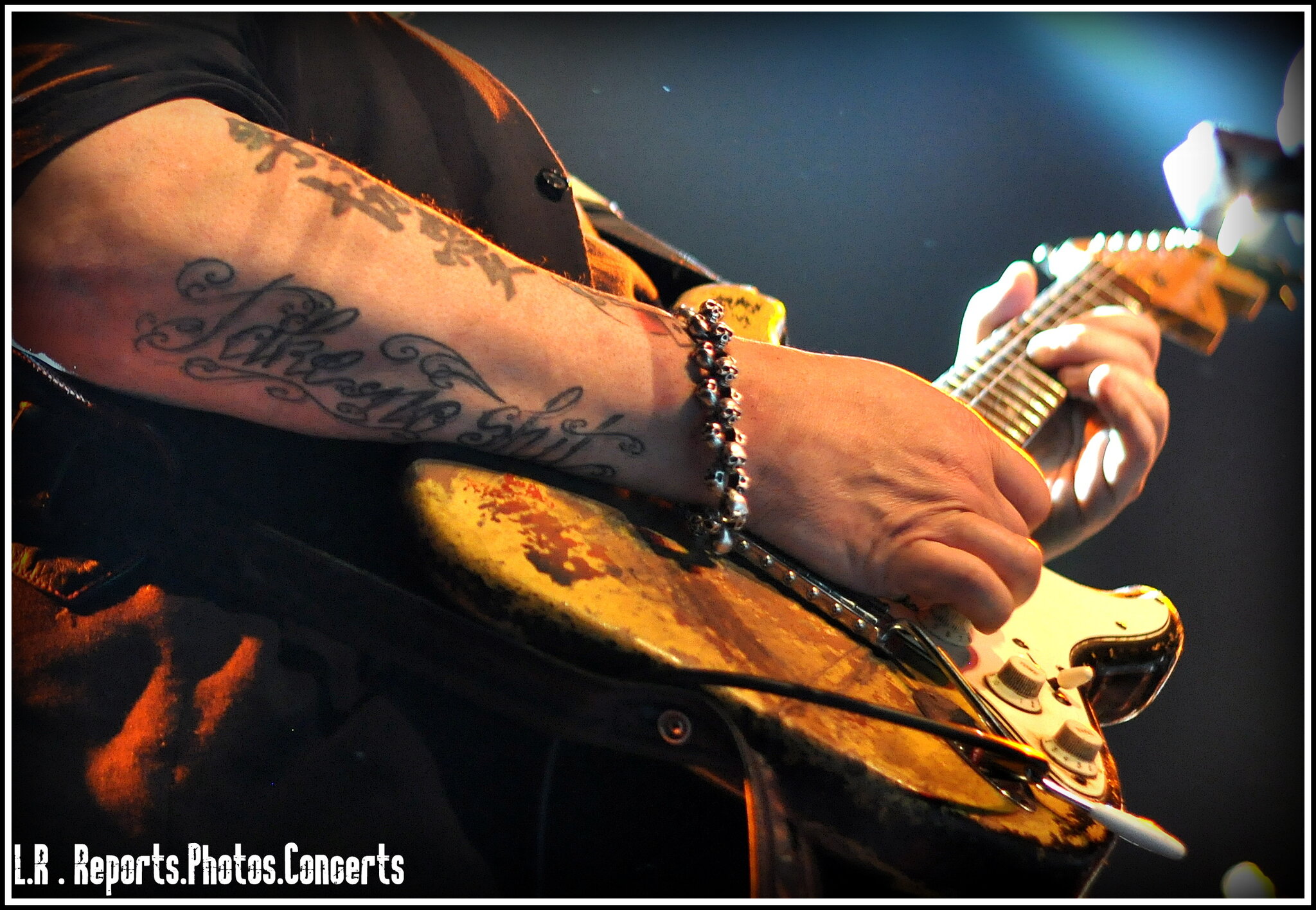 Nous savons avant même d'arriver sur les lieux que le concert serait long. Car Popa Chubby a l'habitude de tout donner à son public. D'ailleurs en parlant de public nous sommes surpris de constater que la salle 1200 de Palmer est pratiquement pleine, au bas mot nous devons être plus de 1000, ce qui est quand même peu commun pour un artiste délaissé des grands médias. Mais le public blues est fidèle. La moyenne d'âge va de 20 à 70 ans.. Avec quelques jeunes qui sont là avec papa et (ou) maman afin de faire leur éducation musicale. Bons parents.....
En guise de première partie Dave Keys, le clavier de Popa Chubby, viendra chauffer la salle durant une petite vingtaine de minutes. Il nous dit qu'il est déjà venu dans la région, pour jouer au festival Cognac Blues Passions, et que ça lui fait très plaisir de revenir.. Merci Dave !
Petit entracte de 15mn puis les musiciens rentrent sur scène, commencent a jouer "Going Back To Amsterdam (Reefer Smokin' Man)" puis annoncent l'arrivée de Popa Chubby, qui arrive (très) difficilement jusqu'à sa chaise... S'empare de sa Stratocaster et nous balance le premier solo de la soirée. Magistral.
Une fois les deux premiers titres envoyés, histoire de rentrer dans l'ambiance, Popa nous annonce que le concert est enregistré pour un album live à venir. Ce ne sera pas le seul car le show de Castres l'a été également.. Et certainement d'autres.. Ça fait plaisir de voir un artiste qui enregistre ses lives en France.
La setlist évoluant chaque soir, et grand amateur de reprises, Popa va nous en jouer un certain nombre ce soir. Nous avons d'entrée droit à deux titres de Freddie King : "Palace Of The King" et "Same Old Blues", qu'il enchaînera directement avec "Rock Me Baby" de BB King (qui l'avait déja piquée à Lil' Son Jackson en 1964..). Le son de Popa Chubby se fait beaucoup plus agressif, bien sûr, que BB et Freddie, On ne va pas parler de blues pur, mais de blues rock, qui n'est pas sans rappeler le son de guitare de Stevie Ray Vaughan, décédé 1 an avant la sortie du premier album de Popa...
"I'm Feeling Lucky", le dernier effort du guitariste, sorti en 2014 afin de fêter son retour chez Dixiefrog, sera bien représenté sur cette tournée, et nous sommes particulièrement ravis de retrouver le superbe "Rock On Bluesman", qui représente tout ce qu'est Popa : Rock et blues.
Malgré les nombreuses reprises et les morceaux tirés de différents albums du guitariste, l'ambiance a du mal a décoller. On a un petit peu l'impression que le public est venu "au spectacle", voir un guitariste, mais pas communier avec lui. Le public Bordelais a la réputation d'être difficile, mais mince, quand même !!
La salle est superbe, le son sublime, le musicien exceptionnel, on enregistre un album live.... Que faut-il de plus aux gens ???
Il y a même quelqu'un qui hurle "J'aime pas la guitare !!!" .. On croit rêver...
Le grand classique de Hambone Willie Newbern s'annonce, "Rollin' And Tumblin', classique parmi les classiques, fait monter la température. Repris déja des dizaines de fois depuis 1936 (même le Grateful Dead s'y est frotté) le compositeur originel de ce titre doit se retourner dans sa tombe tellement cette version est différente. Son de guitare bien agressif, solo au bottleneck... Superbe.
Grand amateur de rock, ce ne sont pas moins de 4 titres (oui 4 !) des Rolling Stones qui sont enchaînés. Enfin 3 plus 1, car si "Wild Horses" "Sympathy For The Devil" et "Brown Sugar" sont bien des Stones, avec "Love In Vain" il en est autrement puisque le titre a été écrit en 1937 par Robert Johnson.. Mais popularisé par Mick Jagger & co. Popa place des solos bie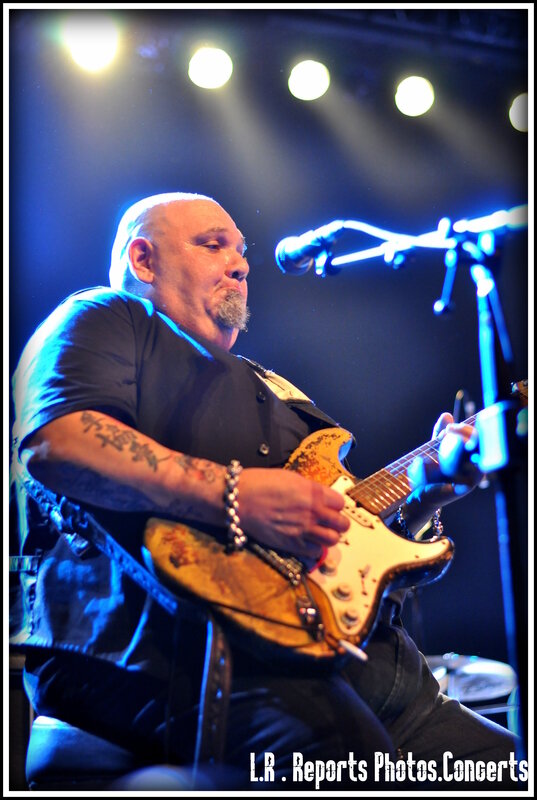 n tranchants, et surtout en place ! Contrairement à un certain Keith...
Moment fort du concert, Popa dédie le titre "Daddy Played The Guitar And Mama Was A disco Queen" à ses parents, grâce à qui il fait de la musique aujourd'hui. Nous nous joignons à lui avec grand plaisir pour les remercier.... !
Le titre "69 Dollars" est rallongé de plus de 5 minutes par rapport à la version studio de 2013 car nous avons droit à un solo de basse avant que Popa se joigne à son batteur sur un deuxième kit de batterie afin de faire un "duel" que, personnellement, je trouverai un petit peu longuet..
Déjà que l'ambiance avait du mal à décoller...
Cela fait 160 minutes que le concert a commencé, et s'annonce la reprise de Leonard Cohen "Hallelujah".. conclusion absolument sublime. Voir ce colosse avoir autant de groove, et une voix aussi délicate alors qu'il s'est escrimé durant presque 3 heures avec sur ses Stratocaster et Telecaster est LE moment émotion du gig.
Il manquera juste une petite cover du maitre Jimi Hendrix, pour qui Popa Chubby voue une admiration sans borne. Ça aurait été parfait.
Après avoir tout donné pendant presque 3h, la scène se vide, la salle se rallume. Les gens ont l'air ravis ! Mais public bordelais, un jour il faudra que tu comprennes que les artistes ont besoin d'ambiance et de communion pour "vraiment" te donner ce que tu veux... Alors la prochaine fois ? D'accord ?
Merci beaucoup à http://www.allezlesfilles.net/ et Maxime.
LIEN DE L'ALBUM PHOTOS :
Popa Chubby : https://www.facebook.com/media/set/?set=a.732708936842942.1073741848.701659989947837&type=1
LIENS DES ARTISTES :
Popa Chubby : http://popachubby.wix.com/popachubby
Dave Keys : http://www.davekeyes.com/
Setlist (170mn)
01- Going Back To Amsterdam (Reefer Smokin' Man)
02- I Was Looking Back
03- Palace Of The King
04- Same Old Blues
05- Rock Me Baby
06- Working Class Blues
07- Trigger Face Boogie ?
08- Cafeine And Nicotine
09- One Leg At The Time
10- Rock On Bluesman
11- I've Been Loving You Too Long
12- Life Is A Beatdown
13- Rollin' And Tumblin'
14- Sympathy For The Devil
15- Wild Horses
16- Love In Vain
17- Brown Sugar
18- (Dave Keys song)
19- (Dave Keys song)
20- The People Blues
21- Another Ten Years Gone
22- Daddy Played The Guitar And Mama Was A disco Queen
23- Noise Making Love Machine
24- 69 Dollars
25- Hallelujah