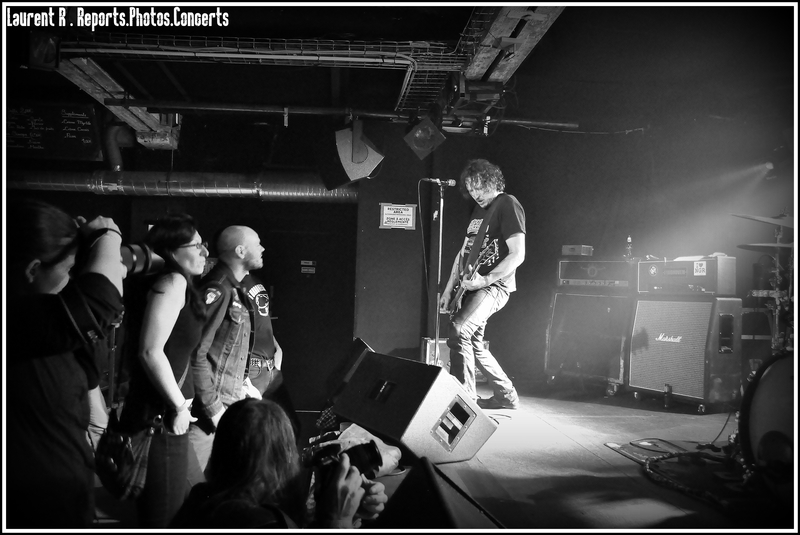 (Lien des albums photos en bas de page) Grosse soirée au Bootleg. La région est placée en vigilance orange avec de gros risques d'orages et de grêle, mais le Bootleg, lui, est placé en vigilance rouge. Rouge sang même ! Les Néerlandais de Peter Pan Speedrock viennent nous rendre visite au milieu de leur tournée Européenne, et la date de ce soir est la dernière en France. Demain le groupe part en Allemagne, en Finlande, au Danemark, puis retour au bercail pour plusieurs dates. En première partie nous allons pouvoir mesurer les progrès de Fueled, découverts le mois dernier, au même endroit.
Mais avant d'aller plus loin je voudrais juste pousser un petit coup de gueule. On entends régulièrement les gens se plaindre, du style "Ouuuaaaiiisss Bordeaux c'est naze ça bouge pas, y'a rien comme concerts intéressants". Vous voulez savoir combien nous étions ce soir là ?? Trente et un pelés, dont vingt-deux entrées payantes !!! Je ne sais pas si je dois vous le rappeler mais au Bootleg il peut y avoir jusqu'à 300 personnes... Alors au lieu de gueuler comme des cons, bougez vous un peu.... Bien sûr tout le monde a des impératifs, je comprends bien, mais bon, vingt deux entrées quoi.....
Ceci étant dit, le trio Bordelais ouvre les hostilités et va ravir nos oreilles durant quarante minutes. Un petit peu désabusé devant le peu de personnes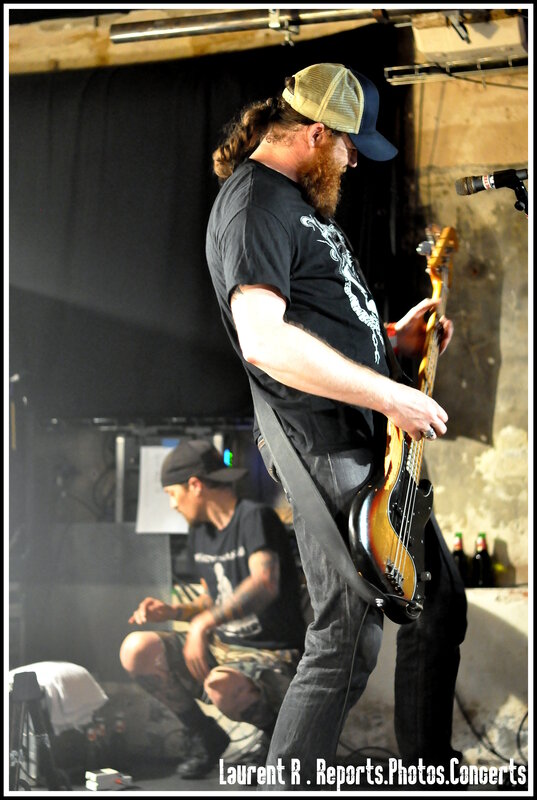 faisant face à la scène, ils prennent les choses du bon côté et vont nous servir exactement le même set que le mois précédent, "Damage Case" de Motorhead ayant toujours sa place au milieu du show, et le final à la guitare dobro sur "To Be Saved" toujours aussi sympa. Cyril, chanteur et bassiste du groupe et grand grand fan de Peter Pan Speedrock, aura juste eu un petit peu plus de pression, au moment ou les musiciens du groupe tête d'affiche firent leur apparition dans la salle pour les regarder jouer.
Très bon gig des Bordelais, si vous voyez le nom de Fueled sur une affiche, que vous aimez les grosses guitares..... Vous pouvez y aller les yeux fermés.
Peter Pan Speedrock. Le nom pourrait prêter à sourire, mais je vous garantie que quand les gars déboulent sur la scène nous n'avons pas du tout envie de se moquer d'eux. D'autant plus qu'ils sont sur le circuit depuis 1997 et ont pas moins de neuf albums au compteur, dont le dernier "Buckle Up & Shove It !" sorti chez Suburban Records, ne faillit pas à la règle d'or du groupe : Tout droit, à fond, et on ne lâche pas l'accélérateur.
Sitôt l'intro passée le groupe entame "Hello There", reprise de Cheap Trick qu'ils n'ont jamais gravée mais qu'ils jouent régulièrement en live. Bonne entame. Et ils enchaînent directement sur "Crank Up The Everything", "Evil Sweet Thing", "Cock Taser" et "Red Wings" sans aucun temps mort.... Public à genoux d'entrée.
Peter prends la parole pour la première fois, pour demander au public si il veut du sang.... Mais nous avons déja eu notre compte l'ami ! Nos oreilles saignent déjà ! Mais de plaisir... Et c'est bien sûr "We Want Blood" qui déferle... Enchaîné directement avec "Heatseaker".. Deux titres au tempo vivacissimo par rapport aux premiers titres du concert.
Le public, jusque là assez calme, rentre enfin dans la bataille, et le chaos s'installe dans la fosse. Tout le monde oubli qu'il y a moins de quarante personnes, et c'est Waterloo dans la fosse .. On va commander une bière puis on renverse son verre en pogoatant, du coup on va recommander une bière, qu'on renverse le morceau suivant... Et tout le monde se marre. Le groupe semble satisfait de la tournure que prends le concert et Peter Van, chanteur et créateur du groupe est tout sourire.
Il dédie le titre suivant à Fueled, et "Better Of Dead", titre au rythme moins rapide que les précédents, n'est pas sans nous rappeler un bon Motorhead avec la basse de Bart Geevers qui prend un son à la Lemmy, très rond.
Les titres s'enchaînent à un rythme endiablé... C'est le moment que choisi le groupe pour jouer "Go Satan Go" qu'il dédicace à ses fans Cognaçais présents dans la salle. Quand je dis fans, ce sont de vrais fans. De ceux qui vont jusqu'en Hollande tous les ans, au Speedfest de Eindhoven, qui est un festival dont le groupe est à l'initiative. Autant vous dire que sur ce titre ceux-ci s'en donnent à coeur joie et que certains photographes manquent de se faire projeter la tête la première dans la grosse caisse..... (Mais sont encore vivants...)
Peter, ne manquant pas d'humour, nous demande si Bordeaux est une ville rock. Bien sûr Peter !! Bien sûr !! Regarde tu as trente pelés devant toi.... Bref, tout ceci pour introduire le titre "Rock City"..
Le groupe quitte la scène en nage, nous laissant hurler et baigner dans la bière renversée... Ils reviennent tout sourire pour nous achever avec "Resurrection" et "Rocket Fuel"... Cette fois s'en est fini... le groupe débranche les instruments, le roadie éteint les amplis... 65mn de pur bonheur pour les amateurs de speed rock. Pas speed métal. Speed rock.
Mais c'était sans compter avec Cyril, patron des lieux et accessoirement bassiste de Fueled, qui monte on stage pour haranguer la "foule" (Ouais ... je sais...).. Et le groupe revient sur scène une dernière fois, le temp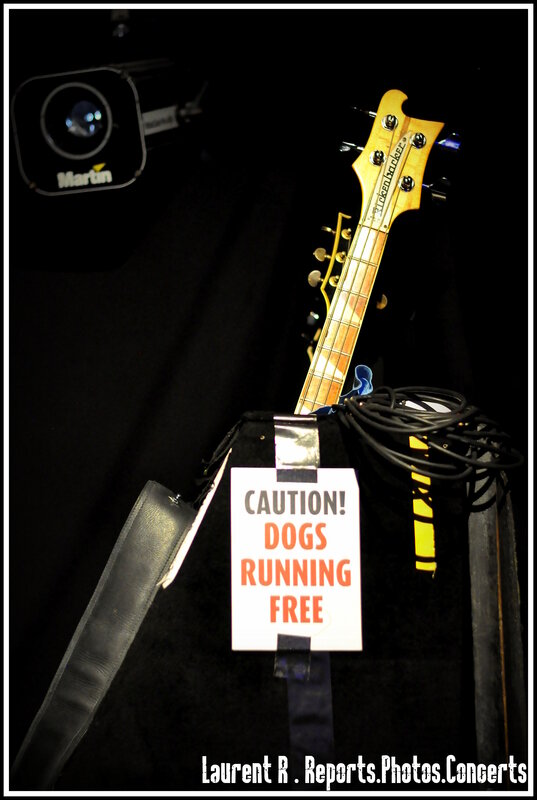 s de tout rebrancher et ils nous assènent un "Big Toy" de folie avant de venir se mêler au public afin de prendre des photos, signer des autographes et prendre des verres avec les gens.
Ces gars là ne se prennent pas la tête, ils donnent tout en live, peu importe qu'il y ai 5000 personnes ou 30, c'est la même chose, on aime ça et on fait ce métier pour le plaisir. Et il y aura plus de monde la prochaine fois..... Enfin si il y a une prochaine fois... Parce que les absents avaient VRAIMENT tort ce soir là, car en terme d'intensité on peut dire, je pense, que c'était un concert qu'il ne fallait pas rater..
Comme quoi il ne sert à rien de blinder une salle si il ne se passe rien sur scène, la soirée sera aussitôt oubliée (Sauf financièrement). Et quand l'osmose doit se faire entre un groupe et son public, même avec très peu de monde dans la salle, il se passe vraiment quelque chose. Et ce concert restera un petit bout de temps dans la mémoire des gens présents ce lundi soir. Assurément.
Laurent R.
Merci beaucoup à Elsa et au Bootleg.
Setlist Fueled (45mn) :
01 Rock And Booze
02 Sunny Days
03 On The Road
04 Go To Hell
05 Bitch
06 Damage Case (Motorhead cover)
07 Up And Down
08 To Be Saved
Setlist Peter Pan Speedrock (70mn) :
01 Intro (Hank Williams)
02 Hello There (Cheap Trick cover)
03 Crank Up The Everything
04 Evil Sweet Thing
05 Cock Teaser
06 Red Wings
07 We Want Blood
08 Heatseeker
09 Better Off Dead
10 Murder Truck
11 Get You High
12 Go Satan Go
13 Gotta Get Some
14 Guitar Jam
15 Rock City
16 Auf Der Axe
17 Resurrection
18 Rocket Fuel
19 ??
20 Big Toy
Albums photos :
Peter Pan Speedrock : https://www.facebook.com/media/set/?set=a.754901731290329.1073741859.701659989947837&type=1&l=48f347923e
Fueled : https://www.facebook.com/media/set/?set=a.754713314642504.1073741858.701659989947837&type=1&l=9bf5e87d9f
Liens du Bootleg :
Liens des groupes :
Peter Pan Speedrock : http://peterpanspeedrock.nl/ - https://www.facebook.com/peterpanspeedrock
Fueled : http://fueled.bandcamp.com/ - https://www.facebook.com/fueled.bdx?fref=ts