(Lien des galeries photos en bas de page)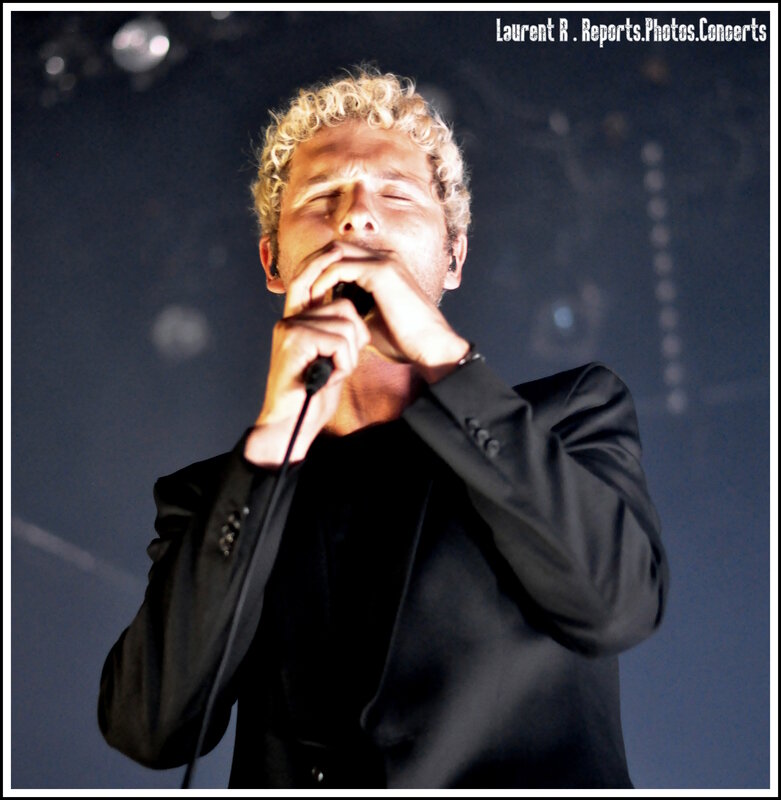 C'est à la mode, les groupes font des mini tournées de quelques dates afin de jouer en public leurs nouveaux morceaux et parfaire de nouvelles instrumentations sur les anciens... Brigitte l'avait fait en 2014 et cette année c'est au tour de AaRON de venir nous présenter les nouveaux titres de leur troisième album "We Cut The Night", prévu en Septembre prochain sur le label Français "Cinq7 records".
Il est clair que le public est là pour Simon et Olivier. Mais avant de les retrouver nous avons rendez-vous avec Camp Claude, le projet musical de Diane Sagnier, photographe de métier. Au départ Camp Claude, c'est Diane, sa voix et sa guitare. Mais très vite l'ennui s'installe et elle fait appel à deux requins de studios ayant un groupe s'appellant "Tristesse Contemporaine" qui ne décolle pas. le Britannique Mike Giffts et le Suédois Leo Hellden rejoignent la belle. La mouture finale du band était née. Un premier single avec "Lost And Found", puis un E.P sorti en Novembre 2014 chez Believe Recordings, les voilà qui viennent donc nous draguer à l'aide de ces compositions qui formeront certainement un album à venir dans les prochains mois... Leo Hellden apporte la petite touche rock indie à la guitare pendant que Mike Giffts, aux claviers et aux samples, se charge de la partie électronique... mais celle qui attire tous les regards, c'est bien sûr Diane, non pas grâce à son physique (quoi que...) mais bien grâce au timbre de sa voix, qui fait penser à Lana Del Rey et Romy Madley Croft (The XX). Le public est sous le charme, et l'accueil sera à la hauteur... Une bien belle découverte.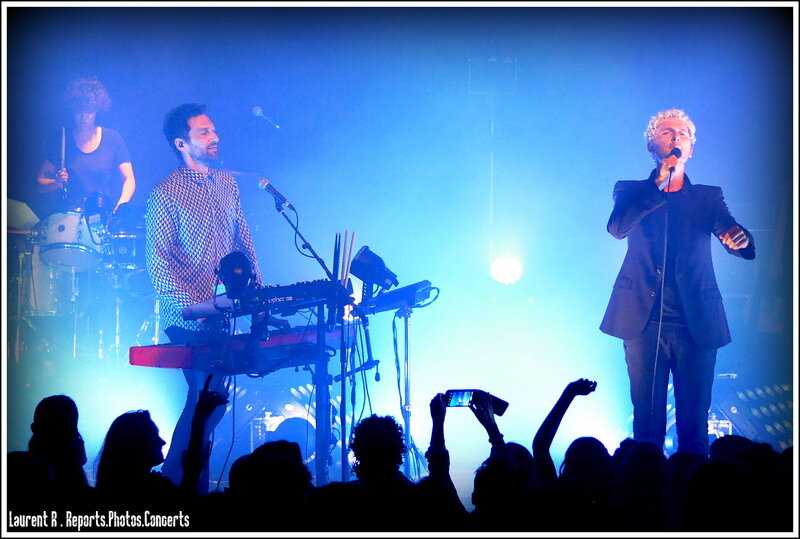 La fanbase de AaRON est bien représentée ce soir, et en attendant le début du concert le principal sujet de conversation est Simon. "Oh non mon Dieu, il s'est teint les cheveux en blond platine ! Quelle horreur ! Bon on verra bien..." Vingt minutes plus tard nous aurons la réponse : les yeux pétillent ! L'honneur est sauf.... OUF ! L'entrée en scène du groupe se fait dans le noir le plus total, puis une lumière blanche éclaire le visage de Simon.. Une longue mélopée au synthétiseur donne la couleur de la soirée. Ce sera electro pop. Il est vrai que c'est à la mode en ce moment, Après The Do, Izia, c'est au tour des deux acolytes de se laisser tenter par cet univers. Comme nous allons le constater, cette direction permet au groupe de complètement se renouveler tout en restant fidèle à son univers.
En ouverture donc, trois titres du nouvel album, "Magnetic", au tempo lent, idéal pour un début de concert... "Blouson Noir", qui a fait l'objet d'un clip largement diffusé sur internet, accélère le rythme, toujours dans un esprit electro, Olivier étant scotché à son clavier, puis "Onassis".. qui permettra au batteur de s'en donner à coeur joie. Le chant de Simon est égal à lui même, et on reconnaît bien là la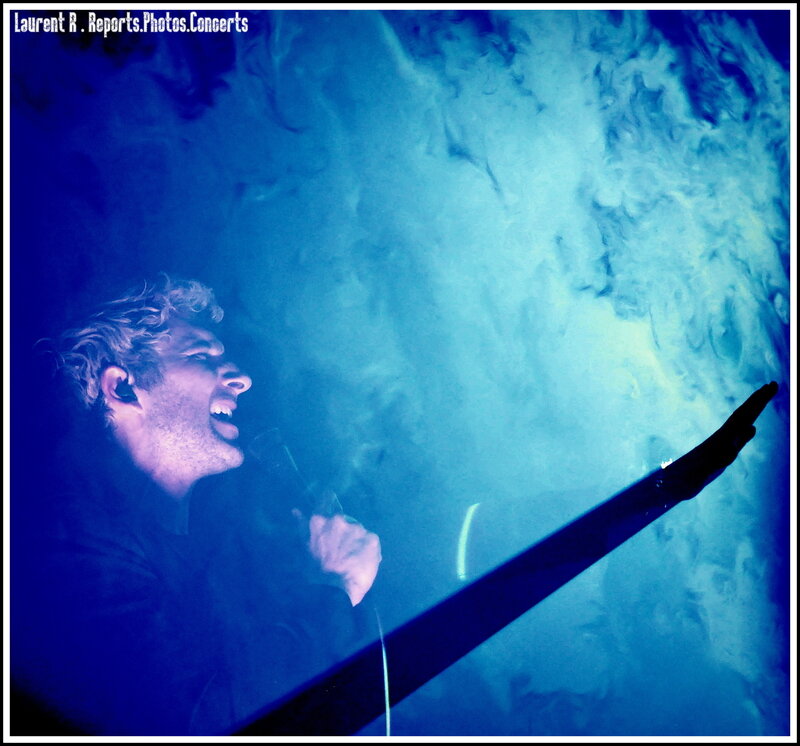 marque de fabrique de AaRON, Accueil chaleureux pour les nouveaux titres, mais l'ambiance monte carrément d'un cran lorsque le groupe entame "Blow", pourtant joué dns une version beaucoup moins entraînante que sur les anciennes tournées, suivi de "Seeds Of Gold" et le public ne s'arrêtera de chanter le refrain de ce dernier que lorsque "Ludlow L" démarrera, enchaîné avec "Ride on", Grosse caisse sur les temps, bruitages électroniques de sieur Olivier (Tambourin, claquements de doigts) accompagnés d'un fond lancinant au clavier... Définitivement l'orientation du prochain album sera synthétique. Et la nouvelle direction musicale du groupe sera clairement définie par "U Turn". Oubliée la version piano/voix des débuts, bienvenue à la version synthé/boite à rythmes. Mais le morceau envoûte toujours autant. La voix de Simon, avec ce petit grain éraillé qu'on lui connaît et qui a fait le succès du groupe est toujours bien là, et on sent bien que les deux compères prennent toujours autant de plaisir a jouer ce morceau, quelqu'en soit la version...
Simon et Olivier peuvent jouer des nouveaux titres, des anciens, des succès ou des titres passés inaperçus à l'époque de leur sortie, peu importe. le public cri, fais des signes, filme, prends des photos. Tout le monde est simplement heureux de se retrouver... "Arm Your Eyes" viendra conclure la première partie du set, avec des cris à chaque déhanchement de Simon...
"We Cut The Night", titre phare de l'album à paraître, remporte un beau succès, suivi de "Little Love", premier morceau gravé par le groupe. C'était sur la BO du film "Dans Tes Rêves" en 2005, et le sublime "Rise" repris en coeur par toute la salle. Deuxième rappel. Et à la surprise générale nous avons droit à une deuxième version de "Blouson Noir", beaucoup plus "techno" que la version que l'on connaît dans le clip ou jouée plus tôt dans la soirée. Il est clair que les boites de nuit sont visées... Et ça va faire un malheur avec cette grosse caisse lancinante qui marque chaque temps à coups de boum boum.. Préparez vous pour cet été..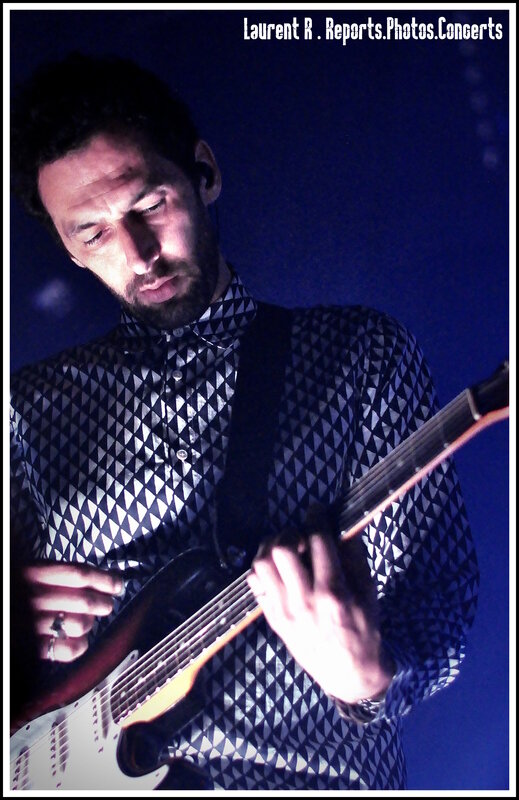 Le groupe quitte la scène en remerciant bien le public et les six cents personnes présentent se disent que, malheureusement c'est terminé, car la setlist s'arrête là. Nous aurons eu droit à 7 titres du nouvel album, et nous pouvons imaginer que nous en découvrirons d'autres lors de la sortie en Septembre, ainsi que les titres phares des deux précédents, principalement ceux qui ont fait l'objet de singles. Une bien bonne soirée qui s'achève..... Un seul petit regret : Aucun extrait de la bande originale du film "Les Yeux Fermés" qu'ils ont composée en 2013. Mais ça n'était pas le même projet...
Mais c'était sans compter avec la sincérité et la gentillesse de Simon et Olivier, qui reviennent en demandant à ce que la salle soit éclairée, et expliquent que quelques jours plus tôt, à Lyon, ils ont fait ce morceau et qu'ils avaient pris beaucoup de plaisir en le jouant à nouveau. Nous aurons donc droit à une version acoustique de "Mister K".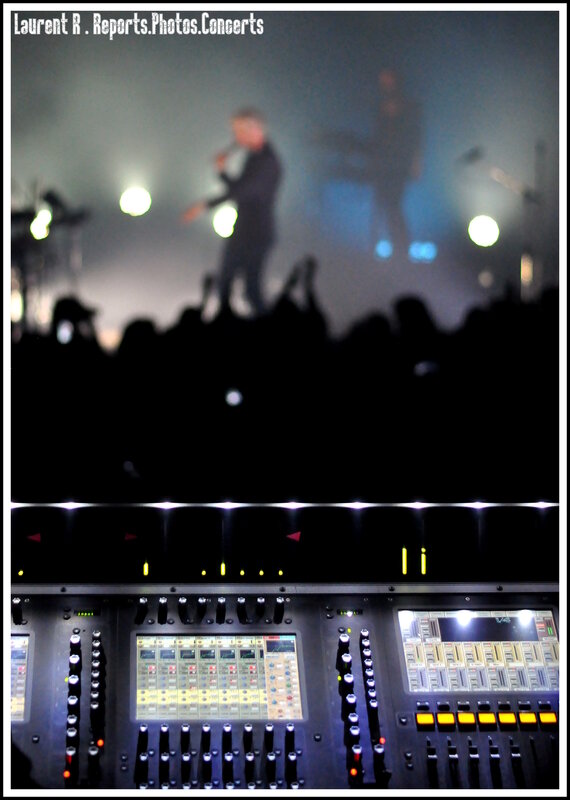 La boucle est bouclée avec ce titre phare du premier album "Artificial Animals Riding On Neverland", celui par lequel tout a commencé en 2007.... Et il s'en est passé des choses depuis 8 ans.
La côte d'amour pour AaRon est toujours intacte, même après 4 ans sans nouvelles, même avec un nouvel album manifestement totalement à l'opposé de ce qu'ils proposaient à l'époque. Le groupe peut faire un album très intimiste comme "Artificial Animals Riding On Neverland", beaucoup plus pop avec "Birds In The Storm" en 2010 ou encore très électro pop comme s'annonce "We Cut The Night", le public les suivra, quoi qu'il arrive. Car c'est fait avec talent, plaisir et sincérité. La joie de partager ces chansons avec le public est intact, et Simon pourrait avoir les cheveux rouges, verts ou même mauves, les yeux continueront de pétiller et nos oreilles de se réjouir, quoi qu'il arrive.
Laurent R.
Merci beaucoup à Flore et bien sûr à la Rock School Barbey.
Setlist Camp Claude : (40 mn)
01. NZ
02. Lost and found
03. Disconnected
04. NYC
05. Trouble
06. Blow
07. Swimming Lessons
08. Space
09. Trap
10. Golden Prize
Setlist AaRon : (Time : 72mn)

01. Magnetic
02. Blouson Noir
03. Onassis
04. Blow
05. Seeds of Gold
06. Ludlow
07. Ride One
08. U-Turn (Lili)
09. Arm Your Eyes
10. We Cut The Night
11. (encore 1)
12. Rise
13. Little Love
14. Leftovers
15. (encore 2)
16. Blouson Noir
17. (encore 3)
18. Mister K. (acoustique)
Photos :
Camp Claude :
AaRon :
Liens des artistes :
Camp Claude :
AaRon :