LIENS, SETLISTS ET PHOTOS EN BAS DE PAGE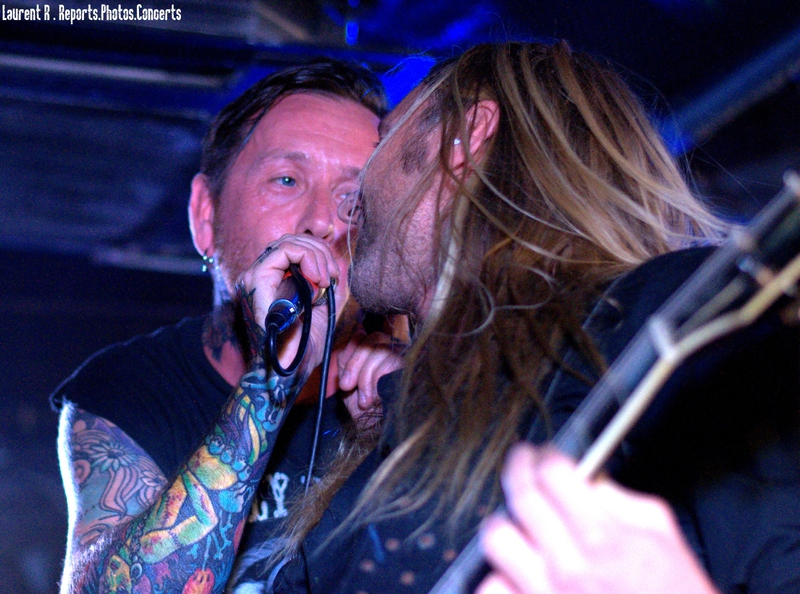 Ce qui étonne en arrivant ce soir là aux abords de l'I.Boat, c'est de voir un nombre incalculable de garçons costumés et de filles en tenue de soirée. Me serais-je trompé d'endroit ? Non non, il y a aussi quelques chevelus avec une bière à la main, et le tour-bus des trois groupes est bien présent devant le bateau... Mais alors ? En fait le lieu est multitache et à l'étage avait lieu la soirée "Ayers Rock Boat".. Tout s'explique. Ou pas... Parce que niveau rock, je pense que c'est plutôt dans la cale qu'il fallait se rendre.. Grosse affiche avec les australiens de Dead City Ruins, les suédois de Dead Lord et les norvégiens Audrey Horne en tête d'affiche, qui sont en pleine tournée européenne.
Une petite centaine de réservations (Dixit Base Prod), il ne va pas faire trop chaud je pense. Mais il va régner une superbe ambiance tout au long des trois prestations. C'est Dead City Ruins qui a la lourde tache d'ouvrir les hostilités. Le groupe a été fondé à Melbourne par le batteur et bassiste des défunts "The Deep End". Ils viennent nous présenter leur excellent album éponyme sorti chez Third Verse Records en 2014, qui fait suite à un très bon "Midnight Killer" sorti deux ans plus tôt. Ils auront 40 minutes devant un public quelque peu clairsemé car il n'est que 19h30, mais feront preuve d'un grand professionnalisme. Alternant des morceaux heavy dans le plus pur style de la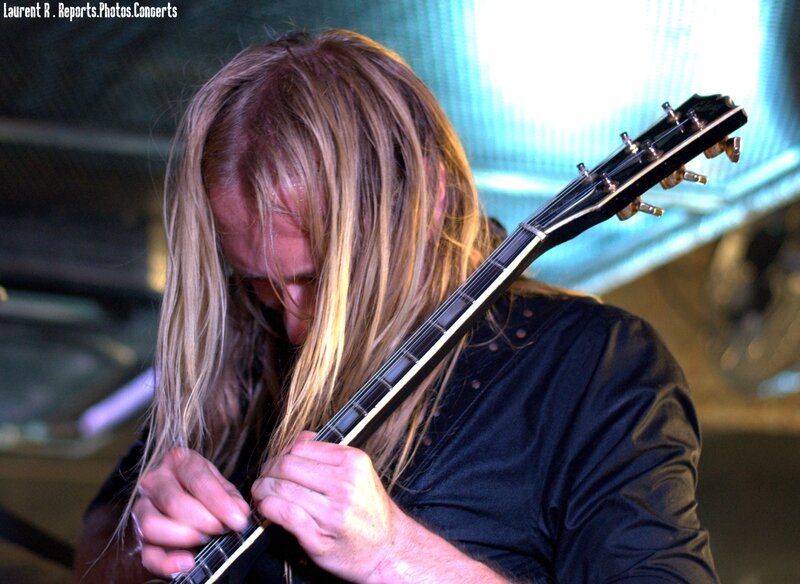 NWOBHM ("Blue Bastard" ou "Til Death") rappelant Judas Priest ou Iron Maiden, et des morceaux aux tempos un peu plus lents mais tout aussi puissants faisant penser à du Black Sabbath comme "D.I.B", le show est très varié. Nous aurons même droit à des purs moments de rock hard australien avec "Happenzella" qui n'est pas sans rappeler Airbourne. Et ce qui frappe chez Dead City Ruins, c'est la puissance vocale de Jake Wiffen, qui, arborant un superbe tatouage de Ozzy avec Randy Rhoads sur son flanc gauche, n'est non pas un hurleur, mais un véritable chanteur, à l'instar de Bruce Dickinson ou encore Rob Halford (Toutes proportions gardées). Le gaillard a plusieurs octaves à son arc et n'hésite pas à s'en servir, faisant taire les détracteurs qui rappellent souvent que le hard-rock ne compte que des brailleurs hurleurs sans talent. Chapeau man. D'ailleurs certains spectateurs s'amuseront à l'imiter entre deux titres, et pas forcément de façon catastrophique, ce qui fera beaucoup rire le chanteur. Après cette prestation remarquée et remarquable, nous espérons les revoir prochainement en ville pour un concert un petit peu plus long et surtout un public plus nombreux.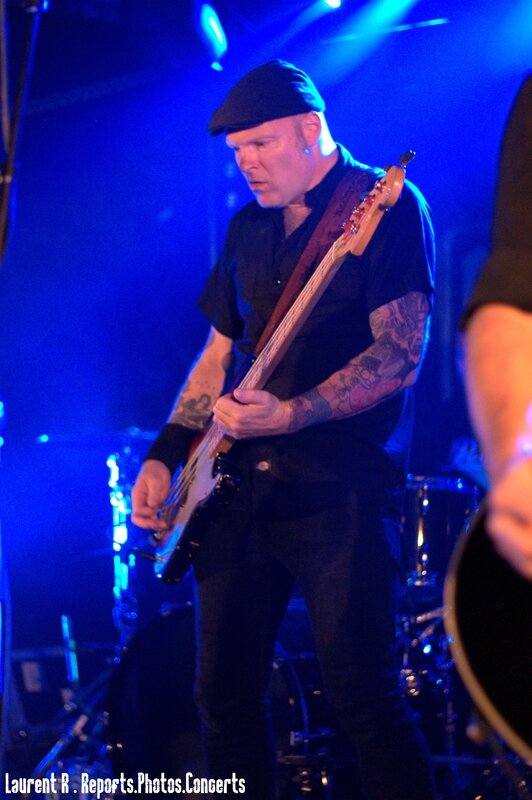 Le temps d'une petite bière et c'est à Dead Lord de nous offrir ses riffs. Fondé en 2012 à Stockholm par Hakim Krim (Guitare et chant), les Dead Lord viennent juste de sortir leur deuxième album, le bien nommé "Heads Held High" (Century Media Records). Et la tête haute ils l'ont, et revendiquent largement leur principale influence : Thin Lizzy, groupe légendaire mené de main de maître par le bassiste et chanteur Phil Lynott, décédé en 1985. Souvent imité mais jamais égalé. Et pourtant, il faut bien l'avouer, le quatuor originaire de Stockholm nous ferait presque croire que Thin Lizzy est ressuscité. D'entrée de jeu avec les titres "Farewell" et "Don't Give a Damn" on s'y croirait. Même voix grave, riffs hachés... Tout y est. Malheureusement la sauce ne prends pas car le groupe ne donne pas envie de partager ce moment avec le public. Les musiciens ne sont pas très expressif. Il ne se passe rien sur scène, aucune émotion. Chacun à sa place, concentré, ce qui fait un sacré décalage avec Dead City Ruins dont les membres gigotaient dans tous les sens sur la petite scène de l'I.Boat. Pourtant grâce à certains titres plus enlevés ("Because Of Spite" "No Regrets" et surtout "Onkalo") l'ambiance commence à monter. Autre marque de fabrique du groupe, ce sont les "Twin Guitars", les solos doublés à deux guitares. Ce qui nous fait automatiquement penser au groupe de Andy Powell, Wishbone Ash, grand spécialiste de la chose depuis 1969. Bien sûr nous aurons droit à la ballade de circonstance avec "The Bold Move", qui, après le pont, montera crescendo et changera complètement de structure pour s'achever sur un rythme échevelé.. Rythme qui ne changera pas durant les deux derniers titres "When History Repeats Itself" et "Hammer To The Heart" qui font énormément penser à du Danko Jones (sous vitaminé quand même). Je dirais un concert en demi teinte, le groupe ayant mis du temps a "donner" et le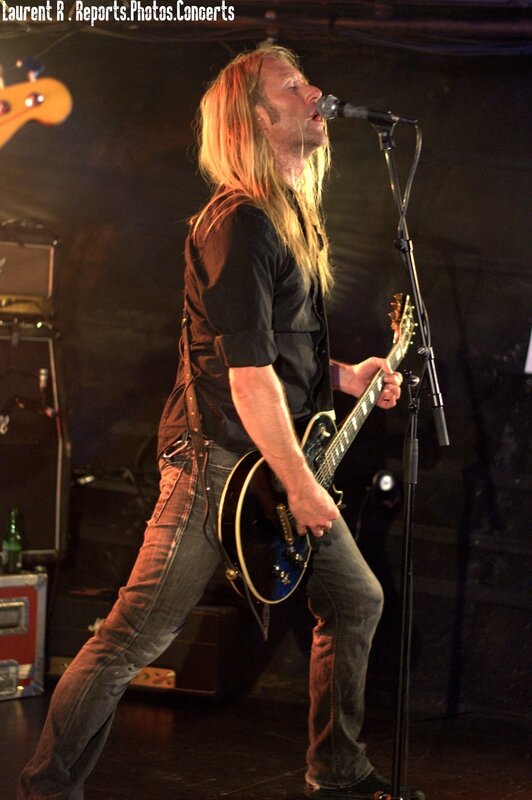 public a "prendre"... Mais personne n'a été volé et Dead Lord porte très très bien l'étendard que Phil Lynott a laissé en cours de route, et ils peuvent largement faire leur place sur l'échiquier du music business.
Place à la tête d'affiche de la soirée. La setlist est amputée de trois titres par rapport au show habituellement présenté sur cette tournée européenne, car après les concerts il y a un DJ set de prévu, et nous devons libérer la salle assez rapidement. Audrey Horne a donc prévu 11 titres au lieu des habituels 14. Et ça commence sur les chapeaux de roues avec "Straight Into Your Grave" et "High And Dry". La plupart des chansons de ce soir font bien sûr partie du dernier album "Pure & Heavy", et en parlant de pure heavy, on peut dire qu'ils ne font pas dans la dentelle. Certes il y aura certains morceaux qui seront mid tempo ("There Go A Lady"ou "Firehose") et qui, musicalement parlant, font énormément penser à Deep Purple. Mais la plupart des titres sont dans la plus pure tradition heavy, "Volcano Girl" flirtant largement avec du Accept période "Restless And Wild".. L'ambiance est absolument excellente, ça headbangue un petit peu partout dans la cale de l'I.Boat, le groupe est heureux d'être en tournée, ça se sent. Torkjell "Toschie" Rød est une véritable pile électrique et n'hésitera pas a venir partager ses vocalises au milieu du public durant "Blaze Of Ashes", bientôt suivi par le guitariste Thomas Tofthagenet qui viendra faire son solo au même endroit. Le public sera mis à contribution sur "Waiting For The Night" et sur le dernier morceau "Redemption Blues" pour chanter les refrains,
ce dont il ne se privera pas. Il est 22h45, et après une petite heure de show le groupe remercie chaleureusement les personnes présentes avant d'aller au merchandising afin de deviser et prendre des photos. Ces gars prennent beaucoup de plaisir à être sur scène, ils aiment aller à la rencontre des gens, et qu'ils jouent devant 30 personnes comme à Bilbao la semaine précédente, devant 100 comme ce soir, ou devant 2000 personnes, ils se donnent à fond, quoi qu'il advienne. Et pour ça le public leur en sera toujours reconnaissant. Un seul petit bémol, Toschie, non, la plus belle ville du monde n'est pas Bergen....
Laurent R. (Merci beaucoup à Clément et Base Prod)
LIENS DES PHOTOS :

LIENS PHOTOS DE EMMA "OUDJAT" DERRIER :

LIENS DES GROUPES :

SETLISTS :



Setlist Audrey Horne : (Time : 58mn)

01 Intro
02 Straight Into Your Grave
03 High And Dry
04 There Go A Lady
05 Volcano Girl
06 Cards With The Devil
07 Blaze Of Ashes
08 Firehose
09 Out Of The City
10 Pretty Little Sunshine
11 Waiting For The Night
12 Redemption Blues
Setlist Dead Lord : (Time : 55mn)

01 Intro
02 Farewell
03 Don't Give a Damn
04 Because Of Spite
05 No Prayers Can Help You Now
06 Strained Fools
07 No Regrets
08 Onkalo
09 The Bold Move
10 When History Repeats Itself
11 Hammer to the Heart
Setlist Dead City Ruins : (Time : 40mn)

01
02
03
04
05
06
07
08