GALERIES PHOTOS COMPLETES EN BAS DE PAGE
Une petite expédition de trois jours... Départ de la gare de Bordeaux où de tristes échafaudages masquent la pourtant si belle verrière métallique recouvrant les voies. Le train entre en gare, le wagon où se trouve mon siège réservé s'arrêtant pile où je me tiens.
Double joie que cette petite virée « à la Capitale ». La première, cette idée de ma femme pour la fête des pères, des billets de train pour aller assister au concert du groupe australien The Apartments. Elle connaît mon attachement pour ce groupe et le bonheur que j'ai eu à réaliser la vidéo du superbe titre "Twenty One" du dernier album "No song No Spell No Madrigal" à la demande de Peter Milton Walsh. La seconde, celle de retrouver mon meilleur ami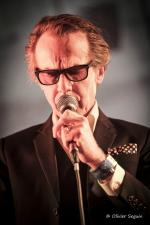 Pascal avec qui, justement, j'ai découvert l'univers de The Apartments. Les sillons de l'album de "This Mortal Coil" du label 4AD nous avaient fait découvrir entre autres morceaux le sublime "Mr Somewhere". De suite l'envie de découvrir qui était derrière cette chanson parfaite. Tout a commencé là... Ce bonheur égoïste de vouloir garder pour soi les trésors de ce groupe qui, s'il n'est pas connu du plus grand nombre, est chéri par certains.
Les années ont passé, et ce sentiment s'est transformé en une envie de faire découvrir à d'autres ce style d'artiste, de partager. J'ai eu le plaisir de voir et de photographier le groupe en concert sur sa précédente tournée, un moment fort, sensible qui m'avait ému aux larmes (pas facile pour prendre des photos). Il est des amours qui ne se défont jamais totalement et ce concert m'avait fait retrouver l'émoi des toutes premières écoutes de leurs morceaux.
Premier contact personnel à travers des mails avec Peter M.W. Intéressé par mes photos du concert au Rocher de Palmer de Bordeaux, puis il m'a fait une étonnante demande : Est-ce que j'acceptais de réaliser la vidéo d'un des titres d'un album à venir..... Ce que j'ai fait pour le titre "Twenty One"
L'album sort et quel immense plaisir et honneur que de voir sur la pochette intérieure, une photo tirée de la vidéo. Sur cette photo légèrement floue, ma fille Lisa. Une tournée s' annonce, courte, elle ne passe pas par Bordeaux, d'où l'idée de ma femme. Arrivée gare Montparnasse, Paris. Échanges de souvenirs avec mon ami Pascal autour d'une bouteille de vin, puis d'une seconde... Juste devant le Théâtre de la Gaîté Lyrique se trouve un petit parc,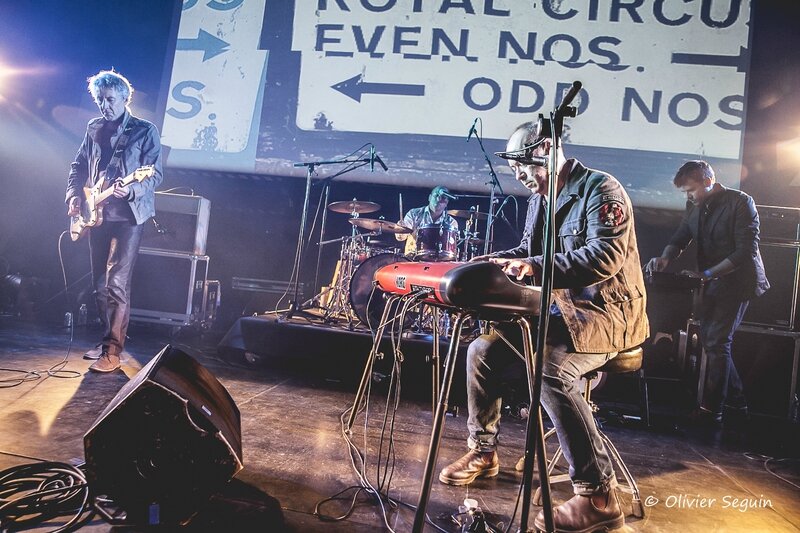 hors du temps, que l'on imagine à l'identique depuis des décennies. Là un très jeune couple. Ils se tiennent la main sans trop oser se regarder. Traversant le jardin, un homme sans age, lissant sa barbe d'une main, de l'autre tenant un livre de J. Prévert, semble murmurer des vers. Des gamins courent, crient, jouent au ballon et l'on voit dans le regard du policier municipal comme un reproche qu'ils se comportent comme des enfants.
J'ai la permission d'assister aux balances, Emmanuel Tellier me récupère au détour d'un couloir juste après que j'ai effectué un court passage au poste de sécurité . Détention d'une arme blanche. Une bouteille de vin que j'ai prévu d'offrir à Peter. Ils font leur boulot...
J'approche de la salle de concert, le son, sourd au départ s'éclaircit de plus en plus, et la voix si reconnaissable de Peter se distingue enfin. Je suis devant la scène, petit frisson... Ils s'essaient sur quelques chansons entrecoupées par un Peter soucieux de la qualité de la projection prévue sur la scène. Il quittera la scène vers sa loge, un rien contrarié. Je reviens un peu avant l'ouverture des portes. Peu de monde sur les marches. Le public arrivera progressivement pour finir de remplir la salle. Puis les membres de 49 Swimming Pools investissent la scène, et de suite on sent leur plaisir d'être là. Ce n'est pas un backing band mis là pour faire patienter jusqu'à la tête d'affiche. Ils sont de la famille de The Apartments, sans Emmanuel Tellier, Peter ne serait peut être là ce soir. Il ne manque vraiment pas grand chose aux 49 Swimming Pools. Les morceaux sont là, des pop songs élégantes parées de belles harmonies vocales. Le petit manque de
charisme est largement compensé par leur volonté d'en découdre. Mais c'est sans heurts qu'ils s'imposent, tout est dans le raffinement, dans leur cohésion, c'est riche, varié. Les morceaux de leur très bon dernier album prennent une belle ampleur sur scène. "I'm The Driver" me fait regretter de ne jamais avoir vu sur scène Luke Haines et son band The Auteurs, so british !! Le public, pourtant impatient de voir les (franco) australiens a décidément bon goût et acclame les 49 Swimming Pools.
Le groupe de Peter monte sur scène. Se trouve alors réunies deux générations de musiciens, les "vieux" acolytes australiens Eliot Fish (basse) et Nick Allum (drums). Le fidèle Fabien Tessier et son clavier faisant le lien avec les « jeunes » français, "la jolie chanteuse" Natasha Penot (clavier) et Antoine Chaperon (guitare), tout deux du groupe Grisbi. Peter arrive et très vite, le dandy va captiver l'auditoire de sa voix, de sa prestance. Les morceaux sont joués dans l'ordre de l'album. Le groupe assure derrière Peter qui, délivré de sa guitare sur certains morceaux, dansera. Le concert est à cette image, terriblement classe , d'une grande élégance, hors du temps, à l'image du parc. Suivent quelques classiques plus anciens ( All you Wanted, On Every Corner, Sunset Hotel.)
Suivant les morceaux, les réactions sont différentes dans le public, cela va du silence respectueux (Mr Somewhere), au sourire béat (Please Don' t Say Remember), aux yeux tout humides (Twenty One). Un rappel de 3 titres et un final sur un très bon "The Goodbye Train" et tout le groupe s'en va vers la pénombre après quelques saluts, ils ont l'air content d'eux, nous le sommes tout autant. Le style de concert que l'on trouve forcement trop court, où le spleen partagé avec d'autres est doux. Nous restons avec mon ami Pascal le temps de quelques mots avec Peter Milton Walsh et nous voilà aspiré par la nuit, puis par le métro parisien, les chansons de The Apartments tournant encore dans nos têtes.
J'ai parlé d'une double joie, elle fut triple.
Texte et Photos : Olivier Seguin.

GALERIES PHOTOS DES DEUX GROUPES

SETLIST THE APARTMENTS

No Song, No Spell, No Madrigal
Looking for Another Town
Black Ribbons
Twenty One
The House That We Once Lived In
September Skies
Please, Don't Say Remember
Swap Places
Things You'll Keep
All You Wanted
On Every Corner
Everything Is Given to Be Taken Awa
Mr. Somewhere
Sunset Hotel
The Goodbye Train

Vidéo reportage :