EVENEMENT ! MAD SIN et ARNO DE CEA & THE CLOCKWORK WIZARDS SERONT A L'IBOAT DE BORDEAUX LE 28 OCTOBRE 2015 !
Ah les années 80's, période bénie pour le psychobilly ! C'est en 1987 que Mad Sin naît à Berlin dans le contexte politique que l'on sait. Baignés dans le milieu underground de l'époque, Koefte deVille (chant- batterie) et Stein (guitare), s'apprêtent à fonder ce qui deviendra le plus gros groupe punkab' de l'histoire du rock n'roll. Un genre festif et apolitique, né en Europe de l'héritage des Damned et de The Meteors, du rythm n'blues et du rockabilly des 50's, du style horror-punk inspiré par le cinéma d'horreur et dont il reprend largement l'imagerie…
Le groupe commence dès lors à parcourir les routes, les menant rapidement hors d'Allemagne aux côtés de leurs frères d'armes de Demented Are Go, ...de squats en lieux en répèt' miteux, sex, drug, & rock n'roll et coiffures impossibles ! Mené par la réputation live des performances de Koefte, le groupe signe en 88 son premier deal avec une maison de disques : Maybe Crazy records. Chills And Thrills In A Drama Of Mad Sins And Mystery, le 1er album, sera un vrai succès et emmènera le groupe à travers toute l'Europe.

Ils seront accompagnés par Arno de Cea, talentueux guitariste, producteur, multi-instrumentiste et baroudeur hyper actif de la scène Surf hexagonale. Il nous revient avec un nouvel album ! Après des aventures scéniques et discographiques avec Steph et Arno, Antena Tres, en solo, et ces dernières années avec the Irradiates....c'est avec the Clockwork Wizards (Complications, Shunatao) qu'il sort de studio pour nous pondre encore et toujours le meilleur de la musique Surf !
OUVERTURE DES PORTES A 19H30 !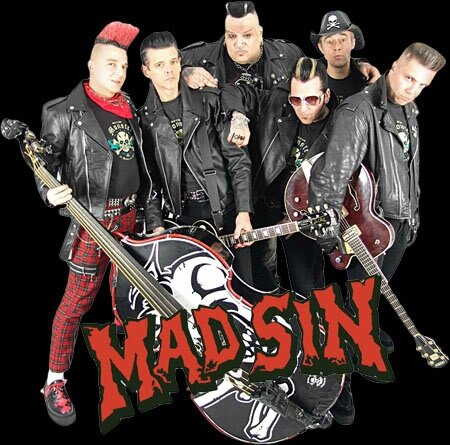 -------------------------


RESERVEZ VOTRE PLACE SUR LE LIEN SUIVANT :

LIEN DE L'EVENEMENT FACEBOOK :