LIEN DES GALERIES PHOTOS COMPLETES EN BAS DE PAGE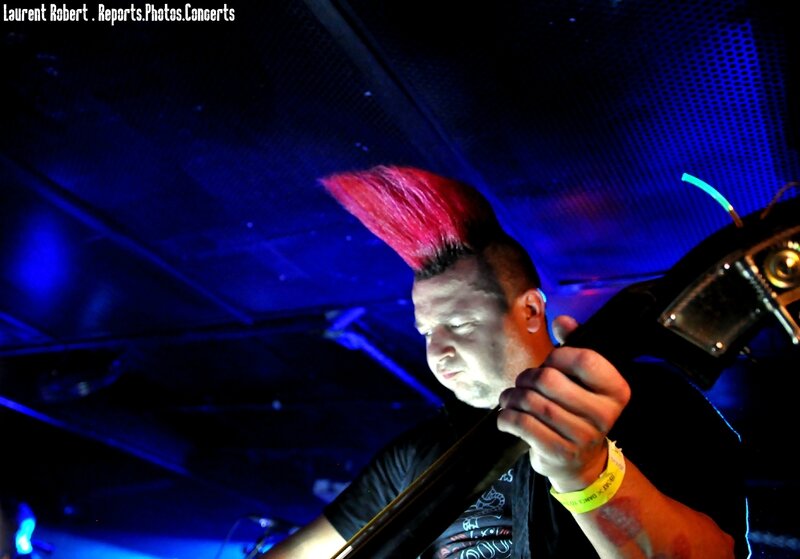 Après avoir fait plusieurs fois suer l'Heretic, cette fois ci c'est dans la cale de l'I.Boat que les allemands de Mad Sin viennent faire transpirer les Bordelais. Une petite centaine de personnes se presse dans le bar du bateau, mais beaucoup moins seront présents afin de découvrir le rock puissant de Arno De Cea & The Clockwork Wizards... Dommage.
Le trio s'est formé en 2008 avec à la barre Arno De Cea (ex-Antenna Tres) et sort son premier effort "Surf It Up" (L'Atelier Machette) en 2012, suivi de "Bug Terminal en 2015 chez Calico Records. C'est ce disque que les Clockwork Wizards viennent défendre sur scène. Et autant vous dire que ça déménage sec. 30 minutes de gros son, avec la basse ronde de "Lichen Boy" omniprésente, Alexis Toussaint, qui fait office de bûcheron ce soir, maltraite son kit comme jamais, et Arno à la guitare, toujours aussi expressif sur scène malgré le peu de place disponible. Ça envoie sévère, ça prends aux tripes, ça va à cent à l'heure... A revoir.
Après 14 albums, Mad Sin tourne depuis de longues années sans avoir sorti le moindre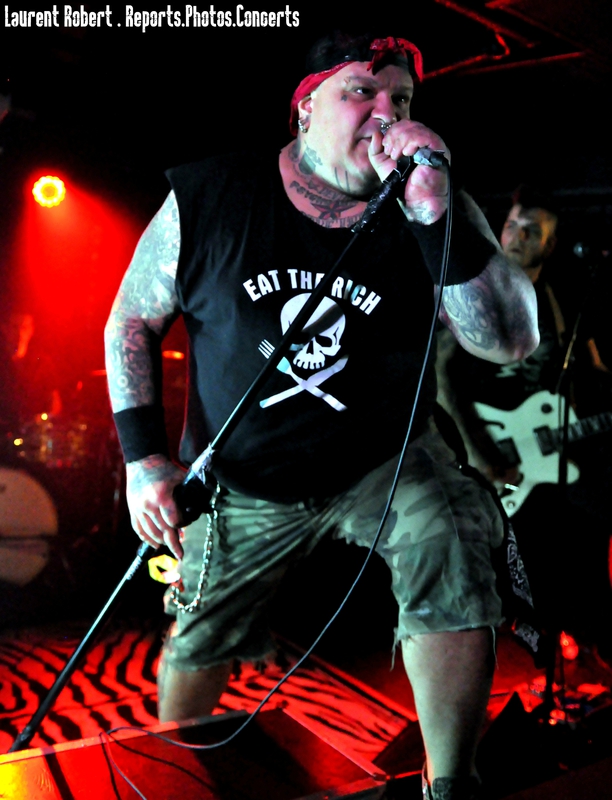 enregistrement studio, si ce n'est deux best of pour fêter leurs 25 ans chez "People Like You Records". Le dernier véritable album du groupe s'appelle donc "Burn And Rise" chez "I Used To Fuck People Like You In Prison Records" (Oui c'est bien un nom de label...) et date de 2010. Depuis le groupe tourne , tourne et tourne encore et toujours, écumant toutes les salles du circuit underground autour du monde...
Tournée Best Of donc, et le groupe va nous faire voyager à travers le temps au gré de leurs titres tous plus entraînants les uns que les autres. La part belle sera faite au tout premier album du groupe sorti en 1988 "Chills And Thrills In A Drama Of Mad Sins And Mystery". Ils en joueront pas moins de 4 titres, dont trois enchaînés : "Gonna Get Her", le fabuleux "2.3.4" et "Straight To Hell". Depuis les eighties et sa création au coeur de Berlin, Mad Sin n'a jamais dérogé à la règle du psychobilly : Un mélange de rock, de punk, de rockabilly, de country et de blues. Cette dernière facette du groupe n'est pas la plus visible, mais il y a certains morceaux où Stein Dr. Solido s'empare de son harmonica, comme sur "Communication Breakdown" ce soir, pour clôturer le set, et c'est magique.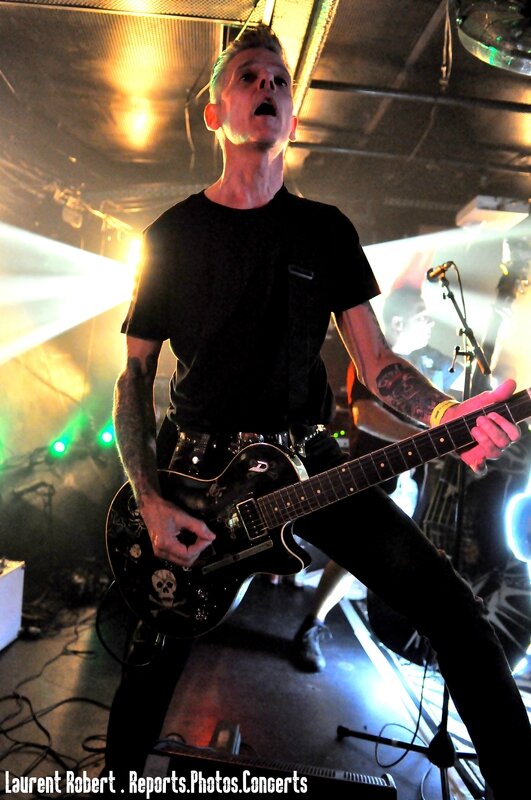 Le groupe ne jouera que soixante cinq minutes car Koefte Deville est malade, mais a quand même tenu à assurer le show. Nous n'irons pas lui réclamer deux titres de plus, car malgré sa gentillesse apparente, son quintal n'invite pas à la provocation.. D'autant plus qu'il n'aura pas ménagé ses efforts durant l'heure qu'a duré le set... N'hésitant pas à venir au plus près du public pour taper dans les mains de certains, ou en faire chanter (hurler ?) d'autres... Sans compter sur le sourire et l'esprit joueur de Valle qui, accompagné de sa superbe contrebasse éclairée, viendra faire un petit tour au milieu du public pour jouer la reprise de Vince Taylor "Brand New Cadillac", allumer des feux d'artifices, et lancer des confettis, et n'hésitant pas à aller embrasser les spectatrices du premier rang, les éclairages jouant avec sa superbe crête rose...
Si le show fut court, il n'en fut pas moins énergique. C'est cette même énergie qui s'est transmise très rapidement au public, qui, à force de stage diving et de pogos fit monter la température dans la cale du bateau, qui devint bouillante.. C'est ce même public, conquis, qui fit l'assaut du stand de merchandising à l'étage avant de trinquer an l'honneur des Berlinois stars de ce soir....
Après GBH, OFF ! et bien d'autres, l'I.Boat nous a encore régalés ce soir.. Pourvu que ça dure !
Texte et photos : Laurent ROBERT
Un grand merci à Pauline et à l'I.Boat
--------------------------
GALERIES PHOTOS
MAD SIN :

PHOTOS DE EMMA "OUDJAT" DERRIER :

Mad Sin
Photos non libres de droits, merci de ne pas recadrer Only the sharing of photos and use as cover page or avatar on fb is permitted (with photo credit). Photos are published in low resolution. For all HD, print request or any other applications of communication media, please contact me via PM.
http://www.facebook.com
ARNO DE CEA & THE CLOCKWORK WIZARDS :

SETLIST MAD SIN :

01. Revenge
02. Point Of No Return
03. Out Of My Head
04. To Walk The Night
05. Brainstorm
06. I Shot The Sheriff
07. Wreckhouse Stomp
08. Cursed
09. Speak No Evil
10. Gonna Get Her
08. 2.3.4
09. Straight To Hell
10. Nothing Allright
11. Wipe Out
12. Ride This Torpedo
13. 9 Lives
14. Brand New Cadillac (Vince Taylor Cover)
15. Psychotic Night
16. Naughty Little Devil
17. Communication Breakdown
LIENS DES GROUPES :
MAD SIN :
Site Officiel : http://www.madsin.de/
Facebook : https://www.facebook.com/madsinofficial/
Myspace : https://myspace.com/madsin
ARNO DE CEA & THE CLOCKWORK WIZARDS :
Site Officiel : http://arnodca.free.fr/Arno-DCA/Aloha.html
Facebook : https://www.facebook.com/Arno-De-Cea-the-Clockwork-Wizards-129580197108521/
Bandcamp : https://arnodeceaandtheclockwork.bandcamp.com/album/surf-it-up
Myspace : https://myspace.com/arnodecea