LIEN DES GALERIES PHOTOS COMPLETES EN BAS DE PAGE
R.P.C était à Paris pour le concert en tête d'affiche de Our Last Night au Trabendo en compagnie de Crooks et de Palisades. Farah a fait quelques photos et un live report. Vous trouverez en fin de page la setlist, et les liens des différents groupes.
---------------------------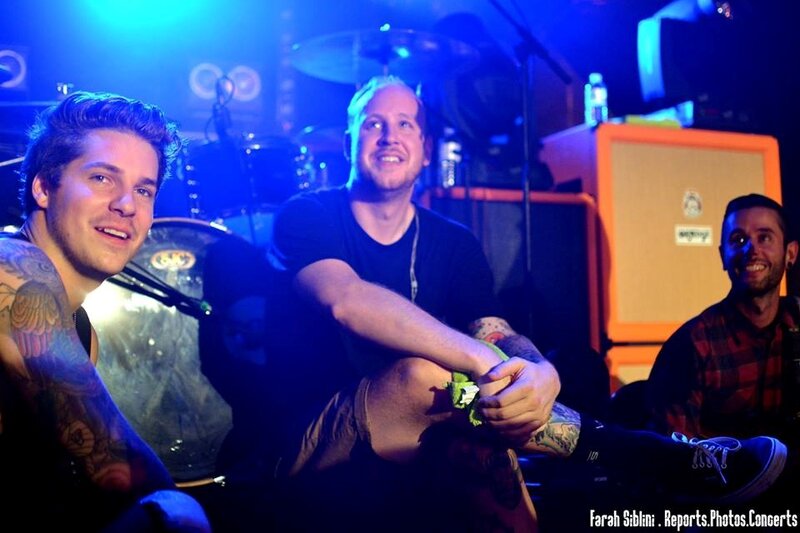 A l'occasion de leur tournée Européenne "Younger Dream Tour", le groupe Our Last Night était à Paris pour une date unique en France. Faire un voyage à Paris pour un concert, qui plus est en voiture, est toujours une expérience harassante et longue... Surtout quand la salle se situe dans le nord de Paris et que vous devez contourner la capitale pour y accéder... Qui plus est quand vous êtes pressée de récupérer le fameux pass photo en espérant rentrer en premier pour être au premier rang, vu qu'il n'y a pas de pit au Trabendo.... Arrivée devant la salle vers quinze heure les fans me font comprendre très rapidement qu'elles ne céderont pas d'un pouce les quelques centimètres qu'elles auront au premier rang. Ambiance... Au fur et à mesure que les heures passent l'ambiance se détend, jusqu'au moment ou une personne de Alternative Live vient me chercher cinq minutes avant l'ouverture de la salle afin de récupérer mon accréditation.... Je ne me fais pas prier et n'ose même pas imaginer les regards assassins des fans dans mon dos..... Une fois dans la salle, je peux constater que je serais idéalement placée pour shooter. Les fans rentrent enfin et c'est un Trabendo blindé qui s'offre aux premier groupe à monter sur scène : Crooks. avec une prestation d'une trentaine de minutes qui met le public dans l'ambiance. Originaires de Cheltenham en Angleterre, le groupe a l'air ravi d'être là, et Josh, le chanteur, coiffé d'un magnifique chapeau, ne se fait pas prier pour faire applaudir le public. Sympa.
En deuxième partie c'est le groupe Palisades que les fans d'Our Last Night connaissent déjà car ils tournent souvent ensembles. Il n'y a pas si longtemps ils étaient à L'I.Boat de Bordeaux. (Vous avez les galeries photos sur le site). Ils viennent nous présenter leur dernier album "Mind Games". Le public,
ayant l'habitude de les voir accompagner Our Last Night en tournée est survolté, et chante les chansons les plus connues du groupe. Le chanteur Louis Miceli fait monter l'ambiance d'un cran, il fait très très chaud dans la salle. Les Américains peuvent partir satisfaits, mission accomplie.
Puis c'est l'arrivée de Our Last Night sur scène, sous un tonnerre de cris et d'applaudissements. ils commencent leur set avec "Prisoners" tiré de leur nouvel album "Youngers Dreams". Au bout de deux chansons un problème technique survient et le concert est interrompu. Le groupe, pour distraire le public, discute et pose pour des photos. Très sympa, car d'autres seraient déjà partis se réfugier backstage. Le concert reprend après quelques minutes avec un public de plus en plus réactif à toutes les chansons. Une petite fantaisie à mi-concert : "White Tiger" sera joué dans une version inédite. Le groupe explique qu'ils ont essayé de la jouer avec une guitare supplémentaire, qui sera donc dans les mains de Trevor Wentworth, le chanteur, qui d'habitude ne joue jamais d'instruments sur scène. C'était un joli moment. Pas moins de 18 chansons s'enchaînent durant le show. Nous aurons droit à une première reprise avec "Dark Horse" de .... Katy Perry. Autant vous dire que la version de ce soir ne ressemble en rien à celle de la chanteuse...
C'est sur "Reason To Love" que le groupe quitte la scène avant de revenir pour un rappel de deux chansons, avec la reprise "Radioactive" de Imagine Dragons, puis leur chanson maintenant culte "Sunrise". Le groupe très proche de son public à su faire chanter la foule et à garder une bonne ambiance tout le long du show. Le public est ravi de cette longue soirée, et ressort prendre le frais dans le parc de la Villette... Je m'attarde un petit peu afin de discuter avec les membres de Palisades qui me reconnaissent car j'avais déjà fait des photos d'eux à Bordeaux. Vraiment adorables. Ils doivent repasser prochainement à Bordeaux, ne les ratez pas ! Puis quelques minutes plus tard, les membres de Our Last Night viennent à la rencontre de leurs fans pour un meet and great assez long. Sympa. Les gens qui sont restés sont aux anges.
C'est très tard que je quitte le Trabendo, comblée, et heureusement pour moi que j'avais prévu de rester sur Paris passer la nuit et de ne reprendre la route que le lendemain, car après une telle soirée il m'aurait été difficile de tenir le choc.
Texte et photos : Farah Siblini
Un grand merci à Alternative Live
--------------------------
GALERIES PHOTOS
OUR LAST NIGHT :

PALISADES :

CROOKS :

SETLIST OUR LAST NIGHT :
01. Prisoners
02. Never Felt This Way
03. Fate
04. Bad To The Throne
05. World Divided
06. Dark Storms
07. Liberate Me
08. White Tiger
09. Age Of Ignorance
10. Dark Horse
11. Falling Away
12. Same Old War
13. Younger Dreams
14. Reason To Love
15. Living Now
16. Home
17. Radioactive
18. Sunrise

LIENS DES GROUPES :
OUR LAST NIGHT :
Site officiel : http://ourlastnight.myshopify.com/
Youtube : https://www.youtube.com/user/OurLastNightBand
Instagram : https://instagram.com/OLNband/
Twitter : https://twitter.com/olnband
Facebook : https://www.facebook.com/ourlastnightband/
PALISADES :
Site Officiel : http://www.wearepalisades.com/
Instagram : https://instagram.com/wearepalisades/
Twitter : https://twitter.com/wearepalisades
Facebook : https://www.facebook.com/WeArePalisades/
CROOKS :
Tumblr : http://crooksuk.tumblr.com/
Bandcamp : https://crooksuk.bandcamp.com/
Facebook : https://www.facebook.com/CROOKS.UK/
VIDEOS :