LIEN DES GALERIES PHOTOS COMPLETES EN BAS DE PAGE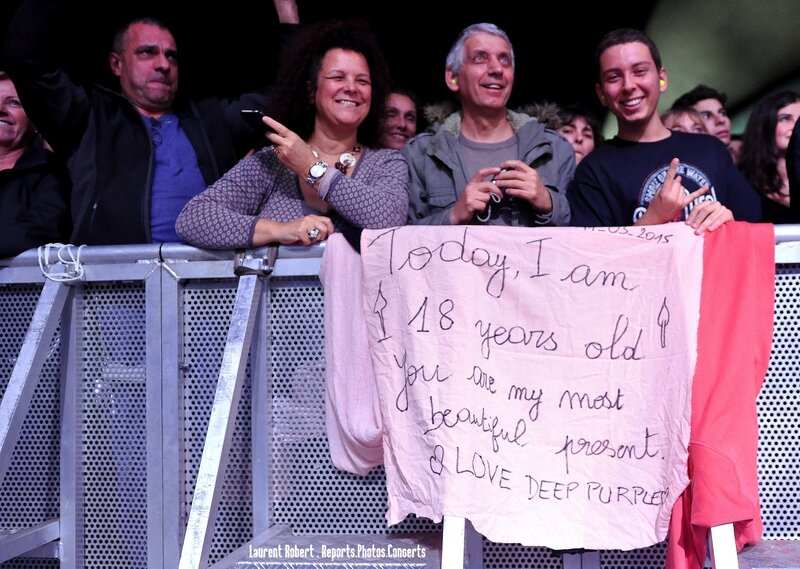 Le retour de Deep Purple à Bordeaux. Après un passage à l'Espace Médoquine en 1996 (Il y en avait certainement eu d'autres avant dans d'autres salles), puis à la Patinoire Meriadeck en 2007 et 2010, c'est leur troisième passage dans cette salle. Certainement le dernier car en 2017 Bordeaux aura (ENFIN !!) un nouveau lieu pour les grands concerts, l'Arena du côté de Bouliac.
Le groupe Rival Sons devait faire partie de la fête, mais ils ont décliné l'invitation du pourpre sur les deux premières dates de la tournée (Marseille le 2 Novembre et Bordeaux le 3) pour prendre le train en marche à Genève le 8. La raison ? Ils sont en train de peaufiner la mise en boite de leur nouvel album... On ne peut pas leur en vouloir... Mais je me faisais une joie de les revoir sur scène. Ce en quoi nous n'avons peut être pas perdu au change avec RavenEye qui les remplacent au pied levé...
Les Anglais, originaires de Milton Keys, se sont formés en 2014 et n'ont qu'un EP gravé. Par contre scéniquement ils ont déja de beaux exploits à leur actif avec les premières parties de Slash aux États-Unis et au Canada ainsi que de Joe Satriani et Blues Pills en Europe. Combien de groupes aimeraient avoir une ascension aussi rapide..... Attention de ne pas se brûler les ailes au passage quand même...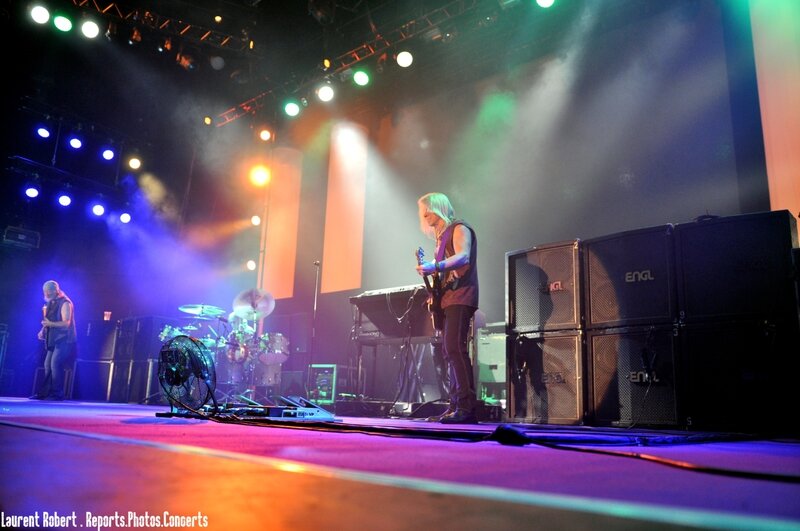 Donc maintenant ils accrochent Deep Purple à leur tableau de chasse en tant que "Guest for".. Personne n'a entendu parler d'eux dans la salle (Bon, il est vrai que je n'ai pas questionné les 4500 spectateurs... ) mais d'entrée ils nous mettent une bonne grosse claque avec "Get It Started" et "Come With Me".. Pour ne rien gâcher ils se donnent à fond, avec un Oli Brown, leader charismatique, sautant partout, à la voix cassée et chaleureuse.. Les deux autres musiciens ne sont pas en reste, Kev Hickman à la batterie étant pris de crises de folie régulières, et Aaron Spiers à la basse, sosie de Billy Corgan le leader des Smashing Pumpkins, concentré, calme et posé, comme beaucoup de bassistes, mais qui n'hésitera pas à nous gratifier de poses de rockstar et de tirages de langue massifs et réguliers.
Le groupe aura 45 minutes pour nous convaincre, faisant même chanter le public sur "Hey Hey Yeah". Le show s'achève sur un "You Got It" qui laisse tout le monde sur le carreau. Le moins qu'on puisse dire est que cela faisait longtemps que nous n'avions pas eu une première partie d'un tel niveau.. Tout le monde loue la qualité du trio, et le stand de merchandising aura son petit succès... A revoir très vite !!
Mais les gens ne sont pas là pour eux, mais pour Deep Purple. Après 25 minutes d'attente la salle s'eteint, avec en fond de scène, à la verticale, le nom du groupe éclairé. Puis les lights s'allument et le groupe nous assène directement "Highway Star"... Bam ! D'entrée ! enchaîné avec un "Demon's Eye" qui tient la route... Le groupe va tenir la rampe durant une heure cinquante, et comme beaucoup de groupes mythiques jouera beaucoup de titres connus de tous : "Hard Lovin' Man", "Strange Kind of Woman", "Lazy", "Perfect Strangers", "Space Truckin'", "Black Night", "Smoke On The Water". L'intro de ce dernier sera d'ailleurs bien charcuté par Steve Morse... Handicapé par une tendinite au poignet droit, il est vrai....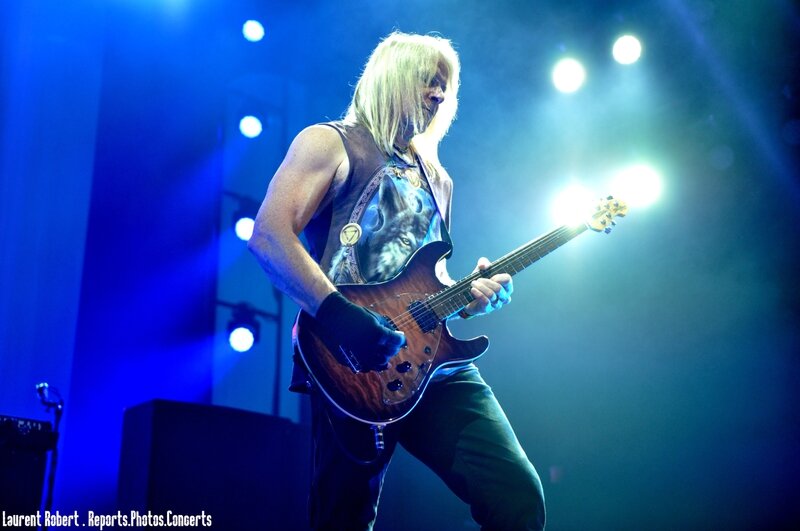 Bien sûr c'est sur ces titres là que le public réagit le plus.. Normal. Nous aurons droit égalementdes morceaux plus récents, et en particulier du dernier album. D'ailleurs Ian Gillan se trompe en annonçant "Demon's Eye" alors que c'est "Vincent Price" qui démarre... Le premier ayant déjà été joué quelques minutes plus tôt. Pas en forme Ian ? Peut être, au moins vocalement... Effectivement je le trouve très en dessous par rapport au concert de 2010, il ne peut plus monter sur les 5 octaves comme naguère.... Pas de "Child In Time" cette année donc.....
Nous aurons droit également aux éternels solos, plus ou moins longuets... Don Airey s'amusant comme un petit fou avec son orgue Hammond, Steve Morse handicapé mais faisant ce qu'il peut sur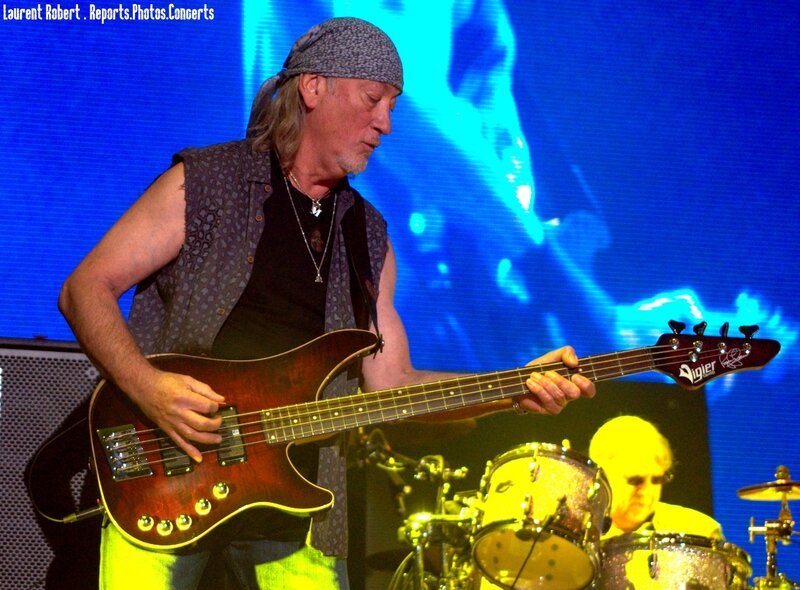 sa six cordes, Roger Glover, accompagné par son batteur préféré Ian Paice, s'approche enfin du public durant sa partie, lui qui était resté en fond de scène devant ses amplis, et ce même Ian Paice maltraitant son kit durant un solo légèrement raccourci par rapport aux tournées précédentes... Le temps a pu paraître long parfois à certains, d'autant plus que le groupe, avec le matériel dont il dispose, aurait pu nous gratifier de deux ou trois titres supplémentaires en lieu et place des parties solos...
Quoi qu'il en soit le public a eu ce qu'il était venu chercher, et le groupe, qui n'a plus rien à prouver, lui a donné ce qu'il voulait. Donc tout le monde est ravi.. Les musiciens, malgré les années passées en tournée ont toujours l'air de s'amuser sur scène, Steve Morse étant toujours en train de sourire, et Roger Glover ayant toujours son oeil malicieux....
Une bien bonne soirée avec une superbe découverte en première partie, et un set très pro de la tête d'affiche...
Texte et photos : Laurent ROBERT
--------------------------
GALERIES PHOTOS :
DEEP PURPLE :

RAVENEYE :


SETLISTS :
DEEP PURPLE :
01 Intro : Mars, the Bringer of War (Gustav Holst song)
02 Highway Star
03 Demon's Eye
04 Hard Lovin' Man
05 Strange Kind of Woman
06 Vincent Price
07 Uncommon Man
08 The Well-Dressed Guitar
09 The Mule (+ drumes solo)
10 Keyboard Solo
11 Lazy
12 Mary Long
13 Hell to Pay
14 Keyboard Solo
15 Perfect Strangers
16 Space Truckin'
17 Smoke on the Water
18 (encore)
19 Green Onions (Booker T. & The MG's cover)
20 Hush (Joe South cover)
21 Bass Solo
22 Black Night

RAVENEYE :
01 Intro
02 Get It Started
03 Come With Me
04 Oh My Love
05 Hey Hey Yeah
06 Home Sweet Home
07 Breaking Out
08 You Got It
LIENS DES GROUPES :
DEEP PURPLE :
Site Officiel : http://www.deeppurple.com/
Facebook : https://www.facebook.com/officialdeeppurple
Twitter : https://twitter.com/_DeepPurple
Youtube : https://www.youtube.com/user/DeepPurpleVEVO
RAVENEYE :
Site Officiel : http://www.raveneyeofficial.com/
Twitter : https://twitter.com/ItsRavenEye/
Facebook : https://www.facebook.com/ItsRavenEye/
Wikipedia : https://en.wikipedia.org/wiki/RavenEye
VIDEOS :
RAVENEYE :

DEEP PURPLE :