LIEN DE L'ALBUM PHOTOS COMPLET EN BAS DE PAGE
Cédric, admirateur du groupe tête d'affiche de la soirée depuis plus de 20 ans et accessoirement animateur de l'émission "Diego On The Rocks" sur la radio ARL (96.2 sur la région Bordelaise, lien en bas de page) le mercredi soir, est retourné voir No One Is Innocent à la RockSchool Barbey de Bordeaux le 05 Novembre dernier. Petit compte rendu du concert de Kemar et sa bande.
------------------------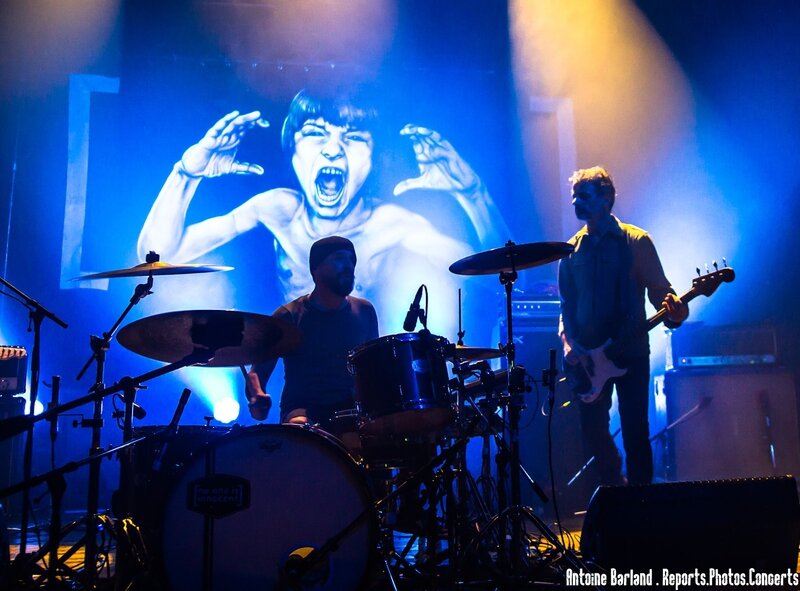 Le groupe de fusion No One Is Innocent reprend la route en 2015 afin de défendre le récent "Propaganda" bien plus réussi que "Drugstore", son prédecesseur de 2011. En 6 albums et 21 ans de service, le groupe de Kémar Gulbenkian n'a plus qu'un membre originel, son chanteur. Après une sympathique première partie (le spaghetti-rock des Romano Nervoso), les No One investissent le théâtre Barbey partiellement vide pour délivrer 1 heure 20 d'un rock sautillant et transpirant.
Premier constat : je n'avais pas vu Kémar depuis 20 ans et le bougre n'a pas changé d'un cheveu... A croire qu'assurer les premières parties d'AC/DC, Motorhead ou Guns & Roses entretient la forme! Deuxième évidence : le discours enragé d'antan est moindre et le groupe parvient à diluer son message révolté dans ses textes. "Drones" en ouverture puis "Silencio" et "Barricades" enflamment la foule pogoteuse qui n'aura de cesse que pour commander une bière dans l'avant salle. Le décor scénique représente la superbe pochette de "Propaganda" et l'espace vital des protagonistes est restreint.
En effet, le groupe opte pour une batterie en milieu de stage et les musiciens oscillent autour de cet organe central qui bat la mesure. "Kids are on the run", "Putain si ça revient" (sans dédicace à Marine...), "Nomenklatura", "Massoud" et "Charlie" voient Bertrand (basse), Shanka (guitare a effets voicodés) & Popy (qui arbore un bonnet) millimétré leurs déplacements pendant que Kémar assure le service après vente (il finira torse-poil sur scène entouré des fans les plus assidus). La plupart des titres du dernier album sont interprétés au détriment de quelques perles manquantes qu'il aurait été judicieux de jouer... notamment "Gazoline", "Henry-serial killer" ou "Ne reste t'il que la guerre pour tuer le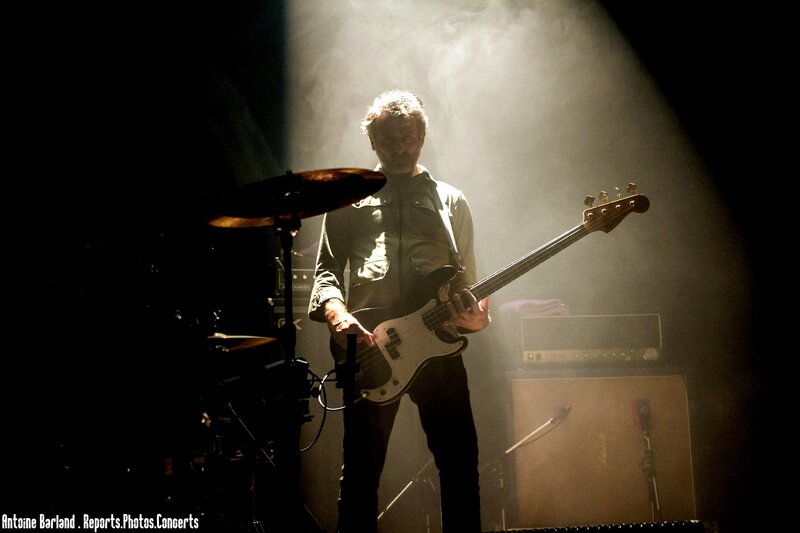 silence ?" Néanmoins, No One Is Innocent fait le boulot et "Revolution.com" demeure le rare instant de répit dans cette soirée rock n'roll. Hommage à "Johnny Rotten" (chanteur des Sex Pistols) puis "20 ans" avant le rappel annonçant "La peau", grand succès datant de 1994 et qui surfa sur l'album des Rage Against The Machine de 1992. Il est clair que le groupe ne peut nier ses influences envers cette référence rock-fusion qu'est la bande à Zach de la Rocha... au point de reprendre "Sleep now in the fire" dans la tournée 2005. Final avec "Chile" de l'album "Utopia" qui marqua le début du déclin d'un combo pourtant inspiré.
Au résultat, No One Is Innocent permet de retrouver cette ambiance grunge des 90's qui ravira le mélomane quadragénaire ou sortira le hardeux jeune adolescent pour une bonne séance de
transpiration. Dans les compositions, la variété musicale est aléatoire mais l'engagement est là, source principale d'inspiration d'un groupe qui a ses adeptes pour un triptyque valorisant : Rock, sueur et bières... Notons la reprise d' "Aline" de Christophe par Romano Nervoso devenue "Puta Maria" qui vaut le détour!
Merci beaucoup à Antoine Barland pour les photos, Cédric Gauthier pour le report. Et à Gérard Drouot Productions pour l'accréditation, bien sûr
SETLISTS :
NO ONE IS INNOCENT :
01 Drones
02 Silencio
03 Barricades
04 Kids Are On The Run
05 Nomenklatura
06 Massoud
07 Charlie
08 Revolution.com
09 Johnny Rotten
10 Drugs
11 20 ans
12 Holy Fire
13 Djihad Propaganda
14 La peau
15 Chile
ROMANO NERVOSO :
01 The Feeling
02 The Story
03 Rocking Machine
04 Glam Rock X-Mas
05 Superstar
06 Televised
07 In The Name Of The Lord
08 Mangia Spaghetti
09 Maria
PRAETORIAN :
01 La Jungle
02 Planete Rouge
03 Corps à coeur
04 La face cachée
05 Nouveau Dieu
06 Praetorian
GALERIES COMPLETES DES TROIS GROUPES PRESENTS CE SOIR LA :
NO ONE IS INNOCENT :


ROMANO NERVOSO :


PRAETORIAN :

VIDEO :

LIEN DE L'EMISSION "DIEGO ON THE ROCKS" SUR ARL :