GALERIE PHOTOS COMPLETE EN BAS DE PAGE (47 photos)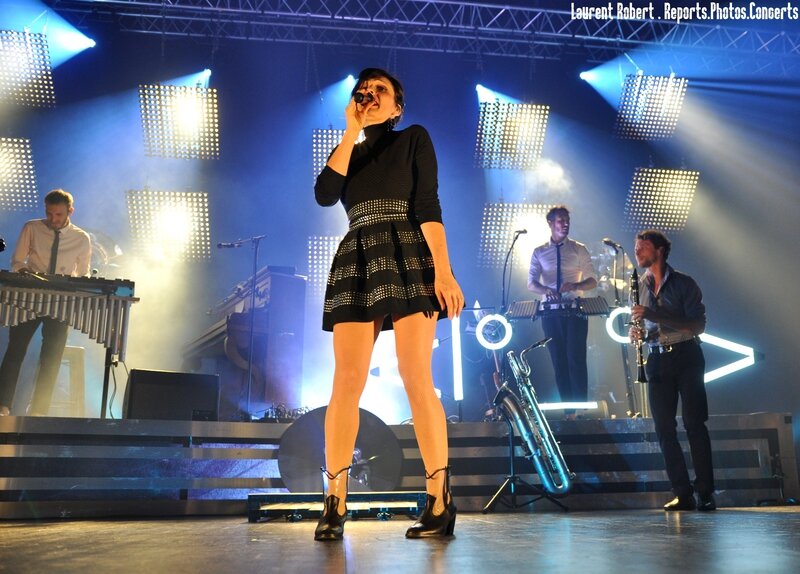 Que dire... Je n'ai pas de mots pour parler de ce concert. Comment faire ? Je ne peux que parler de cette soirée étrange... De cette terrible soirée...
13 Novembre 2015. 21H35. Nous sommes deux dans le pit. Mathilde, qui fait des photos pour la webradio "Start It" de l'école Kedge Business, et moi. Étonnant qu'il n'y ai pas plus de photographes d'ailleurs... Les prestations scéniques de Caravan Palace sont pourtant réputées dans le milieu...
Après IRB, un DJ lourdingue en première partie, il est donc 21h35 et le set de Caravan Palace commence. Comme d'habitude nous avons les trois premiers morceaux pour faire le maximum de photos correctes. Frustrant parfois.. Mais c'est comme ça. Ce que nous ne savons pas encore c'est que exactement au même moment, au Bataclan de Paris, 89 personnes sont en train de perdre la vie durant le concert de Eagles Of Death Metal.
Plutôt concentré dans les différents angles que je pourrais trouver afin de faire des photos variées, je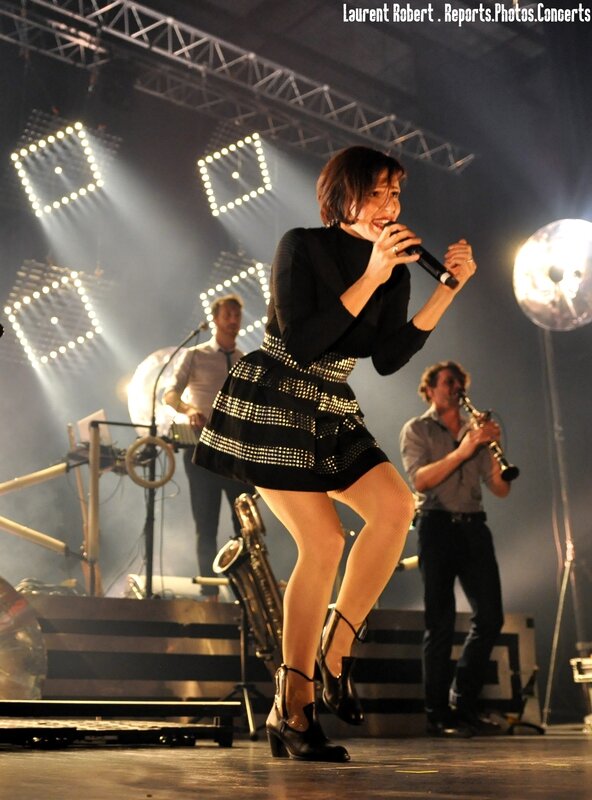 ne fais pas trop attention pour le moment à la musique du groupe. Les trois premiers titres s'achèvent, et Mathilde me suit jusqu'au balcon au dessus de la console son afin de prendre des plans plus larges.. Effectivement les lights sont juste sublimes, ce serait dommage de rater ça. Après quelques morceaux elle doit partir.. J'essaye de me concentrer dans la musique du groupe. Le son est bon (Peut être un petit peu trop de basses), Caravan Palace se donne à fond, le public le lui rend bien... Je commence a réfléchir à ce que je pourrais dire dans le report... Tout va bien...... Jusqu'au moment ou je reçois trois messages, un de mon fils qui vit à Londres "Tu as vu à Paris ? Au stade de France ?", un de mon épouse "Tu rentres quand ? Je suis inquiète" et un troisième d'un ami qui me dit de "Faire gaffe au Rocher car attaque terroriste au Bataclan"... Autant vous dire que à partir de ce moment là je ne suis plus du tout concentré dans le concert, je navigue sur les sites d'infos, je prends des nouvelles de deux amis présents au concert des Eagles Of Death
Metal (Tout va bien ... Ou presque.. Mais ça va), je regarde la porte d'entrée de la salle "Au cas où".. J'envoie des messages à Pauline et Elise, deux amies présentes dans la salle pour savoir si elles sont au courant... Je n'aurais peut être pas dû pour qu'elles continuent de profiter du concert (Pardon...)
Je suis complètement sorti du show, et je m'en excuse silencieusement auprès du groupe car je ne saurais pas du tout quoi dire sur leur prestation...
Après le rappel je me demande si Zoé, la chanteuse de Caravan Palace, et ses acolytes, ont été mis au courant des événements parisiens... Quel sentiment étrange de voir les mille personnes en fosse faire la fête et hurler leur bonheur d'être là alors que toi, juste au dessus d'eux, tu es au courant du terrible drame parisien.... Le concert s'achève, les gens me parlent : "Ouais c'était gééééniaaallll !" ou encore "Quel boooonheur !!".. Bizarre de savoir que dans quelques minutes ces mêmes personnes vont être apeurées par ce qui s'est passé dans la capitale...
Impossible d'écrire autre chose sur le concert... La prestation du groupe était impeccable, superbe ambiance, superbes lumières, bon son... Oui mais voilà.... Mais voilà.... Nous étions le vendredi 13 Novembre 2015, et il m'est impossible de donner plus de détails... Je n'étais plus "là" une bonne partie de la soirée....
Texte et photos : Laurent ROBERT
Un grand merci à Aurélie et au Rocher De Palmer.
--------------------------
GALERIE 47 PHOTOS :

SETLIST :
?

LIENS DU GROUPE :
Site officiel : http://www.caravanpalace.com/
Spotify : https://play.spotify.com/album/3LBVVeFs1R0VJobVUzNSdx
Twitter : https://twitter.com/caravan_palace
Facebook : https://www.facebook.com/CaravanPalace
Instagram : https://instagram.com/caravanpalace/