Le 13 novembre dernier, alors que j'étais au concert de Caravan Palace au Rocher de Palmer, Emmanuelle se chargeait des photos du concert de Archi Deep & The Monkeyshakers et de The Dustaphonics au Bootleg de Bordeaux. Voici ses photos et son compte rendu... Vous trouverez en bas de page les setlists complètes des deux groupes ainsi que les liens des albums photos. Egalement le lien de la page Facebook de Emmanuelle afin d'accéder à toutes ses photos, de concerts ou pas....
----------------------------
LIENS DES GALERIES PHOTOS COMPLETES EN BAS DE PAGE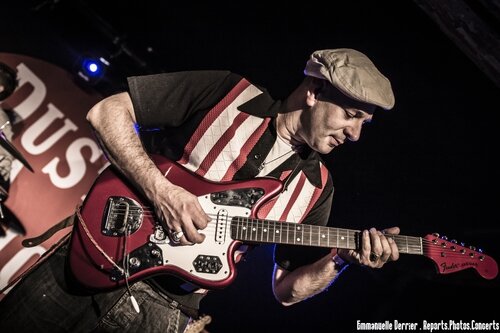 13 novembre : une date qui restera à jamais gravée dans les mémoires, tout comme le 11 septembre...
Pourtant quand nous nous sommes réunis au Bootleg ce soir là, c'était bel et bien pour faire la fête, ensemble, au son des Archi Deep & The Monkeyshakers et des Dustaphonics groupe majeur de la scène Londonienne.
Archi Deep & The Monkeyshakers ouvre le bal à 21h20. Originaires du grand Sud Ouest (Bordeaux, Ile d'Oléron et Niort) ils viennent de sortir leur 3ème EP enregistré aux Ardent Studios à Memphis, Tennessee. Le trio propose un rock garage teinté grunge. Terriblement efficace ! Malheureusement, la salle est bien peu remplie pour cette première partie et malgré les injonctions au public d'Archi Deep, l'ambiance reste réservée. La sauce ne prend pas vraiment et c'est bien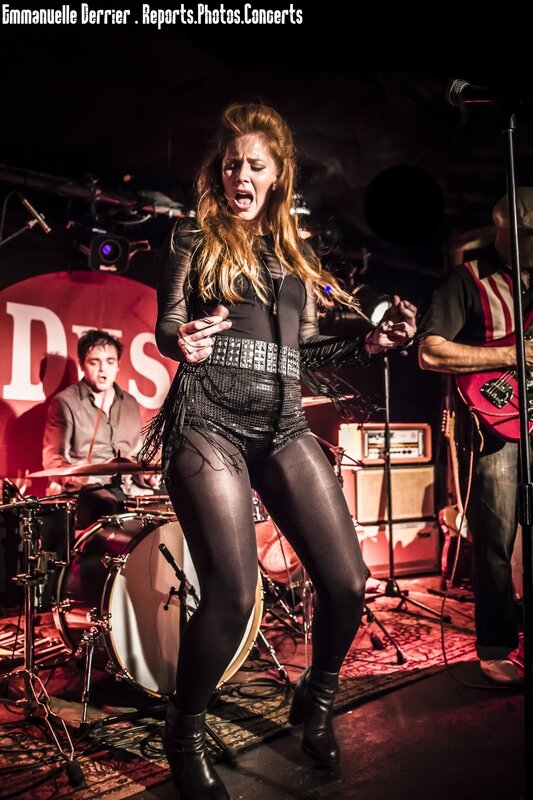 dommage !
Vient le tour des Dustaphonics. Leur collaboration avec Yvan Serrano guitariste et producteur (l'un des plus influents de Londres) spécialiste de la musique « vintage » fait des Dustaphonics, créés en 2008, un des groupes majeurs de la scène underground Londonienne.
22H20 : Les Dustaphonics entrent en scène. Le Bootleg s'est soudainement rempli, et là , d'entrée de jeu, l'assemblée se met en branle, frénétique, électrisée par une Hayley Red survoltée. C'est diaboliquement entraînant : rockabilly, surf rock, blues, jazzy... les Dustaphonics avec leur énergie communicative emportent tout sur leur passage.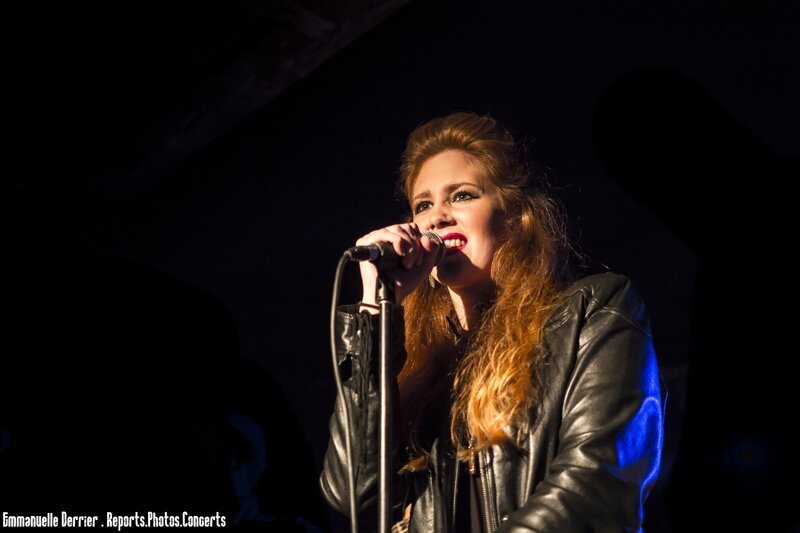 Tout le public du Bootleg s'en donne à cœur joie ce soir là, dans une ambiance des plus festives.
L'euphorie de fin de concert sera de très courte durée et la retombée très rude lorsque nous ressortons nos téléphones et commençons à apprendre les terribles nouvelles via les réseaux sociaux....
Paris. Une autre salle de concert. Les gens s'y étaient réunis en même temps que nous, pour passer tout comme nous une soirée de fête, entre amis....
Merci beaucoup à Maxime de Allez Les Filles, au Bootleg, et bien sûr à Emmanuelle pour les photos
----------------------------
GALERIES PHOTOS DES DEUX GROUPES :
THE DUSTAPHONICS :
ARCHI DEEP & THE MONEYSHAKERS :
LIEN DE LA PAGE PHOTO DE EMMANUELLE "OUDJAT" DERRIER :
----------------------------
SETLISTS :
THE DUSTAPHONICS :
01 – Grand Prix
02 – Ride On
03 – When You Gonna Learn
04 – Rockin Boogaloo
05 – Red Headed Woman
06 – Big Smoke London Town
07 – Good Time Good tTme
08 – Eat My Dus
09 – Witch Of The Night
10 – Back To Mono
11 – Diddley Ramone
12 – Tura Kill Kill
13 – I Am Hurting
14 – Don't Let The Devil
15 – Bossa Twang
16 – You Don't Love Me
17 – Rock Rock Rock
18 – Party Girl
19 – Chicago Girl
20 – Showman Twang
21 – Mojo Your Bones
22 – Dearest Darling
ARCHI DEEP & THE MONKEYSHAKERS :
01 - I Can See
02 - Ballad
03 - Non Sense
04 - Growl
05 - Whispering
06 - What Are You Waiting For
07 - So What
08 - Do You Fear
09 - Real
10 - Nowhere Man
11 - You're Gonna Come
12 - If Only
13 - Oh God
----------------------------
LIENS DES GROUPES :
THE DUSTAPHONICS :
Site Officiel : https://www.reverbnation.com/dustaphonics
Page Facebook : https://www.facebook.com/TheDustaphonics/info?tab=overview
Groupe Fans Facebook : https://www.facebook.com/groups/thedustaphonics/?fref=ts
Twitter : https://twitter.com/dustaphonics
Instagram : https://instagram.com/dustaphonics/
Tumblr : https://www.tumblr.com/search/the%20dustaphonics
ARCHI DEEP & THE MONKEYSHAKERS :
Site officiel : http://www.archideep.com/
Youtube : https://www.youtube.com/channel/UCfHhYpgoc_9T3BBcxM0TUug
Twitter : https://twitter.com/archideep
Facebook : https://www.facebook.com/archideep?fref=ts
Instagram : https://instagram.com/archideep/
Bandcamp : https://archideep.bandcamp.com/album/archi-deep-and-the-monkeyshakers