LIEN DES ALBUMS PHOTOS COMPLETS EN BAS DE PAGE
Nous étions à la Patinoire Meriadeck en ce début Décembre pour une grosse affiche hard rock. Les faisaientt leur cinquième passage dans cette même salle Scorpionsaprès 1984, 1991, 2007 et 2011. Cette fois ci ils étaient accompagnés par Europe (Oui oui, The Final Countdown...) et nombre de personnes étaient surtout présentes pour le premier passage des Suédois à Bordeaux... Cédric (Que vous pouvez retrouver tous les premiers mercredi du mois pour "Diego On The Rocks" sur ARL. Lien plus bas) au récit et Laurent aux photos.
-----------------
C'est souvent dans les vieux pots qu'on fait la meilleure soupe ! L'adage se confirme au concert des Scorpions, 50 ans d'existence et 67 balais au compteur pour Klaus Meine au chant et Rudolf Schenker à la guitare...
Tout d'abord il y eu Europe qui réveilla les fans des années 80 en présentant son dernier effort "War Of Kings" (sans grand intérêt) sorti sur le label UDR, puis certains tubes de 1986 à 1990 comme "Supersitious", le slow "Carrie", "Rock The Night" que le public reprendra en coeur, ou "Ready Or Not" qui firent la joie de Marc Toesca et son TOP 50. Joey Tempest et ses Suédois sont la première partie nordique parfaite dont l'épilogue sera bien sûr "The Final Countdown".. Sachant que beaucoup de fans sont venus pour eux, c'est le compte à rebours idéal pour le concert des Allemands. Il est juste dommage que la voix de Joey ait été sous mixée par rapport à ses acolytes tout le long du concert.
La recette miracle de Scorpions tient dans plusieurs évidences : du bon rock, une pêche d'enfer, un sourire permanent et un melting pot de vieux tubes saupoudrés de quelques excellentes nouveautés et la magie opère depuis des années et personne ne viendra s'en plaindre !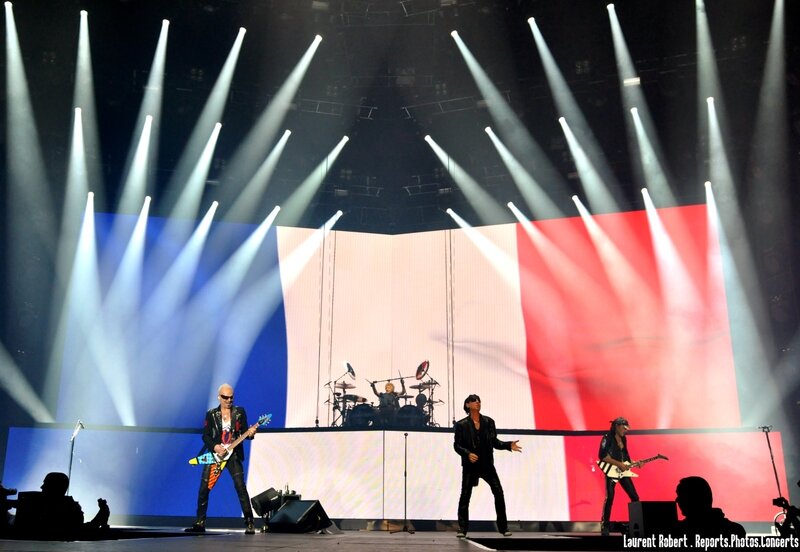 Le groupe se cache derrière un enorme rideau durant l'intro, puis "Going Out With The Band" issue de "Return To Forever" sorti cette année pose le décor d'emblée. Une gigantesque scène ornée d'écrans géants et une avancée afin que le groupe puisse profiter au maximum du public, par ailleurs très motivé. "Make It Real", l'énorme "The Zoo" avec un Mathias Jabb toujours au charbon sur sa talkbox, puis un medley des années 70 d'anthologie ("Top Of The Bill", "Streamrock Fever", "Speedy's Coming" et "Catch Your Train")... les quinquagénaires en ont pour leur argent !
Retour à 2015 ("We Built This House") puis l'éternel intermède acoustique avec "Always Somewhere", "Eye Of The Storm" et "Send Me an Angel". Klaus Meine est très communicant (en Anglais) et ses acolytes arpentent la scène de long en large notamment Rudolf Schenker arborant sa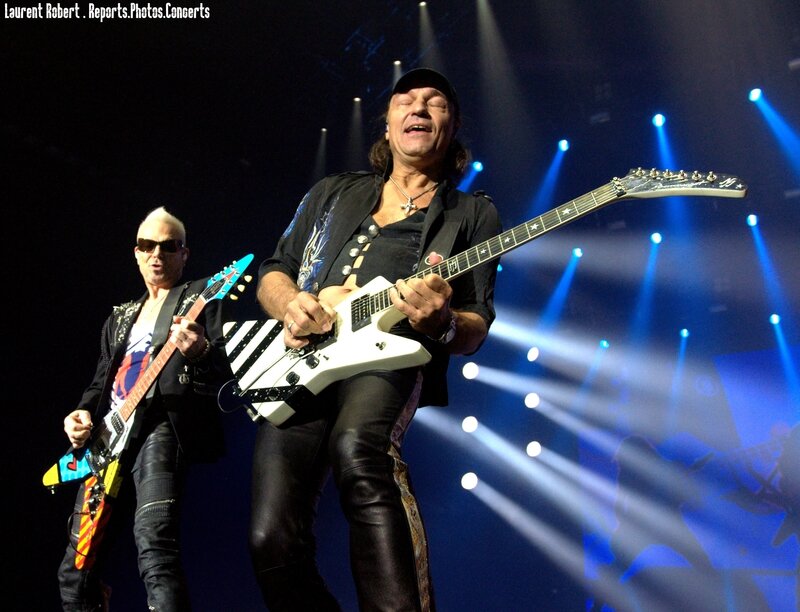 tignasse blanche et sa Gibson flying V sans parcimonie, tout sourire et harranguant sans cesse les premiers rangs avec des "Come on !" ou encore des "Yeaaaaah !". Ce gars prend son pied sur scène depuis plus de 50 ans et ça se voit !
Le sifflé "Wind Of Change" apaise la fosse qui reprend vigueur avec "Dynamite", énorme tube de 1982, probablement l'un des meilleurs titres du soir. Scène enflammée avant le fameux "Kottak Attack", le solo perché du batteur James Kottak, qui présente ses tatouages, ode au rock n'roll. J'ai un souvenir pathétique du même passage lors de leur concert de 2007 qui était à la limite du ridicule... Mais là il s'en sort avec les honneurs...
Du même album, "Blackout" et "No One Like You" achèvent l'assistance avant "Big City Nights" de 1984, qui marque le rappel. Quel enchainement !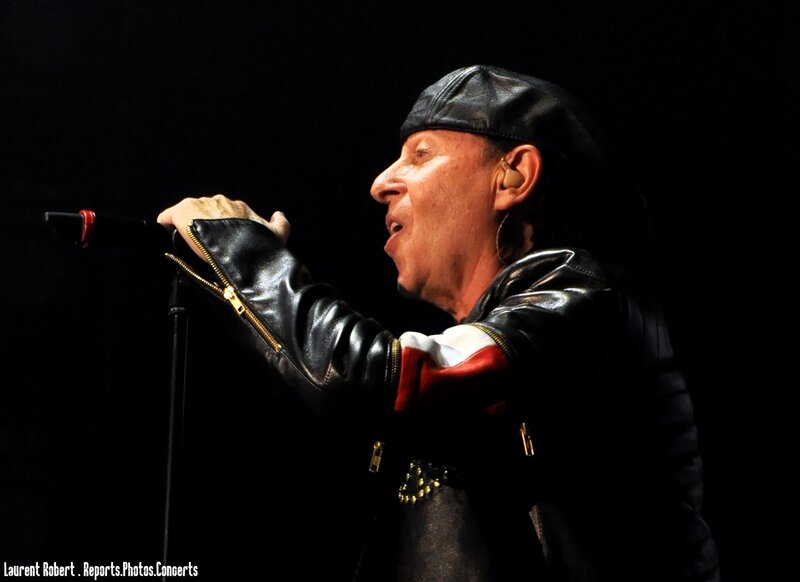 Final sur le plus grand slow de tous les temps (avec "Hotel California"), "Still Loving You" qui prouve que la voix de Klaus demeure malgré les années. "Rock you like a hurricane" clôt un concert impeccable qui rendit hommage aux récents évènements par de nombreuses bannières tricolores projetées ou au brassard porté par le chanteur en début de set. Que du bonheur !
Merci beaucoup à Gérard Drouot Productions et en particulier à Aude et Lucie pour l'accréditation.
Texte : Cedric Gauthier
Photos : Laurent Robert
SETLISTS :
SCORPIONS :
(Time : 95mn)
01 Intro
02 Going Out With a Gang
03 Make It Real
04 The Zoo
05 Coast to Coast
06 Medley (Top Of The Bill / Steamrock Fever / Speedy's Coming / Catch Your Train)
07 We Built The House
08 Delicate Dance
09 Always Somewhere
10 Eye Of The Storm
11 Send Me An Angel
12 Wind Of Change
13 Rock'n'Roll Band
14 Dynamite
15 In The Line Of Fire
16 Kottak Attack
17 Blackout
18 Big City Nights
19 (encore)
20 Still Loving You
21 Rock You Like a Hurricane
EUROPE :
(Time 45mn)
01 Intro
02 War Of Kings
03 Hole In My Pocket
04 Superstitious
05 Ready Or Not
06 Carrie
07 Last Look At Eden
08 Rock The Night
09 Days Of Rock'n'Roll
10 The Final Countdown
GALERIES COMPLETES DES DEUX GROUPES :
SCORPIONS :

EUROPE :
VIDEOS :
SCORPIONS :

EUROPE :
LES CONCERTS GERARD DROUOT PRODUCTIONS :

www.gdp.fr
" J'ai fermé les yeux et me suis mis à rêver... parce qu'ils sont le Floyd réincarné ! " Cette citation, une parmi tant d'autres, est à la hauteur du spectacle fourni par cet incroyable groupe australien.
https://www.gdp.fr
LIEN DE L'EMISSION "DIEGO ON THE ROCKS" SUR ARL :