LIEN DES ALBUMS PHOTOS COMPLETS EN BAS DE PAGE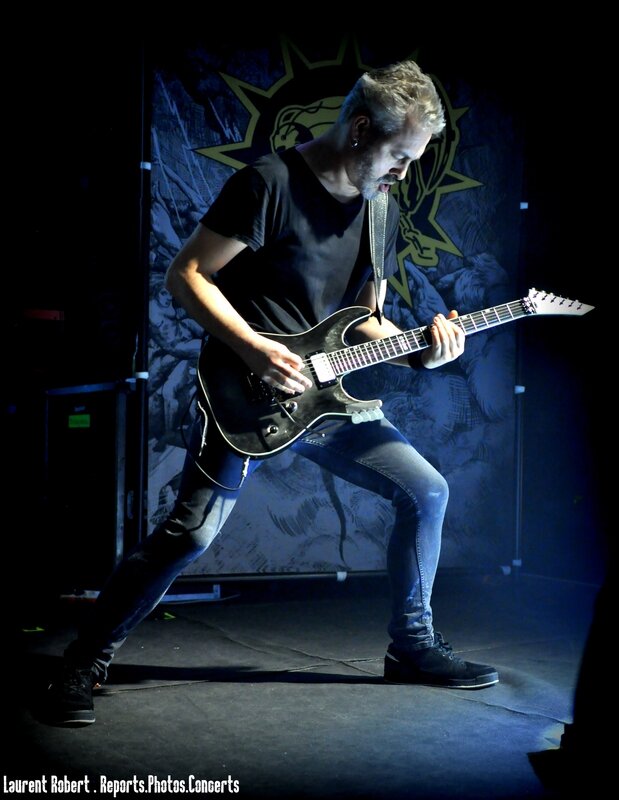 Dernier concert de l'année pour R.P.C, et ce sera une belle affiche métal organisée par Base Productions. Et nous vous faisons la totale avec un live report, des albums photos et une interview avec Sylvain Coudret, guitariste de Soilwork (en ligne dans quelques jours). Nous aurons également la chance d'assister au soundcheck du groupe, qui nous prouvera que ça va envoyer sévère dans le salon de musiques du Rocher De Palmer....
La salle n'est pas pleine, heureusement la location s'est légèrement enflammée lors de la semaine précédente, pour arriver à 180 places vendues avant l'ouverture des portes.. Nous tablerons sur 200 personnes environ pour enflammer le Rocher. Mais avant d'accueillir Soilwork nous aurons le plaisir de retrouver Hatesphere. Retrouver, oui, car nous avons eu le plaisir de les découvrir en première partie de Finntroll au Krakatoa de Bordeaux-Mérignac en Mars dernier. Et nous avions pris une grosse claque. Ce n'est donc pas sans impatience que j'attends leur retour en terre Girondine.
Il est d'ailleurs étonnant que les Danois n'aient pas plus de succès, n'arrivant pas à passer à l'étage supérieur, et que si peu de personnes les connaissent en France, car ils tournent depuis 2001 et ont pas moins de neuf albums au compteur. D'ailleurs le prochain, "New Hell" (Massacre Records) a été financé par une campagne de crowdfunding et sortira le 7 Janvier 2016 dans notre beau pays, alors qu'il est déjà dans les bacs Danois depuis un mois...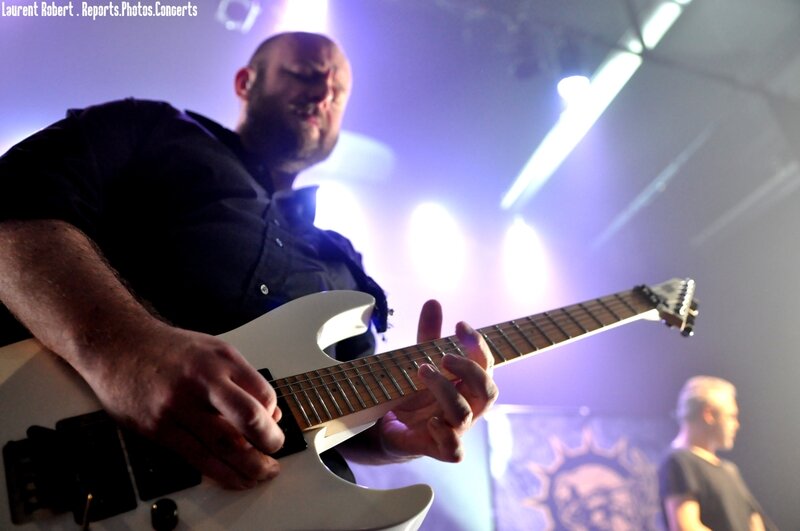 Le groupe va passer en revue sa discographie, alternant les morceaux rapides et puissants où la double grosse caisse est reine, avec d'autres au tempo lourd. Mention spéciale à "Resurrect With a Vengeance", datant de 2011, où les guitares de Peter "Pepe" Lyse Hansen et Jakob Nyholm sont ultras écorchées, grasses, lourdes et lentes, tandis que Mike Park derrière ses fûts nous assène des coups d'une lourdeur implacable. Le tout dans une tension extrême. Quel morceau !! Le groupe va aussi presque retourner à ses origines avec "Vermin" de 2004. Jimmy Nedergaard se donne à fond sur sa basse, et Esben "Esse" Hansen, au chant, communique énormément avec le public, lance les circle pit (Avec plus ou moins de succès il est vrai), invitant les gens à trinquer. Il s'occupera d'ailleurs du merchandising à la fin de la soirée, n'hésitant pas à échanger de longues minutes avec tous les spectateurs qui le désirent.
Le groupe nous jouera aussi leur nouveau single "Lines Crossed Lives Lost" qui sera, bien sûr un brulot du nouvel album à venir (Clip visible ICI) et nous gratifiera même du titre "Iconoclast", enregistré en compagnie du groupe The Black Dahlia Murder en 2013 et paru sur l'album "Murderlust". Mission accomplie pour les Danois (Au sens large car les membres sont originaires de Copenhague, Aarhus, Silkeborg et Odense) qui auront tout donné durant presque une heure, et ce malgré un public certes réceptif, mais plus curieux que impliqué.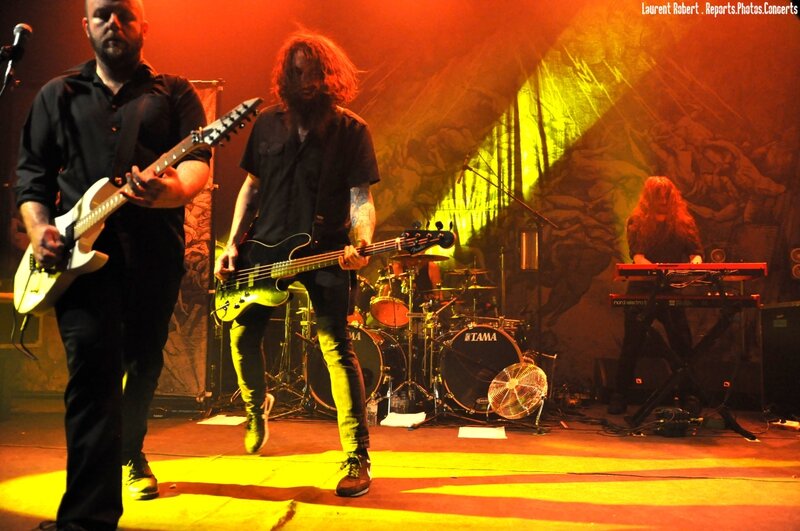 Changement de plateau, et vingt minutes après la fin du set de Hatesphere, le bar se vide et la pression se fait sur les premiers rangs.. Soilwork entre en piste. Les Suédois sont venus défendre leur dernier bébé "The Ride Majestic" sorti chez Nuclear Blast en Août dernier. Cette tournée est aussi l'occasion de présenter Markus Wibom, leur nouveau bassiste, en remplacement de Ola Flink qui a quitté le navire en Juin 2015.
Le set démarre tout en puissance avec le titre qui a donné son nom au dernier effort du groupe, "The Ride Majestic". Durant le soundcheck Sylvain Coudret, le Francophone de la bande, eut pas mal de déboires avec ses pédales d'effets, et manifestement ils ne sont toujours pas résolus car son roadie reviendra sur scène à la fin du titre pour arranger tout ça. Quelques problèmes également pour le chanteur Bjorn Strid, assez gêné durant ce premier morceau vu le nombre de signes adressés à l'ingé son des retours..
Soilwork a un album a défendre lors de cette tournée, c'est vrai, mais le groupe n'en oublie pas moins ses anciens albums, et presque tous les efforts des nordiques auront droit à leur heure de gloire, hormis "Steelbath Suicide", de 1998. On peut comprendre que le groupe n'ai pas voulu interpréter de titre de ce premier cd, leur style ayant largement évolué depuis. C'est plus étonnant avec "Sworn To a Great Divide", qui est sorti lui en 2007. Effectivement un petit "Exile" n'aurait pas dépareillé dans la setlist (Clip visible ICI) , ce titre ayant fait l'objet d'un single, et même servi de bande son au jeu vidéo "Guitar Hero II".. Dommage.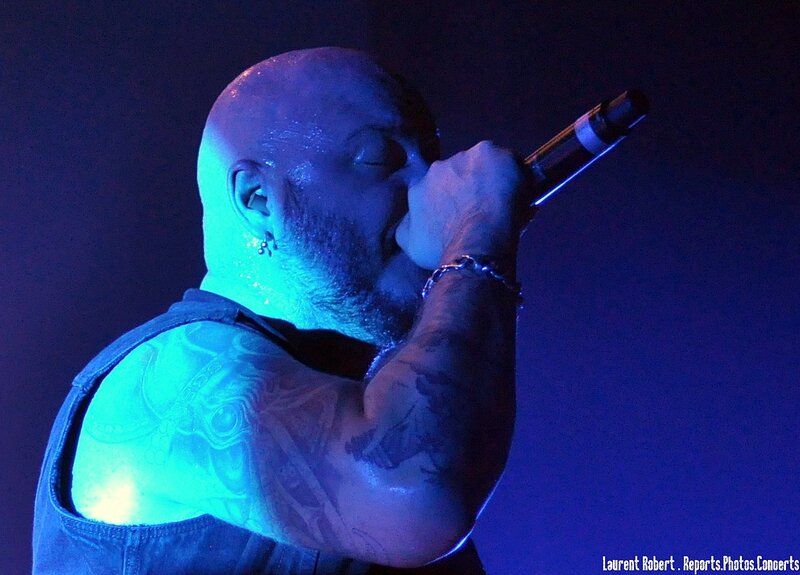 Toujours est il que Soilwork va enchaîner trois anciens titres : "Nerve" et "The Crestfallen (2005) et "Bastard Chain", sorti lui en 2001 sur le troisième album du groupe "A Predator Portrait", pas loin des origines du band donc... Aucune lassitude parmi les membres du groupe de rejouer ces anciens morceaux, et quel plaisir pour le public...
Le groupe enchaîne tout de suite avec deux morceaux du dernier album : Le premier, "Death In General" va plutôt calmer le jeu (Clip visible ICI)alors que "Alight In The Aftermath", même si il garde un côté mélodique va redonner de la puissance au set, Bjorn n'hésitant pas à monter dans les aigus. Peut être pour s'infliger une punition d'avoir oublié qu'il était déjà venu avec Soilwork à Bordeaux quelques années plus tôt.. Mais avec presque 20 ans de carrière on peut le comprendre...
Arrivé en milieu de concert le groupe va alterner 4 titres des deux derniers albums avec un beaucoup plus ancien, "Follow The Hollow", sorti en 2002 sur "Natural Born Chaos". Et ce qui frappe à l'écoute de ces 5 titres c'est l'évolution musicale, les titres les plus récents sont beaucoup plus mélodiques que leur aîné. Même "Petrichor By Sulphur", malgré son tempo ultra speed est plus mélodique, certainement à cause des claviers de Sven Karlsson bien plus présents sur les titres récents.
Le rappel interviendra après un "The Chainheart Machine" d'anthologie où le public se réveille enfin.. Il faut dire qu'il y a tout dans ce morceau... La vitesse, la force, une multitude de breaks, la puissance, un solo de guitare époustouflant... Comme résister.
Les Suédois reviennent pour nous achever avec quatre morceaux face à un public enfin dés-inhibé. Fin du show très variée, avec un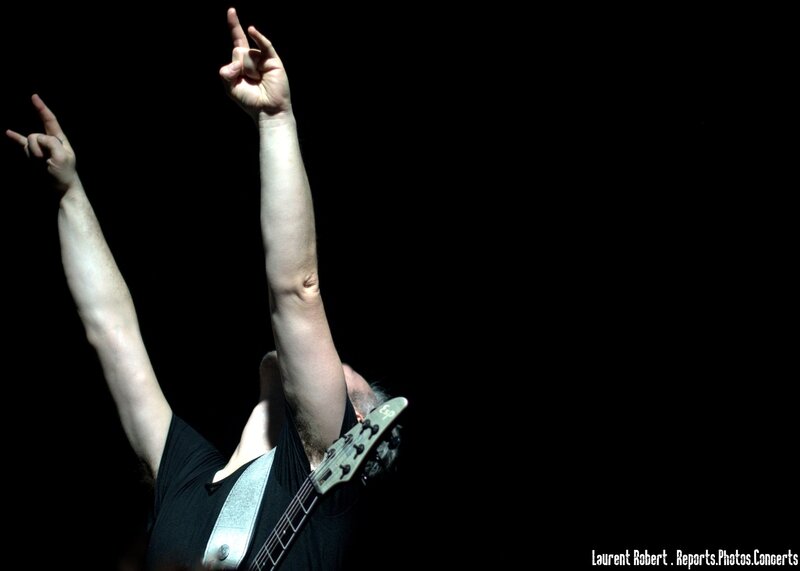 seul titre du dernier album, le superbe "Whirl Of Pain". Quelques approximations au chant dans les parties lentes et plus chantées, dommage. Mais tout à fait le genre de titre où Sylvain Coudret et David Andersson à la guitare peuvent briller, le morceau passant de parties mélodiques, avec un riff de guitare très original revenant régulièrement durant les couplets, à des parties plus rapides et donc plus puissantes... et donc plus classiques pour le groupe. Le concert se conclura sur un "Spectrum Of Eternity" absolument magistral avec un début de morceau aux claviers solo, avant le démarrage au tempo prestissimo à 200... Fin de folie qui laissera tout le monde sur le cul..
D'ailleurs le stand de merchandising n'en sera que plus dévalisé. Le groupe a fait montre d'un professionnalisme à toute épreuve devant un public prenant son temps pour lui montrer tout son amour.. Une setlist très varié et équilibrée entre les différents albums. Seuls 5 titres du dernier seront joués, mais quel bon choix avec The Ride Majestic - Death In General - Alight In The Aftermath - Perichor By Sulphur et Whirl Of Pain. Mais là ou d'autres groupes ont tendance à jouer pour eux, et uniquement pour eux, en interprétant la majorité des titres de son dernier CD, Soilwork ravi ses fans en allant piocher également dans son grenier et sa cave pour nous ressortir certains titres datant de plus de 15 ans. Merci messieurs.
Rendez vous sur les festivals en 2016...
Merci beaucoup au Rocher De Palmer, Base Productions, et en particulier à Clément pour l'accréditation.
Texte et photos : Laurent Robert
SETLISTS :
SOILWORK :
(Time : 90mn)
01 The Ride Majestic
02 Nerve
03 Bastard Chain
04 The Crestfallen
05 Death In General
06 Alight In The Aftermath
07 Tongue
08 Follow The Hollow
09 Petrichor By Sulphur
10 This Momentary Bliss
11 The Chainheart Machine
12 Stabbing The Drama
(Rappel)
13 Let This River Flow
14 Late For The Kill, Early For The Slaughter
15 Rejection Role
16 Whirl Of Pain
17 Spectrum Of Eternity
HATESPHERE :
(Time 50mn)
01 Intro
02 Reaper Of Life
03 The Coming Of Chaos
04 Vermin
05 Floating
06 Resurrect With a Vengeance
07 Lines Crossed Lives Lost
08 Murderlust
09 Iconoclast (The Black Dahlia Murder cover)
10 Drinking With The King Of The Dead
11 Sickness Within
12 (Outro)
MUSICIENS :
SOILWORK :
Björn "speed" Strid : Chant
Sylvain Coudret : Guitare
David Andersson : Guitare
Markus Wibom : Basse
Sven Karlsson : Claviers
Dirk Verbeuren : Batterie
HATESPHERE :
Peter "Pepe" Lyse Hansen : Guitare
Jakob Nyholm : Guitare
Mike Park : Batterie
Jimmy Nedergaard : Basse
Esben "Esse" Hansen : Chant
GALERIES PHOTOS DE R.P.C :
SOILWORK :


HATESPHERE :

GALERIES PHOTOS DE EMMA "OUDJAT" DERRIER :
SOILWORK :

HATESPHERE :


LIENS DES GROUPES :
SOILWORK :
Site Officiel : http://site.soilwork.org/
Site fan club Français : http://www.soilwork.fr/
Facebook : https://www.facebook.com/soilwork
Twitter : https://twitter.com/soilwork
Spotify : https://play.spotify.com/artist/7wqP36o9lqWteOCxBnXlwx?play=true&utm_source=open.spotify.com&utm_medium=open
Instagram : https://www.instagram.com/soilworkofficial/
HATESPHERE :
Site Officiel : http://www.hatesphere.com/
Facebook : https://www.facebook.com/hatesphere666
Youtube : https://www.youtube.com/user/HateSphereOfficial
Twitter : https://twitter.com/hatesphereband
Instagram : https://www.instagram.com/hatesphere_official/
ReverbNation : https://www.reverbnation.com/hatesphere
AGENDA DES CONCERTS AU ROCHER DE PALMER :

AGENDA DES CONCERTS DE BASE PRODUCTIONS :