LIEN DES ALBUMS PHOTOS COMPLETS EN BAS DE PAGE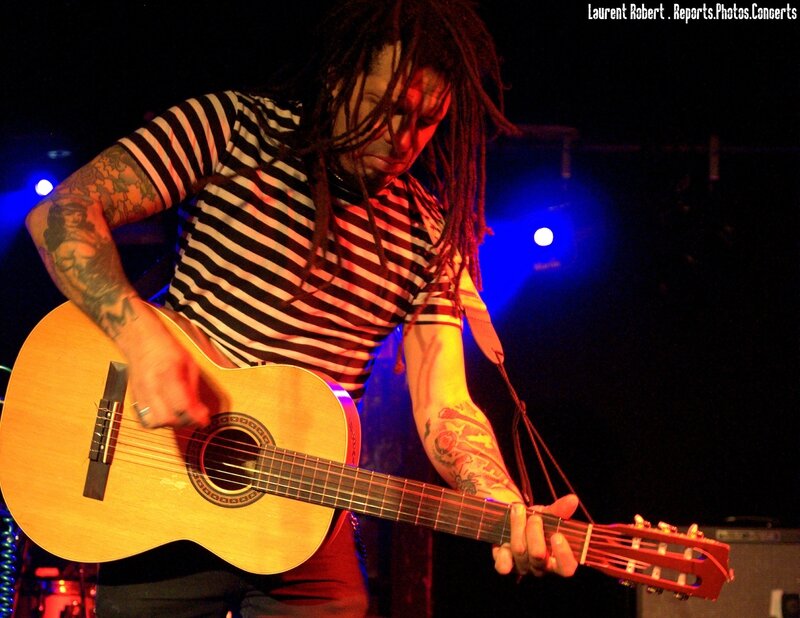 Lorsque j'arrive devant le bootleg je tombe nez à nez avec la star de la soirée. Eric McFadden a la mine sombre. Il n'a pas l'air de bonne humeur.. Du tout du tout...!! J'apprendrai un petit peu plus tard que la veille, la moitié de son matériel de tournée a été volé..... Dur. Je rentre dans la salle, retrouve des amis, constate qu'il y a peu de monde. Mais il y aura tout de même une bonne centaine de personnes ce soir pour venir profiter de la virtuosité du bluesman.
En première partie nous faisons connaissance avec un duo acoustique. Originaires de Bordeaux, Anthony et Mig ont nommé leur duo Louisville. Ils se connaissent depuis plus de 20 ans et travaillent ensemble depuis 2002. Et surtout ils ont une grosse expérience dans le blues Français. Ce sont tout sauf des amateurs... Anthony a tourné avec quelques-uns des plus grands artistes du paysage blues français et international : Nico Wayne Toussaint, Jimmie Johnson, James Harman, Paul Orta, Dawn Tyler Watson, Amos Garrett, Dana Gillespie, Keith Dunn, UP Wilson. Excusez du peu. Mig, lui, a partagé la route avec le groupe "Doo the Doo" dans de nombreux pays. En 2002 il reçoit le trophée France Blues de meilleur chanteur. Et après avoir accompagné de fines gâchettes comme Shawn Pittman, Paul Orta, Curtis Salgado, John Fohl, il fonde le groupe "Loretta and the Bad kings" où il commence à travailler avec Anthony.... Jusqu'à ce projet en duo nommé Louisville.
Ils vont nous régaler une heure durant avec quelques compositions originales mais également un bon nombre de reprises. En particulier une très belle version de "Diddie Wah Diddie" de Willie Dixon. Déjà reprise de nombreuses fois et par énormément d'artistes (Captain Beefheart, Taj Mahal, The Sonics, The Fabulous Thunderbirds, Ty Segall Band pour ne citer qu'eux) ce soir c'est une version ultra dépouillée mais tout aussi fascinante, la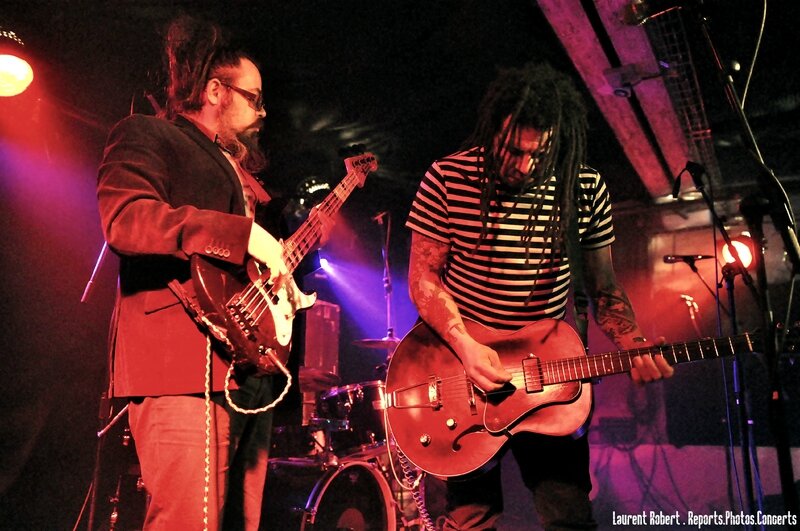 voix de Anthony n'y étant pas étrangère. Ils feront également une reprise de Creedence Clearwater Revival, écrite par John Fogerty, avec "Bad Moon Rising". En fin de set Anthony démontrera une agilité certaine au bottleneck pendant que Mig s'essayera au chant sans pour autant lâcher sa contrebasse. Nous aurons droit également à une superbe version de "I Just Keep Lovin' Her" de Little Walter, morceau datant de 1947, où Anthony, décidément talentueux de multiples façons, alternera chant et harmonica sans oublier son manche de guitare... Le set se terminera sur un superbe "Rollin' and Tumblin" de Muddy Waters. Comme quoi, parfois, il est nul besoin d'avoir des milliers d'artifices pour attirer l'attention du public... Prenez une contrebasse, une guitare, un bottleneck et un harmonica, deux voix.... Un tabouret... Et let's go !! Chapeau messieurs.
Eric McFadden prendra d'assaut la scène une petite trentaine de minutes plus tard. Il va nous offrir un excellent show de deux heures, très varié, passant du blues électrique au rock, au flamenco et la musique tzigane, ou même des morceaux à la limite du hard rock. Il est venu également nous présenter les nouvelles compositions de son dernier album "The Light Ahead" sorti il y a quelques semaines sur le label PhYne Music. La veille à Paris, il poursuivra par Beaumont en Véron, Le Havre, Blois et Callac avant de repartir aux États-Unis pour une trentaine de dates.
Ce soir le show commence mal, Eric passant plusieurs minutes a se battre avec son rack de pédales d'effets qui ne marche pas... Puis le show commencera par deux blues superbes, "Hanging On" et "Fair Trade", nous plongeant directement dans l'ambiance des clubs de Chicago... Puis il nous assènera un "Ride" absolument magnifique, rappelant à tout le monde ses origines chicanos. Superbe titre. Il gardera d'ailleurs sa guitare électro acoustique pour nous faire "Catch A Breath", titre d'ouverture de son dernier album, suivi de "A Light Ahead", titre de clôture de l'album. Original. Nous aurons ensuite droit à la première reprise de la soirée avec "Jockey Full of Bourbon" de Tom Waits. Magnifique moment alliant le blues et la musique tzigane...
C'est le moment que choisi Eric pour nous présenter "Queen Delphine", alias Delphine De St Paer. Curieusement tous les regards masculins se dirigent vers elle. Pantalon slim moulant ses longues jambes, seins provocants, joli minois, comment pourrait il en être autrement. La jeune femme est modèle, actrice, et vient de sortir un EP 4 titres : "Flowers From a Garbage Can" sur PhYne Music. Le premier titre qu'elle interprétera ce soir avec le trio sera "I'm Ready For You & Are You Ready For Me ?", et si l'enveloppe est belle, on ne peut pas dire que côté voix ce fut la même chose. Je dirais même catastrophique.. Dommage car le titre est très enlevé rythmiquement parlant... Mais elle se rattrape rapidement sur le morceau suivant qui n'est autre que "Ice Cream & Wine". Elle quittera la scène une première fois afin de laisser Mc Fadden seul sur scène jouer "Where's Ferdinand ?" et "Devil Moon"...
Elle reviendra pour un "Filling a Hole" beaucoup plus convaincant. Pédro Misle Mogolion à la basse est toujours aussi statique et imperturbable tandis que Marco Bazzi s'en donne à coeur joie derrière ses fûts. Le trio à l'habitude de faire des covers durant ses concerts et ce soir nous auront
droit à "I Wanna Be Your Dog" des Stooges. La salle prend feu, aussi bien sur scène que dans le public.. Les plus jeunes pogottent devant le regard amusé des plus âgés... C'est ça aussi les concerts de Eric Mc Fadden, le mélange des genres et donc des générations. Les anciens sont là pour prendre une bonne rasade de note bleue, tandis que les plus jeunes sont venus pour leur dose de rock'n'roll. Votre serviteur apprécie les deux facettes de l'artiste.... C'est le temps du rappel... Un petit côté Tzigane pour "Tiger On a String" puis l'ambiance remonte d'un cran avec "Put It Down", qui commence calmement avant de se terminer en grosse orgie rock'n'roll.. Avec un long solo de guitare qui mettra toute l'assemblée d'accord.
Un "Changes The Rules" de plus de 14 minutes hypnotisera l'assistance, Eric McFadden venant au plus près du public pour faire ses solos de guitare. Il ne descendra pas dans la fosse comme le font certains musiciens, malgré les appels du public. Le concert se terminera avec un bon gros rock à la MC5, manifestement non prévu car "Queen Delphine" a l'air très surprise de devoir remonter sur scène. Au final un show de plus de deux heures où Eric McFadden nous a régalé de guitares et ce dans tous les styles possibles. Que ce soir blues, rock, flamenco... cCt homme sait tout faire. A ne pas rater si il repasse par chez vous...
Merci beaucoup au Bootleg, Allez Les Filles, et en particulier à Maxime pour l'accréditation.
Texte et photos : Laurent Robert
MUSICIENS :
ERIC MCFADDEN :
Eric McFadden : Guitare / Voix
Pédro Misle Mogolion : Basse
Marco Bazzi : Batterie
Delphine De St Paer : Voix
LOUISVILLE :
Anthony Stelmaszack : Guitare / Voix
Mig Toquereau : Contrebasse / Voix
GALERIES PHOTOS :
ERIC MCFADDEN :

LOUISVILLE :
LIENS DES GROUPES :
ERIC MCFADDEN :
Site Officiel : http://www.ericmcfadden.com/
Twitter : https://twitter.com/EMACSF
Facebook : https://www.facebook.com/ericmcfaddentrio/
Myspace : https://myspace.com/ericmcfaddenmusic
Youtube : https://www.youtube.com/results?search_query=ERIC+McFADDEN&aq=f
Last FM : http://www.last.fm/music/McFadden,+Eric
LOUSVILLE :
Site Officiel : http://www.migprod.fr/louisville
Facebook : https://www.facebook.com/LOUISVILLEBLUES/?fref=ts
AGENDA DES CONCERTS AU BOOTLEG :

AGENDA DES CONCERTS DE ALLEZ LES FILLES :