GALERIES PHOTOS COMPLETES EN BAS DE PAGE
Nouvelle incursion Toulousaine pour R.P.C. Quelques jours après le concert de Against The Current au Saint Des Seins c'est au tour de Simple Plan de passer par la ville rose, et ce sera au Bikini. Finalement après une longue attente sous la pluie nous pénétrons dans la salle et le premier groupe de la soirée, The Bottom Line, commence son show avec une petite demi heure de retard, alors qu'il reste encore du monde dehors. Les Anglais offrent tout ce qu'ils ont, et ça plaît puisque le public, plutôt calme au départ, finit par sauter et chante ce que le groupe leur demande. Le chanteur n'en demandait pas tant et part prendre un bain de foule. Une super ambiance au final, et le public, qui ne s'attendait pas forcément à avoir un troisième groupe sur la scène du Bikini, est ravi.
Beaucoup moins d'ambiance pour le set de Ghost Town. Le groupe est accueilli plutôt fraîchement. Il faut dire que les sonorités électro du groupe ne sont pas vraiment dans l'ambiance de la soirée. Et le son lui même n'est pas non plus à la fête, avec énormément de basses, ce qui donne vraiment l'impression d'avoir de la bouillie dans les oreilles. Il y a quand même pas mal de spectateurs qui hochent la tête, mais rien à voir avec The Bottom Line qui avait bien réveillé le public, et surtout qui avait un véritable échange avec les spectateurs présents, eux.
Même si le Bikini n'est pas sold out pour les Montréalais, comme c'était le cas en 2012, il y a une véritable communion entre Simple Plan et son public, et ce dès l'entrée sur scène. Le son est parfait d'entrée (c'est rare pour le souligner). Pierre Bouvier est absolument ravi de pouvoir parler Français avec le public, cela se ressent. Leur dernier album est sorti moins de deux semaines auparavant mais beaucoup de spectateurs connaissent déjà les paroles. Le groupe à l'air absolument ravi de jouer en France et se permet même de relancer l'éternel débat chocolatine / pain au chocolat. (Chocolatine bien sûr !). Le concert se déroule dans une super ambiance, même lorsque David ira dans la fosse durant un morceau, le public lui montre un grand respect, il n y a aucun débordement. Et le respect est mutuel entre le groupe et son public. La soirée se terminera tardivement par un show acoustique de The Bottom Line sur le trottoir devant le Bikini. Ces gars ont tout compris sur la façon de se faire un nom... C'était parfait.
Photos : Farah Siblini
Texte : Laurent Robert
Merci beaucoup au Bikini et à Nous Prod pour l'accréditation.
-----------------------------------
GALERIE PHOTO DE SIMPLE PLAN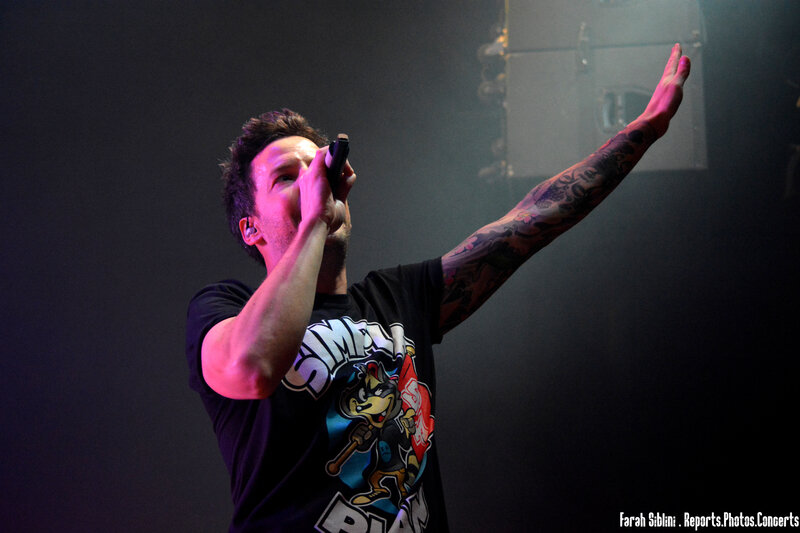 GALERIE PHOTOS DE GHOST TOWN :
GALERIE PHOTOS DE THE BOTTOM LINE :

LIENS OFFICIELS DES GROUPES
SIMPLE PLAN :
Site officiel : http://www.simpleplan.com/
Facebook : https://www.facebook.com/simpleplan/
Twitter : https://twitter.com/simpleplan?lang=fr
Instagram : https://www.instagram.com/simpleplan/
Tumblr : https://www.tumblr.com/tagged/simple-plan
Youtube : https://www.youtube.com/user/SimplePlan
GHOST TOWN
Site Officiel : http://www.officialghosttown.com/
Facebook : https://www.facebook.com/officialghosttown
Twitter : https://twitter.com/ghosttown
Instagram : https://www.instagram.com/ghosttown/
Tumblr : http://officialghosttown.tumblr.com/
Youtube : https://www.youtube.com/user/officialghosttown
THE BOTTOM LINE :
Facebook : https://www.facebook.com/thebottomlineUK/
Twitter : https://twitter.com/thebottomlineuk
Bandcamp : https://thebottomlineuk.bandcamp.com/
AGENDA DES CONCERTS DU BIKINI :