GALERIES PHOTOS COMPLETES ET VIDEOS EN BAS DE PAGE
Si mes souvenirs sont bons cela fait trois ans que Enter Shikari n'avait pas mis les pieds dans la capitale Girondine. Et comme le 12 Janvier 2013 c'est encore au Krakatoa, toujours en pointe en terme de programmation, que cela se passe. Pas de nouvel album à défendre pour les anglais, mais plutôt un disque de remixes dans le style drum'n'bass de leur dernier effort, "The Mindsweep", sorti début 2015. Le nom de ce nouveau méfait ? "The Mindsweep : Hospitalised". Pourquoi faire
compliqué. Après une tournée au Royaume Uni, les voici de retour sur le continent, et particulièrement en France avec 5 dates dans notre pays sur les 12 de leur mini tournée Européenne de ce printemps.
Sur cette tournée la première partie est assurée par The Qemists. Formés à Brighton en 2004, leur style se situe entre le rock et la drum'n'bass, me donnant vraiment l'impression d'entendre Linkin Park. Pas le Linkin Park de "Hybrid Theory", mais plutôt celui de "Meteora". Un mélange de rap métal et de nu metal, avec des ingrédients de drum'n'bass, d'electro et de grosses guitares. Intéressant. Et quelle énergie ! Le public semble adhérer, car il faut dire que leur Oliver Simmons, un des deux chanteurs, y met toute son énergie, il harangue la foule pendant et entre chaque morceau. Parfois il en fait même un petit peu trop. Il est rejoint sur scène par un deuxième chanteur en la personne de Bruno Balanta, n'hésitant pas a aller de front avec le public, qui n'est pourtant pas là pour eux,en se tenant en équilibre un pied sur la scène un autre sur la barrière. Un très bon moment, et même si la prestation de The Qemists n'a rien de révolutionnaire, elle permet de ne pas voir le temps passer en attendant Enter Shikari. Nous aurons même droit à "Stompbox", chanson qui a été un grand succès lors de la sortie de leur premier album en 2009, et a été utilisée dans beaucoup de jeux vidéos comme "Motorstorm: Pacific Rift" ou encore "Need for Speed: Undercover".


A 21h30 retentit le traditionnel compte à rebours annonçant le début du concert : "Showtime in 2 minutes !!"... Les Enter Shikari entrent en scène devant une salle loin d'être complète, balcon fermé et rideaux mis dans la fosse au niveau de la console son. Dommage. Alors que le groupe s'est produit dans des salles bien plus grandes au Royaume Uni cette année, et avec un light-show impressionnant, ce soir c'est sans tout leur barnum que nous les retrouvons. Mais peu importe, car dans le fond les Brightonians n'ont pas besoin d'artifices, leur énergie brute et sincère se suffit à elle-même, et c'est même une chance que de pouvoir les voir façon dépouillée.

Après un "Solidarity" en guise de hors d'oeuvre nous rentrons dans le vif du sujet avec le désormais classique "Sorry, You're Not A Winner". Les quelques 350 personnes présentes ont pourtant du mal à se lâcher... Nous sommes à Bordeaux, n'oublions pas... Rou Reynolds enchaîne direct avec une chanson tirée de "The Mindsweep", et très très peu jouée en concert : "The One True Colour". Preuve que ce morceau a de quoi devenir un classique et que le groupe a fait un bon choix en décidant de l'intérpréter sur cette partie de leur tournée, le public chante les paroles de façon spontanée. L'ambiance monte d'un cran et Rou n'hésite pas à descendre dans le pit photo pour se mettre debout sur la barrière durant "Slipshod". Le groupe garde un contact très proche, presque fusionnel avec ses fans, preuve en est lorque Rou décide de fendre la foule afin d'aller chanter "No Sleep Tonight" juste devant la console son, au milieu des gens. D'abord debout, puis assis. Il ne manque plus que le sable, les vagues et le feu de camp... Il y a d'ailleurs un grand respect entre les fans et les musiciens. Pas de hurlements, pas de gestes déplacés... Nous ne sommes pas à un concert de Justin B.... (Désolé je ne peux pas prononcer son nom... Trop difficile).
Un petit peu plus tard ce sera au tour de Rory Clewlow de descendre dans la fosse, et d'ordonner d'un seul geste au public de faire un circle pit autour de lui. Effet garanti. Les fans ne se font pas prier et se mettent à tourner comme un seul homme autour du musicien.. Autre grand moment du concert, histoire d'éviter la surchauffe, Rou s'installe seul au piano pour nous interpréter "Dear Future Historians".... D'habitude le piano est positionné au milieu de la fosse, ou au niveau de la table de mixage ,mais ce soir ce sera sagement assis sur scène qu'il chantera ce titre. Ce qui ne l'empêche nullement de capter l'attention de toutes les personnes présentes. On peut aimer headbanguer, slammer, faire des circle pit, ça n'empêche pas de savoir tout simplement écouter.
La folie reprend le dessus, et les morceaux récents et plus anciens se succèdent. Un "Torn Appart" dantesque finira par convaincre les plus sceptiques. Sur ce morceau nous verrons même un jeune fan monter sur la barrière et se jeter dans le public pour le premier slam de sa vie. Sur scène le groupe est hilare. D'ailleurs Rory n'hésite pas une seconde à la fin du morceau et demande au jeune garçon de s'approcher et le fait monter sur scène. A la stupéfaction du jeune garçon, Rory lui passe sa guitare autour du cou, et demande au groupe de lancer une improvisation. Ne se démontant pas le jeune fan de 11 ans balance une grosse note bien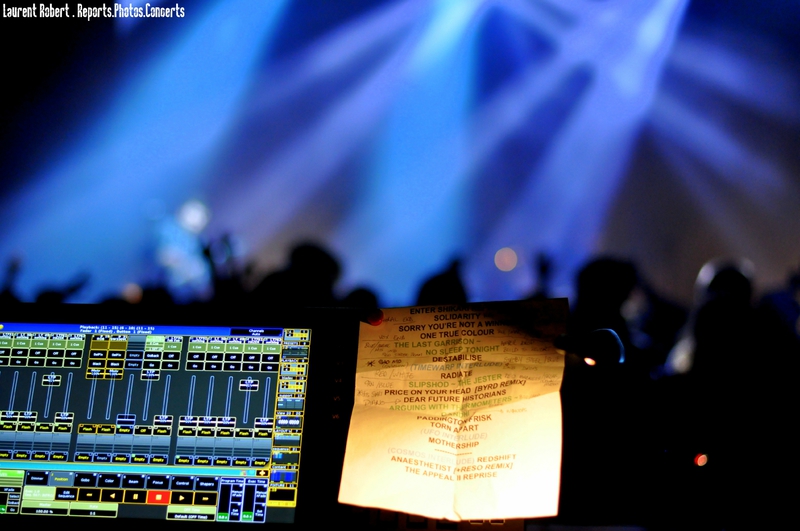 bien grasse, et continu ainsi, et sur le tempo s'il vous plaît, à balancer SA note. Sourire jusqu'aux oreilles, yeux qui brillent, il part rejoindre ses parents des étoiles plein les yeux, papa et maman aussi ravis que lui, étonnés par la gentillesse du groupe, mais également par le culot de leur fiston. Juste après le groupe enchaîne avec "Mothership" que la salle entière connaît par coeur et qui viendra clore la première partie du concert. Après un petit rappel mou du genou car tout le monde sait bien que les Anglais vont revenir, Le public va jeter toutes ses forces dans la bataille pendant que le groupe nous offre un énorme rappel avec la triplette "Redshift" / "Anaesthetist" / "The Appeal & The Mindsweep Part II".
C'est la première fois que je voyais Enter Shikari sur scène car je les ai découverts avec leur dernier album "The Mindsweep" sorti l'année dernière, dont ils ont d'ailleurs joué pas loin de 8 extraits ce soir. Et même si je n'ai pas été subjugué par toutes leurs compositions, il faut avouer que c'est une expérience. Après 13 ans de carrière et des centaines de shows le groupe est devenu une véritable machine de guerre sur scène et c'est une heure et demie de pure énergie, un groupe qui donne tout en concert. Et surtout il y a une complicité sans faille avec les fans. Le quatuor prends énormément de plaisir à jouer et partager, cela se ressent.
Merci beaucoup au Krakatoa, et en particulier à Alice pour l'accréditation.
Texte et photos : Laurent Robert
SETLIST ENTER SHIKARI :
(Time : 95mn)
01 Intro
02 Solidarity
03 Sorry, You're Not a Winner
04 One True Color
05 The Last Garrison
06 Destabilise
07 Radiate
08 Slipshod
09 Price On Your Head
10 Dear Future Historians
11 Arguing With Thermometers
12 Gandhi Mate Gandhi
13 The Paddington Frisk
14 Torn Appart
15. (a young fan, eleven years old, play guitar with the band)
16 Mothership
17 (encore)
18 Redshift
19 Anaesthetist
20 The Appeal & The Mindsweep Part II
SETLIST THE QEMISTS :
(Time : 40mn)
01 Our World
02 Jungle
03 Your Revolution
04 Lost Weekend
05 Anger
06 No More
07 We Are the Problem
08 Stompbox
09 Run You
MUSICIENS ENTER SHIKARI :
- Roughton « Rou » Reynolds : Chant, Piano
- Liam « Rory » Clewlow : Guitare, Voix
- Chris « Batty C » Batten : Basse, Voix
- Rob Rolfe : Batterie
MUSICIENS THE QEMISTS :
- Dan Arnold : Basse
- Leon Harris : Batterie
- Liam Black : guitare
- Bruno Balanta : Chant

- Oliver Simmons : Chant
GALERIES PHOTOS :
ENTER SHIKARI:
THE QEMISTS :

LIENS DES GROUPES :
ENTER SHIKARI :
Site Officiel : http://www.entershikari.com/
Twitter : https://twitter.com/ENTERSHIKARI
Facebook : https://www.facebook.com/entershikari
Youtube : https://www.youtube.com/user/AmbushReality
Tumblr : http://entershikari.tumblr.com/
Instagram : https://www.instagram.com/entershikariofficial/
THE QEMISTS :
Site Officiel : http://www.theqemists.com/
Facebook : https://www.facebook.com/theqemists
Twitter : https://twitter.com/TheQemists
Instagram : https://www.instagram.com/theqemists/
Youtube : https://www.youtube.com/user/theqemistsofficial
AGENDA DES CONCERTS DU KRAKATOA :