GALERIES PHOTOS COMPLETES EN BAS DE PAGE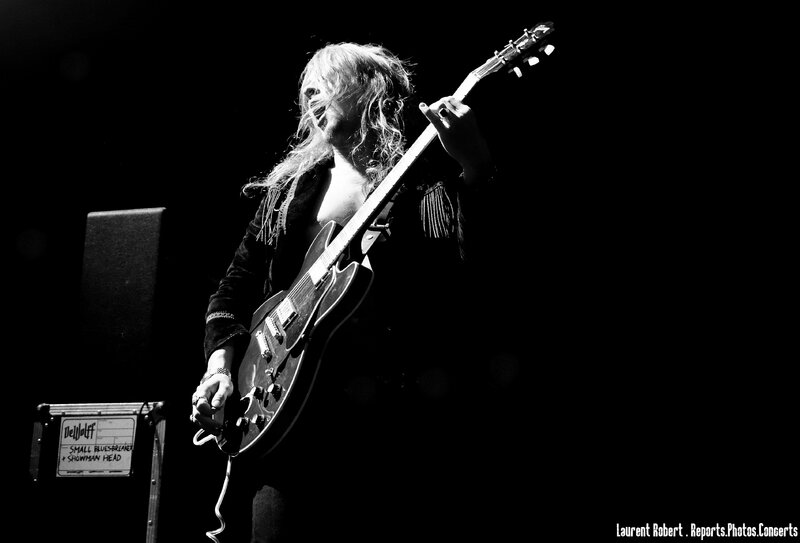 Dewolff et Heymoonshaker. Voilà une affiche alléchante !! Pour avoir vu les premiers déjà deux fois en live je sais que leur show va être à la hauteur. Quant aux seconds, leur album "Noir", sorti chez Dify Records en 2015, m'avait tout de suite plu. Autant dire que la soirée s'annonce bien. C'est devant un Krakatoa dont la fosse se remplie petitement que Dewolff commence son set. Manifestement le public est plutôt venu pour Heymoonshaker. Il faut dire que lors de leurs deux derniers passages en ville c'est au Bootleg et à l'I.Boat que Dewolff est passé (Attention je ne dénigre absolument pas le Bootleg et l'I.Boat), et malgré un noyau de fans de plus en plus important , ils n'ont pas de buzz auprès du grand public. Mais quel bonheur de les voir enfin sur une scène à la hauteur de leur talent !
Ils vont se mettre le public dans la poche à force de riffs et de solos. A noter une énorme version de "

Medicine", un blues langoureux avec un gigantesque solo de guitare de la part de Pablo Van De
Poel. Bien sûr celui ci montera sur l'orgue de Robin au milieu de "What's the Measure of a Man", gimmick qui fait toujours son effet auprès du public. Les trois Néerlandais vont décrocher la timbale au bout de 60 minutes de show, avec un "Stand Up Tall" de presque neuf minutes. Je passerai sur les titres du dernier LP du groupe "Roux Ga Roux", que je ne trouve pas spécialement intéressants. Le stand de merchandising ne va pas désemplir pendant de longues minutes, à tel point que certains vont même rater le début de Heymoonshaker.
Les deux Anglais (Qui se sont rencontrés en Nouvelle Zélande) arrivent sur scène sous les acclamations du public. Confirmation que celui ci était venu avant tout pour eux. Andy Balcon (chant
et guitare) et Dave Crowe (boîte à rythmes humaine et harmonica) sont l'un et l'autre montés sur un plot, l'un sur la droite de la scène et le deuxième sur la gauche. Puis ils vont se rejoindre au centre. Le son est brut, Andy martelant sa six cordes et Dave agressant son micro de son beat box. Les deux compères n'arrêtent pas de bouger afin de remplir l'espace. La formule est intéressante, même si nous avons un nombre incalculable de duos guitare voix / batterie, mode lancée par les White Stripes..
L'intêret de ce duo là est justement qu'il n'y a pas de batterie et que Dave crée la rythmique de chaque morceau avec son beat box. Impressionnant. Les deux garçons sont très talentueux. Ils sont ensemble depuis 2008, et cela se ressent. Il y a du travail derrière tout ça. Mais attention, la formule pourrait devenir vite redondante, peut être va t'il falloir se renouveler au prochain album. Car le
public continuera t'il à suivre sans l'effet "Nouveauté" ? Bien sûr les deux singles du dernier album
("Take The Reins" et "Feel Love").seront exécutés et repris en coeur par le public, particulièrement le premier. A noter une reprise du "Whole Lotta Love" de Led Zeppelin introduite dans un excellent Français et de façon singulière par Andy : "Imagine, on est dans les années 70... Imagine... Et nous, nous sommes Led Zeppelin". Puis un solo de beat box gargantuesque de la part de Dave.
C'est extrêmement frustré que je dois quitter le concert au bout de quelques morceaux suite à un problème personnel. Mais promis, je me rachèterai lors du prochain passage du groupe. Live report complet en prévision.
LIEN DE LA GALERIE COMPLETE DE DEWOLFF :
LIEN DE LA GALERIE COMPLETE DE HEYMOONSHAKER :
SETLIST DEWOLFF :
01. Easy Money
02. Satilla No. 3
03. Black Cat Woman
04. Sugar Moon
05. Medicine
06. Wealthy Friend
07. What's the Measure of a Man
08. Tired of Loving You
09. Love Dimension
10. Stand Up Tall

SETLIST HEYMOONSHAKER :
01. Intro
02. Streets of England
03. Best Of My Love
04. Heavy Grip
05. Wheels in Motion
06. Andy Balcon solo
07. Take The Reins
08. Devil In Mind
09. Amandine
10. Dave Crowe beatbox solo
11. Lazy Eye
12. Stoned
13. MF 45
14. Whole Lotta Love (Led Zeppelin cover)
15. Feel Love
16. You've Got Waves
(Rappel)
17. Find Myself A Home
MEMBRES DES GROUPES :
DEWOLFF :
- Pablo Van De Poel : Guitare / Voix
- Luka Van De Poel : Batterie
- Robin Piso : Orgue Hammond
HEYMOONSHAKER :
- Andy Balcon : Chant / Guitare
- Dave Crowe : Beat Box / Harmonica
LIENS DES GROUPES :
DEWOLFF :
Site Officiel : http://www.dewolff.nu/
Facebook : https://www.facebook.com/dewolfficial
Twitter : https://twitter.com/dewolffmusic?lang=fr
HEYMOONSHAKER :
Site Officiel : https://www.difymusic.com/heymoonshaker
Facebook : https://www.facebook.com/heymoonshaker/
Youtube : https://www.youtube.com/user/AndyBaLconOfficial
Twitter : https://twitter.com/heymoonshaker?lang=fr
Photos de Laurent Robert.
Merci beaucoup au Krakatoa et en particulier à Alice pour l'accréditation.