R.P.C aura le plaisir d'être présent au concert de Delain à l'Elysée Montmartre de Paris, le 04 Novembre 2016. A peine 6 mois après leur dernier passage Parisien couronné de succès qui a vu le concert du groupe afficher complet près de 3 mois en avance, nous avons aujourd'hui le plaisir de voir le retour en terres Françaises de Delain pour 4 Concerts, accompagné de Evergrey et Kobra And The Lotus en premières parties.
Delain n'a pas chômé depuis la sortis de son précèdent album « The Human Contradiction » en 2014, depuis le groupe a fait plusieurs fois le tour du monde en accompagnant des géants de la scène metal mondiale comme Nightwish, Within Temptation ou Sabaton, malgré ce planning chargé le groupe à trouver le temps de finir l'année 2015 avec unetournée européenne des clubs soldout et de sortir début 2016 un EP « Lunar Prelude ».
Le super groupe venus des Pays Bas continue sur sa lancé et s'apprête à sortir son nouvel album cet été chez Napalm Records et partira sur les routes Européennes cet automne pour une tournée conséquente.
Retrouvez le groupe en France pour 4 concerts exceptionnels à Lyon, Toulouse, Lille et Paris pour ce qui sera le 1er concert de Metal annoncé à L' Elysée-Montmartre à l'occasion de la saison de réouverture de la Mythique Salle Parisienne.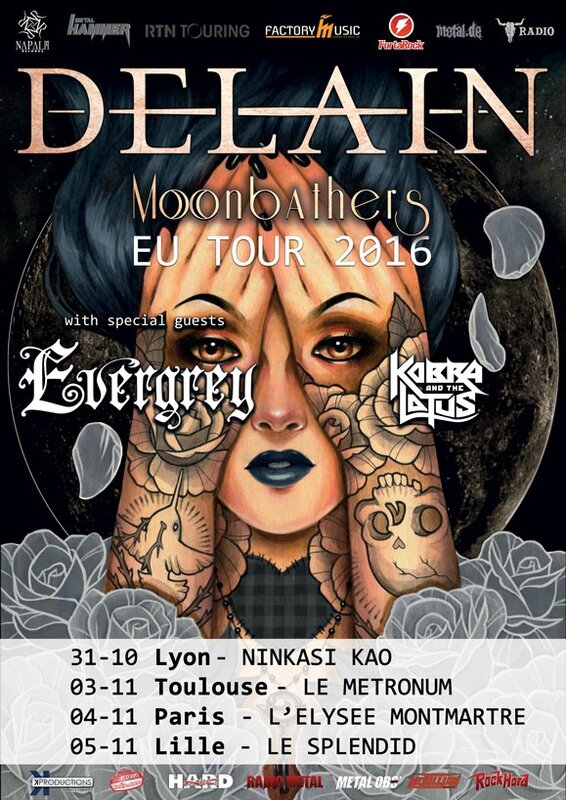 ----------------------------
INFOS PRATIQUES :
Réservez dès maintenant vos places:
Pour rejoindre la salle :
72 Boulevard de Rochechouart
75018 PARIS
T. 01 44 92 78 00
accès aux personnes à mobilité réduite
MÉTRO
station anvers, ligne 2
BUS
anvers sacré-cœur, lignes 30 & 54
AUTOLIB
station 31 bd rochechouart
PARKING
parking anvers, 41 bd rochechouart
Achetez vos places directement sur ce lien

:
EVENEMENT FACEBOOK :
VIDEOS DES ARTISTES PRESENTS

: