LIEN DE L'ALBUM PHOTOS COMPLET EN BAS DE PAGE
Cédric, animateur de l'émission "Diego On The Rocks" sur la radio ARL le premier mercredi de chaque mois, (96.2 sur la région Bordelaise ou en replay sur le net, lien en bas de page) a fait un live report complet du concert des Irlandais de The Divine Comedy le 1er Fevrier dernier au Theatre Fémina de Bordeaux.
------------------------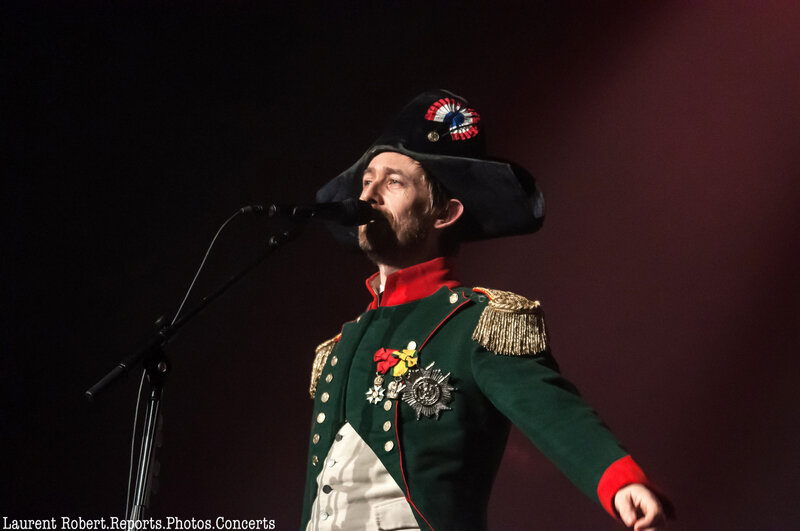 Pour les aficionados des 90's, la tournée Française 2017 des Irlandais est un évènement. Malgré de réguliers passages et changements, la formation de Neil Hannon (46 ans cette année), The Divine Comedy, a sorti l'an passé un bon LP baptisé "Foreverland" sur le label "Divine Comedy Records". On est jamais mieux servi que par soi même. Le groupe va en interpréter quelques extraits, principalement en début de set.
"How Can You Leave Me On My Own" et "Napoleon Complex" ouvrent la messe, alors que le chanteur est déguisé en Napoléon Bonaparte pendant que ses 5 soldats arborent des vestes d'époque. Ambiance pop-baroque. "Bad Ambassador", "The Pact" puis "To The Rescue" (récent single en date) dévoilent un accordéon omniprésent dans les compositions d'un groupe qui affiche 11 albums au compteur.
Le dandy Neil Hannon revient en chapeau melon sur "The Complete Banker", datant de 2010, puis sur fond de banjo avec "Bang Goes To Knighthood", alors qu'il entretient la communication avec un public connaisseur et partiellement Anglais. La plus belle chanson de la soirée restera "Our Mutual Friend", où le meneur simule l'ivresse et s'écroule sur le devant de scène. Calm before the storm avec "Funny Peculiar", en duo avec Lisa O'Neil, qui assurait la première partie, et les magnifiques "A Lady Of a Certain Age" et "Songs Of Love" qui font preuve d'arrangements subtils dans une ambiance minimaliste.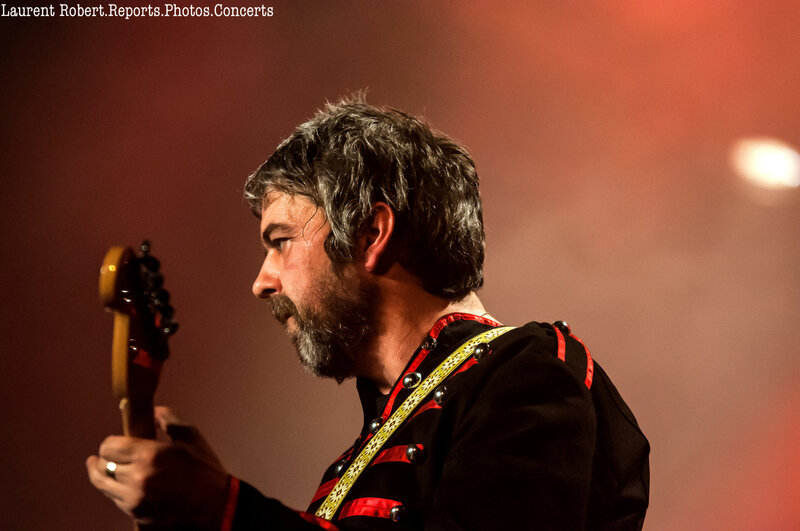 Les musiciens assurent sans subterfuges mais avec un verre en main que Neil sort d'un bar-mappemonde tronant depuis plus d'une heure sur les planches. La fin du concert s'avère plus rock n'roll (à la Gretsch) avec des titres issus de "Casanova" et "Fin De Siècle" comme "Becoming Like Alfie", "I Like" ou le superbe "National Express" avec public debout. Les Irlandais fans de Bjork et Kate Bush sont plaisants et leurs mélodies travaillées enchantent un théâtre Fémina quasiment complet.
Rappel et présentation des musiciens sur "Assume The Perpendicular" (magnifique) pour clore sur une chanson à boire ("A Drinking Song") étonnante pour des Anglais (!) et juste avant laquelle Neil demande au public de bien vouloir l'excuser d'avoir écrit ce morceau... L'humour British. Toujours. S'ensuit, pour conclure le set, "Tonight We Fly", l'une des premières compositions de 1994 période "Promenade".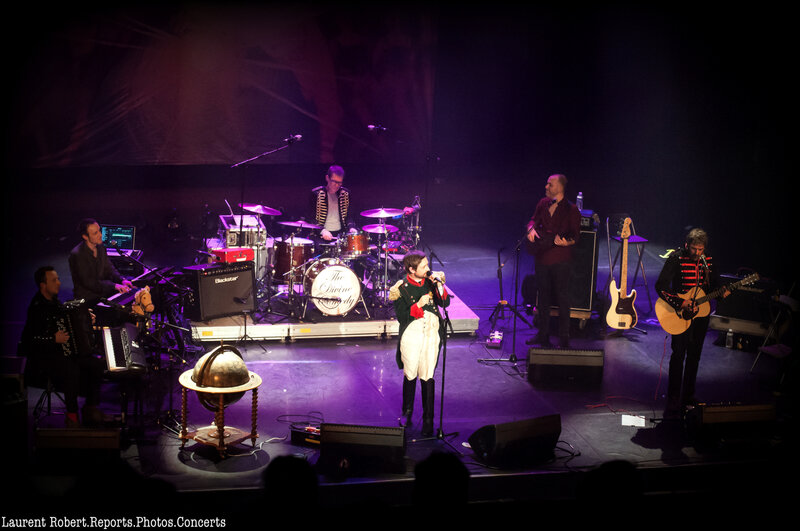 Au final, un concert sympathique permettant de (re)-découvrir la voix d'un chanteur (seul membre originel) dont l'intonation est proche de Bowie... La présence d'amplis de marque "Blackstar" (titre du dernier LP du maitre décédé en 2016) est un hasard et une reprise hommage aurait probablement comblée l'assistance. Conclusion finale : The Divine Comedy est le groupe de Neil Hannon. Et pas autre chose.
Photos : Laurent Robert
Texte : Cedric Gauthier
Merci beaucoup à Musiques en Live et à Emilie de Euterpe.
------------------------
SETLIST THE DIVINE COMEDY :
(Time : 105mn)
01- How Can You Leave Me On My Own
02- Napoleon Complex
03- Count Grassi's Passage Over Piedmont
04- Bernice Bobs Her Hair
05- Bad Ambassador
06- The Pact
07- To The Rescue
08- The Certainty Of Chance
09- The Complete Banker
10- Bang Goes The Knighthood
11- Generation Sex
12- Our Mutual Friend
13- (Interlude)
14- Funny Peculiar
15- A Lady Of Certain Age
16- Songs Of Love
17- Something For The Week End
18- At The Indie Disco
19- Alfie
20- I Like
21- National Express
22- (encore)
23- Assume The Perpendicular
24- A Drinking Song
25- Tonight We Fly
LIENS OFFICIELS DE THE DIVINE COMEDY :
GALERIE COMPLETE THE DIVINE COMEDY

:
LIENS DIVERS

:
LIEN DE L'EMISSION "DIEGO ON THE ROCKS" SUR ARL :
LIEN DE L'ASSOCIATION MUSIQUES EN LIVE

:
PROGRAMME DES CONCERTS DE EUTERPE

: