GALERIES PHOTOS COMPLETES EN BAS DE PAGE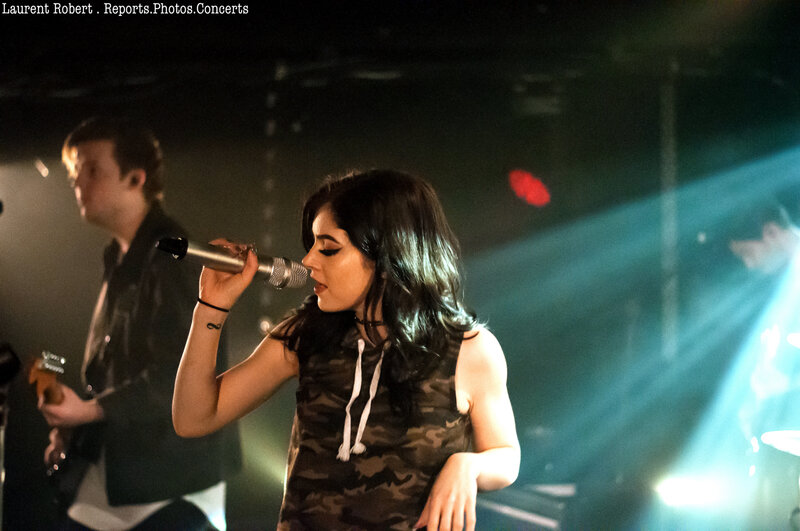 Il faut toujours arriver très tôt à l'I.Boat de Bordeaux pour espérer être au plus près de la scène. Car si on est petit et qu'on se retrouve à l'arrière de la cale du bateau, bon courage pour y voir quelque chose. Il y a donc une foule conséquente devant les deux escaliers qui descendent dans la "salle". Pas de chance pour beaucoup des adolescents présents, il fallait passer avant par la caisse afin de se faire poser un coup de tampon encreur afin de valider l'entrée au concert. Beaucoup de gens qui attendaient depuis de nombreuses minutes vont donc devoir rebrousser chemin vers la caisse et....... se retrouver à l'arrière. Heureusement la salle est loin d'être pleine, et ils arriveront à se frayer un chemin....
Après une première partie sympathique en compagnie de Hunger, des Autrichiens originaires de Vienne qui ont sorti leur premier EP
, doublé d'un très beau clip sur leur single "Gravity". Une première partie qui a mis en jambe les fans Bordelais. Lucas Fendrich ayant un charisme certain, sans compter sur le batteur qui fait le show avec des grimaces toutes plus originales les unes que les autres, ainsi qu'un jeu plus qu'expressif. Les membres d'Against The Current débarquent sur scène vers 21h30. À peine est-elle apparue que la chanteuse Chrissy Costanza déclenche l'hystérie dans la foule, aussi bien du côté masculin que féminin alors que "Blood Like Gasoline" donne le coup d'envoi du set. Ce titre est tiré de leur premier LP sorti il y à quelques semaines, mais le jeune public connaît les lyrics par coeur et reprend donc les paroles à l'unisson, pendant que la chanteuse gambade d'un bout à l'autre de la scène, aussi petite soit elle (la scène, pas la chanteuse... Quoi que...). Quelle énergie ! Chrissy fait le show à elle toute seule du haut de ses un mètre cinquante. les autres membres du groupe étant beaucoup plus discrets. Et ce d'autant plus que Joe Simmons, le bassiste, a quitté le groupe l'année dernière et est remplacé par un bassiste temporaire. Chrissy prend même souvent quelques instants pour adresser quelques mots – et parfois plus – aux fans, les remerciant chaleureusement, adressant également quelques mots à Hunger.
"Running With The Wild Things" vient ensuite, puis on enchaîne avec "Talk", extrait de leur EP "Gravity" sorti en février 2015. Mais c'est de toute évidence leur premier album "In Our Bones", sorti en Mai 2016, qui est à l'honneur ce soir, et les morceaux "Chasing Ghosts", "Roses" en plus de "Blood Like Gasoline" joué en ouverture. Mais aussi et surtout le très punchy "Running With The Wild Things" vient confirmer cela. C'est le premier passage du groupe dans la capitale girondine et force est de constater que le public présent fait partie des fidèles de ATC car il connaît toutes les paroles par coeur, prenant le relais au chant chaque fois que Chrissy délaisse son micro. Alors tout cela est très sympa, il y a une bonne ambiance, une bonne cohésion entre le groupe et ses fans. Mais autant on peut trouver que les musiciens sont discrets, autant il est aussi permis de trouver que Chrissy en fait trop. Enfin ça n'est pas exactement le terme. Disons qu'on a l'impression qu'elle se meut de façon téléphonée, comme si tout était préparé à l'avance. "Alors au milieu de tel morceau je me mets à genoux.. là je dois faire bouger mes cheveux... là je dois tourner sur moi même..." Tout cela plait énormèment au fans, mais votre serviteur à légèrement l'impression d'un manque de spontanéité flagrant... (Je vais me faire flageller moi...) L'euphorie des fans ne retombe pas, bien au contraire, avec "Brighter", mais surtout avec le tube "Wasteland". Après ce titre cela devrait être le rappel.. mais le groupe ne quitte pas la scène. Chrissy interpelle le public en chantant "One more song, one more song..." Et le public bien sûr, se prend au jeu. Alors soit le groupe se trouve très bien sur scène et ne veut pas partir pour revenir, ou alors ils sont pressés d'en finir.... Cochez la case qui vous convient.
Évidemment, il manque deux incontournables que les fans attendent avec impatience. Against The Current revient donc avec "Dreaming Alone" puis "Gravity". étonnant qu'aucune chanson de leur premier « vrai » album ne fasse partie de ce rappel, alors que la setlist était majoritairement consacrée à celui ci. Mais cela comble le public, et les fans satisfaits rappelleront le groupe quelques minutes en espérant un dernier titre. Mais non. 58mn et c'est fini. Quel sentiment nous restera t'il de ce concert ? Mitigé. Musicalement parlant, on n'invente rien, on ne sort pas vraiment des sentiers battus, voir même pas du tout. Chrissy est charmante, a une jolie voix, qui malheureusement semblait sous mixée ce soir là. Le son semble noyé dans une nappe de synthé samplée, même le son de guitare gagnerait à être plus agressif. Tout cela est gentillet, en fait. Très gentillet. Je ne dis pas que le groupe n'est pas sincère dans sa démarche, loin de là, mais l'ensemble manque certainement de spontanéité, alors même que les musiciens semblent heureux de jouer leur musique, heureux des réactions de leur public, qui lui même est au anges de voir leurs favoris juste là, à une longueur de bras. Pour preuve les yeux de cette fan, complètement tétanisée en début de set, ne réalisant pas se trouver là, à moins de un mètre de Chrissy, ne pouvant quitter cette dernière des yeux, chantant toutes les paroles en même temps que la chanteuse... Ce concert n'était pas du tout ma priorité absolue, mais le cadre de l'I.Boat est sympa, la bière est bonne, les beaux jours reviennent..... Et le concert n'était pas non plus si horrible que certains ont bien voulu le croire en lisant le report.... Donc tout va bien !
Photos de Laurent Robert.
Merci beaucoup à l'I.Boat
LIEN DE LA GALERIE COMPLETE DE AGAINST THE CURRENT :
LIEN DE LA GALERIE COMPLETE DE HUNGER :
-----------------------
SETLIST DE AGAINST THE CURRENT :
(Time : 60mn)
01- Blood Like Gasoline
02- Running With The Wild Things
03- Talk
04- Young & Relentless
05- Chasing Ghosts
06- Roses
07- Runaway
08- One More Week-end
09- In Our Bones
10- Brighter
11- Paralyzed
12- Wasteland
13- Dreaming Alone
14- Gravity
---------------------
MUSICIENS :
AGAINST THE CURRENT :
- Chrissy Costanza : Chant
- Dan Gow : Guitare
- Will Ferri : Batterie
+ une guitare et une basse avec des musiciens additionnels.
HUNGER :
- Lucas Fendrich : Chant
- Daniel Rumpel : Guitare
- Johannes Herbst : Basse / Claviers
+ Un batteur additionnel
LIENS OFFICIELS DES GROUPES :
Site Officiel : http://www.atcofficial.com
Twitter : https://twitter.com/atc_band?lang=fr
Instagram : https://www.instagram.com/againstthecurrentny/
Facebook : https://www.facebook.com/againstthecurrentband/
Site Officiel : http://www.hungerband.com/home/
Twitter : https://twitter.com/hungertheband
Instagram : https://www.instagram.com/hungertheband/
Facebook : https://www.facebook.com/hungertheband/
PROCHAINS EVENEMENTS DU ROCHER DE L'I.BOAT :