Digne héritier de la scène Noise-Pop américaine et de l'énergie British rock, Flanagan allie avec brio riffs psychédéliques et pop débridée. Si c'est sincère comme une lettre d'enfant, c'est direct comme un crochet du droit. Et c'est sur scène que tout prend son sens : l'énergie est palpable et nos jambes bougent toutes seules, ça sue, ça saute partout, et ça donne envie de chanter les refrains en se tenant par l'épaule. Oui, Flanagan se veut le porte parole d'une jeunesse désabusée, et en recherche de camaraderie. Et ça laisse de bons souvenirs. Et le gars à un charisme de dingue on stage.
Un an que le projet eiste et Flanagan sort déjà son second E.P, le très beau "OK Girls And Simple Tastes" ! Et ils organisent leur release party le 9 Mars au Void. Pour l'occasion, toute la communauté des Freaks s'est réunie pour copieusement festoyer.
Et en plus ils t'offrent une compilation du "Flippin' Freaks" !
J'avais shooté le groupe en live il y a quelques semaines, histoire de vous donner une idée de la claque que vous allez prendre, voici la galerie complète sur le lien ci dessous :
Par ailleurs vous pouvez écouter le dernier EP du groupe sur ce lien :
Toutes les infos de la soirée ci dessous.
c'est nos copains qui racontent des histoires sur fond de 70's gras et épique. Pécho ton casque, ton espadon, et bouge ton boule comme si t'avais bu un bol de chocapic-LSD.
★ ÉCOUTER et TÉLÉCHARGER LITTLE JIMI :
https://soundcloud.com/littlejimimusic
On ne présente plus le projet du plus grunge des Freaks. Cheveux gras, Jeans troués (mais pas autant que ton c*l après leur live) et guitare baryton,
t'es dans les 90's mais en 2017.
★ ÉCOUTER et TÉLÉCHARGER SIZ : https://sizzis.bandcamp.com/


"TORNADE DE KITSCH EN APPROCHE !" - "On dit qu'il est nu sous son jean moulant..." - "Il y avait une femme fontaine à son dernier concert... t'as déjà épongé une cave avec des matelas en mousse?." - "Soyez sûr que partout où il y aura du velour cottelé, il y aura Flanagan." - "Le plus Pop des Freaks a fait danser Bronson en prison." - "Tom Selleck approves Flanagan."
★ ÉCOUTER et TÉLÉCHARGER FLANAGAN : https://flanaganmusic.bandcamp.com/
LIENS INTERNET FLANAGAN :
------------------
LE VOID (anciennement Heretic)
►

58 rue du Mirail, 33000 Bordeaux.
P.A.F: 5€ (+2€ d'adhésion) + COMPILATION FLIPPIN' FREAKS OFFERTE*
Ouverture des portes: 21h
*dans la limite des stocks disponibles.
------------------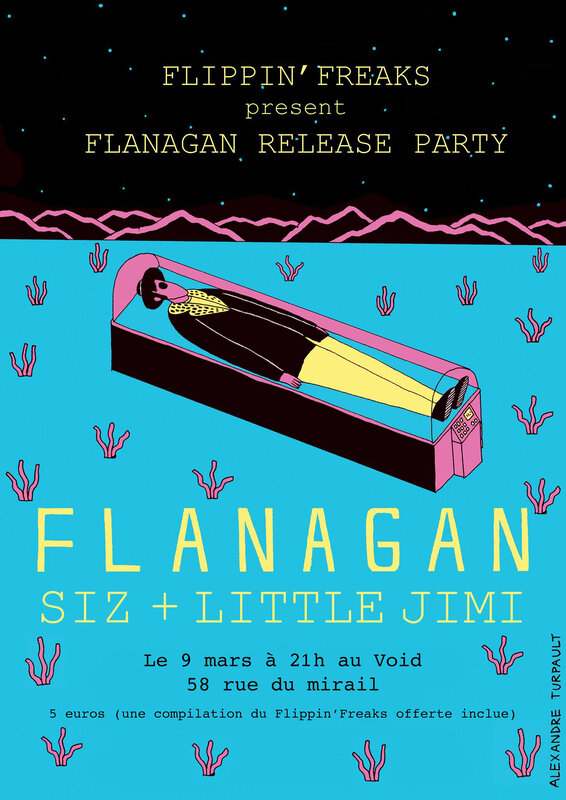 Release "Flippin' Party": Flanagan
UN AN QUE LE PROJET EXISTE ET Flanagan SORT DÉJÀ SON SECOND E.P "O.K GIRLS AND SIMPLE TASTES" ! Pour l'occasion, toute la communauté des Freaks s'est réunie pour copieusement festoyer et ramener l'équilibre dans la Terre du Milieu. ET EN PLUS ON T'OFFRE UNE COMPILATION DU Flippin' Freaks !
http://www.facebook.com