LIEN DE L'ALBUM PHOTOS COMPLET EN BAS DE PAGE
Cédric, animateur de l'émission "Diego On The Rocks" sur la radio ARL le premier mercredi de chaque mois, (96.2 sur la région Bordelaise ou en replay sur le net, lien en bas de page) a fait un live report complet du concert de John Mayall le 15 Mars dernier au Theatre Fémina de Bordeaux.
------------------------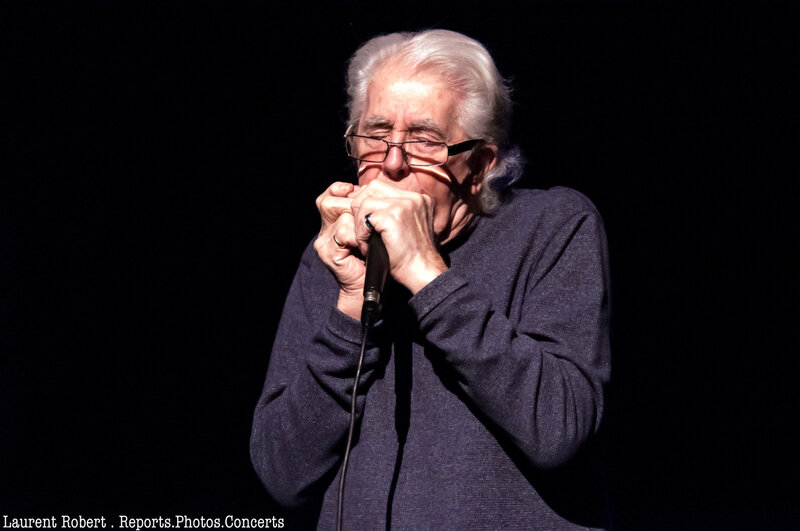 En 1965, John Mayall accueille Eric Clapton (qui vient de quitter les Yarbirds) pour renforcer les Bluesbreakers, groupe pionnier de British blues. A l'issue de cette année de collaboration, Clapton fondera Cream et aura la carrière qu'on lui connait tous. 52 ans plus tard, John mayall, l'Anglais aux 65 albums, vient défendre son dernier effort "Talk About That" sorti en janvier dernier sur le label Forty Below. C'est dans un Fémina quasiment complet (il reste quand même beaucoup de places libres au balcon...) et rempli de fans d'un genre musical précurseur que le maitre va se produire.
A 83 ans, John assure le merchandising avant et après le spectacle en dédicaçant places de concert et CD en vente... que cela serve de leçon aux jeunes prétentieux ! D'ailleurs c'est tellement atypique que beaucoup de spectateurs passent devant le merchandising sans se rendre compte que c'est John Mayall lui même qui tient la boutique. Rigolo.
Après une première partie d'une trentaine de minutes avec Gabriel Gordon, seul avec sa guitare acoustique, John, Greg Rzab à la basse et Jay Davenport à la batterie montent sur scène, rêglent leurs instruments à la place des roadies, et attaquent leur set d'1 heure 55. Les musiciens qui accompagnent John Mayall ne sont pas les premiers venus. Greg à a joué avec Albert Collins, Luther Allison, Willie Dixon, John Lee Hooker, Hubert Sumlin and Junior Wells... Quant à Jay il a officié derrière les fûts de Junior Wells, Valerie Wellington, Pinetop Perkins, John Little John, Jimmie Johnson.... Excusez du peu. Mais n'ayons pas peur des mots, John Mayall, qu'ils accompagnent ce soir, est également une légende du blues. Pour tous les amoureux de cette musique, le chanteur et multi-instrumentiste reste le pionnier, celui qui a ouvert la voie aux douze mesures originelles en Europe. Véritable pionnier du blues anglais, il a lancé des guitaristes comme Mick Taylor, Peter Green et confirmé le talent d'Eric Clapton. Ses Blues Breakers ont également vu éclore des pointures comme Jack Bruce (basse) et Aynsley Dunbar (batterie). Ses albums les plus emblématiques restent "Blues From Laurel Canyon" (1968) et "The Turning Point" (1969). Il est, toute sa carrière durant, resté fidèle aux douze mesures de l'idiome de Chicago, le blues. C'est avec "Dancing Shoes", "I Feel So Bad" et "Early In The Morning" que se fait l'entame d'une douzaine de titres dans lesquels chacuns bénéficient de longs solos longuement applaudis.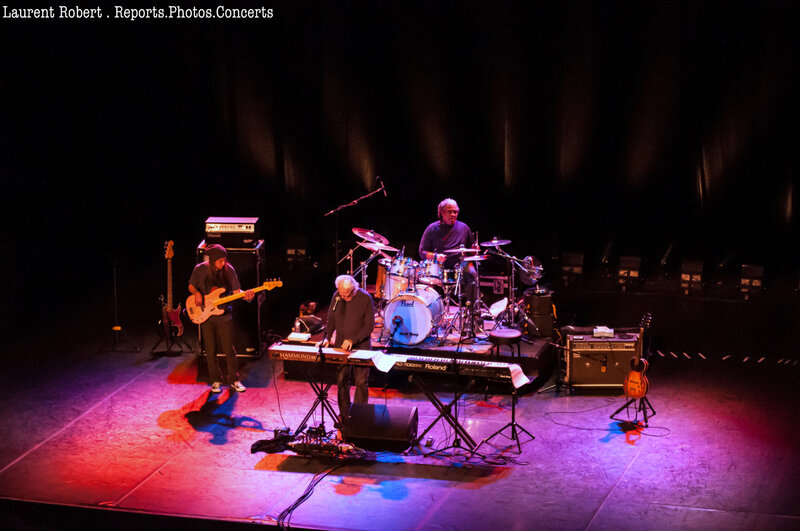 John commente toutes les chansons avec humour et simplicité alors qu'il alterne piano (Hammond ou Roland), guitare et harmonica. D'ailleurs ce dernier conjugué au chant est parfois brouillon. "Another Kinda Love", "Checkin Up On My Baby" (cover de Sonny Boy Williamson) précèdent l'un des grands moments de la soirée : "Heartache". Ce titre de 1964 issu de son premier album à une sonorité vintage extraordinaire, tout comme "Chicago Line" beaucoup plus rythmé et qui permettra à Greg Rzab un magnifique solo (incluant "The Pink Panther" et "Smoke On The Water") nettement plus convaincant que les précédents. Il faut noter la qualité de la résonnance de la batterie qui enjolive la performance et cache la difficile pluralité de Mayall alternant synthétiseur et harmonica tout en assurant la voix ! Viendra ensuite une chanson présentée écologiste contre les USA ("Nature's Disappearing") puis le final classique avec LE titre du bluesman : "Room To Move".
Au final, passion et enthousiasme sont le leitmotiv d'une légende qui ravit les spectateurs Bordelais (très Anglophones d'ailleurs) ce mercredi soir. Un beau moment de partage musical.
Photos : Laurent Robert
Texte : Cedric Gauthier
Merci beaucoup à Musiques en Live et à Emilie de Euterpe.
------------------------
SETLIST :
(Time : 115mn)
01 Introduce Band
02 Dancing Shoes
03 I Feel So Bad
04 Early In The Morning
05 Another Kinda Love
06 Blue Midnight
07 Checkin Up On My Baby
08 Heartache
09 Parchman Farm
10 Nature's Disappearing
11 Have You Heard
12 Chicago Line
13 (encore)
14 Room to Move
LIENS OFFICIELS DE JOHN MAYALL :
Site Officiel - Facebook - Spotify - Twitter
GALERIE COMPLETE JOHN MAYALL :
LIENS DIVERS

:
LIEN DE L'EMISSION "DIEGO ON THE ROCKS" SUR ARL :
LIEN DE L'ASSOCIATION MUSIQUES EN LIVE

:
PROGRAMME DES CONCERTS DE EUTERPE

: