GALERIES PHOTOS COMPLETES EN BAS DE PAGE
La ferme de Masnaud est située sur la commune de Dournazac (87), là bas, tout au bout de la route. Vous ne pouvez pas la rater, de toute façon, puisque la route en question est un cul de sac et la ferme en est le but ultime... J'arrive sur place vers 14h, super accueil de benjamin qui me fait découvrir les lieux, cette vieille demeure familiale, et qui me parle de son boulot ici, avec les canards, les poules, les chambres d'hôtes.. Un vrai passionné. Puis je prends possession de ma "chambre", qui n'est autre qu'une cabane de feuillardier, construite par le maître des lieux. Vue sur la forêt et les champs. Pas un bruit. Des moutons, des chevaux.... Superbe ambiance. J'adore. (Ça vous tente ? Plus d'infos en bas de page)
Le groupe arrive dans l'heure suivante, je les laisse tranquille le temps de faire les balances, puis passe saluer Julien, le bassiste, que je connais déjà pour l'avoir shooté avec son projet solo Damage Case, mais également avec Telegram. Je fais la connaissance de Hugo (Batterie) et Milos (Chant, guitare).
Le concert va se dérouler dans la grange. Le groupe sera dans un coin de la grande salle, face aux tables où les convives mangeront. Sur le coup de 19h le barbecue proposé au public présent démarre, nous en profitons pour nous restaurer également, avant que Milos n'attaque le set, seul sur la scène, guitare électro acoustique en bandoulière. Il faut dire qu'il vient de terminer une tournée en Espagne dans cette configuration. C'est son truc en ce moment. Trois morceaux plus tard Hugo et Julien arrivent pour lui tenir compagnie, et ce durant presque une heure quarante cinq, la soirée étant scindée en deux sets alternant les morceaux du dernier album "Awakening" sorti en 2015, dont le très beau "The Ending", qui a d'ailleurs été clipé par le groupe, avec des morceaux tirés d'enregistrements plus anciens comme sur l'album "The Mountain People Of The Desert" (2008) ou encore "Milos And The Broken Arrow" sorti en 2012.
Une partie du public est moyennement attentif, certains sont là pour passer un bon moment avec de la musique d'ambiance, d'autres uniquement pour manger et profiter du cadre de la ferme, mais il y a les irréductibles qui restent là, écoutent les compositions du groupe, et applaudissent pour les encourager. Ce soir le groupe se produit en formule trio, mais parfois il se compose de 12 musiciens, dont des cuivres, un violon, la voix de Milos doublée par celle de Jessica Astrid Bachke.... Bref... J'espère les revoir très rapidement dans cette dernière configuration....
Après 1h40 de concert dans ce lieu atypique, le trio finit par un titre assez reggae, et le soirée se terminera autour d'un bon cognac, avant de tous nous retrouver le lendemain matin, où, autour d'un café, les musiciens en profiteront pour chercher des riffs, composer.... De vrais passionnés eux aussi... Puis ils repartiront à Bordeaux pendant que je prendrais la route de Châlus, petite ville voisine où j'aurais le plaisir d'exposer au "Sax'o" en Novembre prochain.... Mais ceci est une autre histoire...
Photos : Laurent Robert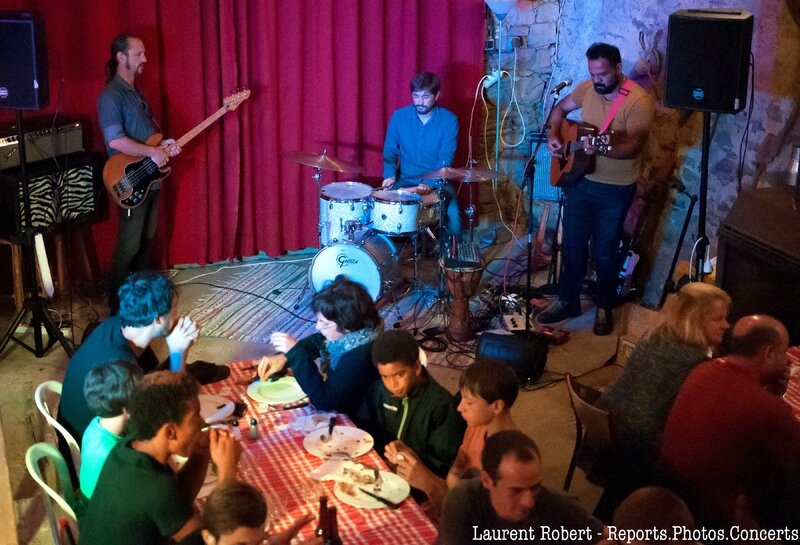 --------------------
GALERIE PHOTOS MILOS ASIAN MUSIC :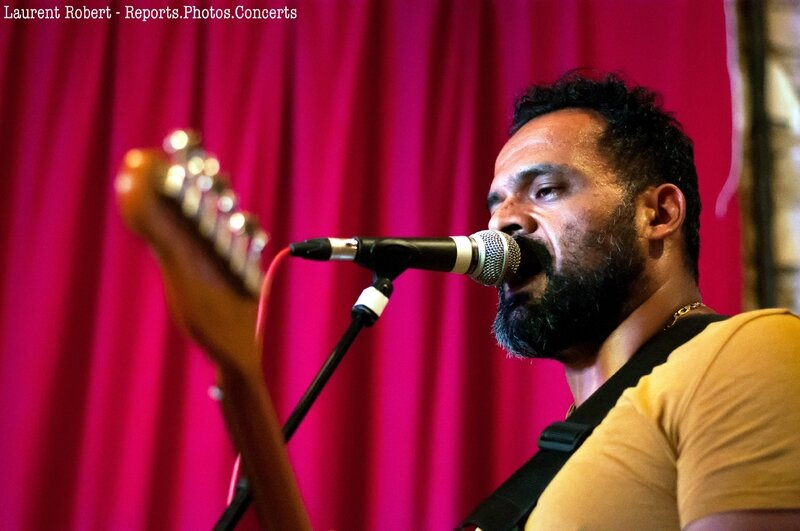 LIENS OFFICIELS MILOS ASIAN MUSIC :
LIEN OFFICIEL DE LA FERME DE MASNAUD :