GALERIES PHOTOS COMPLETES EN BAS DE PAGE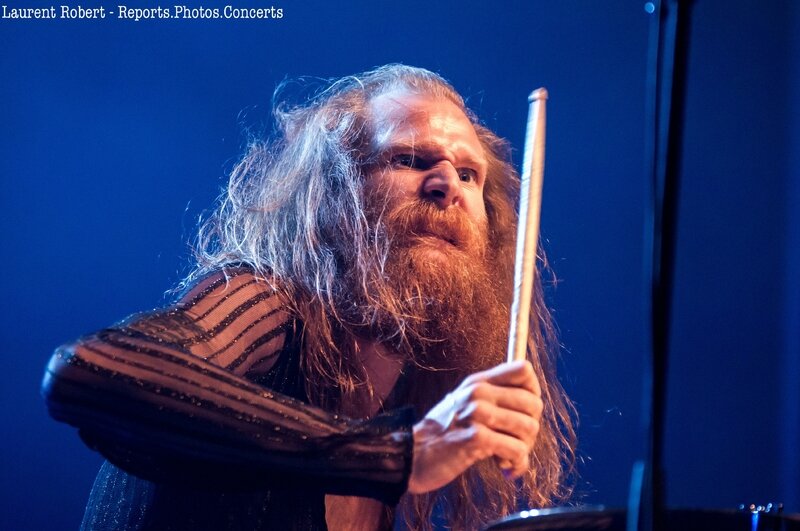 Presque 40 shows en 45 jours, on peut dire que Kadavar ne va pas s'ennuyer dans les semaines à venir. Ils partent sur les routes en compagnie de Mantar et Death Alley. Il y en aura pour tout le monde et pour tous les goûts sur cette tournée. Ce 20 Octobre 2017 ils investissent le Krakatoa de Bordeaux Mérignac, qui aura son balcon fermé mais dont la fosse sera plus que correctement remplie.
La soirée démarre avec Death Alley. "Black Magick Boogieland" en ouverture de set et la formation Néerlandaise nous plonge d'entrée de jeu dans son univers heavy metal - hard rock eighties. Les riffs habillés de fuzz traversent une salle encore clairsemée. Douwe Truijens, le chanteur de la formation, nous donne l'impression d'être tout droit sorti d'une école de rock'n'roll seventies. Que se soit dans la prestance, la gestuelle, le chant. Sans oublier ses moustaches, son déhanché, le veston de cuir ouvert sur son torse nu, tout y est. Il en va de même du côté des musiciens. Le set est court, mais les cinq morceaux joués font mouche auprès du public qui, alerté par le doux son du hard rock 80's, certes classique mais si doux à nos oreilles, attire les cages à miel des gens restés au bar. Il y a beaucoup de moments instrumentaux, particulièrement sur le dernier titre joué, "Supernatural Predator", s'étirant sur prêt de 12 minutes. Durant ces passages, le chanteur se met en retrait de façon à laisser toute la lumière à son guitariste Oeds Beydals (qui officiait avant dans Devil's Blood), sa 9 cordes (!!), et sa pédale wah wah. Bref, lorsque le set se referme, on aimerait passer encore un moment en compagnie de Douwe et son petit gilet de cuir. A revoir très vite
Deuxième groupe a officier ce soir, Mantar, le duo d'Outre-Rhin. "POWER !" En gros sur une tête d'ampli, trois chandeliers en milieu de scène et deux hambourgeois en colère, voici l'équation que propose Mantar. Brut et tranchant, alliance malsaine de sludge, de doom, de punk et de tout ce qui se fait de plus crade et de plus cramé dans la musique moderne, le groupe déboule sur scène prêt à agresser quiconque l'empêcherait de produire le chaos. La fosse s'est désormais remplie. Messe noire en vue et pour l'occasion des chandeliers ont été également allumés sur des têtes d'amplis, ainsi que en fond de scène. Les fans sont au premier rang. Sec comme un coup de trique, Hanno Klärhardt le guitariste et chanteur occupe la gauche de la scène, le milieu étant occupé par les chandeliers et la droite par Erinç Sakarya, batteur de son état. Hanno Klärhardt alterne les accords bourrins et les motifs purement punks. il évolue derrière son micro avec une rage quasi-viscérale et vocifère comme un damné dans son micro, veines à fleur de peau sur le front, tendons et ligaments saillants. Il s'époumone en beuglements à la limite du death, particulièrement sur les titres issus de "Ode To Flame" et "Death By Burning", leurs deux albums sortis en 2014 et 2016. Son acolyte n'est pas en reste et aligne les beats musclés à base de toms martyrisés et de grosse caisse à la peau ultra tendue. Pourtant peu amateur du genre, voir le guitatriste chanteur Hanno Klärhardt se jouer la vie pour convaincre la salle et mettre toute son énergie dans son show est assez incroyable. les deux amis d'enfance ne sont pourtant que deux mais font du bruit comme 15 ! Je ne resterai pas jusqu'au bout, la voix de Hanno m'étant non pas insupportable mais, difficilement supportable. Ce qui me permettra d'aller boire une bière et acheter quelques vinyles au merch...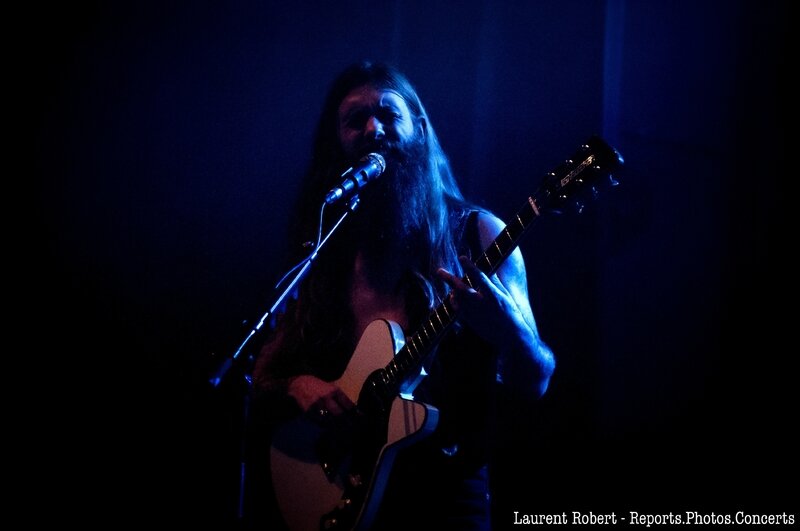 À 22h25 c'est au tour de la tête d'affiche de prendre possession de la place. Kadavar entame son concert tambour battant avec "Rough Times" et ses lignes de guitares typées ''Seventies''. "Rough Times", également titre de leur dernier album sorti en octobre 2017. Les coups pleuvent sur les fûts avec Tiger, toujours aussi expressif derrière son kit. Au vu de la setlist, la formation est là ce soir pour défendre son dernier opus. Cinq titres sont interprétés, parmi lesquels le single hypnotique "Die Baby Die" et "Tribulation Nation".
Au départ, on est surpris par l'intensité et leur univers, car le son est énorme, bien lourd et sombre. On se laisse aller, on rentre de plus en plus dans leur musique et très vite, on se rend compte que l'on assiste à quelque chose de très prenant, presque hypnotique. On peut aisément dire que Kadavar pratique du Black Sabbath dépoussiéré et emballé dans un son actuel. Les trois musiciens sont très forts et ils maîtrisent remarquablement leur sujet. Ils ont beaucoup de charisme et dégagent tous une très forte impression. Christoph Lindermann, alias Lupus, s'arrache sur sa 6 cordes et déverse de la wah wah par cargos entiers. Avec un jeu de lumière savant (mais difficile pour les photographes.... car peu de lights en façade) qui s'amuse avec le magnifique backdrop en fond de scène, la gestuelle des Allemands devient presque enivrante. Tel un félin, Tiger assène des coups sur ses tomes qui partent de loin et dans des mouvements qui tiennent du ralenti. Son kit étant sur l'avant scène, et non pas au fond comme tous les batteurs, il se permet de fixer le public avec son regard de possédé. Impressionnant. Servi par un son idéal pour restituer comme il se doit toute l'énergie du trio, les accords saturés de Christoph "Lupus" Lindemann sont impressionnants d'efficacité. La clarté de ses solos dévastateurs contraste avec la rythmique plombée propulsée par le jeu de basse agressif de Simon "Dragon" Bouteloup. Celui ci, Français de son état, ne cesse de faire les cent pas entre son ampli et le devant de la scène. Avec une attitude mêlant une rage retenue, il joue des lignes de basse qui fleurent bon le Black Sabbath ou encore Hawkind, notamment sur "Doomsday Machine". Les titres issus de leur premier album sobrement nommé "Kadavar", tels que "Forgotten Past", "All Our Thoughts" ou "Purple Sage" qui clôt le concert, ont tous leur gros succès auprès du public. Lors de leur rappel, le groupe reprend "New Rose", premier 45 tours du groupe anglais The Damned, sorti en 1976. Et comme ils nous ont déjà tués, il n'hésiteront pas à nous lancer un "Come back Life" attendu qui nous ressuscitera.
Proposant un set bâti sur l'ensemble de leur discographie, avec une nette mise en avant de leur dernier album "Rough Times", les Berlinois de Kadavar ont offert un concert d'excellente facture, malheureusement devant un public pas vraiment nombreux, calme, mais fort réceptif. UVoilà un groupe passionné et passionnant, qui arrive à communiquer avec son public sans trait forcé ni posture de supériorité.
Texte et photos de Laurent Robert
Merci beaucoup aux équipes du Krakatoa pour l'accréditation. et particulièrement à Alice.
LIEN DE LA GALERIE COMPLETE DE KADAVAR :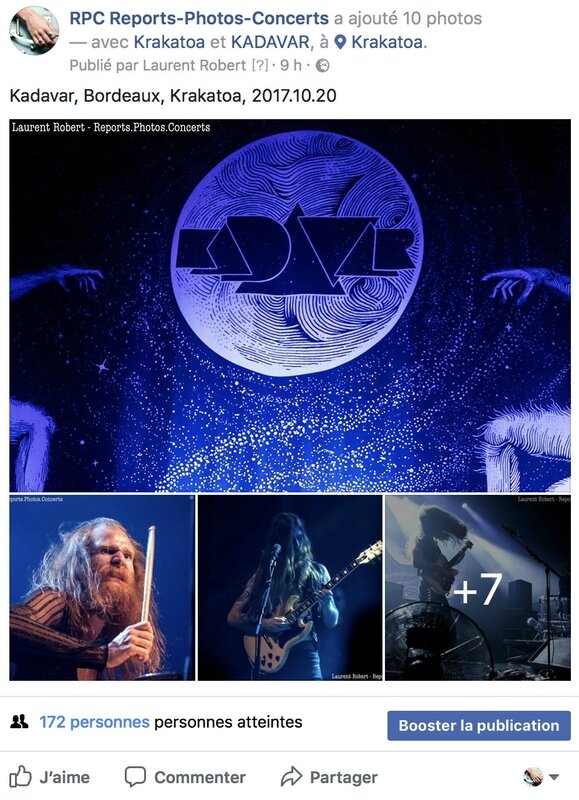 LIEN DE LA GALERIE COMPLETE DE MANTAR :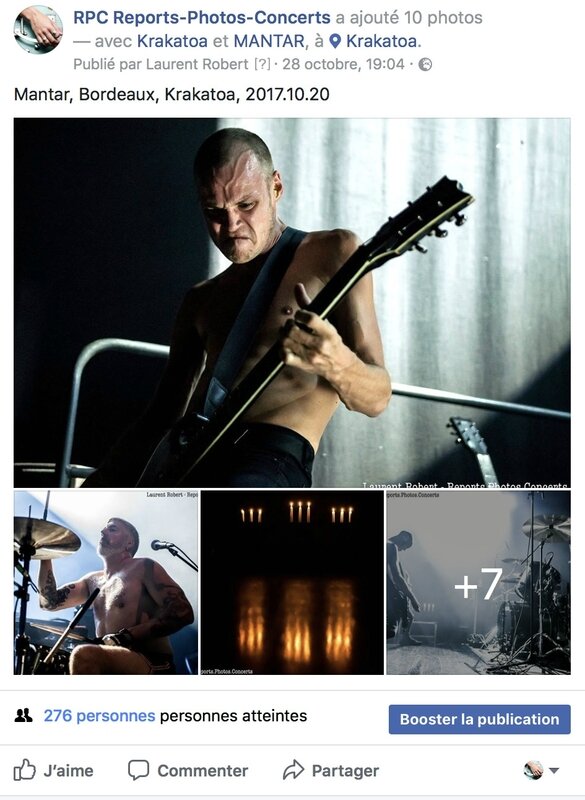 LIEN DE LA GALERIE COMPLETE DE DEATH ALLEY :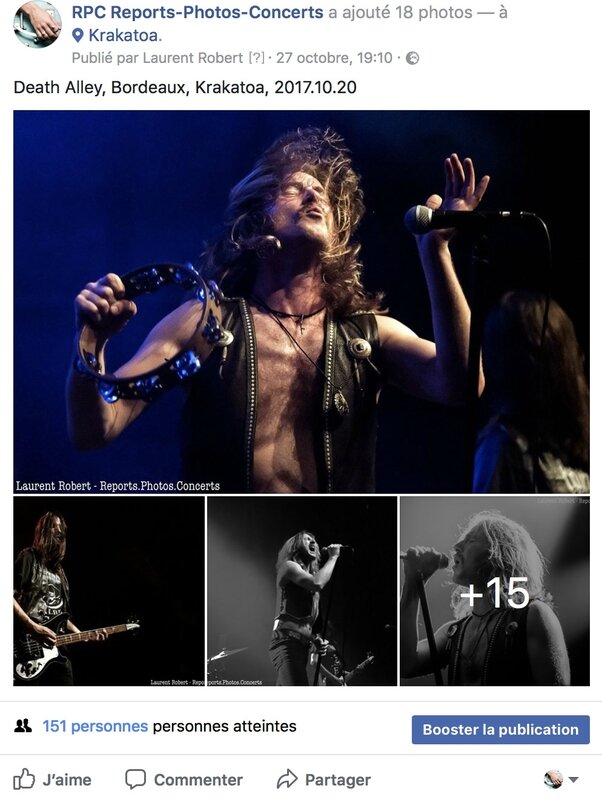 -----------------------
SETLIST DE KADAVAR :
Durée : 85mn
01- Intro
02- Rough Times
03- Rough Times (end)
04- Skeleton Blues
05- Doomsday Machine
06- Living In Your Head
07- Black Sun
08- Into The Whormhole
09- Old Man
10- Die Baby Die
11- Forgotten past
12- All About Thoughts
13- Tribulation Nation
14- Purple Sage
15- (Rappel)
16- New Rose
17- Come Back Life
SETLIST DE MANTAR :
Durée : 45mn
Setlist ??
SETLIST DE DEATH ALLEY :
Durée : 40mn
01- Intro
02- Black Magic Boogieland
03- The Chain
04- Murder Your Dream
05- Feeding The Lions
06- Supernatural Predator
--------------------
MUSICIENS :
KADAVAR :
- Christoph "Lupus" Lindemann : Guitare / Chant
- Simon "Dragon" Bouteloup : Basse
- Christoph "Tiger" Bartelt : Batterie
MANTAR :
- Hanno Klärhardt : Guitare / Chant
- Erinç Sakarya : Batterie
DEATH VALLEY :
- Dennis Duijnhouwer : Basse
--------------------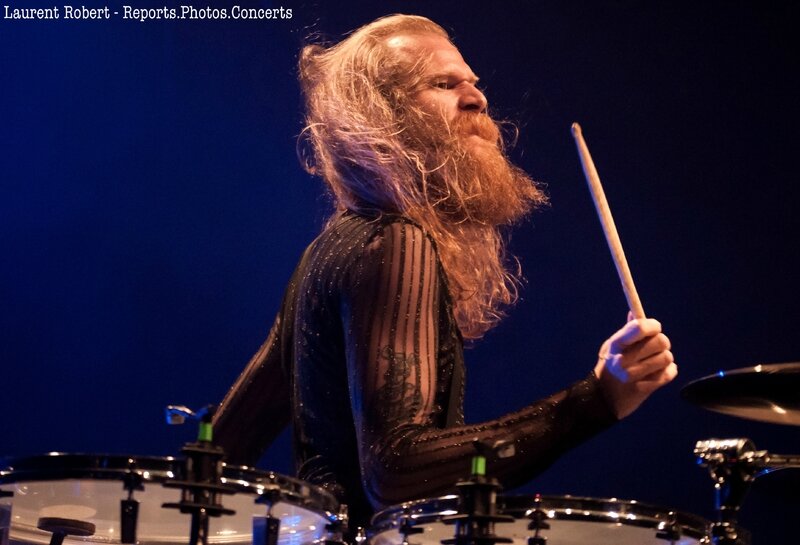 --------------------

AGENDA COMPLET DES CONCERTS DU KRAKATOA :