GALERIES PHOTOS COMPLETES EN BAS DE PAGE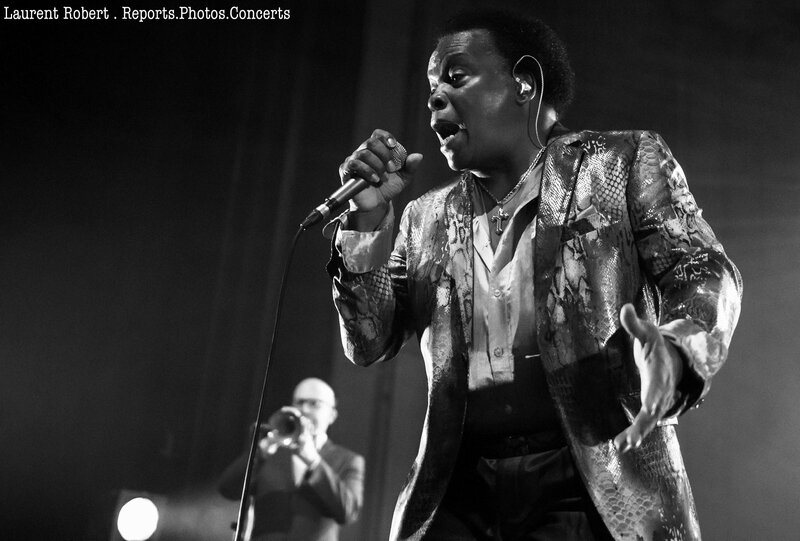 Parfois il y a des artistes que l'on voit arriver comme ça, du jour au lendemain. C'est le cas de Lee Fields. Que l'on qualifie souvent de "Nouveau godfather of soul". C'est son deuxième passage dans la capitale Girondine après le concert donné en compagnie du regretté Charles Bradley au Rocher De Palmer en 2011. Mais il faut bien savoir que Lee n'est pas un nouveau venu. Même si il fait partie de cette nouvelle vague de la soul actuelle, au même titre que Raphael Saadiq, Charles Bradley donc, ou même Aloe Blacc, il faut savoir qu'il a plus de 40 ans de carrière derrière lui. Il a passé toute son enfance et son adolescence a chanter dans les églises et, à l'orée de sa carrière, dans les sixties, il a fait partie de groupes tels que Hip-Huggers, Darrell Banks, et Little Royal. Mais également des légendaires Kool And The Gang. Pour dire si ce n'est pas un nouveau venu sur la scène musicale, son premier 45T sort en 1969 et son premier album "Let's Talk It Over" en 1979. Depuis il a sorti cinq LP supplémentaires, dont le dernier "Special Night" en 2016. Il a également collaboré avec une foule d'artistes et en particulier en 2002 où il est remis sur le devant de la scène le temps d'une collaboration avec un des papes des dancefloors internationaux, Martin Solveig. Mais il ne connaît un véritable succès que depuis 2012 et son album "My World" avec lequel il redonne ses lettres de noblesses au légendaire label Daptone Records... Qu'il a quitté depuis pour rejoindre le tout nouveau label Big Crown Records.
Sur cette date Bordelaise Lee Fields est accompagné en première partie par le groupe Bordelais J-Silk. Le trio propose une musique intimiste, incluant deux claviers, une batterie, une basse et parfois une guitare. Le tout sublimé par la voix sensuelle et singulière de Joanna Rives. Flirtant avec la pop, la soul, le hip-hop, le trip hop et l'électro, le groupe a entièrement sa place durant cette soirée. Jetez une oreille sur leur dernier EP "WWWD" sorti en mars dernier, et vous comprendrez pourquoi. La voix de Joanna vous transperce de part en part, tantôt grave, tantôt éraillée, mais toujours envoûtante. Didier Bassan et Louis Gaffney ne s'en laissent pas compter et accompagnent la chanteuse avec une grande complicité. Le public a répondu présent et le groupe recevra de la part de nombreux spectateurs qui les découvraient de sincères félicitations. Un bel avenir en vue....
Après un changement de plateau rapide, celui que tous surnomment « Little JB » depuis le jour où il a passé l'audition pour le chœur de son église en chantant un morceau de James Brown (D'ailleurs il doublera certains morceaux du film Get On up, biopic sur la star de la soul) est prêt à investir la scène du Krakatoa. Après une rapide intro, c'est la crème de la crème des musiciens de la nouvelle scène soul actuelle, la formation New-Yorkaise The Expressions, qui investit la scène pour interpréter "Mars", avant que la star de la soirée prenne sa place, accompagnée par la voix de son guitariste clamant à l'assemblée des longs "Miiiiiiiiiiiiiissstteerrrr Lee Fields !!". Il suffit de quelques secondes, quelques mesures, pour que la symbiose entre The Expressions et le chanteur opère. Plus qu'un chanteur d'ailleurs, Lee Fields est en fait un magicien. il nous plonge directement dans l'ambiance des clubs enfumés du Bronx ou de Brooklyn au milieu des années 70. Col pelle à tarte et bottines de serpent y compris. Retour vers le futur 80 minutes plus tard. Pour le moment c'est le début du voyage dans le passé.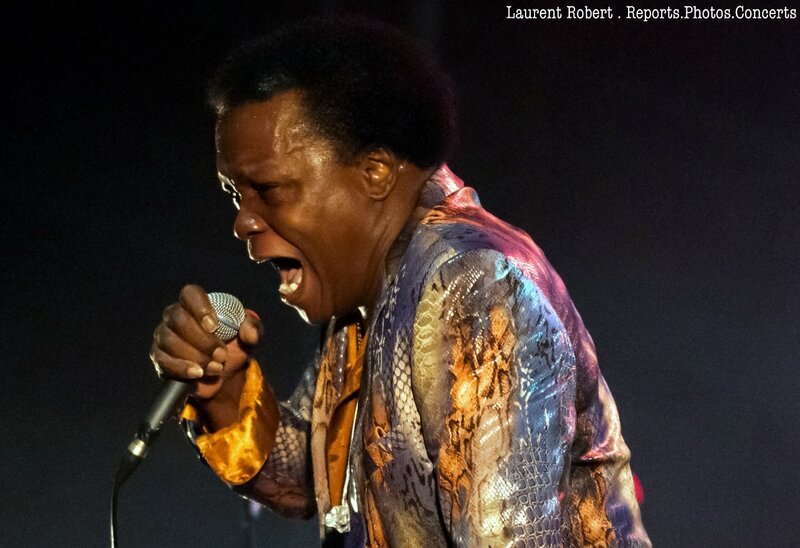 Les textes de Lee sont principalement axés sur des histoires d'amour, des coeurs brisés. Mais aussi des textes autobiographiques liés à sa jeunesse et son adolescence en Caroline du Nord. Sa voix n'en est que plus bouleversante car ce sont des choses qu'il a au plus profond de lui même. Qui font partie intégrante de sa vie. Quoi de mieux pour faire passer une émotion... Se refusant à transformer les titres qu'il chante en démonstrations musicales, il préfère de loin privilégier le groove et la sensibilité. Pas de fioritures, les titres sont parfois courts et vont directement au fond du sujet. Parfois c'est un déluge de cuivres qui vous transperce, ou des rythmes endiablés accompagnés d'un solo de guitares wah-wah qui vous fait frémir. Les morceaux s'enchainent sans que Lee fasse de longs discours entre eux, hormis beaucoup de "I loooove you" adressés au public. Place à la musique avant toute chose. "Let Him In" (Superbe ballade hypnotique) "My World", "You Just Can Win" ou encore "Make The World" (Écrite en hommage à James Brown) sont autant de pépites que l'on découvre les unes après les autres, et toutes avec autant de plaisir. Vocalement impeccable et en parfaite harmonie avec ses musiciens durant tout le show Lee Fields n'oublie pas de les encourager avec un "Pushing up for the band !", incitant chacun à les applaudir. Et Fields donne aux titres de son dernier album l'ampleur qu'ils méritent, de "Special Night" (Qui a eu droit à un joli clip mis en scène par Nick Walker) à "I'm Coming Home" qui faisait l'ouverture du set.
Au final, il revient vers "Faithful Man", dont il donne une version à rallonge, avant de chanter en rappel le très attendu "Honey Dove" datant de 2002 et tiré de son album "Problems". Le concert aura aussi quelques faiblesses, ne nous le cachons pas. Il arrive à Lee Fields de céder à quelques facilités, comme le fait de faire chanter différentes parties du public… Tellement commun qu'on ne pouvait imaginer un artiste aussi "vrai" céder ainsi à ce genre de facéties. Nous pourrons également rechigner sur la durée du show. Une heure et quart tout compris, de l'entrée sur scène de The Expressions à la fin du rappel. Mais au final ce soir c'est un jeune homme de soixante six ans qui nous a fait prendre un véritable bain de jouvence. Et qui a enfin trouvé sa place dans le coeur du public. Un joyau en liberté qui nous a offert un concert dantesque digne de l'époque de Curtis Mayfield, Smokey Robinson et bien d'autres !
Ouh là, je m'emballe là non ?
Texte et photos de Laurent Robert
Merci beaucoup aux équipes du Krakatoa pour l'accréditation. et particulièrement à Alice.
GALERIES PHOTOS :
LEE FIELDS & THE EXPRESSIONS :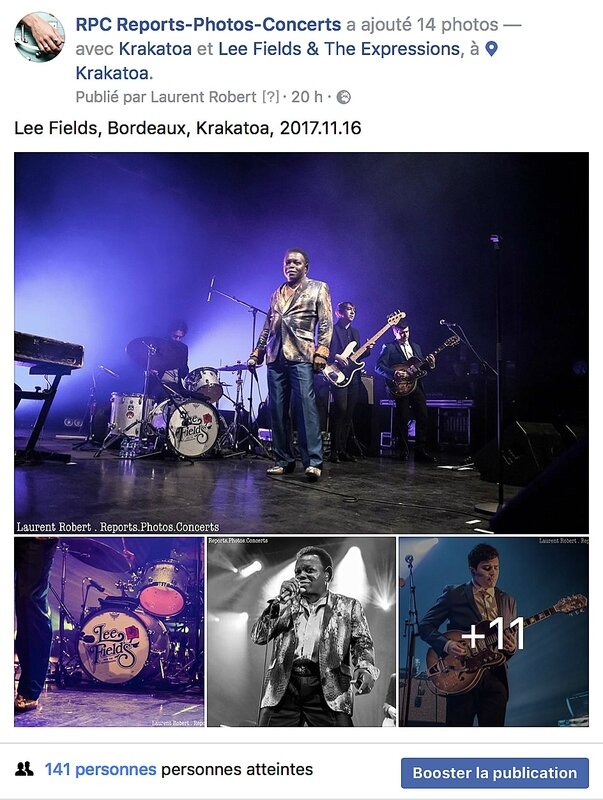 J-SILK :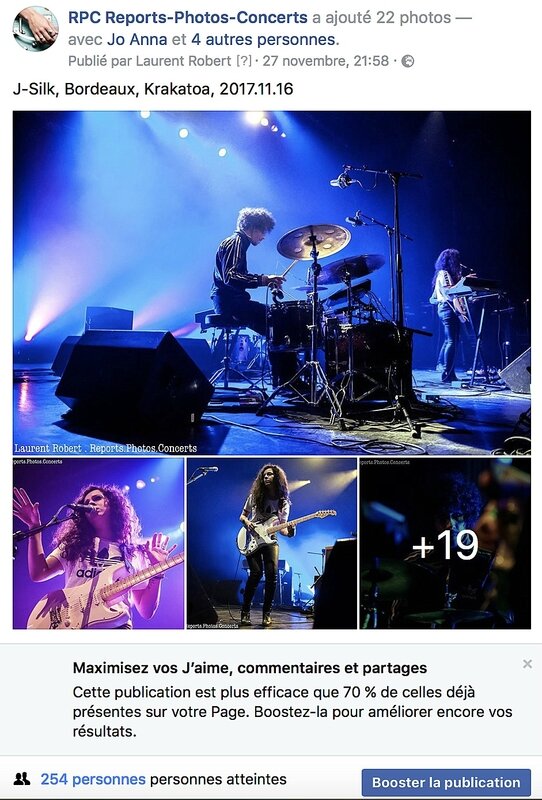 -----------------------
SETLISTS :
LEE FIELDS & THE EXPRESSIONS :
Durée : 75 mn
01- Intro
02- Mars (Band Only)
03- I'm Coming Home
04- Work To Do
05- Talk To Somebody
06- Special Night
07- You Just Can Win
08- Let Him In
09- Don't Walk
10- My World
11- Make The World
12- Faithful Man
13- (Rappel)
14- All I Need (Band Only)
15- Honey Dove
J-SILK :
Durée : 35 mn
??
--------------------
MUSICIENS :
LEE FIELDS & THE EXPRESSIONS :
- Lee Fields : Chant
- The Del-Larks : Choeurs
- Leon Michels : Saxophone
- Nick Movshon : Batterie
- Quincy Bright : Basse
- Thomas Brenneck : Guitare
- Toby Pazner : Claviers
- Michael Leonhart : Trompette
- Aaron Johnson :Trombonne

J-SILK :
- Joanna Rives : Chant / Claviers
- Louis Gaffney : Basse / Claviers
- Didier Bassan : Batterie
--------------------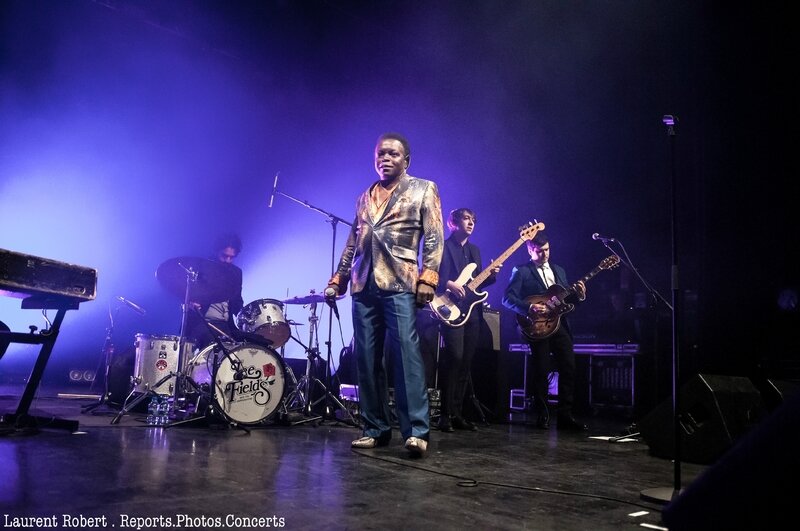 LIENS OFFICIELS :
LEE FIELDS & THE EXPRESSIONS

:

AGENDA COMPLET DES CONCERTS DU KRAKATOA :