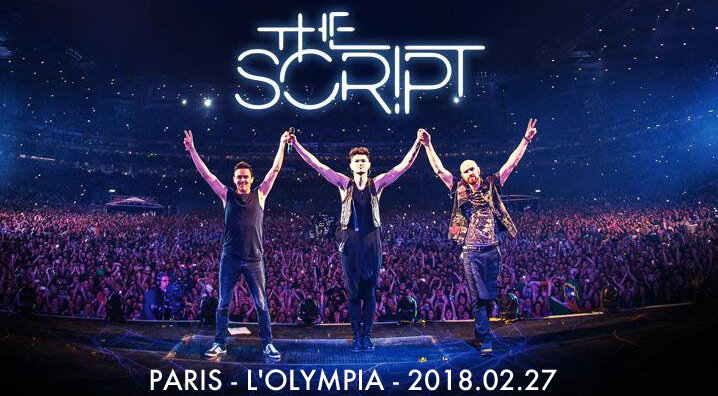 GALERIES PHOTOS COMPLETES EN BAS DE PAGE
Je pense que ce sera le plus court report que j'aurai à écrire. Non pas que RPC soit important dans le paysage musical. Ce webzine est né par passion de la musique, des photos live et des expériences partagées.. Rien de plus. Et il restera tout petit petit petit, j'en ai bien conscience. Et je ne revendique de toute façon rien d'autre, si ce n'est un minimum de respect.... Nous y reviendrons. Car pour le moment nous sommes accrédités au concert de The Script à l'Olympia de Paris, et Farah, notre photographe, a hâte d'y être. Mais avant de découvrir les Irlandais, nous allons découvrir en live l'Anglaise Ella McMahon, mieux connue sous le nom de Ella Eyre. Depuis le succès de Amy Winehouse et consorts, la voie est toute tracée pour les voix égratignées, voilées, à celles qui portent leurs douleurs au bout de leurs lèvres. La voix de la jeune fille de 23 ans est typiquement ce que nous décrivons ci dessus. Sa voix a passé des nuits par centaines à s'enfumer dans des clubs, elle a déjà un fort vécu. La jeune britannique s'était d'abord faite remarquer grâce à sa collaboration avec Rudimental sur le titre "Waiting All Night" en 2013, une chanson pulsée de percussions et de beats synthétiques qui a assis son succès en Angleterre. La jeune femme a déjà une forte popularité chez elle, mais elle n'est pas forcément connue dans le reste de l'Europe. Une voix chaleureuse, une chevelure modelée avec soin, des choristes et danseuses, des musiciens de qualité, une puissance vocale à couper le souffle, bref, Ella sait ce qu'elle fait. Et elle le fait bien. Un petit peu trop parfois car on a le sentiment que tout est calculé au millimètre près. Toujours est il que la jeune femme prend un plaisir fou sur scène, et le fait sentir au public de plus en plus réceptif tout au long de son set. Ella Eyre écrit, compose et enregistre ses propres chansons, un talent qu'elle a pu mettre en pratique lors de son curcus au sein de la prestigieuse Brit School for Performing Arts & Technology de Croydon, en banlieue de Londres. Autant dire que le bagage est lourd, et que le succès est à portée de main. Même si la concurrence est rude.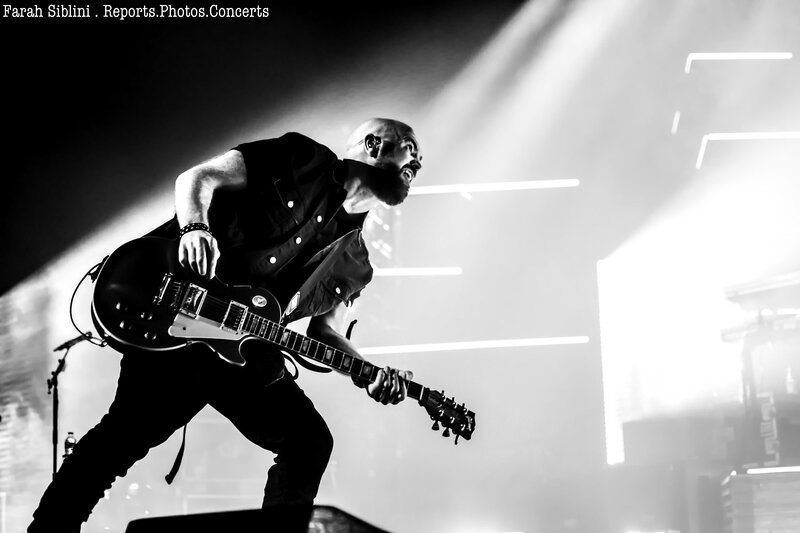 Changement de plateau, trente minutes, chrono en main. Le public commence à se chauffer. Bien sur les premiers rangs sont principalement (Quasi exclusivement ?) composés de jeunes filles. le concert débute, comme d'habitude nous avons trois titres pour shooter, et le reste du concert pour peaufiner le report... Sauf que là nous aurons trois titres pour shooter et........... Exit. Oui oui... Exit : "Vous rendez vos pass photos et au revoir". Mais... (Ils sont jolis en plus quoi) Euh... Et mon report ??? "Il y a encore des places en vente au guichet si vous voulez...." Ok..... Ben.... Allez vous faire foutre alors ? Hein ? On va dire ça comme ça ? C'est ça on va le dire. Donc pas de report. Et non, je n'irai pas pomper sur un autre site. Sérieusement.. La faute à qui ? Certainement pas Live Nation avec qui j'ai eu un très bon contact. Certainement pas le groupe lui même, car ils sont bien loin de tout ça. Peut être la salle ? Peut être la salle. peut être les intermédiaires du groupe ??? Ah oui, sûrement. Les fameux intermédiaires qui nous cassent les... Qui nous les.... Qui nous embêtent bien régulièrement avec leurs règles à la con (Ah non, pas de pit photo, prenez des coups dans le dos et fermez votre gueule, pas grave pour votre matos vous en rachèterez.. Ah non pas de pit photo, uniquement depuis la console son. Ah tu n'as qu'un 18/35 ? Ah ben fallait prévoir.... Vous ferez valider vos photos hein ? On ne sait jamais, une crotte de nez pourrait être visible, nous vous répondrons sous 24h.... OU PAS ! Et j'en passe et des meilleures....) Bref. Je parlais du respect un petit peu plus haut. Alors parfois, Même si RPC n'est absolument rien, mais rien du tout, j'ai envie de manquer de respect juste pour être respecté, mais en fait j'ai même pas envie.... Oh allez juste un peu... Fuck you !
Texte : Laurent Robert avec l'aide de Farah Siblini.
Photos de Farah Siblini.
Merci beaucoup à Live Nation France pour l'accréditation. et particulièrement à Margaux et Karen.
GALERIES PHOTOS :
THE SCRIPT :
ELLA EYRE :
-----------------------
SETLISTS :
THE SCRIPT :
Durée : 90 mn
1. Superheroes
2. Rock The World
3. Paint The Town Green
4. The Man Who Can't Be Moved
5. Wonders
6. Arms Open
7. Nothing
8. No Man Is An Island
9. If You Could See Me Now
10. For The First Time
11. If You Ever Come Back
12.Never Seen Anything "Quite Like You"
13. The Energy Never Dies
14. Rain
15. Breakeven
16. Hall Of Fame

ELLA EYRE :
Durée : 40 mn
1. Good Times
2. Together
3. Lov(e)
4. Ego
5. We Don't Have To Take Our Clothes Off (Jermaine Stewart cover)
6. Waiting All Night (Rudimental cover)
7. Answer Phone
8. Came Here For Love

------------------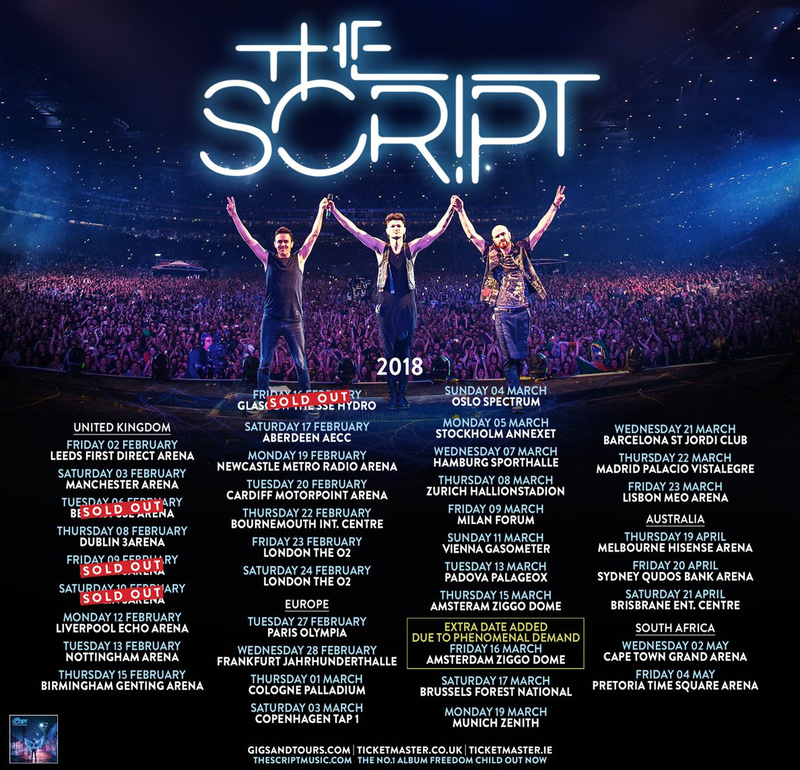 ------------------
MUSICIENS :
THE SCRIPT :
- Dany O'Donoghue: Chant
- Mark Sheehan : Guitare
- Gnen Power : Batterie

ELLA EYRE :
- Ella Eyre : Chant
??
--------------------
LIENS OFFICIELS :
Site officiel - Facebook - Instagram - Twitter
ELLA EYRE :
Facebook - Instagram - Youtube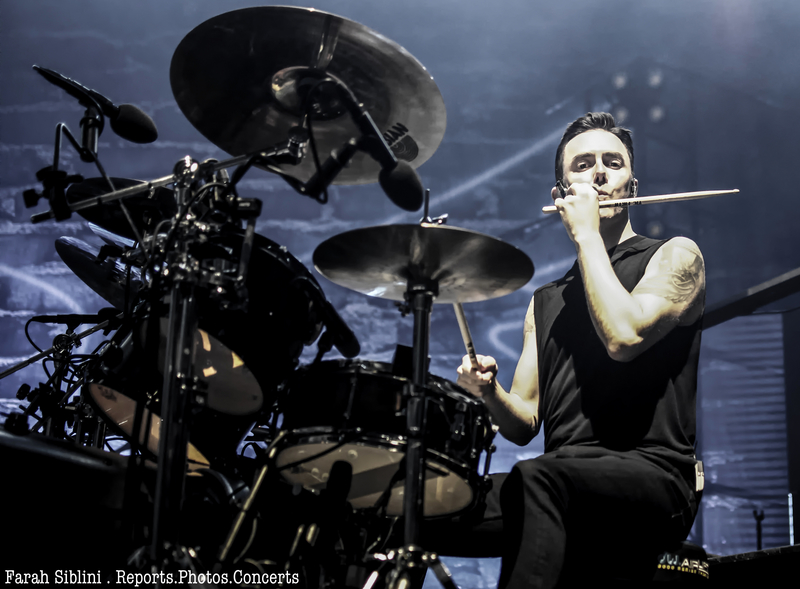 --------------------
AGENDA COMPLET DES CONCERTS DE LIVE NATION :