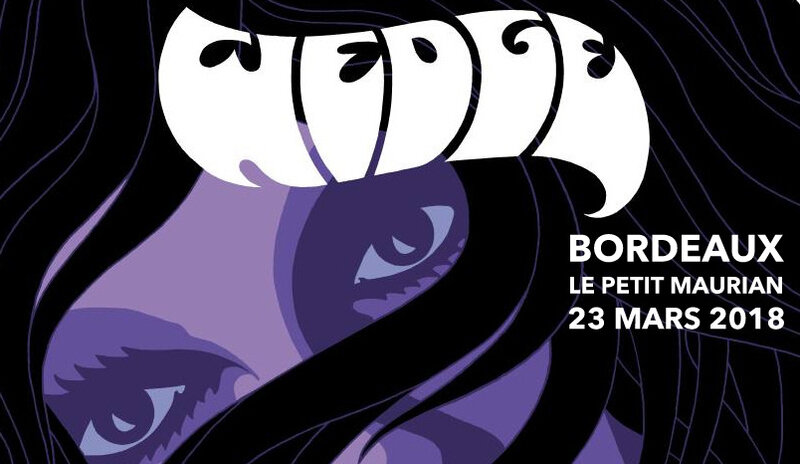 GALERIES PHOTOS COMPLETE EN BAS DE PAGE
Wedge a été formé début 2014 par Kiryk (chants et guitare), The Holg (batterie) et David (basse, orgue et piano électrique), trois amis de Berlin. Leur nom vient de l'outil en pierre, la cale, première création de la main de l'homme. Dans cet esprit, le son du groupe est simple, brut, efficace et met le feu dès qu'il est en action... particulièrement en live ! A côté des morceaux énergiques qui dévalent en trombe les pentes de leur virtuosité, Wedge est aussi capable d'écrire des compositions originales très entraînantes. Ils sont parfaitement à l'aise sur les traces de leurs héros, à la fois psychédéliques de la fin des 60's ou hard rock du début des années 70. Quelques touches fuzzy et stoner plus tard, l'alchimie guitariste + batteur + bassiste/organiste opère avec grand succès. Après un premier album éponyme sorti fin 2014, le groupe a enchaîné plus de 200 concerts en Europe avec des passages au "Desert Fest" ou encore au "Stoned from the Underground" et partagé l'affiche avec des groupes comme Fu Manchu, Blues Pills, Orchid et bien d'autres. Ils viennent de sortir leur deuxième album "Killing Tongue" et partent en tournée européenne pour nous faire découvrir leurs nouveaux titres. Impossible de résister. D'ailleurs ce soir là c'est un "Petit Maurian" archi comble qui accueille le trio Allemand. Ils vont nous délivrer un set de 80 minutes, devant un public de plus en plus chaud au fur et à mesure que le concert avance. Mais la salle étant minuscule, difficile de pogoter.. Impossible même. C'est donc une audience très attentive mais non moins réceptive qui fait la fête au trio Allemand.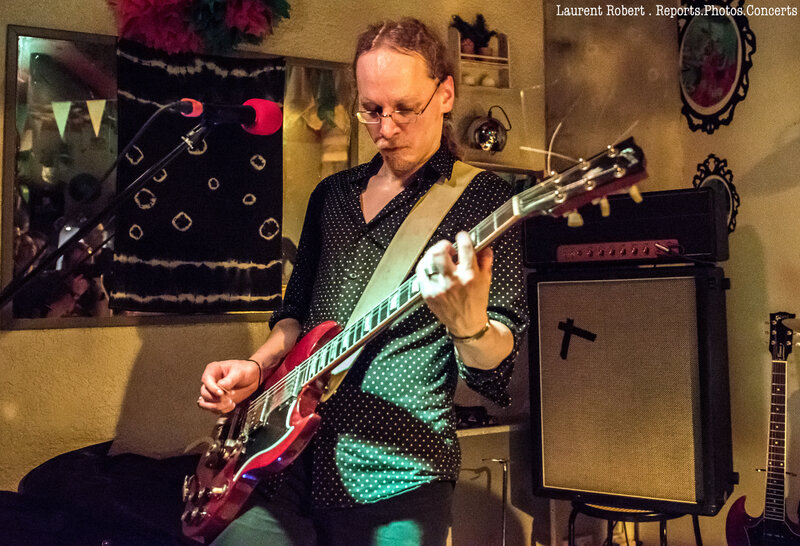 Le show navigue entre les deux albums du groupe, faisant la part belle au dernier bébé "Killing Tongue" dont la chanson éponyme ouvre le set. Les trois membres de Wedge, en coulisses, sont des types simples et très agréables ... mais au moment où ils mettent un pied sur les planches tout ce calme apparent est transformé en énergie pure. Non pas qu'ils sautent partout (De toute façon ce soir ça n'est pas possible...) mais dès qu'ils commencent a jouer ils lâchent les chevaux. Et sans ménagement. C'est un voyage de plus d'une heure vingt passant par soixante-dix sonorités différentes. Avec là pédale wha-wha de Kiryk Drewinsky, leader donnant pourtant l'impression d'être peu charismatique alors qu'il n'en est rien, gesticulant tel un feu follet sur le petit espace qui lui est réservé, le jeu hyper démonstratif de Holger Grosser derrière ses fûts, plus les claviers (Et la basse également..) omniprésents de David Gotz, leur jeu passe par toutes les couleurs.
Une grande partie du répertoire de ce soir est bien sûr basé sur l'album qui vient de sortir, "Killing Tongue", dont les chansons ont été très bien reçues par le public. Ainsi, des titres comme "Nuthin", "Tired Eyes" et "Who Am I" (Sur ce dernier la guitare a un pur son Sabbathien) ont été appréciés à leur juste valeur. D'ailleurs sur chaque titre on peut retrouver des influences diverses allant de Uriah Heep, Deep Purple ou même Led Zeppelin. Influences très bien phagocytées qui n'enlèvent en rien la personnalité de chaque morceau de Wedge. Mais les morceaux du premier album n'ont rien à devoir aux dernière pépites des teutons. Le son est souvent beaucoup plus "garage", comme sur le superbe "Makeyerselfree" qui est un hommage au plus pur hard-rock, commençant pourtant comme une pâle copie de "Stairway To Heaven" de Led Zep. Kiryk Drewinsky, discret dans sa gestuelle mais au talent fou au bout des doigts, maltraite sa Gibson SG, guitare fétiche des hard rockers comme Angus Young ou Joel O'Keefe, en lui faisant sortir des sons bien râpeux. Même combat sur "Puch Air". Le groupe ne peut clairement pas renier ses influences.
Le set va se conclure avec la brillante "Lucid", chanson brillamment clippée. Certainement un des meilleurs titres en live. Quel son de basse !! Le groupe continue avec les rappels sans sortir de scène, gimmick devenu inutile et absurde avec le temps. Donc, presque sans répit, ils nous ont littéralement assommés avec deux ou trois titres dont le magnifique "High Head Woman" qui nous transporta pendant près de 20 minutes d'extase collective en toute fin de show. Durant ce morceau, Kiryk a donné tout ce qu'il avait de façon tellement intense qu'il en est sorti ruisselant et épuisé. Nous avons même eu droit a une démonstration d'orgue Korg de la part de David, faisant énormément penser à ceux de Ray Manzarek, et un solo de batterie dantesque de Holger. Certainement le plus démonstratif du trio. Fin du concert, 80 minutes. Mais le voisinage n'est pas forcément très mélomane.... Ce fût court, certes, mais que ce fût bon ! Et, malgré tout, même si le groupe se donne à fond même lorsqu'il joue devant une petite assistance, nous en voulons toujours plus et espérons les revoir très bientôt sur cette tournée car vraiment, Moteur Culture nous a convié a une superbe soirée, et on en redemande !
Texte et photos de Laurent Robert
Merci beaucoup à toute l'équipe du Petit Maurian pour l'accréditation (Djibril, Émilie).
Merci beaucoup à Moteur Culture
-----------------------
LIEN DE LA GALERIE COMPLETE :
--------------------
MUSICIENS :
- Kiryk Drewinski : Voix & Guitares
- Holger "The Holg" Grosser : Batterie & Choeurs
- David Götz : Basse & Orgue
---------------------
SETLIST :
Time : 80mn
??
----------------------
LIENS OFFICIELS :
Site Officiel - Facebook - Youtube - Bandcamp
----------------------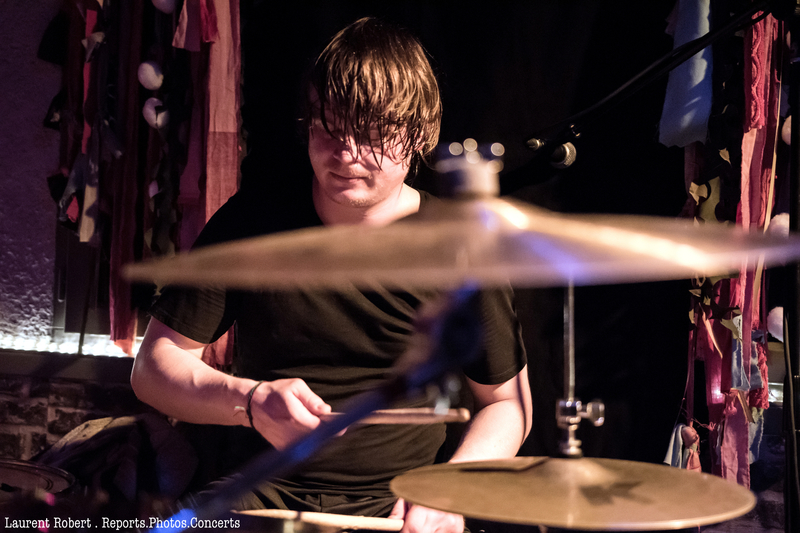 SITE OFFICIEL DE L'ASSOCIATION MOTEUR CULTURE :