GALERIES PHOTOS COMPLETES EN BAS DE PAGE
06 Avril 2018. Retour au Krakatoa pour General Elektriks. qui revient pimpant comme jamais avec un cinquième disque, "Carry no Ghosts", sorti chez AntiFragile Music, et qui surfe sur la recette explosive et 100% contagieuse du groupe faite à base de funk, de pop et d'électro. Et c'est parti pour une tournée marathon comme les affectionne le groupe. Fer de lance de la funk-pop française depuis plus de 10 ans, le groupe emmené par Hervé Salters pose ses valises dans la fameuse salle Mérignacaise le temps d'un show rentre-dedans et ultra efficace. Dès lors que les cinq membres s'emparent de la scène, leur énergie ne faiblira pas pendant deux heures. Réputé pour leur générosité, General Elektriks a littéralement explosé le public Bordelais, même si ce fût long à venir, comme d'habitude dans la capitale Girondine. Mais pour le moment, en ouverture, nous avons droit aux multiples douceurs distribuées par Joanna et sa bande nommée J-Silk. Le trio propose une musique intimiste, incluant deux claviers, une batterie, une basse et parfois une guitare. Le tout sublimé par la voix sensuelle et singulière de Joanna Rives. Flirtant avec la pop, la soul, le hip-hop, le trip hop et l'électro, le groupe a entièrement sa place durant cette soirée. Jetez une oreille sur leur dernier EP "It's Up To You" sorti il y a juste quelques jours, et vous comprendrez pourquoi. La voix de Joanna vous transperce de part en part, tantôt grave, tantôt éraillée, mais toujours envoûtante. Didier Bassan et Louis Gaffney ne s'en laissent pas compter et accompagnent la chanteuse avec une grande complicité. Le public a répondu présent et le groupe recevra de la part de nombreux spectateurs qui les découvraient de sincères félicitations. Un bel avenir en vue....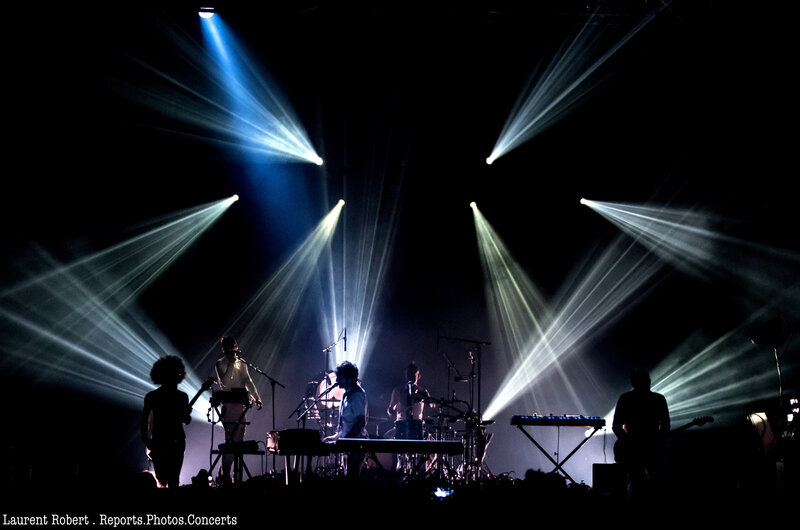 Place au plat de résistance avec les General Elektriks donc. Fort du succès de leur dernier album, la tournée programmée est donc longue et certainement harassante pour les musiciens. Mais ils prennent tellement de bonheur à partager leur musique qu'ils en oublient la fatigue malgré leurs mines cernées. Et ce n'est que le début du tour... Les chansons du nouveau disque sont à la hauteur des espérances, lumineuses et contagieuses. Surtout contagieuses. Hervé Salters sautille sur place comme un cabri. Il me fait souvent penser à Eric Idle des Monthy Python. Ne me demandez pas pourquoi, ça m'est venu durant le concert..... "Different Blue" ouvre le show comme l'album, et renvoie le public aux fastes époques de David Bowie, Prince et consorts. Le public intègre avec une facilité déconcertante les trois têtes de proue du nouvel album que sont "Never Can Get Enough", "Amour über Alles" et "Au TIr à La Carabine", avec des lyrics en Français sur ce dernier, ce qui ne plaît pas forcément à tout le monde. Par contre petite déception avec "You Took Your Time" qui casse l'élan si bien parti du début de concert.... On apprécie évidemment la reprise léchée de "Tainted Love" (Soft Cell) que beaucoup attribuent par erreur encore à Marilyn Manson... et le passage obligé par le tube "Raid The Radio", sorti sur l'album "Back Alley Cuts" et qui reste entre vos oreilles au moins trois semaines après chaque écoute. C'est ce morceau qui avait fait découvrir le groupe au grand public en 2013. Les nouvelles sonorités fonctionnent bien, l'utilisation du mythique synthétiseur Prophet 5 dont s'est servi Hervé sur le nouvel album est faite à très bon escient et les nouveaux titres ne dépareillent pas des anciens. Au point que parfois on se demande si le groupe évolue entre chaque album, ou nous ressort une ressucée de l'ancien. C'est particulièrement le cas sur "Walk By The Ocean". Mais leur musique est tellement communicative qu'on leur pardonne.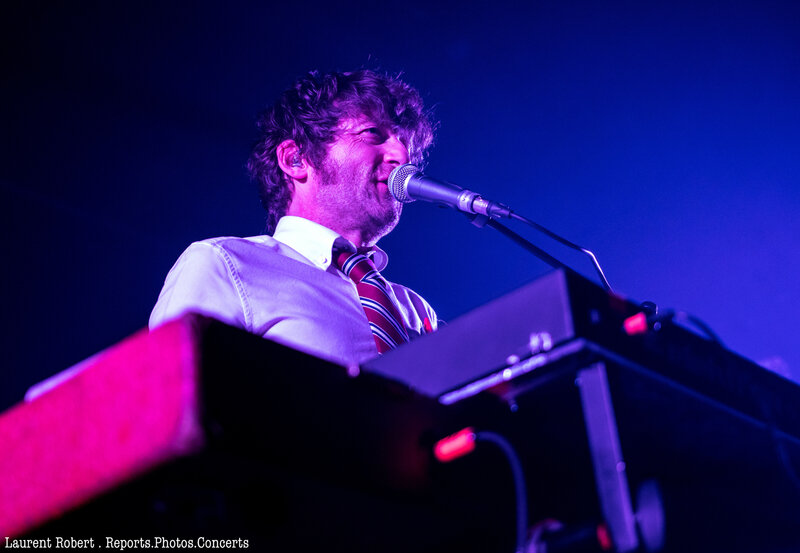 Côtés musiciens, c'est du solide : Eric Starczan à la guitare fait le boulot tout en finesse et nous lâche quelques bons solos de temps en temps, les deux batteurs envoient du lourd à tour de rôle, les solos de vibraphone sont bien sentis… C'est carré. Net. Sans bavure. Chaton à la basse reste souvent stoïque face au public (Ça fait partie du personnage) ou alors se dandine comme Prince. On aime, ou pas. Parfois le son de son instrument est étouffé, ou bien mis en avant par l'ingé son. Ce personnage est fascinant à tout point de vue.... Musicalement et esthétiquement. Moi, j'adore. Et les lunettes jaunes en rajoutent une couche. Hervé, notre frontman, fait le show, saute plus haut que ses synthés et fait des grimaces, fidèle à lui même. Sa façon de sautiller sur place ne dépareillerai pas dans les démarches délirantes des Monthy Python durant le sketch "The Silly Walk". Ne me demandez pas pourquoi je compare, ça m'est venu une fois de plus durant le show.
Généreux, les GE nous offrent trois rappels durant plus d'une demi heure. Le morceau qui m'a le plus marqué durant ce moment est "Angle Boogie" et son refrain qui ne vous lâche pas. Alors que tout le monde pensait que le concert était fini ils terminent par un "Bloodshot Eyes" dantesque qui leur mets les derniers récalcitrants dans la poche. Mission accomplie. Bonheur contagieux. General Elektriks c'est un parfait mélange de genres. Du coup tout le monde a le sourire. Même le personnel de la sécu qui a vraiment apprécié le concert. Tout en bossant, bien sûr...
Texte et photos de Laurent Robert
Merci beaucoup aux équipes du Krakatoa pour l'accréditation, particulièrement à Luna et Alice.

GALERIES PHOTOS :
GENERAL ELEKTRIKS :
J-SILK :
-----------------------
SETLISTS :
GENERAL ELEKTRIKS :

Durée : 120 mn
01 Different Blue
02 Never Can't Get Enough
03 Helicopter
04 Au Tir à La Carabine
05 Take Back the Instant
06 Walk By The Ocean
07 You Took Your Time
08 Tainted Love
09 Whisper to Me
10 A Dreamy Disposition
11 Tu M'intrigues
12 I Can't Relate
13 Raid the Radio
14 The Spark
15 Amour Uber Alles
16 (encore 1)
17 Don't Let It Get You
18 Little Lady
19 David Lynch Moments
20 (encore 2)
21 De Passage
22 Show Me Your Ass
23 (encore 3)
24 Angle Boogie
25 Bloodshot Eyes
26 Outro audience
J-SILK :
Durée : 40mn
??
------------------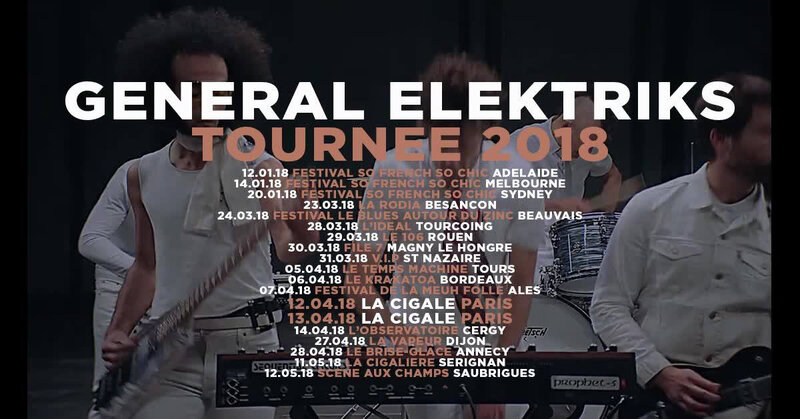 ------------------
MUSICIENS :
GENERAL ELEKTRIKS :
- Herve Salters : Chant / Claviers
- Jessie Chaton : Basse
- Jordan Dalrymple: Batterie / MPC
- Norbert Lucarain : Batterie / Vibraphone
- Eric Starczan : Guitare
J-SILK :
- Joanna Rives: Chant / Guitare
- Louis Gaffney : Basse
- Didier bassan : Batterie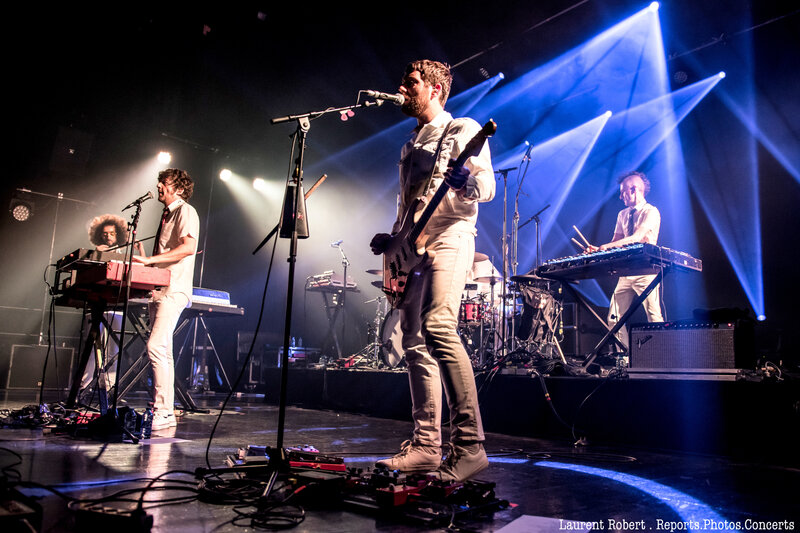 LIENS OFFICIELS :
GENERAL ELEKTRIKS :
Site Officiel - Facebook - Youtube
J-SILK :
Site Officiel - Facebook - Instagram - Youtube - Soundcloud
--------------------
AGENDA COMPLET DES CONCERTS DU KRAKATOA :