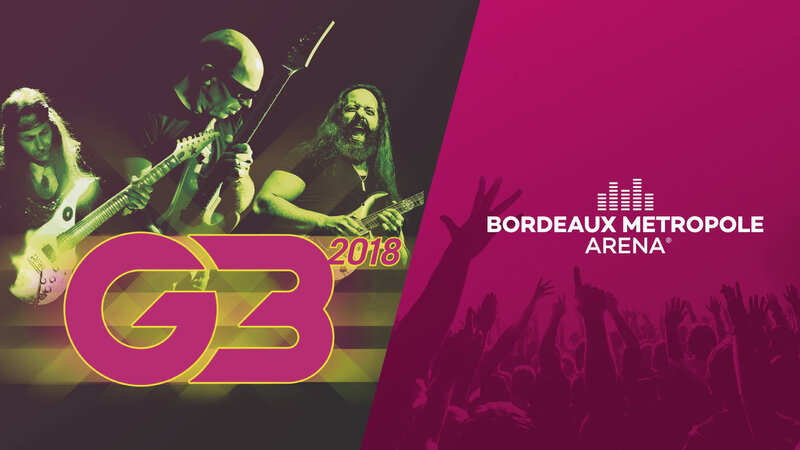 GALERIES PHOTOS COMPLETES EN BAS DE PAGE
G3 est un concept mis au point par Joe Satriani, imaginé afin de faire la promotion de son album eponyme sorti fin1995. C'est une tournée mondiale, dont la première édition fut réalisée par Satriani lui-même, accompagné des deux plus grands guitaristes du moment : Eric Johnson et Steve Vai. Cette formule sera plusieurs fois reconduite par la suite, avec des guitaristes aux styles très variés et virtuoses, comme Kenny Wayne Shepherd, Michael Schenker, Uli Jon Roth, Michel Cusson, Robert Fripp, Yngwie Malmsteen ou encore Paul Gilbert auxquels se joignent certains invités prestigieux tels que Billy Gibbons, Neal Schon, Steve Morse, Andy Timmons ou le français Patrick Rondat. À la suite du succès de la formule, trois tournées du G3 furent l'objet d'enregistrement live en CD et DVD. En 2018 le guitar hero fait de nouveau tourner son projet. Il était donc en tournée en France au mois d'avril et il est passé par là Bordeaux Métropole Arena.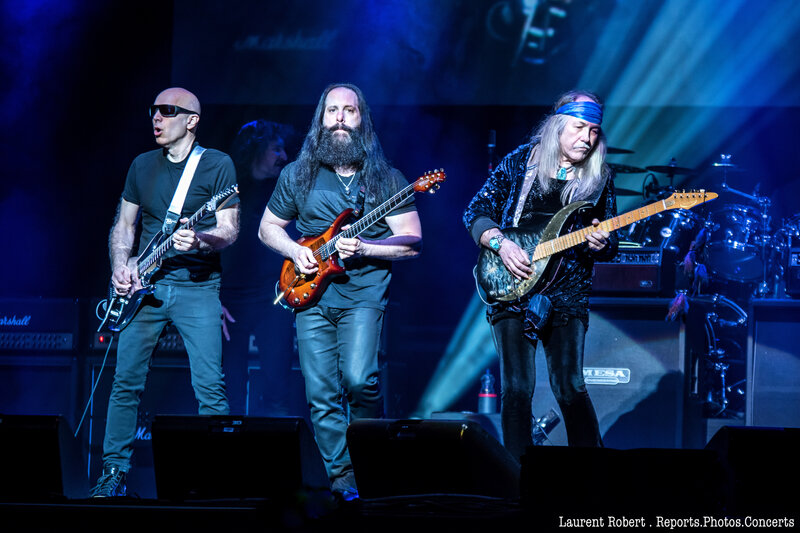 Joe Satriani a été rejoint par Uli Jon Roth, qui s'est illustré en tant que membre fondateur de Scorpions et John Petrucci, surtout connu pour son rôle de guitariste, parolier et membre fondateur du groupe de métal progressif, Dream Theater. Satriani déclare à propos de la formation : "C'est amusant, c'est imprévisible, c'est sauvage – c'est tout ce qu'on peut souhaiter dans un spectacle"
Pour être tout à fait honnête avec vous, le tour management du groupe a décidé de ne laisser aux photographes qu'une place lointaine de la scène. Là bas, tout au fond de la fosse. La qualité des photos s'en ressent. Et je dois avouer ne pas avoir la motivation nécessaire de faire un live report complet vu le peu d'interêt que l'on porte parfois au travail des photographes. Ce qui ne mets aucunement en cause GDP ou EUTERPE qui n'y sont absolument pour rien.
Bonne visite photographique.
Merci beaucoup à toute l'équipe de Euterpe Promotion pour l'accréditation.
-----------------------
GALERIES PHOTOS :
JOE SATRIANI (+ Jam Final) :
JOHN PETRUCCI :
ULI JON ROTH :
------------------
SETLISTS :
JOE SATRIANI :
Time : 60 mn
01 Energy
02 Catbot
03 Satch Boogie
04 Cherry Blossoms
05 Thunder High on the Mountain
06 Super Funky Badass
07 Cicles
08 Always With Me, Always With You
09 Summer Son
+ JAM FINAL :
23 Highway Star (Deep Purple song)
24 All Along the Watchtower (Bob Dylan cover)
25 Immigrant Song (Led Zeppelin cover)
JOHN PETRUCCI :
Time : 50 mn
01 Intro
02 Wrath of the Amazons (Rupert Gregson-Williams cover)
03 Jaws of Life
04 The Happy Song
05 Damage Control
06 Glassy-Eyed Zombies
07 Glasgow Kiss
ULI JON ROTH :
Time : 40 mn
01 Sky Overture
02 Sun in My Hand (Scorpions song)
03 We'll Burn the Sky (Scorpions song)
04 Air de Aranjuez (Joaquín Rodrigo cover)
05 Fly to the Rainbow (Scorpions song)
06 The Sails of Charon (Scorpions song)
07 Outro
----------------------
LIENS OFFICIELS G3 :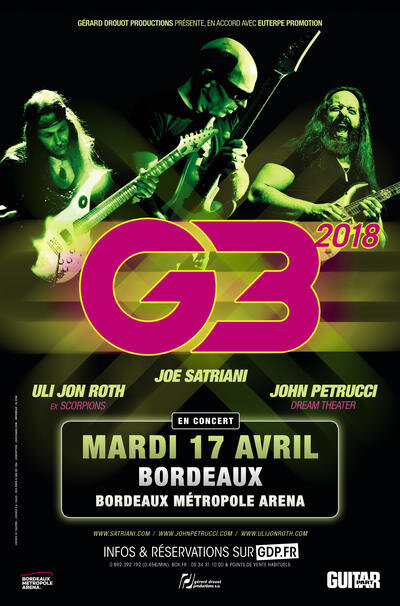 PROCHAINS EVENEMENTS DE EUTERPE PROMOTION :
Euterpe Promotions
Dimanche 13 janvier 2019 14h Zénith Quinze ans après la dernière production au Théâtre Mogador, Emilie Jolie , le fantastique conte musical de Philippe Chatel ; et fort de son succès au Comédia à Paris en Octobre 2017 - Janvier 2018 puis en tournée en Mars-Avril 2018, la troupe d'Emilie Jolie aura le grand plaisir de fouler la scène du Zénith Toulouse Métropole le Dimanche 13 janvier 2019 à 14h.
https://euterpepromotions.wordpress.com
PROCHAINS EVENEMENTS DE GERARD DROUOT PRODUCTIONS :
PROCHAINS EVENEMENTS DE BORDEAUX METROPOLE ARENA :