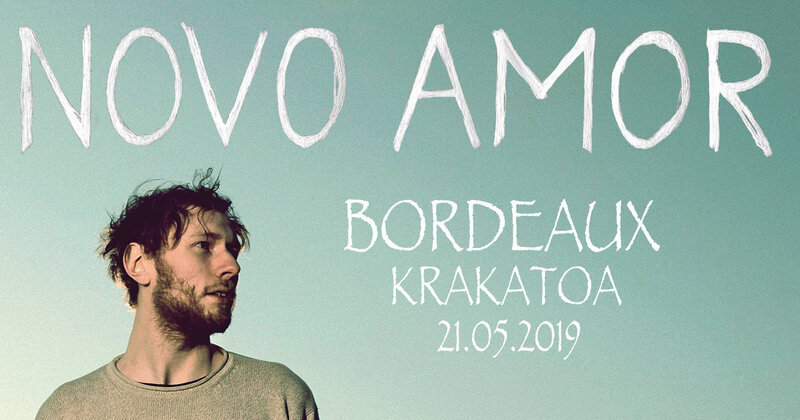 GALERIES PHOTOS COMPLETES EN BAS DE PAGE
C'est pour le compte de Muzzart (Lien en bas de page) que je me rends au Krakatoa ce soir là. Trois artistes, trois ambiances totalement différentes. Mais entièrement compatibles. C'est à Gia Margaret, première partie de toute la tournée de Novo Amor, d'ouvrir le bal. Originaire de Chicago, elle joue seule sur scène avec sa guitare, et s'empare parfois de son clavier. Elle nous livre ses titres dans un style folk, qualifié aussi par les médias et par elle même de "Sleep Rock". Belle métaphore. Malheureusement ce soir Gia est malade. Dès la fin du deuxième morceau elle s'en excuse. Pour le coup elle chante ses chansons plus que très calmement, On la sent très mal à l'aise et c'est timidement que son filet de voix s'extrait de sa gorge. Mais, avec son univers acoustique, nous ne pouvons que nous rendre compte que parfois, il suffit de pas grand chose pour faire passer un "message". Des émotions. À la fin du quatrième morceau Gia a du mal a accorder sa guitare... "Oh no, ma guitar is sick..." dit elle timidement. La poisse. Elle réussit néanmoins à interpréter cinq titres avant de s'echapper rapidement de la scène, à bout de forces.... À revoir dans de meilleures conditions. Mais une très très jolie voix.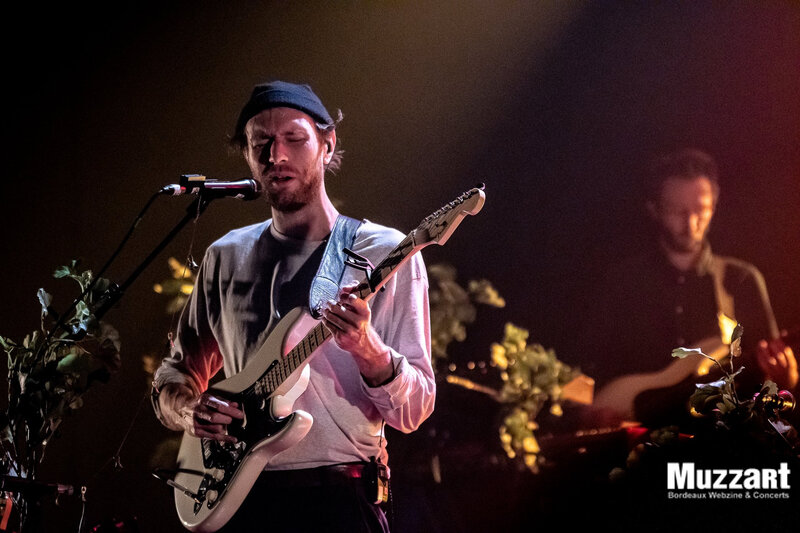 La salle s'est bien remplie pour le groupe suivant. Ils sont quatre. Une basse, deux guitares, un synthé et une batterie. Et le chant, bien sûr. Le concert commence sobrement avec "Tourists", "Midlife" et "Wolves" de l'album "Night Moves". H-Burns, de son vrai nom Renaud Brustlein, enchaîne quatre chansons avant de confier au public présent son plaisir de revenir jouer au Krakatoa. Il faut dire que la fois précédente c'etait 5 ans plus tôt... Cette fois ci H Burns revient présenter son dernier album "Midlife", sorti le 29 mars 2019 sur Because Music. Soit deux ans après le superbe "Kid We Own The Summer". Les titres s'enchaînent très naturellement, et ont des sonorités de plus en plus rock au fur et à mesure que le concert avance. Juste avant de lancer les premières notes de "Tigress", Renaud nous confie que c'est un titre qu'il adore jouer en concert. Et cela va se ressentir durant l'interprétation. Magique. Enchaîné avec "Sister", titre du dernier album qui vient de faire l'objet d'un clip. Puis arrive le single phare de "Midlife", à savoir "Crazy Ones". Le public réponds présent et l'ambiance monte un peu. C'est le moment où le groupe décide de calmer le jeu et de repartir vers un folk acoustique lancinant à vous faire dresser les poils. C'était "Friends". (Jetez vous sur la version studio...) Après une rapide présentation de ses musiciens, le groupe enchaîne deux titres de son quatrième album, "Nowhere To Be" et "Night Moves", puis sort de scène. Après une heure de concert nous aurons encore la chance de profiter de la voix singulière de Renaud durant deux titres interprétés en rappel, en particulier le sublime "Tonight Will Be Fine".... Un superbe show, tout en sensibilité, que ce soit lors des morceaux rock ou folk. A revoir très vite.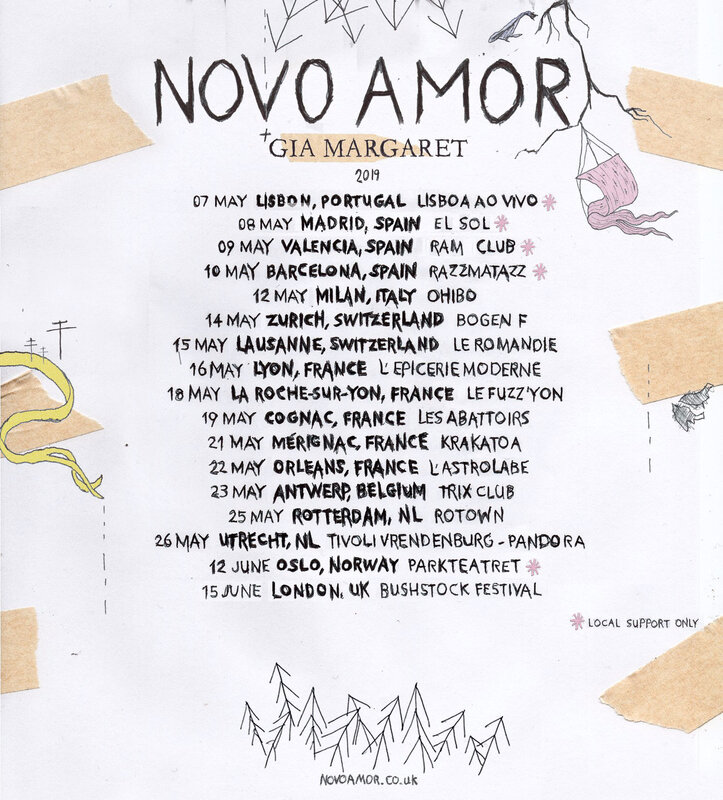 Le groupe Novo Amor, tête d'affiche de la soirée, arrive sur scène vers 22h30. Alors je dois l'avouer, je ne suis pas resté jusuq'au bout (Flagellez moi... ) car il était déjà tard et j'avais un emploi du temps surchargé le lendemain.... Désolé. Novo Amor est un groupe articulé autour de cinq musiciens. La scène entière est recouverte de verdure et de branches d'arbre accrochées et disposées de part et d'autre de la scène, comme aux pieds de micro, ou encore qui entourent le synthé ou la batterie. Cela donne un certain cachet, voir un cachet certain, à la scène. c'est beau. Champêtre. Cette ambiance naturelle correspond étrangement très bien au style de Ali John Meredith-Lacey , leader et âme de Novo Amor, il est multi-instrumentiste, il écrit, il produit, il enregistre lui même, il chante, il joue du synthé ou de la guitare. bref, le groupe, c'est lui. L'artiste alterne entre guitare et piano et se déplace très très peu. Il est assez silencieux, peu souriant. Concentré ? Oui peut être. En tout cas tous les titres sont joués à la perfection. Les musiciens sont très sérieux également. Il faut dire que la musique assez épurée du groupe n'appelle pas les erreurs, car elles seraient tout de suite audibles...
Les morceaux sont très émouvants grâce aux solos de violon qui sont présents sur chaque titre, ce qui permet une touche "Irish folk" très agréable. C'est très beau. mais par contre il ne faut pas être dépressif...... Il est malheureusement temps pour moi de prendre congé. Le réveil sonne tôt.... Mais d'après ce que je me suis laissé dire, la fin du concert a été un petit peu plus détendue... Le chanteur s'amusant même avec le public...
La salle du Krakatoa nous avait concocté une soirée comme elle sait si bien les faire. C'est à dire avec des artistes pas forcément connus du grand public, des artistes dont on sait qu'ils ne feront pas le plein. Mais des artistes qu'on fait quand même venir, par passion. Tout simplement. passion de la musique. des musiques. Et c'est bien là l'essence de la vie, la passion.
Photos & Texte : Laurent Robert
Merci beaucoup aux équipes du Krakatoa pour l'accréditation, et plus particulièrement à Alice.

Merci beaucoup à Muzzart et plus particulièrement à Joseffeen.
GALERIES PHOTOS :
NOVO AMOR :
H BURNS :
GIA MARGARET :
-----------------------
SETLIST NOVO AMOR :
Emigrate
Birthplace
Utican
Anniversary / 13494
State Lines
Carry You
Embody Me
Holland
Colourway
Sleepless
Seneca
Anchor
Repeat Until Death
Terraform
Alps
From Gold

SETLIST H BURNS :
Tourists
Midlife
Actress
Wolves
Naked
Black Dog
Wee Hours
Tigress
Sister
Crazy Ones
Friends
Sail On Wild
Night Moves
Nowhere To Be
I'm On Fire
Are You Scared Of The Dawn ?
Tonight Will Be Fine


LIENS OFFICIELS :
NOVO AMOR :
Site Officiel - Facebook - Twitter - Instagram - Youtube
H BURNS :
Site Officiel - Facebook - Twitter - Youtube - Instagram
GIA MARGARET :
Site Officiel - Facebook - Twitter - Instagram
KRAKATOA :
MUZZART :
LIEN DU SITE MUZZART :
PROGRAMMATION COMPLETE DE LA SALLE :