Ambiance feutrée ce soir au Rocher de Palmer. Après 13 ans d'absence, Lambchop est de retour dans la région Bordelaise. Leur dernier passage dans la capitale Girondine date du 7 Avril 2002, à Barbey... Ce soir c'est au Rocher de Palmer que ça se passe,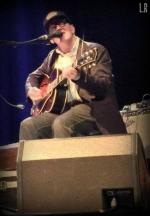 Le groupe commence une tournée européenne pour rejouer en intégralité leur album "Nixon", Même si ils ne sont pas connus du grand public Lambchop a fini par trouver le sien après la sortie de ce magnifique album, en Février 2000. Il est donc tout à fait logique de rendre hommage aux 10 titres qui font toute l'essence de ce disque.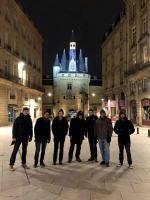 Le concert de ce soir est le premier de cette tournée, et le groupe, arrivé directement de Nashville la veille, en a profité pour faire un petit peu de tourisme...
Comme je vous le disait en ouverture de ce compte rendu, ambiance feutrée donc... Pas de première partie, et nous apprenons que le concert se déroule dans la "salle 650", avec places assises version "comme au cinéma". Le set commence à 20h30, il est 20h20 et nous ne sommes qu'une vingtaine dans la salle... Ou sont les gens ? Heureusement quelques minutes plus tard a salle se remplie et le concert peut enfin commencer.
Kurt Wagner rentre en premier sur scène, seul, Sa légendaire casquette vissée sur le crane, comme d'habitude. Le groupe le suit de près, Marc Trovillion nous ayant quitté en Octobre 2013 c'est Matt Swanson qui officiera à la basse sur cette tournée.
Petite présentation, remerciements, et les premières mesures.... Nous sommes tout de suite complètement happés par l'univers de Lambchop, et plus particulièrement de "Nixon", l'album étant joué dans l'ordre exact du disque, et en intégralité.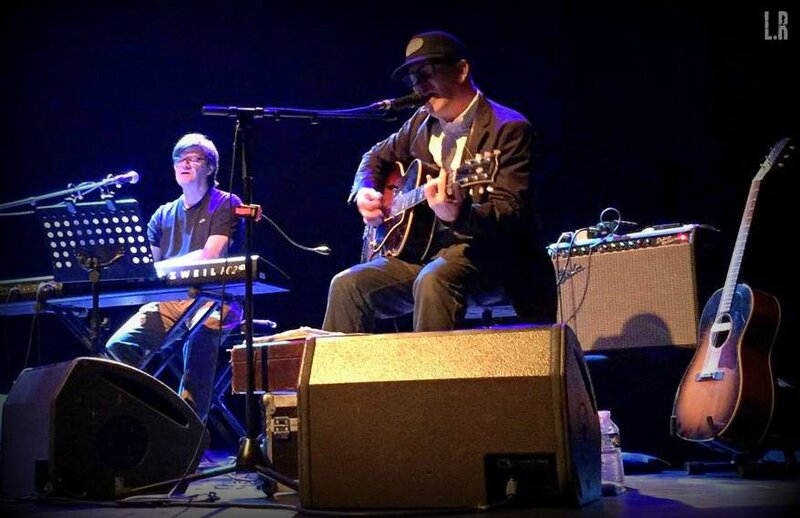 Nous sommes subjugués par le jeu tout en retenue de Sam Baker à la batterie. Et la bonne acoustique de la salle le lui rend bien car le moindre petit coup de baguette sur le charleston, aussi doux soit il, se fait entendre de façon très claire et distincte.
Kurt se permet quelques facéties sur quelques titres. Par exemple lors d'un couplet sur "Up with people" il se permet de changer les paroles pour nous chanter " I hope you"ll like the show" en lieu et place des paroles originales. Sous son air sérieux, Kurt est un vrai gros déconneur en fait !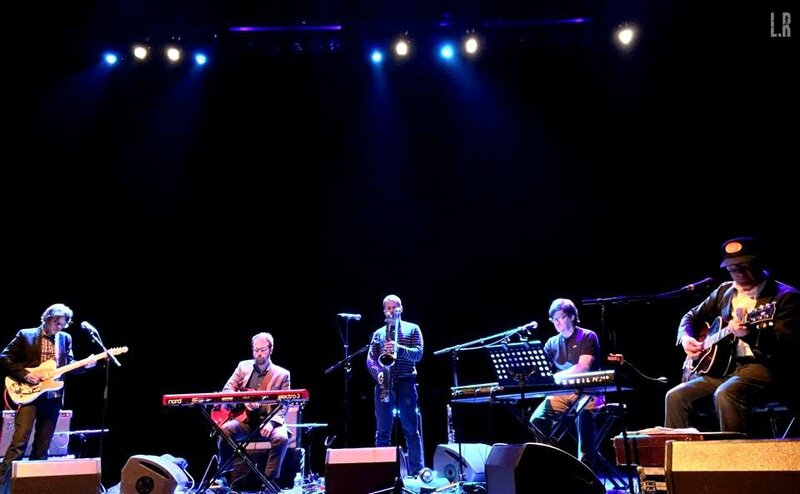 Le concert est commencé depuis 55mn que "Nixon" a été passé en revue... La question est "que va nous faire le groupe après ça ?" Car leur discographie est tout de même assez conséquente avec 12 albums, un nombre de collaborations et de reprises incalculables....
En parlant de reprises, justement, l'ambiance se fait plus funk et soul avec le "Give Me Your Love" de Curtis Mayfield... Le groupe prend un réel plaisir a faire monter l'ambiance... Le titre était d'ailleurs le premier single de l'album "What Another Man Spills" en 1998.
Puis nous partons à rebours.. Après 1998 nous remontons en 1997 avec "My Face Your Ass" titre qui ouvrait "Thriller" (Non, pas l'album auquel vous pensez...) puis avec "We Never Argue" qui était sur le tout premier album du groupe "How I Quit Smoking" en 1996.
Kurt Wagner laisse la parole entre deux titres à Tony Crow, qui se permet de nous dire quelques mots en Francais, ce qui est très apprécié du public. Puis il enchaîne en Anglais pour nous dire qu'ils sont pour deux semaines en Europe, qu'ils ont plusieurs concerts en France et qu'ils sont absolument terrifiés à l'idée d'être sur notre sol. Keep quiet les gars. Tout va bien se passer....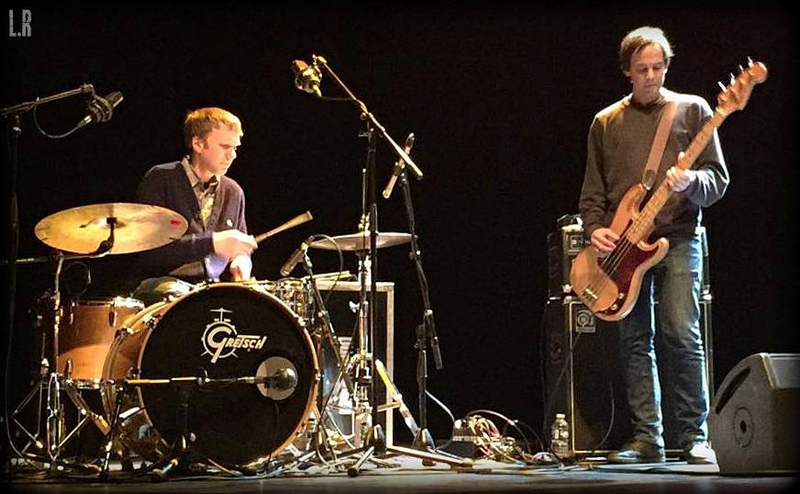 Sorti en 2012, le dernier album en date du groupe, "Mr M", a été enregistré en hommage à Vic Chesnut, décédé en 2009 et grand ami de Kurt Wagner. Ils ne pouvaient donc pas le laisser sous silence, et le mettre en valeur avec le titre "Gone Tomorrow" prend tout son sens. Le concert se termine avec la superbe reprise de David Bowie "Young Americans", dont la première sortie date de 1975, et qui a été réenregistrée en 2014 par Lambchop.
Clap de fin avec un groupe tout sourire. Examen de passage réussi messieurs, et haut la main ! Le public va repartir conquis et dévaliser le stand de merchandising, Et le groupe est rassuré, jouer en France par les temps qui courent n'est pas si terrifiant que ça, Mister Tony... N'est ce pas ?
Setlist : (Time : 92mn)
01. The Old Gold Shoe
02. Grumpus
03. You Masculine You
04. Up With People
05. Nashville Parent
06. What Else Could It Be
07. The Distance From Her To There
08. The Book I Haven't Read
09. The Petrified Florist
10. The Butcher Boy
11. Give Me Your Love
12. My Face Your Ass
13. We Never Argue
14. Gone Tomorrow
15. Young Americans


Site officiel : http://www.lambchop.net/
Le Rocher De Palmer : http://lerocherdepalmer.fr/