(Lien des galeries photos en bas de page)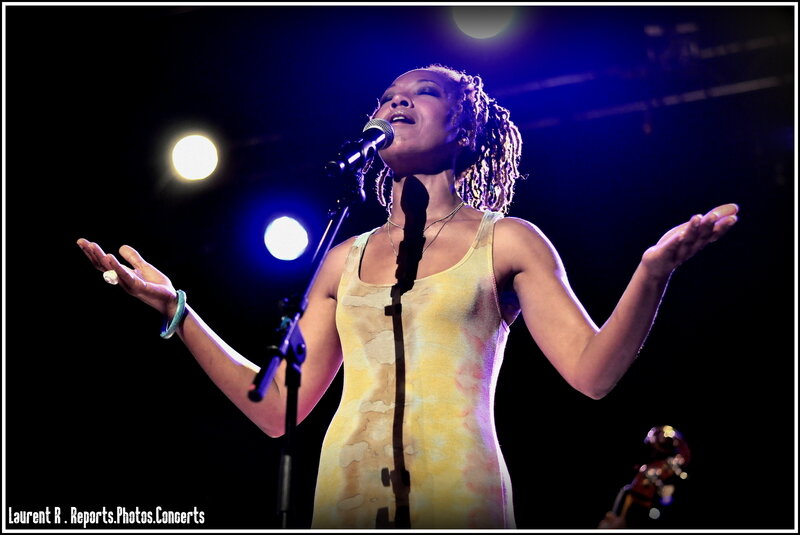 Alors, nous allons tout de suite vous ôter un doute de l'esprit. Oui Lisa est bien la fille de Nina. Et Lisa vient nous rendre visite à la salle du Vigean grâce à Musiques de Nuit qui a déserté pour l'occasion ses locaux du Rocher de Palmer. Pour son premier passage en Gironde c'est une salle bien remplie qui va accueillir la chanteuse qui vient nous présenter son premier album Oui oui, premier album. Car Lisa ne s'est lancée dans une carrière solo que sur le tard. En effet après avoir chanté un petit peu de gospel durant son enfance, se destinant à une carrière d'avocat durant ses études, puis s'engageant dans l'US Air Force, elle part pour Francfort où, le temps d'une soirée, elle accompagne un pianiste qui jouait dans le club où elle se rendait avec ses amis militaires. Ce sera une révélation. Sa prestation est remarquée, mais la première guerre du Golfe mettra fin à ses espoirs, elle est mobilisée.
En 1992 elle partira pour les États-Unis ou elle fera beaucoup de comédies musicales, participera à la tournée "Daughters of Soul" avec d'autres filles de légendes du jazz et de la soul, elle remet les pieds dans le milieu, et décide de faire un album hommage à sa mère qui sortira en 2007 et tournera pour le défendre jusqu'en 2009. Puis elle se penchera vers le cinéma... Elle tâtonne... Elle finira par enregistrer SON album, afin de montrer qu'elle n'a pas envie de vivre (musicalement parlant) sur l'héritage de sa mère. Ce sera chose faite avec "All Is Well", sorti fin 2014, sur le label "Laborie Jazz". Sa carrière est lancée...
Accompagnée Par Arnaud Dolmen à la batterie, Reggie Washington à la contrebasse et Hervé Samb à la guitare, la belle va nous régaler de sa superbe voix durant une heure et demie.
Après une petite intro instrumentale Lisa monte sur scène sous les applaudissements.. Grand sourire. Elle a l'air très heureuse d'être là, de partager sa musique. Le concert débute avec "All Is Well", le morceau d'ouverture de son album enchaîné directement avec "Child In Me", qu'elle dédiera à sa fille de 16 ans, ReAnna Simone Kelly, en nous mettant en garde ... Les carrières de chanteuses de jazz dans la famille ne sont pas terminées....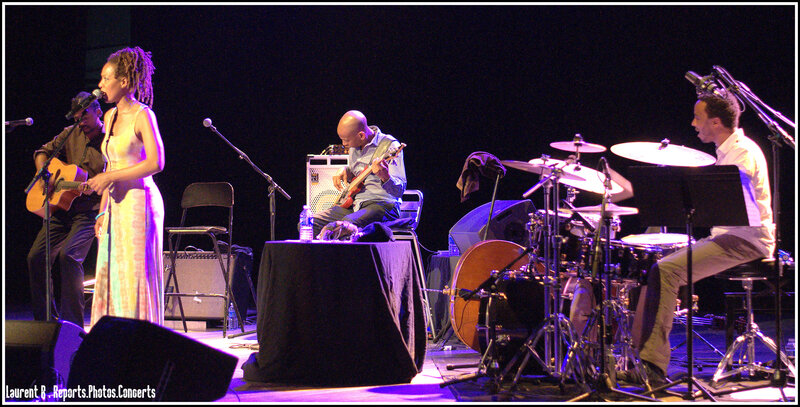 Les concerts sur cette tournée sont bien sûr axés sur ses propres morceaux, mais aussi sur les morceaux enregistrés par Nina Simone. Mais nous nous en doutions un petit peu avant que le concert ne commence. Après avoir chanté 4 titres de son cru elle fera la première reprise d'un titre de sa mère, ce sera "Ain't Got No, I Got Life"... Une superbe version applaudie comme il se doit par l'ensemble du public. L'ambiance est montée d'un cran, indéniablement. S'ensuivront deux titres inédits qui ne sont parus que sur la version bonus de son album. "Don't Wanna Go" flirt avec le funk et la soul, Hervé Samb s'en donnant à coeur joie, faisant une petite cocotte tout le long du titre, alors que "Shooting Kind Of Love" est un pur blues. Rythme de batterie shuffle, contrebasse délaissée pour une basse électrique... La voix chaleureuse de Lisa va très très bien à la note bleue. Le titre sera clôturé par un très bon solo de guitare. Chicago n'est pas loin... Après un "Hardest Time" tres funky nous revenons à une formule complètement acoustique pour une reprise de Nina "Here Comes The Sun". N'ayant pas de piano dans son groupe, Lisa revisite les titres de sa mère de façon très originale.
Dans les inédits, Lisa, dans un Français parfait (Elle a vécue au Sénégal et en Suisse francophone une partie de sa vie), nous présente un nouveau morceau qui n'a jamais été gravé. "My World". Nous sentons une vraie complicité entre Lisa et ses musiciens, elle se retourne régulièrement vers eux pour des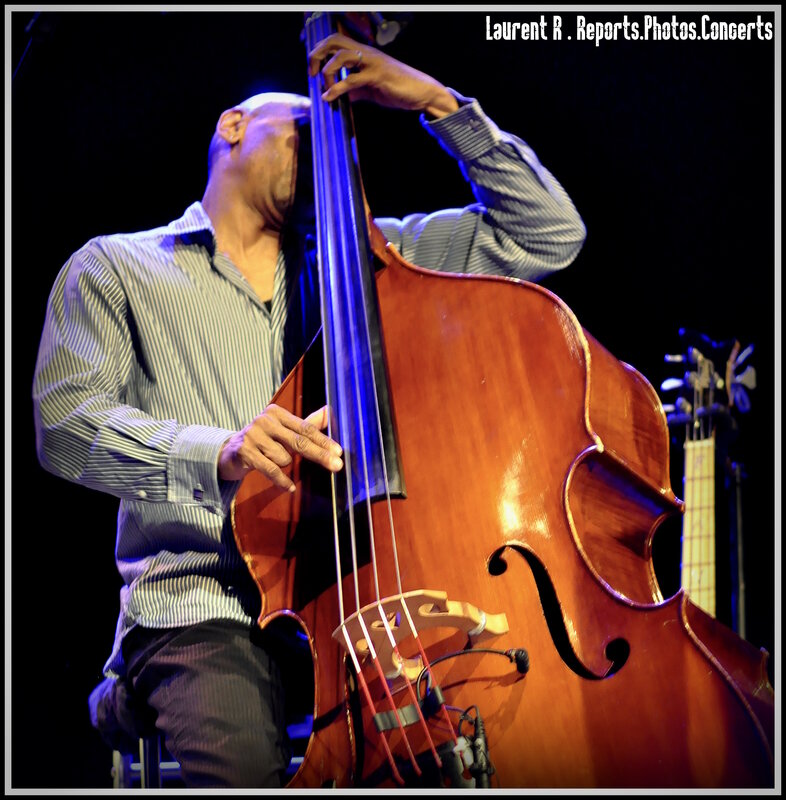 sourires ou des clins d'oeil. C'est un vrai groupe, pas du tout une chanteuse et ses musiciens, ce qui est fort appréciable.
Elle laissera Arnaud s'exprimer pour un très bon solo de batterie, le temps d'aller se rafraîchir et elle revient pour "Work Song" (... Reprise de ... ? Nina Simone bien sûr). Lisa aime beaucoup jouer avec le public également. Elle partira faire le tour de la salle lors de ce titre. Serrant les mains, souriant à tout va... Elle prend un réel plaisir a chanter. Elle transmet également beaucoup aux public dans la salle.
Elle terminera le concert avec le titre "Finally Free", comme pour dire à tout le monde que, ça y'est, elle est enfin libre, qu'elle a enfin trouvé sa voie, et elle va la suivre. Elle le sera complètement le jour ou ses titres seront accueillis de façon aussi chaleureuse par le public que ceux de sa mère. Et c'est pour très bientôt, à n'en pas douter.
Laurent R.
Merci beaucoup à Aurélie, au Rocher de Palmer et Musiques de Nuit et bien sur la Salle du Vigean
Setlist : (Time : 95mn)
01 All Is Well
02 Child In Me
03 Revolution
04 Autumn Leaves
05 Ain't Got No, I Got Life
06 Don't Wanna Go
07 Shooting Kind Of Love
08 Hardest Part
09 Here Comes The Sun
10 My World
11 Take It To The Father
12 Drum Solo
13 Suzanne
14 Work Song
15 Finally Free
Musiciens :
Chant : Lisa Simone
Batterie : Arnaud Dolmen
Guitare : Hervé Samb
Basse : Reggie Washington
Photos :
Lien de l'artiste :
Lisa Simone
Lisa Simone. 9,008 likes · 101 talking about this. SIMONE is her own woman: a singer, songwriter & performer whose ability to transcend genres echoes the...
https://www.facebook.com