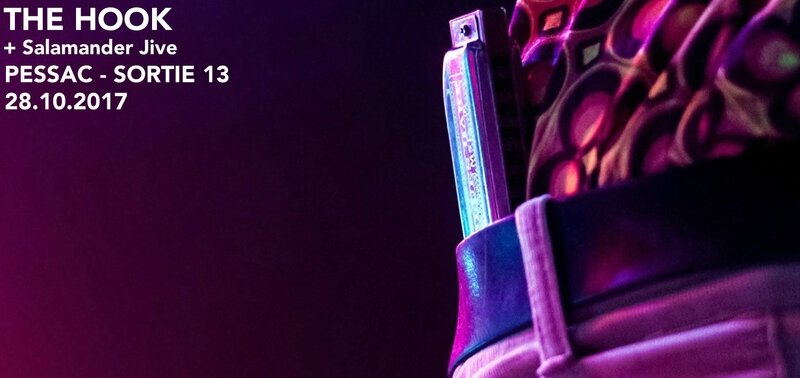 GALERIES PHOTOS COMPLETES EN BAS DE PAGE
850 kilomètres aller. 850 kilomètres retour. Ce n'est donc pas moins de 1700 bornes avalées par The Hook pour venir régaler 80 personnes à Sortie 13 en ce 28 Octobre 2017. Sans compter que le lendemain du concert ils sont allés gravir la dune du Pyla... Ce qui rajoute un petit peu de route. Allez, au bas mot on va dire 1800 bornes en tout. Mais quel pied. Quel bonheur de voir leur plaisir d'être sur scène, de faire plaisir aux gens présents. Vous prenez une pincée de Muddy Waters agrémentée de Flamin' Groovies et un soupçon de Canned Heat et de Yardbirds, le tout remué au shaker des Rolling Stones, leur principale influence, revendiquée, et vous avez The Hook. Et mon dieu quel pied. Si ils passent par chez vous n'hésitez pas une seule seconde.
Avant d'en découdre avec les Mulhousiens, nous avons pu apprécier le set des Bordelais de Salamander Jive. Groupe au sein duquel les Datcha Mandala ont officié il y a quelques années. Pour le coup là, on navigue entre les sixties et les seventies, on est en plein rock psychédélique. C'est étonnant d'ailleurs comme le public réagi différemment suivant le style de musique. Les gens sont très attentifs, calmes, regardent, écoutent et apprécient le travail des Bordelais. ce qui ne veut pas dire qu'ils l'apprécient moins. Toujours est il que le show est carré, propre, prenant.... Quelle belle soirée avec deux groupes bien différents. Pour couronner le tout vous pouvez retrouver en bas de page le lien de l'interview faite par Clara Jagger pour Kick Out The Jams.
Texte et photos de Laurent Robert
Merci beaucoup à toute l'équipe de Sortie 13 pour l'accréditation (Guillaume, Alain, Kriss, Thomas.. Et tous les autres).

LIEN DE LA GALERIE COMPLETE DE THE HOOK :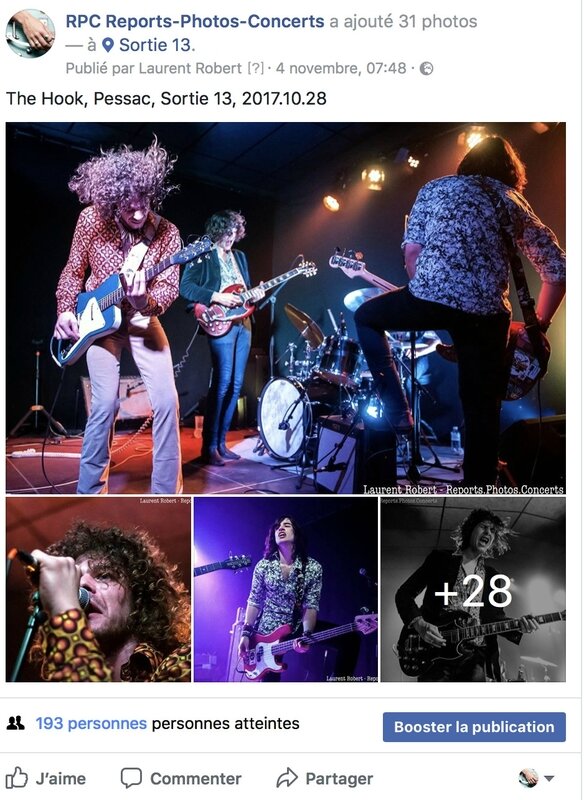 LIEN DE LA GALERIE COMPLETE DE SALAMANDER JIVE :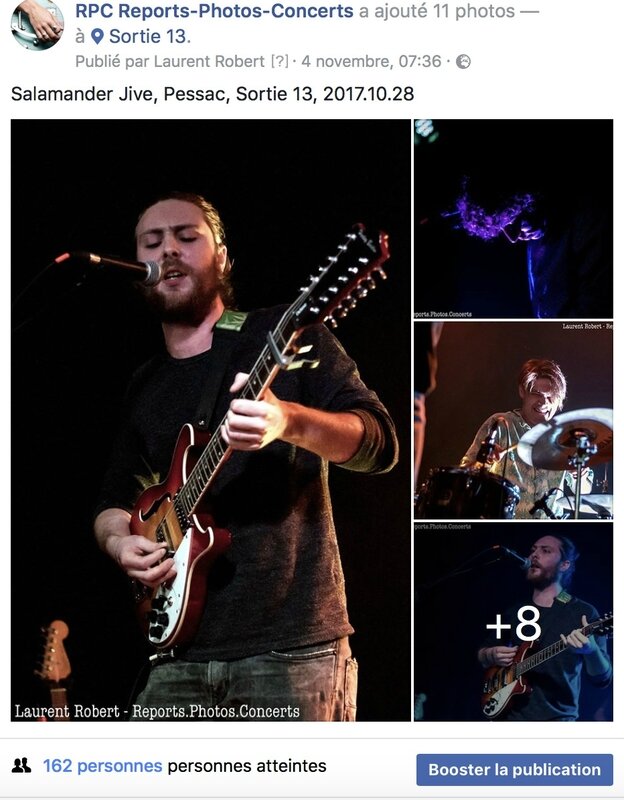 -----------------------
MUSICIENS :
THE HOOK :
- Tombstone Joe : Chant / Harmonica
- Dee Dee Thunders : Basse
- Big Bee : Guitare
- Rémixmi : Batterie
INTERVIEW DE THE HOOK PAR KICK OUT THE JAMS :
THE HOOK
Du blues rock seventies absolument maîtrisé avec une fougue et une fraîcheur détonnantes ! Rencontre avec 4 jeunes rockeurs venus de Mulhouse qui n'ont pas fini de vous étonner ! Nous voilà plongés dans les années 70, petit voyage dans le temps avec une musique qui n'est pas sans rappeler les Rolling Stones de l'époque, Led...
http://clarakins.wordpress.com
AGENDA DES CONCERTS DE SORTIE 13 :