(Galeries photos, vidéos, setlists et liens des groupes en bas de page)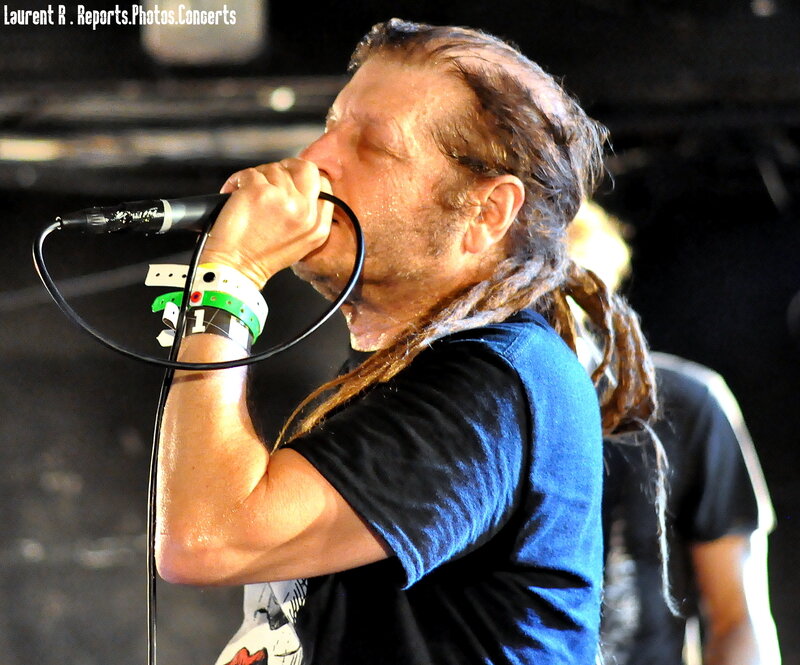 Le mois dernier ce sont les légendes Anglaises GBH que la cale de l'I.Boat recevait.. (Photos et live report sur ce même blog) Cette fois ci c'est une gloire Américaine, tout droit revenue du Hellfest, qui fait escale, je veux parler bien évidemment de Keith Morris, leader emblématique de Black Flag entre 1976 et 1979, et surtout de Circle Jerks jusqu'en 2010, date à laquelle il fonde OFF ! avec Dimitri Coats (Guitariste et chanteur de Burning Brides), Steven Shane McDonald (Redd Kross) et Mario Rubalcaba (ancien skateboarder pro) aussi connu sous le pseudo de Ruby Mars, (Earthless / Rocket From The Crypt / Hot Snakes / The Sultans). Depuis 5 ans ces 4 là ne se quittent plus (Hormis une infidélité de Morris avec FLAG pour quelques concerts afin de reprendre des titres de Black Flag).
La soirée avait commencée dès 19h00 avec un apéro boat organisé par la société "OBEY Clothing France" qui a habillé la terrasse de l'I.Boat d'artworks inspirés par les œuvres de Shepard Fairey pour l'occasion. Suivra la diffusion en avant-première européenne du documentaire « Salad Days: A Decade of Punk in Washington, DC » réalisé par l'américain Scott Crawford. Film documentaire qui examine la première scène Punk DIY de la capitale américaine avec des groupes tels que Bad Brains, Minor Threat, Government Issue, Scream, Void, Faith, Rites of Spring, Marginal Man, Fugazi... Que du beau monde. Une cinquantaine de personnes préféreront la fraîcheur de la cale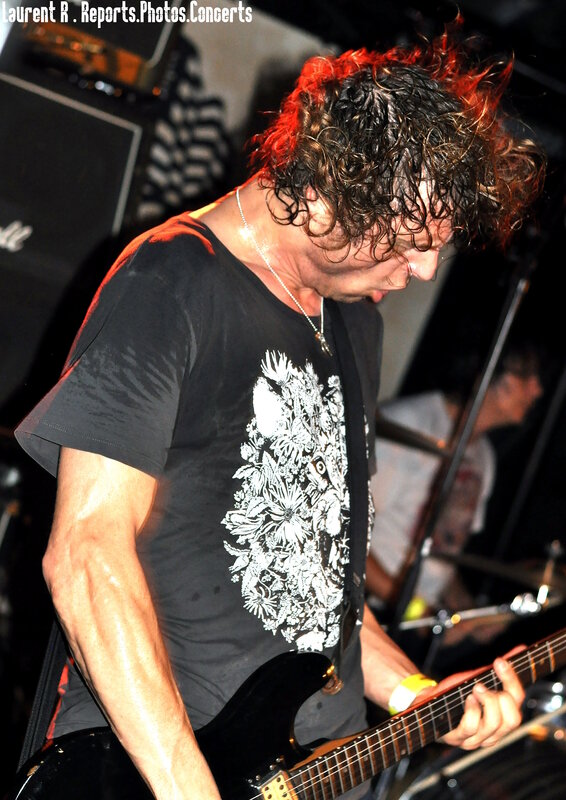 pour la diffusion du film à la chaleur qui règne à l'extérieur où la plage de l'I.Boat tient son rôle afin d'abreuver les hardcoreux de la région.
Côté concert c'est à 21h30 que ça se passe, avec la montée sur scène d'un hors d'oeuvre de choix en la personne des basques de Kuma No Motor qui font leur retour à Bordeaux après avoir joué deux fois à l'Athénée Libertaire, ainsi que deux autres à l'Heretic, où ils ont d'ailleurs enregistré un album live. Ils vont avoir 25 minutes pour convaincre un auditoire assez restreint au début du set. Mais les douces mélodies qui monteront juqu'au bar feront descendre une bonne partie du public qui délaisse le soleil tombant, pourtant si agréable. Iban Txo exhibe sa basse Gibson Flying V qui fait la belle... Mais elle ne fera pas la maligne très longtemps car la musique de Kuma No Motor ne laisse aucun répit aux instruments. Elle est rapide, intense, puissante, incisive, violente... Et surtout très efficace. C'est un rouleau compresseur qui te broie comme du pain dur sous ta chaussure. tu finis en miettes. Les garçons se démènent sachant que le temps leur est compté. La batterie essaye de nous faire croire qu'elle a une triple grosse caisse.... Elle nous connaît mal.. N'empêche que si on ferme les yeux... Ça le fait. Txomin, guitariste attitré du trio, se coupe le doigt sur une corde, mais ça ne l'empêche pas de continuer à tout donner jusqu'à la fin du concert.
Première partie donc : public timide. Soit. Mais belle prestation. La passion et le plaisir de jouer animent ces trois là, à n'en pas douter.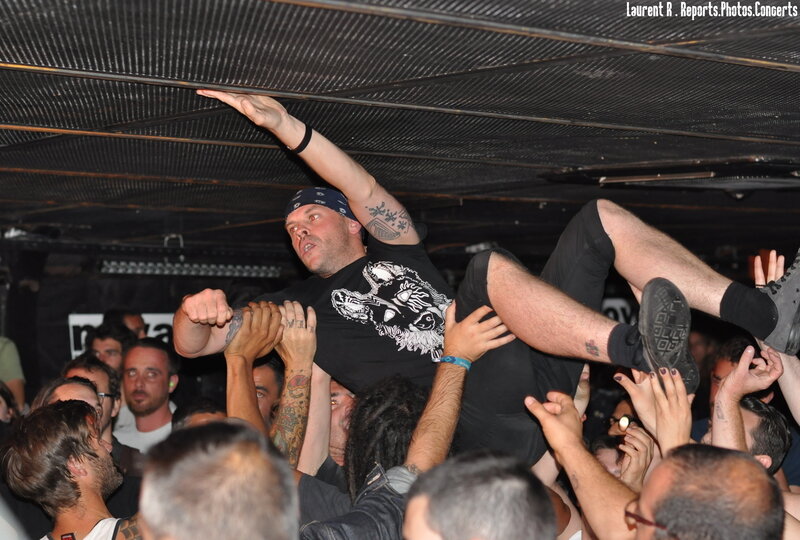 Changement de plateau, c'est à 22h que Keith Morris fait timidement son entrée sur scène afin de tester son micro... Il échange quelques mots avec des personnes du public. Sympa. Quelques larsens, et l'enfer s'empare (provisoirement) du bateau. Ici on ne parle pas de longs titres qui n'en finissent pas, avec trois ponts, 2 solos de guitare et 25 refrains.. Non... On parle de morceaux bruts, brefs, (De 35 secondes à 2mn15) violents, directement envoyés dans ta face .. Le set est d'ailleurs construit de façon intelligente.. 5 titres, Keith parle avec le public, on enchaîne de nouveau 5 titres, et Keith réitère son petit laïus.. Par contre, les morceaux ont beau être très courts, les musiciens se donnent à fond, transpirant à grandes eaux, particulièrement Dimitri Coats à la guitare qui saute dans tous les sens ... Le groupe va vraiment jouer à part égale des titres de ses trois albums. Pendant quelques secondes nous avons même cru qu'ils allaient avoir un invité de marque sur un titre en la personne de Arish Ahmad Khan, alias King Khan du groupe "King Khan And The Shrines". Inratable car il était au premier rang et surtout en bermuda
militaire, une coiffe de trappeur en poils de castor sur la tête. L'excentricité incarnée. Keith l'interpelle et lui demande ce qu'il fait là, tout étonné de le voir. Tout le monde s'attend à ce qu'il l'invite sur scène. Mais non..... Dommage !
Plus le concert avance plus la folie s'empare du pit. Il ne fait pas bon rester au premier rang pour les petits soldats photographes.. Ça slam, ça pogotte et ça headbangue dans tous les sens, Les musiciens, ravis, restent concentrés sur leur mission. A mi parcours Keith nous présente le morceau "Jeffrey Lee Pierce" qu'il a écrit en 2010, en hommage au leader de Gun Club, décédé en 1996 à l'age de 37 ans, et dont il était très proche. Il ne se passe pas un concert sans que OFF ! ne joue ce titre, et Keith prends toujours quelques minutes pour parler de son ami disparu.
Après le titre "Hypnotized" (Le plus long du set !! Deux minutes quinze !) la cale de l'I.Boat se transforme en véritable étuve, à tel point que un spectateur monte sur l'avant scène pour se mettre en caleçon, se disant à lui même "Qu'est ce que j'ai chaud, mais qu'est ce que j'ai chaud !" Les musiciens n'en revenant pas, se marrent. Le même spectateur remontant sur scène quelques minutes plus tard pour s'égosiller face à face avec Keith.
Après cinquante cinq minutes puissantes et féroces, le concert tire à sa fin avec un rappel de deux titres enchaînés dont le "Learn To Obey", petit inédit sorti uniquement en 45T vinyle l'année dernière. Le public, trempé mais heureux, peux remonter tranquillement sur la plage de l'I.Boat afin de se ré-hydrater et prendre le frais (tout relatif) de cette fin de soirée. Pardon de cette BELLE fin de soirée.
Laurent Robert.
Un grand merci à Pauline et à l'I.Boat pour l'accréditation photo, et surtout de nous avoir permis de vivre ce moment.
GALERIES PHOTOS DE KUMA NO MOTOR :
Galerie de Reports.Photos.Concerts :

Galerie de Oudjat :

GALERIES PHOTOS DE OFF ! :
Galerie de Reports.Photos.Concerts :
Galerie de Oudjat :
LIENS DES GROUPES :
Kuma No Motor :

Off ! :

VIDEOS :

Setlist Kuma No Motor : (Time : 25mn)
01 Izateari Utzi
02 Tequila
03 What The Fuck
04 Rats In The City
05 Panoptikoaren Munduan
06 Illusion Of Choice
07 Haustura
08 Ordinary Man
09 Pozoin
10 Fake Promises
11 Register
12 M.A.M
13 Banpiroak
14 Aukera Onena
15 Ogia Ala Arnoa
Setlist OFF ! (55mn)
01 Void You Out
02 I Don't Belong
03 I Got News For You
04 Crawl
05 Now I'm Pissed
06 Over Our Heads
07 Blast !
08 Poison City
09 King Kong Brigade
10 Legion Of Evil
11 Times Not On Your Side
12 Meet Your God
13 Borrow And Bomb
14 Wiped Out
15 J.L Pierce
16 Panic Attack
17 Mr Useless
18 No Easy Escape
19 Hypnotized
20 Rat Trap
21 Wrong
22 Red White And Black
23 Black Thoughts
24 Darkness
25 Upside Down
26 Learn To Obey
27 Toxic Box