GALERIES PHOTOS COMPLETES ET VIDEOS EN BAS DE PAGE
Il est des soirs au Rocher de Palmer où il y a un concert dans chaque salle, soit pas loin de 2000 personnes dans le complexe. Ce soir là, c'est dans le Salon de Musiques que ça se passe, et les deux autres salles sont fermées. Nous ne sommes que environ 250 personnes dans les lieux, qui semblent bien vides et froids.... Toujours est-il que l'ame du Chicago blues va largement réchauffer l'atmosphère..
Mais avant de découvrir la note bleue de Ronnie Baker Brooks nous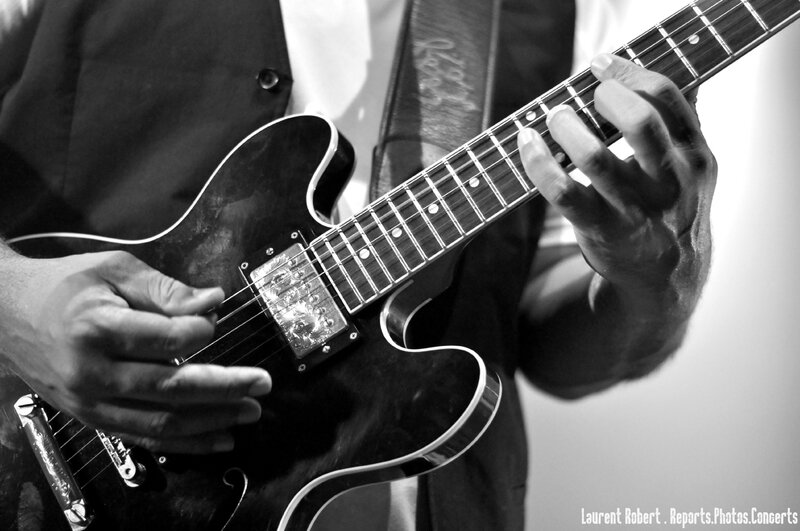 allons faire connaissance avec Damage Case, alias Julien Perugini. Car Julien est seul sur scène, accompagné de cymbales, d'un stompbox, d'une guitare et surtout de sa fidèle contrebasse... Sa force est de ne pas lasser là où d'autres ennuieraient très rapidement leur auditoire. C'est un passionné, et il transmet très bien au public ce qu'il ressent. Il fait corps avec son instrument, que ce soit sur ses compositions ou les reprises. On oubli très rapidement que nous sommes en présence d'un seul homme. C'est la première fois qu'il joue au Rocher, et a l'air ravi de découvrir le lieu. Le public est très attentif, et lui réservera un bien bel accueil, particulièrement après la reprise de Nina Simone "Oh Sinnerman" et également à la fin de son dernier titre, la reprise du plus gros hit de Motorhead, "Ace Of Spades". Lemmy n'est pas celui qui lui a donné envie de faire de la musique toute sa vie pour rien.... A bientôt sur la route Julien..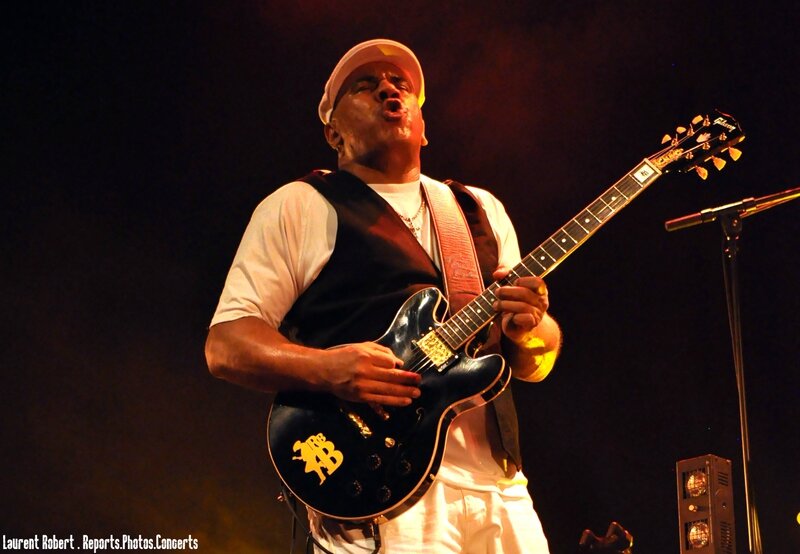 Avec Damage Case ou un de tes nombreux projets.
Après une attente qui se prolonge à cause de problèmes techniques avec la guitare de Ronnie Baker Brooks, le concert du bluesman Chicagoan peut enfin démarrer. Et nous sommes tout de suite transportés dans le South Side de Chicago avec un "Pick Powder" bien rythmé, enchaîné directement avec "Big Leg Woman" de Freddie King, première reprise de la soirée. Il ne manque que les cuivres et on croirait presque avoir la version originale.... Après avoir remercié le public de sa présence le groupe joue le très soul "See You Hurt No More". On s"éloigne du blues, mais qu'est ce que c'est bon. Quel feeling dans le solo placé au milieu du morceau. Il y en aura un deuxième à la fin du titre, qui fait largement penser au jeu de Stevie Ray Vaughan... Donc beaucoup plus rock.
Le public, lui, est très concentré, peut être un peu trop.. Il se lâchera un petit peu sur le titre suivant "I Just Wanna Make Love to You" de Muddy Waters. Enfin non, enregistré par Muddy Waters en 1954, mais écrit par Willie Dixon... Donc morceau de Dixon... ! Ce qui est trop souvent oublié. Le public va donc se réveiller car Ronnie Baker Brooks va le faire chanter. Alors certes ça ne sera pas la folie dans la salle, mais l'ambiance est très sympa, détendue, et il y a une belle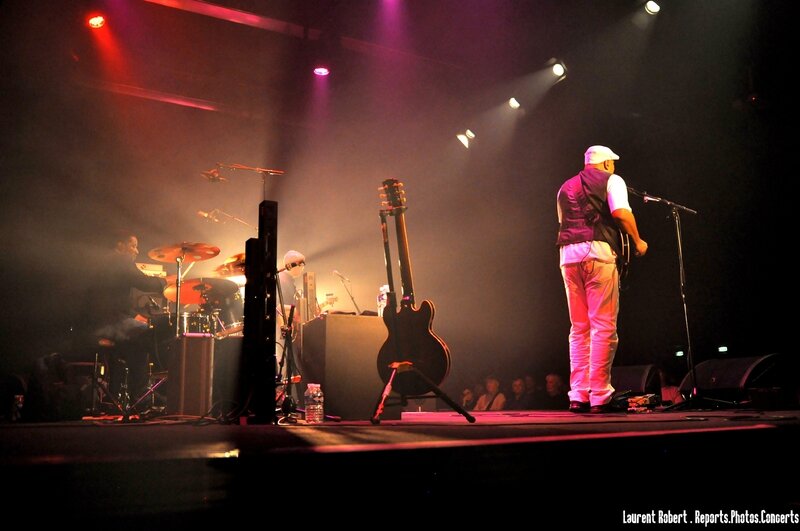 complicité entre le groupe et le public. C'est le moment que choisi Ronnie pour avoir une pensée pour les victimes des attentats de Bruxelles et Paris, hommage largement applaudi, vous vous en doutez bien...
Preuve que les bluesmans ne sont pas égocentriques, il enchaînera directement avec deux reprises en commençant par "Born In Chicago " de Paul Butterfield. Douze minutes de gros rock blues comme savait si bien le faire Jeff Healey, par exemple. Un son de guitare ultra saturé, très rock, tout en gardant un rythme shuffle pur blues. Gros moment. On calme le jeu avec "Superman Lover" de Johnny Guitar Watson. Il fut un temps ou RBB jouait ce titre avec des cuivres, et il faut avouer que sur ce morceau assez "basique", lorsqu'ils ne sont pas présents, cela manque un peu. Mais avec l'effet phaser sur le solo de guitare, cela rend le titre un petit peu plus funky.... Sympa. Mais dispensable....
On retournera vers le gros blues rock avec "I Had My Chance" et surtout "Mack Momma" avec son rythme saccadé et son riff de guitare très original. Puis petite pause dans la folie guitaristique avec "Times Have Changed" qui permettra à Daryl Coutts, aux claviers, de se mettre en avant. Autant l'excellent batteur Maurice Jones et le bassiste Ari Seder sont restés très discrets, mais Daryl, lui, même si il devait le rester, ne le pourrait pas. Ce type est extraordinaire... Il ne peut pas rester en place.... Il se lève, gesticule dans tous les sens.. Grimace... Maltraite son clavier... Il vit les concerts à fond... Un spectacle à lui tout seul. Incroyable. Pour en revenir au morceau, il se finira sur un flow de rap peu convaincant... Dommage.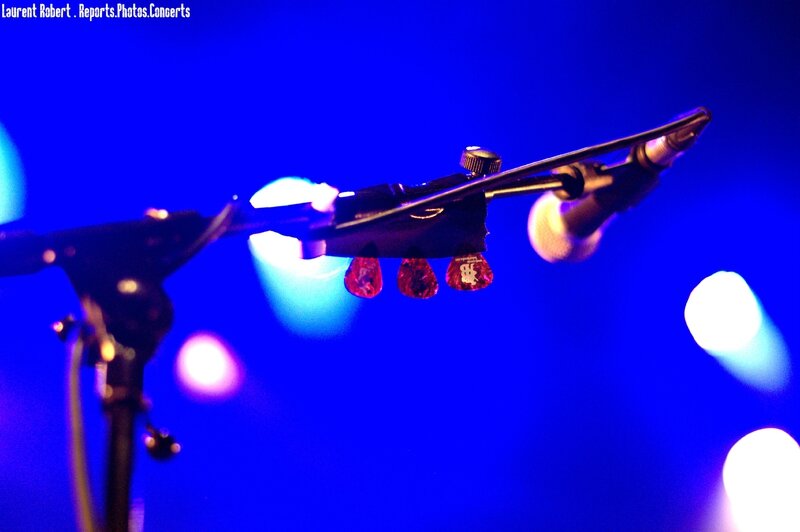 Le concert se terminera par un "Half" de tous les diables, qui verra Ronnie Baker Brooks descendre dans le public de longues minutes afin de jouer assis sur une chaise, danser avec une mal voyante, jouer de la guitare avec ses dents ou encore se mettre debout sur un tabouret, au milieu de la salle. Ces moments de partage sont de plus en plus fréquents dans les concerts. Au niveau du blues c'est Lucky Peterson le grand spécialiste de la chose... mais en tout cas ce soir, le public, pas toujours habitué aux concerts, a eu l'air très surpris et a énormément apprécié, car il s'est levé d'un seul homme pour accueillir le musicien. Après un salut accompagné de ses musiciens, c'est grâce à un rappel intense qu'il reviendra nous interpréter 'Take Me Witcha" dans un final de folie.
Une superbe découverte avec Damage Case / Julien Perugini, et un excellent concert de blues avec RBB. Il est vrai que le pur Chicago blues peut être très lassant car redondant, mais ce soir Ronnie Baker Brooks a su varier les plaisirs et agrémenter son show de titres soul, funk ou encore beaucoup plus rock... Un très très bon moment.
Merci beaucoup au Rocher de Palmer, et en particulier à Aurélie pour l'accréditation.
Texte et photos : Laurent Robert
SETLIST RONNIE BAKER BROOKS :
(Time : 95mn)
01 Intro
02 Instrumental
03 Pic Powder
04 Big Leg Woman
05 See You Hurt No More
06 I Just Wanna Make Love to You
07 Born In Chicago
08 Superman Lover
09 I Had My Chance
10 Mack Momma
11 Times Have Changed
12 Come On Up
13 Half
14 Take Me Witcha
SETLIST DAMAGE CASE :
(Time : 30mn)
01 Brown Sugar
02 Skinny Woman
03 Mad Man
04 In The Pines
05 Hello My Dear Friend
06 Oh Sinnerman
07 Big Boat Up The River
08 Twenty Flight Rock
09 Ace Of Spades
MUSICIENS RONNIE BAKER BROOKS :
- Ronnie Baker Brooks : Guitare, Voix
- Maurice Jones: Batterie
- Ari Seder : Basse
- Daryl Coutts : Claviers
MUSICIENS DAMAGE CASE :
Julien Perrugini : Voix, guitare, contrebasse, stompbox, cymbales.
GALERIES PHOTOS :
RONNIE BAKER BROOKS :
DAMAGE CASE :

LIENS DES GROUPES :
RONNIE BAKER BROOKS :
Site Officiel : http://www.ronniebakerbrooks.com/index.html
Twitter : https://twitter.com/ronniebbrooks
Facebook : https://www.facebook.com/ronniebbrooksmusic
DAMAGE CASE :
Facebook : https://www.facebook.com/Damage-Case-une-série-dembûches-sur-la-route-du-rocknroll-1577207849226245/timeline
Bandcamp : https://julienperugini.bandcamp.com/
Page : http://www.lacassette.org/damage-case
AGENDA DES CONCERTS DU ROCHER DE PALMER :