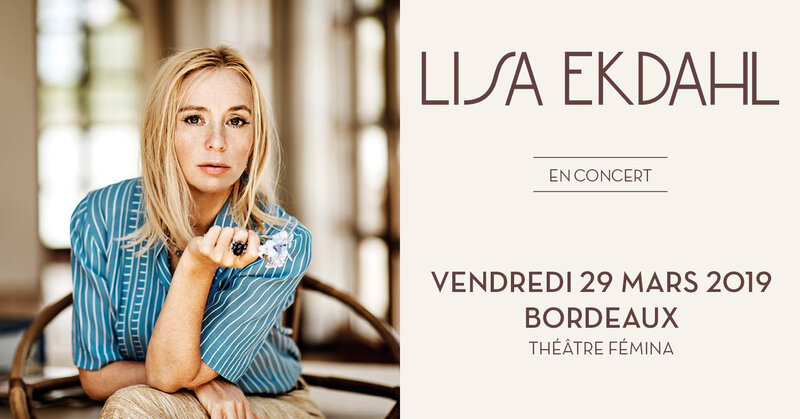 GALERIES PHOTOS COMPLETES EN BAS DE PAGE
J'adore Lisa Ekdahl. Depuis son album "Back To Earth" en 1998 sa petite voix cristalline et son joli minois me font tressaillir. Et puis j'ai fondu avec son album "Lisa Ekdahl Sings Salvadore Poe" sorti en 2000. J'ai d'ailleurs déjà vu la belle Suédoise dans la même salle, en 2011. J'avais trouvé le concert très lisse, plat. Sans saveur. J'avais mis ça sur le compte de sa grossesse. Elle avait passé tout le concert assise, et il n y avait donc pas vraiment d'interaction avec le public. C'est donc avec beaucoup d'espoir que je me dirige vers le Théâtre Fémina. Pas de première partie, le concert commence à 20h, j'arrive à 19h30 et je trouve une salle...... Vide. Bien bien. Tout le monde va arriver à 20h et ça va être le bordel.... Et bien sûr c'est ce qui arriva. Entre les gens du balcons qu'on essaye de recaser en bas sur les strapontins mais qui râlent, et ceux qui arrivent pendant le premier morceau et qui gênent ceux qui sont déjà là, c'etait pas triste.... Bref !! Nous ne sommes pas là pour ça. Les places assises du parterre étaient donc toutes prises, sauf quelques personnes qui ont refusées de descendre et sont donc restées au balcon. Le noir nous enveloppe à 20h02 et le quatuor entourant la chanteuse prend place sur scène. Puis, après quelques mesures, Lisa Ekdahl montre timidement, comme gênée par les applaudissements, le bout de son nez, et prends place, debout (OUF !) au milieu de la scène.
Lisa Ekdahl c'est une voix fragile venue du grand nord, une voix qui charme bien au-delà du cercle des amateurs de jazz, car son répertoire est très varié. Même si sa voix douce évoque une femme enfant, ce qui est le cas également lorsqu'elle parle, il ne faut pas oublier que la Suédoise est l'auteur de treize albums studio agrémentés de trois enregistrements lives, et qu'elle a déjà remporté trois Grammy Awards en Suède. Discrète et délicate, c'est toujours avec élégance et charme qu'elle chante aussi bien du jazz, de la bossa nova ou de la pop. Sa voix fait toujours mouche. En live, parfois, c'est un petit peu plus délicat... Ce soir y compris.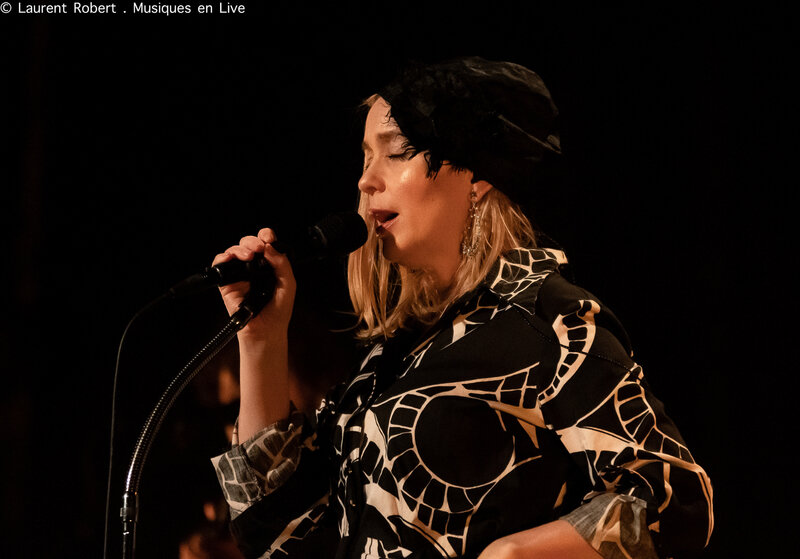 Les premières notes transforment le Théâtre Fémina en immense club de jazz, où le public, sagement assis, se concentre sur la musique. Uniquement sur la musique. Dès la première chanson, elle est tout sourire, nous confiant "qu'elle est très heureuse de voir autant de monde (bon, le balcon est au trois quart vide hein...) dans cette superbe salle si bien mise en valeur". Bien sur les titres du dernier album sont mis en avant avec 6 morceaux tirés de "More Of The Good". Malheureusement il faut bien se l'avouer le son n'est pas à la hauteur. La voix de la belle est sous mixée. Et puis j'ai l'impression surtout qu'elle a du mal à se "lâcher". Tout est en retenue. Que ce soit au niveau de sa gestuelle aussi bien que de sa voix. Au final j'ai le même sentiment que huit ans plus tôt, il ne se passe pas grand chose..... La voix est jolie mais elle en surjoue un petit peu, et trop souvent.
"Nature boy" (connu pour la reprise de David Bowie sur la bande originale de Moulin Rouge) est le premier grand classique qu'elle reprend avec sa voix "originalement" peu puissante, envoûtante, se faisant sensuelle. On sent que la belle est enfin convaincue, et donc convaincante. Des frissons, enfin ! La première moitié du concert, légèrement monotone, s'achève au bout d'une petite heure avec cette reprise. Nouveau départ ? le show s'oriente maintenant vers un jazz folk plus convaincant, plus rythmé. L'équilibre du spectacle est trouvé, et Lisa Ekdahl alterne les ballades susurrées de sa voix de petite fille, et les mélodies folks. Les covers qui ont fait sa réputation s'enchaînent : "It's Oh So Quiet" (Bjork) et "My Heart Belongs To Daddy" (Écrite par Cole Porter et interprétée par Mary Martin puis popularisée par Marylin Monroe). Deux petits rappels à peine forcés et quelques mots en français finissent le concert.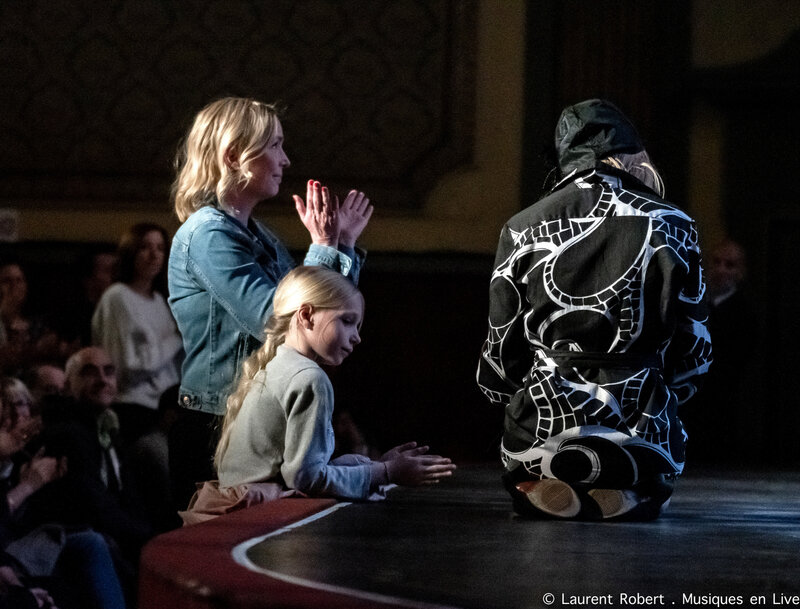 C'était la dernière date de la tournée et Lisa réponds positivement à l'appel d'une petite fille au premier rang en venant lui dédicacer la pochette de son CD. Au final une soirée légère, toute en retenue et sans exploit scénique, mais avec une interprétation singulière d'un petit bout de femme timide, avec une voix de poupée suédoise. C'était mignon. Malheureusement peu d'émotions, comme si tout était calculé au millimètre. En fait ce fût lisse, plat, sans saveur, hormis quelques rares exceptions. Comme en 2011. Et puis le son du Fémina. Il va quand même falloir faire quelque chose. C'est terrible. Et ce d'autant plus que la salle est superbe. Mais je crois que je n'ai jamais vu un concert dans là bas ayant un son "clair et limpide". Quel dommage.
Photos & Texte : Laurent Robert.

Merci beaucoup à toute l'équipe de Euterpe Promotion et Musiques en Live pour l'accréditation.

GALERIE PHOTOS :
-----------------------
LIENS OFFICIELS :
LISA EKDAHL :
Site Officiel - Facebook - Instagram
THEATRE FEMINA :
Site Officiel - Facebook - Twitter - Instagram
EUTERPE :
MUSIQUES EN LIVE :