(Lien des galeries photos en bas de page)
Il y a des groupes légendaires (reformés ou qui n'ont jamais arrêté) qui remplissent des salles de 10000 personnes. La question est de savoir si ils continuent simplement pour les cachets qu'ils encaissent chaque soir, ou par passion. Avec GBH, la question ne se pose même pas. Non seulement ils n'ont jamais arrêté de tourner, mais ils ne se sont surtout jamais séparés, et continuent de jouer inlassablement dans des petits clubs, qu'il y ai 80 personnes comme ce soir là, ou plus. Comment douter une seule seconde de leur intégrité. De leur sincérité... Combien auraient déjà raccroché parce qu'ils ne remplissent pas des Zénith et n'ont pas un gros tour bus.... Mais non, les gars de GBH, eux, sont là. La musique c'est leur vie, ils ne savent faire que ça, ils aiment ça.. Et ce soir là ils vont enflammer l'I.Boat à coups de rythmes binaires et de OÏ OÏ...
Je ne vais pas revenir sur le nombre de personnes dans la salle, je l'ai déjà fait pour d'autres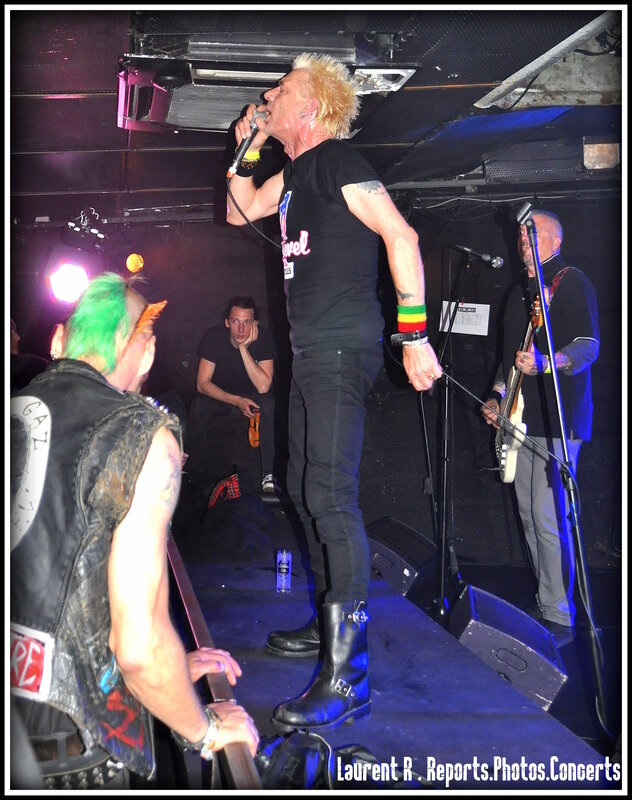 concerts récents... Mais c'est triste.
Pas de première partie ce soir, le groupe prévu s'étant désisté. C'est donc GBH qui entame les débats. Malgré le fait que le dernier album soit sorti cinq ans plus tôt, ils entament leur gig avec "Unique", premier titre de "Perfume And Piss". Mais le public n'est pas venu pour ça, ils veulent revenir dans les années 1980, à la grande époque du groupe. D'ailleurs les quelques crêtes colorées qui se trouvent dans la fosse le font savoir en hurlant les titres qu'ils veulent entendre.... Et ils vont être servis car le concert sera axé uniquement sur 4 albums sortis entre 1982 et 1984. Et le plus étonnant est qu'ils vont jouer pratiquement l'intégralité de "Leather, Bristles, Studs and Acne", sorte de compilation sortie en 1981 et composée des différents EP et singles qu'ils ont réalisé avant même la sortie de leur premier véritable album. Et nous allons rentrer directement dans le vif du sujet avec pas moins de 6 titres extraits de cette compilation, avec des douceurs comme "Lycanthropy" ou "State Executionner". Le tout ne sera entrecoupé que par le non moins subtil "Necrophilia" datant de 1983.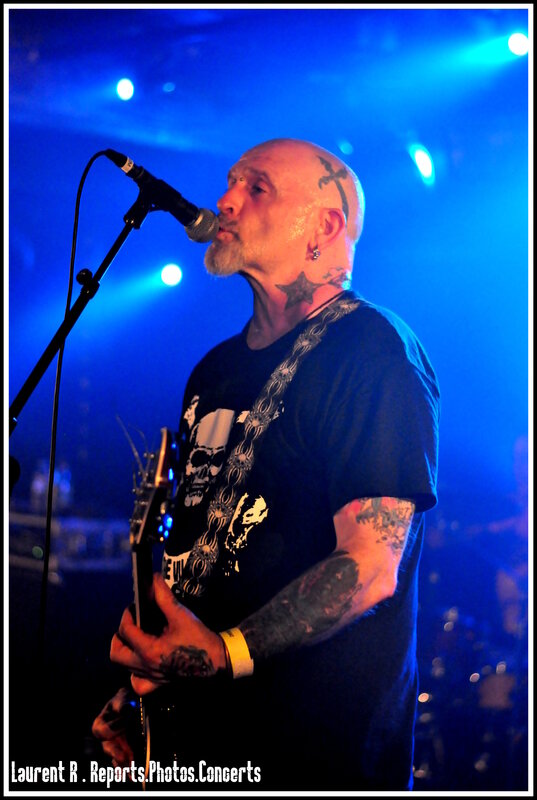 Mais l'ambiance ne décolle pas vraiment. Certes il y a un bon pogo dans la fosse, mais cela reste assez timide. D'ailleurs Colin Abrahall, hurleur en chef, ne se prive pas de dire au public qu'il est très calme. Il n'en fallait pas moins pour que la fosse rentre dans la troisième dimension avec les titres "Self Destruct" et "No Survivors", tous les deux tirés du premier album du groupe, "City Attacked By Rats", sorti en 1982. "No Survivors" avait d'ailleurs fait l'objet d'un single à cette époque et avait assis la réputation du groupe, ce qui lui avait permis de bien lancer sa carrière...
Dans le public on se rentre dedans à qui mieux mieux, on se tire par le perfecto pour se pousser sur le voisin.. On y est... L'ambiance décolle... La direction de l'I.Boat avait d'ailleurs prévu son coup en mettant devant la scène une structure métallique afin que le public ne gêne pas les musiciens.
Le groupe n'a rien perdu de sa superbe. certes un léger embonpoint est apparu, ainsi que quelques cheveux blancs, mais les musiciens donnent tout sur scène. On sent vraiment que c'est leur truc. Ça transpire, ça hurle, ça frappe dur et ça tire sur les cordes à tout va... Colin n'hésite pas a monter sur la structure pour haranguer le public.... Il fera don d'une baguette à une jeune fille en sueur après avoir pogoté durant tout le concert. Ces gars sont généreux et sympas.
Les titres s'enchainent les uns après les autres, pour que la tension ne se relâche pas...
Colin et Jock, les deux membres originels du band n'hésitent pas à prendre la parole entre certains morceaux, mais toujours très brièvement, afin de repartir rapidement, au même titre que les Ramones, ça fait un peu ça : "Aaaaare you ready Boooordeaux ???... 1.2.3.4....." Et let's go !
"Give Me Fire", sorti en format single en 1982 mais également sur "City Baby's Revenge en 1984 mettra le public à genoux, certains n'en peuvent plus de sauter partout, mais repartent de plus belle sur "Man Trap", quelque peu inédit car sorti uniquement sur la compil "The Punk Singles 1981-1984"...
La fin du concert sera uniquement composée de titres de l'album "City Baby's Revenge" sorti en 1984.. autant vous dire que le public, voyant la fin du gig arriver se donne à fond et particulièrement sur "Kids Get Down", deuxième titre du dernier album joué ce soir, dont il reprendra le refrain avec acharnement.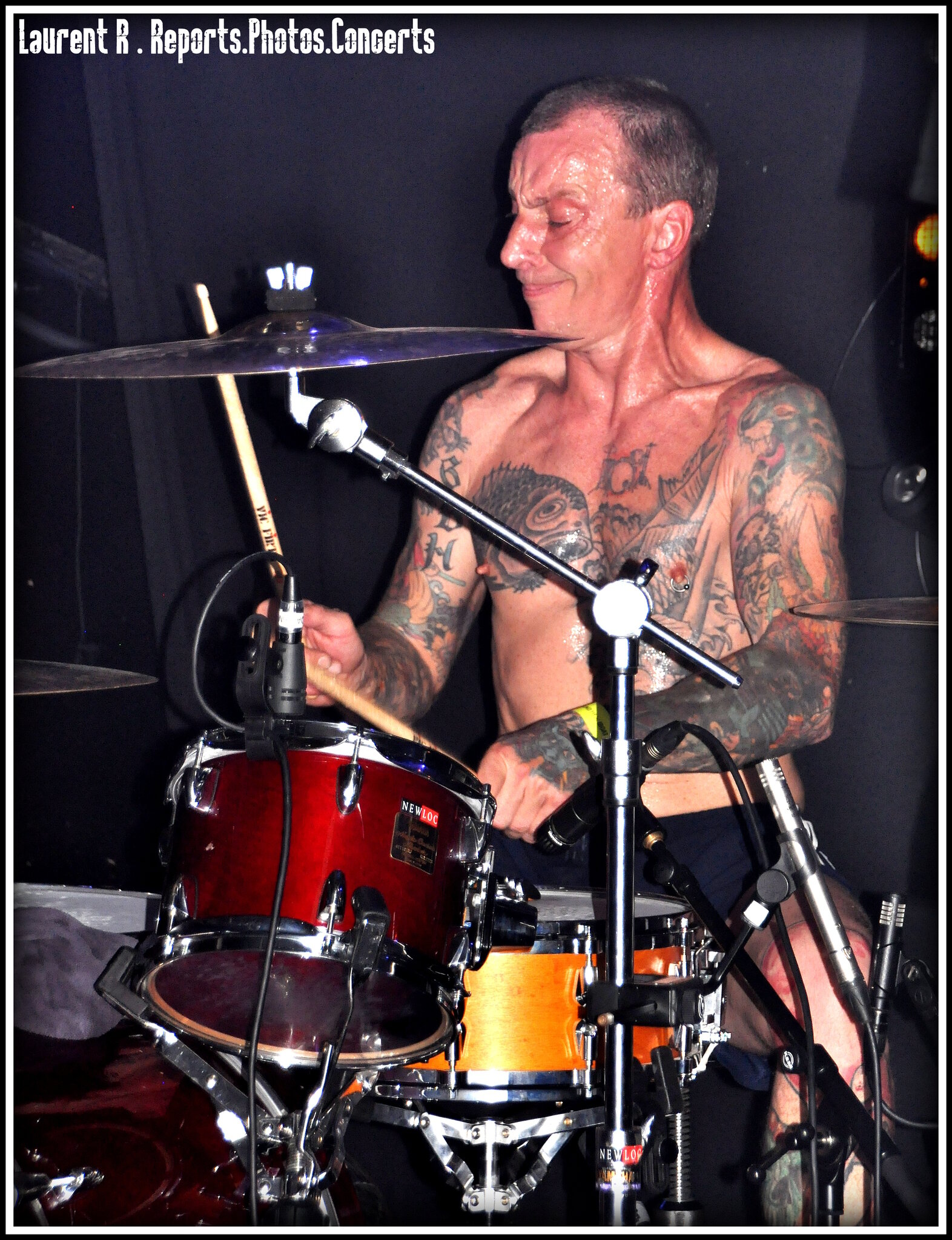 C'est le moment du rappel, seul Colin sort de scène pour aller chercher une petite boite backstage, à l'arrière de la scène... il revient et fait une distribution de....... Bonbons. Oui oui, de bonbons. Les premiers rangs ne se font pas prier, on reprend des forces pour l'assaut final. "Diplomatic Imunity" et City Baby's Revenge" vont achever tout le monde...
Le groupe a joué en roue libre, à flux tendu. Les gars savent ce qu'ils font, y prennent du plaisir même si on sent sur certains titres qu'il font le boulot. Mais c'était un très bon moment. Énergique, bouillonnant, épuisant pour certains. L'Iboat aurait pu chavirer si il y avait eu plus de monde........
Laurent R.
Merci beaucoup à Emmanuelle pour sa contribution, Pauline, et à l'I.Boat.
Setlist GBH : (73mn)
01 Unique
02 Race Against Time
03 Knife Edge
04 Lycanthropy
05 Necrophilia
06 State Executioner
07 Dead On Arrival
08 Generals
09 Freak
10 Alcohol
11 No Survirors
12 Self Destruction
13 Big Women
14 Sick Boy
15 Slit Your Own Throat
16 Am I Dead Yet
17 Give Me Fire
18 Man Trap
19 Catch 23
20 Hellhole
21 Kids Get Down
22 Drugs Party in 526
23 Diplomatic Imunity
24 City Baby's Revenge
26 Hey Keef
Photos :
Liens du groupe :
Lien de la salle :