GALERIES PHOTOS COMPLETES EN BAS DE PAGE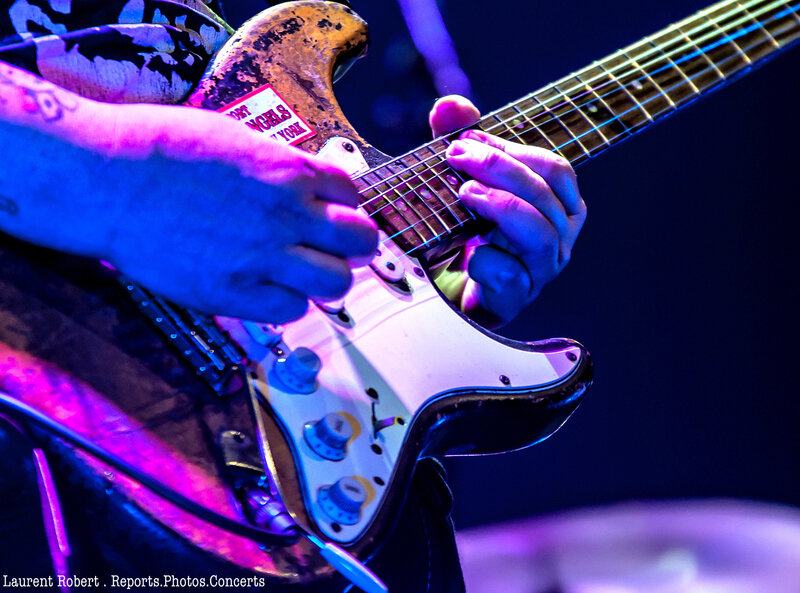 Le dernier passage de Popa Chubby en France en 2015 a vu naître une pépite : 25 ans de carrière célébrés par un double album live enregistré en partie au Rocher de Palmer. Le cru 2016, non moins riche, un double live flanqué d'un CD studio en bonus nommé "Catfish" sorti chez VeryRecords, était déjà dans les bacs quand le King of New York City a foulé à nouveau les planches du Rocher avec sa strato, afin de rendre hommage à celui qu'il considère comme son maître : Jimi Hendrix. Le privilège de se balader parmi les plus grands succès et quelques titres moins connus de LA légende de la guitare. Il est 20h30. Les shows commencent tôt avec le New-Yorkais. il a perdu un peu de poids en un an, il a deux genoux neufs suite à une intervention chirurgicale, et il a l'air plutôt en forme. Enfin tout est relatif... Par contre, une chose qui ne change pas, c'est son immense enthousiasme à jouer devant nous et devant une salle (presque) pleine comme un oeuf. 1000 billets vendus sur une salle de 1200, pas mal pour un artiste qui ne squatte pas la bande FM. En deux temps et trois mouvements de guitare, il aura déjà mis ses fans dans sa poche. Ce soir, il joue encore et toujours avec sa Stratocaster de 66 qui ne le quitte jamais et avec laquelle il a un vécu gigantesque. Son jeu d'ailleurs est toujours monstrueux, c'est impressionnant qu'on en aurait presque des frissons. Son style reste toujours agressif et influencé par les plus grands comme Willie Dixon, Jimmy Page, Randy Rhoads, Albert King et sa principale référence : Jimi Hendrix, bien évidemment.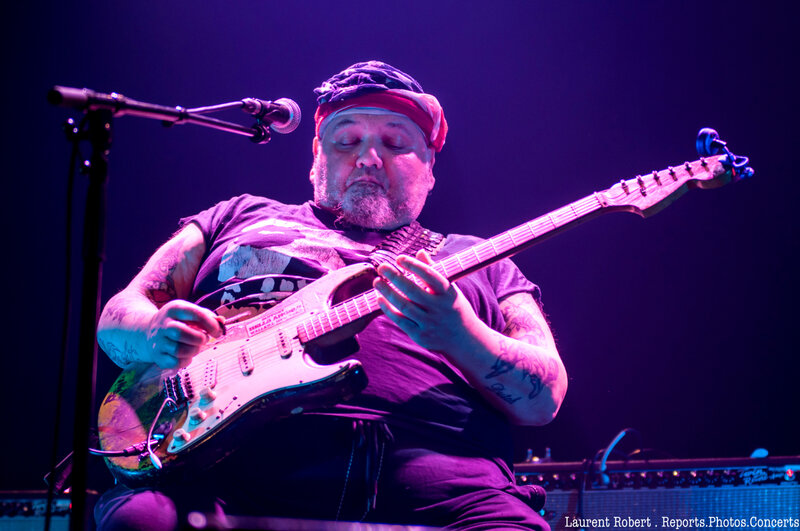 La tournée se nommant "Popa Chubby plays Jimi" il joua beaucoup de titres de ce dernier, le concert débutant notamment par "Hey Joe", qu'il fera durer pour le plus grand plaisir du public, histoire de mettre tout le monde d'accord d'entrée. Visuellement, le poids de l'âge, c'est le cas de le dire, fait son œuvre auprès des genoux de l'homme au bandeau à l'effigie du drapeau Américain, qu'il gardera sur la tête durant tout le show. Ce sera donc assis qu'il œuvrera. Assis, mais dynamique et heureux. Pour revenir au concert lui même, nous aurons droit aussi à "Red House", "The Wind Cries Mary", mais surtout une version dantesque de "Foxy Lady". Rayon reprises, nous avons eu la chance, entre autres, d'avoir un titre de Black Sabbath avec "War Pigs", une version doucereuse et complètement envoutante du "Hallelujah" de Léonard Cohen, enchaînée directement avec "Blues For Charlie" de Ike Quebec. En rappel Ted finira son concert avec un titre de Hendrix moins connu que les classiques : "Third Stone From The Sun", avant de terminer par "Wild Thing" et "Purple Haze".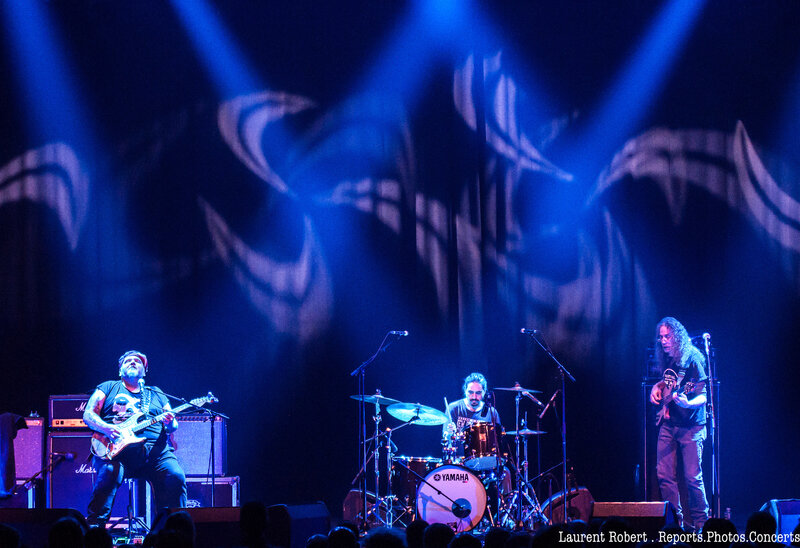 On le voit souvent en transe, ses yeux partent, il lâche tout et improvise parfois. Moins souvent que sur ses précédentes tournées. Ses musiciens sont au taquet, à son diapason et ils doivent le regarder souvent afin de le suivre dans ses impros. On prend vraiment une grosse claque ce soir et qu'importe le morceau joué, c'est le pied. Que ce soit un titre aux influences jazz, blues ou même rock. Des reprises fantastiques, des chansons de son nouvel album, des vieux titres, tout y passe car Popa a décidé de nous faire mettre un genou à terre. Là où, il y a deux ans, il jouait presque trois heures et lassait quelque peu une partie de son public, ce soir c'est un concert condensé en une heure quarante cinq, mais sans aucun temps mort. Alors certes nous sommes un petit peu en terrain conquis, mais Popa Chubby c'est comme un bon vin qui se bonifie avec le temps pour en saisir l'arôme. Mais quel bonheur. Ce soir, il est très facile de vous avouer qu'on a pris une claque monumentale. Chapeau bas Popa....
Photos et report de Laurent Robert.
Merci beaucoup au Rocher De Palmer pour l'accréditation. et particulièrement à Aurélie.
-----------------------
LIEN DE LA GALERIE PHOTOS COMPLETE :
SETLIST :
01- Hey Joe
02- Killing Floor
03- Sunshine Of Your Love
04- Up From The Skies
05- The Wind Cries Mary
06- Who Knows
07- Foxy Lady
08- War Pigs
09- Red House
10- Hallelujah
11- Blues For Charlie
12- Third Stone From the Sun
13- Wild Thing + Purple Haze
MUSICIENS :
- Popa Chubby : Guitare / Chant
- Conrad St.Clair : Basse
- Richie Monica : Batterie
LIENS OFFICIELS :
Site Officiel : http://www.popachubby.com/
Facebook : https://www.facebook.com/Popa-Chubby-56952906226/
Twitter : https://twitter.com/popachubb
Instagram : https://www.instagram.com/popachubbyband/