GALERIES PHOTOS COMPLETES EN BAS DE PAGE
Il est très difficile de décrire le style de Hypno5e. On peut dire plein de choses sur leur musique, mais on risque d'en dénaturer l'essence. Métal cinématographique serait peut être le plus approprié. Qu'en disent les fans ? On y retrouve beaucoup d'éléments comparatifs avec les Américains de Cynic, tout en se démarquant par une approche plus sombre... Le combo Montpellièrain est unique, fort d'une énorme musicalité, d'une créativité époustouflante, fait de moments purement heavy entrecoupés par des moments plus posés tout cela partagé avec des extraits cinématographiques. On ne sort pas indemne d'un concert de Hypno5e. Le 10 Mars dernier le bootleg était bien garni pour accueillir le groupe qui venait présenter son nouvel album "Shores Of The Abstract Line", sorti en Février dernier. Ambiance sombre, stroboscopique, folie musicale parsemée de purs passages heavy... On peut dire que le passage de Hypno5e au Bootleg ne laissera pas le public indifférent, qu'il ai aimé ou pas le monde du groupe.... Antoine était sur place pour nous ramener un souvenir photographique de ce moment...
Photos de Antoine Barland
Merci beaucoup au Bootleg et en particulier Elsa pour l'accréditation.
-----------------------------------
SETLIST :
01. East Shore–Landscape In The Mist
02. East Shore-In Our Deaf Lands
03. Acid Mist Tomorrow
04. Maintained Relevance of Destruction (Part II)
05. Gehenne (Part II)
06. Gehenne (Part III)
07. West Shore–Where We Lost The Ones
08. West Shore–Memories
09. Six Fingers In One Hand She Holds The Dawn (Part II)
10. South Shore–Blind Man's Eyes
11. Tutuguri
GALERIE PHOTO COMPLETE DE HYPNO5E :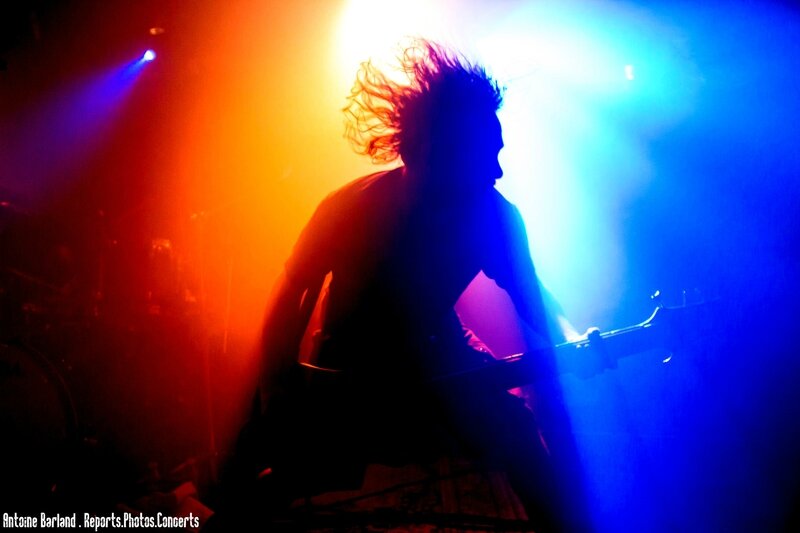 RETROUVEZ TOUTES LES PHOTOS DE LA SOIREE ICI :
https://www.facebook.com/antoinebarlandphotographe/timeline
LIENS OFFICIELS DE HYPNO5E :
Site officiel : http://www.hypno5e.com/
Facebook : https://www.facebook.com/Hypno5e/
Twitter : https://twitter.com/Hypno5e?ref_src=twsrc%5Etfw
Instagram : https://www.instagram.com/hypno5eofficial/
AGENDA DES CONCERTS DU BOOTLEG :