Lien des albums photos en bas de page
Grosse grosse soirée rock'n'roll prévue ce lundi soir au Bootleg. Les Lords Of Altamont sont venus prêcher la bonne parole au Bootleg de Bordeaux. Mais avant de découvrir les bikers originaires de Los Angeles, nous avons le plaisir de retrouver Libido Fuzz sur la scène du club Bordelais. J'ai découvert le
groupe lors du festival relache, organisé tous les étés par "Allez Les Filles". Et j'avais été fortement séduit... Changement de bassiste entre temps, et n'ayant pas eu l'occasion de les revoir en live depuis, je suis ravi de les retrouver ce soir...
Tout le public n'est pas encore arrivé dans la salle lorsque le trio monte sur scène, mais peu importe. Nous sommes tout de suite mis dans l'ambiance rock psychédélique que veut distiller le groupe avec "I Was Made On a Desert Road", Début à la basse seule, entrée de la batterie, atmosphère lourde... puis l'ambiance monte jusqu'au riff de guitare et le chorus à la pédale wah wah... On est dans l'univers seventies à fond, on ferme les yeux, on prend une bière (Ou plus... mais je ne suis pas client) et on se retrouve en plein woodstock....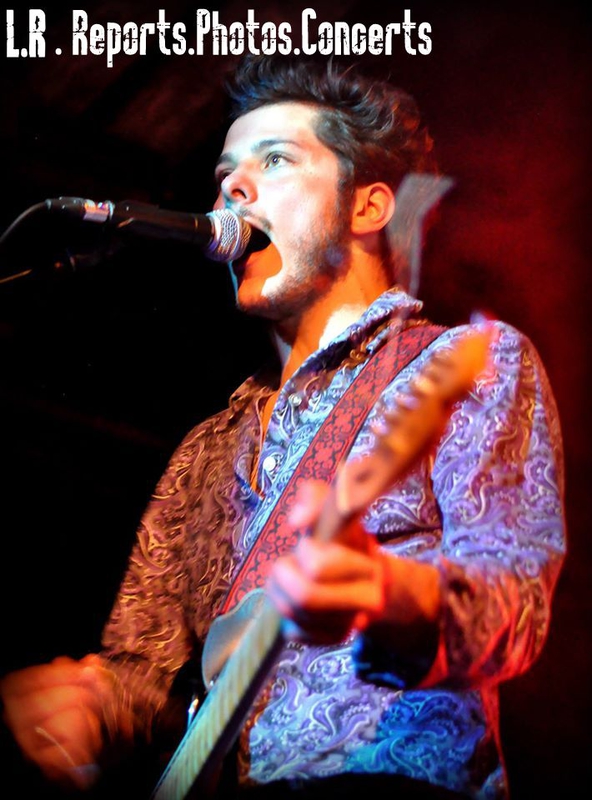 A signaler le nouveau "Psychedelic light show" du groupe, avec Samia à la manoeuvre, presque exclusivement composé de projections, depuis la console son, sur les musiciens et le fond de la scène, Super effet. Et d'autant plus envoûtant que pratiquement aucun light n''est allumé en plus, hormis en fin de concert.
Le groupe enchaîne avec deux morceaux qui ne figurent pas sur le EP : "Sweet Hours" et "Obliques Stratégies", beaucoup plus entraînants que le premier titre joué ce soir. le Jimi Hendrix Experience n'est pas loin... Ca break dans tous les sens... solos de guitare à foison. Le public s'est rapproché, alerté par le son et la qualité des compositions...Nous aurons même droit à un nouveau titre, fraîchement composé et pas encore nommé sur lequel Thibault, le batteur, est mis à rude épreuve. Reçu avec mention ! Le concert se termine avec un 8ème morceau, "Redemption Of The Bison", un bon titre bien heavy, rempli de solos de guitares et une ligne de basse mise en avant lors des ponts. Pas moins de 10 minutes de délire psychidelico fuzz rock'n'rolliesque... Qui se termine sur un tempo ultra rapide. Très bon choix pour le clip qu'a tourné le groupe, et que vous pouvez retrouver facilement en fouillant la toile.
45mn de show, 8 titres dont 3 du premier EP, quelques autres que nous retrouveront certainement sur l'album a venir dans le courant de l'année.
Nous reviendrons les voir à coup sûr..
Entracte de 20mn agrémenté de Monsieur DJ Francis Vidal, sorcier en chef de l'association "Allez Les Filles" qui nous passe ses morceaux préférés, puis les maîtres de la soirée apparaissent... Bon, on ne va pas vous faire le coup de vous expliquer le nom du groupe, tout le monde est au courant, Altamont 1969, les Hell's Angels au service d'ordre, un spectateur assassiné par l'un d'eux pendant le concert des Stones bla bla bla... Histoire maintes fois racontée... En bon bikers qu'ils sont, les Lords portent très bien leur nom... qu'ils ont tous mentionné dans le dos avec de gros patches.
A la guitare, Dani Sindaco remplace pour cette tournée Européenne Johnny Devilla (ex Fuzztones) et membre fondateur du groupe, à la batterie pas de Harry Drumdini (ex- Cramps). Il est remplacé par un batteur assez jeune, mais qui assurera sans faiblir. Il faut dire que chez les Lords les musiciens changent, partent, reviennent, arrivent, il y a tout le temps du changement. De toute façon le groupe est avant tout le fait d'un homme : Jack "The Preacher" Cavaliere (ex- Bomboras et manager des Cramps), chanteur atypique, grande gueule et qui se donne à fond à chaque concert. Rob "Garbage Man" Zim étant absent, le bassiste de ce soir m'est totalement inconnu.. (faites preuve de charité, aidez moi...)
La musique d'ambiance s'arrête, le public s'emballe, l'intro parlée commence, voix off rocailleuse... l'instrumental "No Love Lost" s'annonce... La ligne de basse devrait démarrer mais... il ne se passe rien.... Les roadies montent sur scène... "Ah oui, c'est vrai, pour que ça marche il faut brancher le jack" .... Du coup l'ambiance retombe un peu.. et notre ami bassiste fera la gueule tout le long du set.. Imperturbable, toisant le public, pas un sourire...
Jack Cavaliere fait son apparition sous les acclamations pour "Live With Me" le titre d'ouverture du dernier effort du groupe : "Lords Take Altamont" (Gearhead Records) sorti fin 2014, il prend place derrière son orgue Farfisa.... Et fait le show à lui tout seul. Durant tout le concert le pauvre instrument sera maltraité dans tous les sens, balancé d'avant en arrière, jeté en pature au public qui ne se gêne pas pour en jouer, pardon.... pour appuyer sur les touches... (jouer est un grand mot)... Sacrée personnalité ce Jack. Il ne quittera pas ses lunettes de la soirée, joue avec les premiers rangs, s'approche au plus près du public pour l'haranguer, se couche par terre.... Bref, tout le monde n'a d'yeux que pour lui, à tel point que les autres musiciens paraissent bien ternes dans leur coin. Hormis Dani Sindaco qui nous balance des solos bien sentis et qui lui permettront de se mettre en avant...
Autant vous dire qu'on est dans le binaire le plus basique... On retrouve beaucoup de choses dans la musique des Lords Of Altamont. Du Stooges, du MC5, du New York Dolls, Du Dead Boys etc etc... Je ne vais pas citer toutes les influences du groupe, ça serait trop long, D'ailleurs "les seigneurs" sont friands de reprises, que ce soit sur album ou en live, Ce soir, au Bootleg, nous aurons droit à du Rolling Stones (Live With Me") du Walter Davis ("Come Back Baby"), du Crosby Still & Nash et du Jefferson Airplane. Ces deux dernières étant jouées presque systématiquement en live par le groupe ( "Black Queen" et "3/5 Of a Maile In Ten Seconds").
Ce qui ne va pas les empêcher de faire honneur à leurs 5 albums. Même "To Hell With The Lords Of Altamont" datant de 2002 ne sera pas oublié avec le titre "Come On Up"
Toujours est-il que après 75mn et 19 titres envoyés pieds au plancher, deux rappels, un Jack Cavaliere en sueur, il faut se rendre à l'évidence, le groupe ne reviendra pas....
Alors, Lords Of Altamont, "La plus grande escroquerie du Rock'N'Roll"... ?? Pourquoi ? Parce qu'ils n'inventent rien...?? Ils reprennent les basiques ?? Certains le disent. Mais ils ne sont pas les seuls il me semble, non ? Prenez les Stones ? Ont ils "vraiment" inventé quelque chose ??? Ils n'ont fait que repiquer les plans des plus grands bluesmans des Fiftie's comme Muddy Waters ou Lightnin' Hopkins sans jamais être accusés de plagiat.... Ça ne les a pas empêchés de devenir ce qu'ils sont aujourd'hui....
Alors peu importe que les Lords Of Altamont bâclent certains concerts, fassent beaucoup de covers sur leurs albums. On s'en fiche ! Ça respire la sueur, la bière, le rock'n'roll, et ça dégraisse les cages à miel. C'est tout ce qu'on leur demande !! Certes ça reste binaire, 5ème enclenchée du début à la fin, sur le même tempo, avec une impression de redite d'un titre à l'autre. Mais ils aiment ça, le public aime ça. Que demander de plus ? Le groupe a une bonne fanbase en France, fait toujours pas mal de dates dans notre pays, et on ne va pas s'en plaindre ! Le reste, hein...
Ah au fait, notre ami bassiste a dodeliné de la tête sur "Cyclone", le dernier titre du concert. Content que ça se termine enfin ? Allez, rassures toi mon ami, demain est un autre jour et ta basse sera branchée pour ton intro...
Merci beaucoup à http://www.allezlesfilles.net/ et Maxime.
LIEN DES ALBUMS PHOTOS :
Libido Fuzz : https://www.facebook.com/media/set/?set=a.730189137094922.1073741846.701659989947837&type=3
Lords Of Altamont : https://www.facebook.com/media/set/?set=a.730577500389419.1073741847.701659989947837&type=1&l=cf9dcc04b8
LIENS DES GROUPES :
Libido Fuzz : https://www.facebook.com/LibidoFuzz et http://libidofuzz.bandcamp.com/
Lords Of Altamont : https://www.facebook.com/LordsOfAltamont et http://lordsofaltamont.com/
Setlist Libido Fuzz : (45mn)
01- I Was Made On a Desert Road
02- Sweet Hours
03- Obliques Strategies
04- The Last Psychedelic Blues
05- (New Title)
06- Station Tools
07- Haight Ashbury
08- Redemption Of The Bison
Setlist Lords Of Altamont : (75mn)
01- Intro : No Love Lost
02- Live With Me
03- Come Back Baby
04- Come On Up
05- Velvet
06- Hold Fast
07- She Cried
08- Get In The Car
09- Black Queen
10- 3/5 Of a Mile In Ten Seconds
11- You Gonna Get Here
12- Action
13- 4.95
14- F.F.T.S
15- The Split
16- Going No Where Fast
17- Evil
18- Buried From The Knees Down
19- Cyclone