LE LIEN DE L'ALBUM PHOTOS EST EN FIN DE REPORT
Shake Shake Go ! Le nom ne vous dit peut être rien, Mais dans 6 mois il en sera tout autrement. Un seul EP éponyme à leur actif, sorti en Mars 2015
chez "Beaucoup Music", et leur nom commence déjà à circuler... Ce qui n'a pas empêché Base Prod de les faire venir jouer en France pour plusieurs dates ce mois ci. La première se déroule ce soir à la Rockschool Barbey.
Shake Shake Go est un groupe atypique. 5 membres, 3 nationalités différentes. Une Galloise, trois Français, un Anglais. Marc le guitariste Français écrivait des chansons, et cherchait une voix pour chanter ses textes. Il rencontre sur les bancs de l'université Poppy, une Galloise à la voix chaude et chaleureuse. L'osmose se fait immédiatement, et les deux compères se renforcent de trois musiciens supplémentaires, les Français Virgile (Guitare) et Kilian (Batterie), et d'un Anglais, Toby, (Basse et piano) Ils jouent partout dans Londres, les pubs, le métro, la rue, tous les endroits où ils peuvent faire entendre leur musique. Ils en profitent pour demander aux gens qu'ils rencontrent lors de leurs prestations d'aller sur un site internet éphémère afin de leur donner des idées de nom de groupe. Il faudra qu'une enfant de 6 ans leur susurre par écran interposé "Shake Shake Go" pour qu'ils
s'identifient ainsi. Passage sur la BBC, concert au Royal Albert Hall, puis ils se font repérer et partent faire la première partie de James Blunt et de Rodrigo et Gabriela sur leurs tournées européennes. Ils étaient d'ailleurs passés à la Patinoire Meriadeck et à la Médoquine en formule acoustique, uniquement avec Marc et Poppy sur scène
Donc !! La Rockschool Barbey en ce 7 avril 2015... Juste quelques personnes se pressent devant la salle à cinq minutes de l'ouverture des portes, déjà nous savons que nous ne serons pas très nombreux. Peu importe. Parfois il ne faut pas grand monde pour faire un bon concert, et celui de ce soir étant en formule club, même avec une petite centaine de personnes il peut y avoir une super ambiance. Le temps de récupérer pass photo et places, nous rentrons dans la salle où les gens se pressent au devant de la scène. Pas de première partie et moins de une demi heure après l'ouverture des portes les lumières s'éteignent et Toby rentre seul sur scène afin de lancer l'intro... Le reste du groupe arrive et la batterie de Kilian lance "Doors To Heaven" accompagné de la guitare sèche de Virgile. Puis Poppy fait son entrée sur scène sous les acclamations du public. Le chant démarre et nous sommes tout de suite happés par le grain de sa voix. C'est assez étrange car le léger voile que nous distinguons sur les notes ne nuit nullement à la beauté de son grain. Bien au contraire, cela lui ajoute un charme certain. Et sa tessiture oscillant de médium à grave rend le tout absolument divin.
Le groupe enchaîne avec "We Are Now" et "Take Me To The Sea", qui restent dans le même registre pop folk assez entraînant. Le mélange d'instruments électriques et acoustiques fait légèrement penser au premier album des Belges Puggy. Les influences celtiques en plus....
Un moment fort du concert, le morceau "Soon". Poppy sera seulement accompagnée de Toby au piano pour l'intro et ensuite de Marc à la guitare. Sa voix sera magnifiquement mise en valeur. Le public, complètement captivé ne fera aucun bruit et n'esquissera aucun geste durant le morceau. Envoûtant.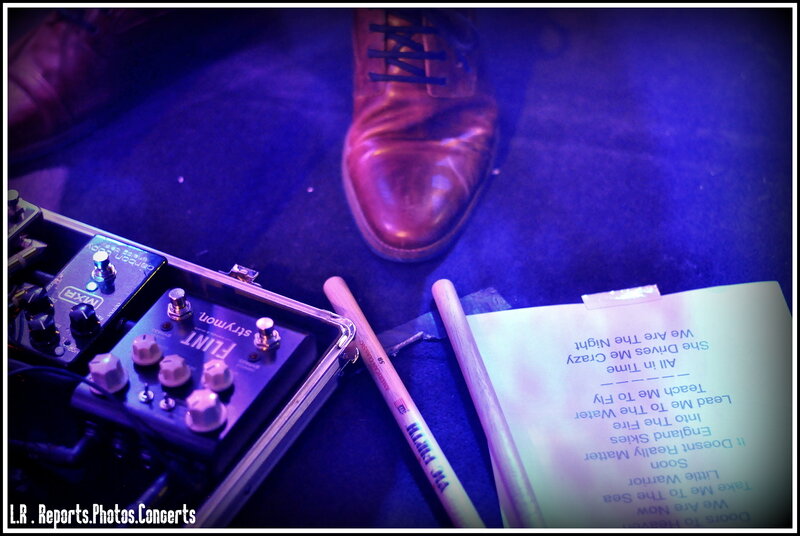 D'ailleurs Marc sera le premier perturbé car il se trompe d'intro lors d'un des titres suivant. Poppy éclatant de rire et disant que "Ca n'est quand même pas possible d'être aussi "Masculin" et de ne rien voir même avec la setlist sous le nez".... (No comment) ... "It Doesn't Really Matter" peux enfin démarrer, suivi du premier single "England Skies". Malgré le peu de passages en radio, le public connaît déjà très bien les paroles de la chanson. Toby a délaissé son piano pour la basse, ce qui apporte une nouvelle couleur à la musique du groupe, plus "complète" peut être.
Juste avant le rappel, "Lead Me To The Water" fera énormément penser à l'ambiance du groupe "The Corrs". L'Irlande et le Pays de Galles ne sont pas loin, La St Patrick non plus... Nous avons l'impression d'être au bord des falaises de Moher avec l'Atlantique Nord en face de nous. Les embruns sur le visage et les alizés nous sifflant dans les oreilles.. Mais je m'égare... Le rappel est déjà là....
Le groupe va revenir nous jouer deux titres pour clôturer la soirée. Poppy ne se lassant pas de faire chanter le public sur "All In Time", le show se terminant sur la bien nommée "We Are The Night", au tempo très rapide.
Le premier concert en tête d'affiche de Shake Shake Go s'est superbement bien passé, malgré quelques hésitations de Poppy lançant des regards inquiets vers Marc au début de un ou deux titres. 60 minutes de concert pour un groupe n'ayant qu'un EP à son actif je trouve ça pas si mal. Certains groupes ayant 275 albums ne jouent parfois guère plus..... En tout cas attendez vous à entendre parler très rapidement de Shake Shake Go, leur Irish/Pop/Folk apporte un vrai vent de fraîcheur... Nul doute que lors de leur prochain passage il y aura beaucoup beaucoup plus de monde devant la salle avant l'ouverture des portes....
Laurent R.
Merci beaucoup à Clément, Base Productions et la Rockschool Barbey.
Setlist Shake Shake Go : (58 Mn)
01 Intro
02 Doors To Heaven
03 We Are Now
04 Take Me To The Sea
05 Little Warrior
06 Soon
07 It Doesn't Really Matter
08 England Skies
09 Into The Fire
10 Lead Me To The Water
11 Teach Me To The Fly
12 (encore)
13 All In Time
14 We Are The Night
Album photos :
https://www.facebook.com/media/set/?set=a.742061132574389.1073741852.701659989947837&type=1
Liens du groupe :
http://www.shakeshakego.co.uk/
https://www.facebook.com/shakeshakego
Musiciens :
Poppy Jones : Chant
Marc Le Goff : Guitare
Kilian Saubusse : Batterie
Virgile Rozand : Guitare
Toby Barnett : Claviers et basse