GALERIES PHOTOS COMPLETES EN BAS DE PAGE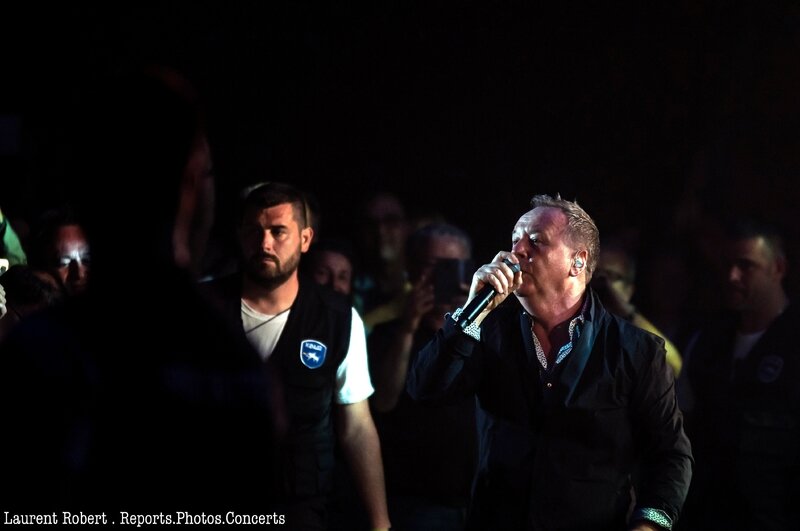 Coriace, Simple Minds traverse les décennies depuis la fin des années 70's, avec des hauts et des bas, mais comme dirait l'autre, Toujours Debout ! De "Life en a Day" en 1979 à "Big Music" en 2014, le groupe est parvenu à passer au travers des modes, sans vraiment modifier sa recette originale, et c'est d'ailleurs le quatrième passage de Simple Minds dans cette satanée Patinoire de Meriadeck à l'accoustique déplorable. 1985, 1989, 1995 et...... 2017. Jim Kerr, chanteur de Simple Minds depuis 1977, rapellera d'ailleurs au public que cela fait très longtemps qu'ils ne sont pas venus ici. Oui Jim, 22 ans.
20h c'est lui même, Jim Kerr, qui se pointe sur scène et présente Kate Victoria Tunstall, alias KT Tunstall, qui assure la première partie de la tournée acoustique des Écossais en Europe. Au passage, il rappelle que le Brexit était une mauvaise idée et s'efforce de parler distinctement pour être compréhensif dans la langue de Shakespeare auprès de ce peuple Français si récalcitrant avec les langues étrangères. KT, qui eut un succès mérité en 2005 avec "Black Horse And Cherry Tree" remercie l'émission "...Later with Jools Hollands" où elle fut révélée un soir où The Cure était tête d'affiche. 6 titres sont joués dont un extrait de son 5ème album sorti en 2016 : "It Took Me So long To Get Here, But Here I Am", très personnel, sur lequel sa voix blues fait bien son office. Elle finira son set avec son titre le plus connu, "Suddenly I See". Passage à l'acoustique validé pour la belle. Elle déploiera sur scène une belle énergie et une bonne humeur très communicative qui préparera l'arrivée des Simple Minds sans trop de "choc thermique"
Fondé à Glasgow sous le nom de Johnny & The Self-Abusers, en pleine déflagration punk, Simple Minds a vite imposé un ton singulier, froid et funky, porté par la voix puissante de Jim Kerr et le jeu très subtil du guitariste Charlie Burchill, les deux seuls survivants du groupe aujourd'hui. Et cela fait d'ailleurs 20 ans que Jim Kerr et ses acolytes veulent sortir quelque chose en acoustique et le faire partager à leur public. C'est donc le Simple Minds version 2017 qui entre en scène pour célébrer 40 ans de carrière et 60 millions de disques vendus. L'intégralité des titres qu'ils vont jouer ont été composés entre 1979 et 1991 ! Autant dire que les anciens vont prendre du plaisir a entendre des titres revisités (plus ou moins réussis) dans un récent album paru le 11 Novembre dernier, avec la participation de KT Tunstall, justifiant sa présence en guest sur la tournée.
Mais pour le moment c'est Cherisse Osei qui commence le concert, seule, dans une semi obscurité, avec une entrée en matière impressionnante, déployant un jeu puissant derrière sa batterie. D'emblée sur "New Gold Dream 81, 82, 83, 84", Jim Kerr descend en fosse saluer les spectateurs. Il parcourt la salle au milieu des fauteuils, micro en main, serrant des mains, tapant dans des points levés. Un grand moment de contact direct, de générosité. Suivra une superbe interprétation de "Mandela Day", écrite spécialement pour le soixante dixième anniversaire de Nelson Mandela en 1988, interprété sur une scène mitraillée par des spots de toutes les couleurs, rappelant une ambiance Africaine. A 57 ans, l'un des chanteurs les plus célèbres des 80 est très prolixe et s'attache a être compréhensif... très appréciable. Entre "See the Light" et "Glittering Prize", il va chambrer Depeche Mode et U2 sur les décors scéniques alors qu'il laisse entendre à Charlie, son binôme fondateur, qu'ils ont "légèrement" pris de l'embonpoint pendant toutes ces années. Le chanteur explique leurs motivations a remonter sur scène (l'argent d'un banquier Suisse et le chocolat) en toute simplicité, avant d'interpréter des vieux titres méconnus. D'ailleurs, sur les premiers accords de "Chelsea Girl" la guitare classique, qu'aime tant Charlie Burchill, prend l'ascendant sur les autres instruments. Titre qu'on peut dire exhumé de "Life In A Day" (1979) et qui ne semble pourtant pas avoir pris une ride, revu et corrigé dans une épure totale. Première ovation avec "Someone, Somewhere In Summertime", et ce alors que le concert prend de l'ampleur et que le public (assis) se lâche enfin. Jim circule d'un bout à l'autre de la scène pour donner de sa présence à tout le monde. Beaucoup sont debout, les bras levés en scandant le refrain.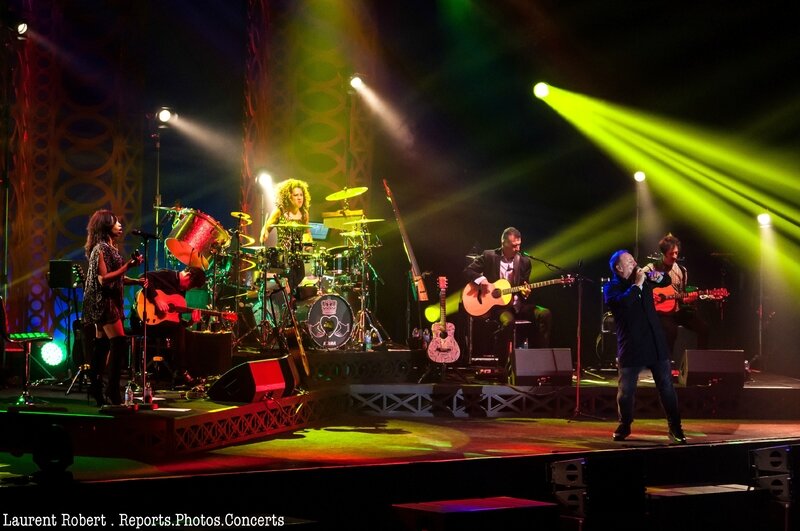 Puis Jim laisse le micro pour deux titres à Gordy, son second guitariste, et à Sarah, la choriste, qui vont respectivement interpréter "Andy Warhol" de David Bowie et "Dancing Barefoot" de Patti Smith, dans une version méconnaissable. Bonne idée de rendre hommage à Ziggy Stardust avec une chanson de 1971 (album "Hunky Dory") avant "The American", probablement l'un des titres les plus probants de la soirée. Jim nous invite à nous rapprocher et c'est une ovation pour les tubes "Don't You (Forget About Me)", chanson-phare du film "Breakfast Club" qui accroche à l'époque la première place des charts dans de nombreux pays, propulsant les Simple Minds au rang de groupe de stades. Ce morceau est un pilier des setlists du groupe. Un titre qu'ils ont bien failli ne jamais enregistrer et qui ne se trouve sur aucun album du groupe, si ce n'est sur l'incontournable "Live in the City of Light" enregistré au Zénith de Paris et avec lequel les Simple Minds ont conquis l'Amérique. Dans cette version dépouillée, l'essentiel est resté, le dynamisme, la voix et la passion, le tout avec mesure et sobriété. Autre morceau phare, peut être le plus rock du répertoire des Simple Minds, "Sanctify Yourself". Ce n'est pas pour rien que le groupe achève sa première partie de concert avec ce titre. Et c'est l'heure du rappel.
Certains fans peuvent regretter les versions rock de certains morceaux, plus piquantes en live. Malgré des versions acoustique plus que passable, ces titres sont "retenus" par simple choix des artistes et certains dans le public préfèrent certainement les originaux, plus électriques. Le rappel commencera par "Speed Your Love To Me" où on voit apparaître une contrebasse électrique qui vient rajouter de la profondeur à cette superbe ballade. La voix de Jim Kerr est là, et bien là, autant pour les moments de douceurs comme ici que pour certain refrains plus péchus. Puis le leader va chercher Kate Victoria pour interpréter en duo "Promised You a Miracle" à qui le groupe redonne jeunesse et lumière en lui donnant une nouvelle couleur avec 3 lignes de guitares acoustiques, et surtout les voix pleines de chaleur de Jim Kerr, doublée par celle de KT Tunstall. Ce qui donne une nouvelle ampleur au titre. S'ensuit une belle cover de Buffalo Springfield, la célèbre "For What It's Worth" de 1966, puis le chanteur et ses 5 musiciens/choristes font leurs adieux sur "Alive & Kicking", probablement le titre le plus plébiscité de la soirée, une référence du Rock - New Wave des eighties, sorti en 1985.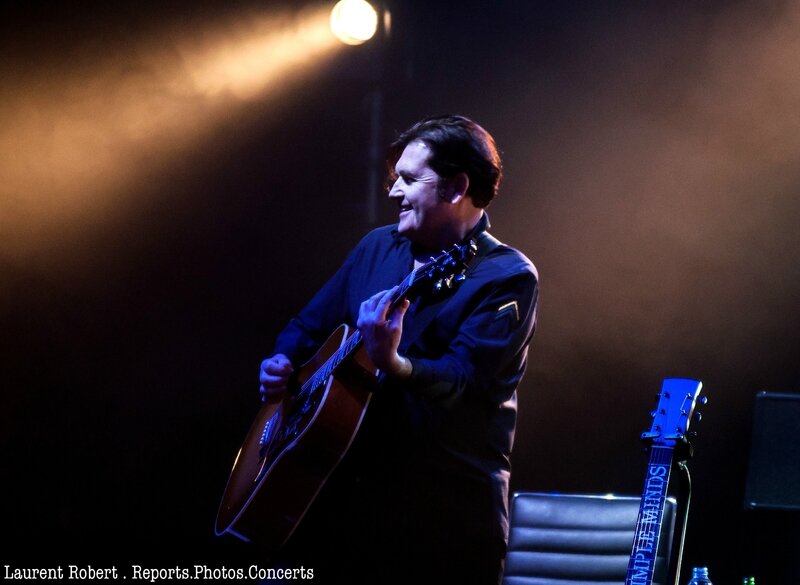 Au final, Simple Minds aura assuré un set de 110mn, diversifié, et qui n'était pas forcément calé sur un concert best-of, car certains titres méconnus ont été joués. Un concert plus électrique incluant "She's a River" et "Let There Be Love" aurait comblé le public. Dommage également qu'ils aient oublié des singles du superbe "Street Fighting Years" comme par exemple "This Is Your Land", "Belfast Child" et "Kick It In"… C'eût été l'occasion de ressortir les violons, accordéons, flûtes écossaise et autre cornemuses. Néanmoins, ce concert fut bon et Jim Kerr reçoit la palme d'or du chanteur le plus sympa du circuit. La voix n'est plus ce qu'elle était, mais la classe reste unique. Pour couronner le tout Jim est généreux, racontant des anecdotes sur la tournée et sa carrière, comme si nous étions dans une maison entrain de siroter un whisky devant la cheminée. Le groupe est vraiment investi et habité par le désir de divertir. Un grand plaisir pour tous les gens présents. Si tous les Écossais sont de la sorte, allons visiter les Highlands et déguster de bonnes b!ères en leur compagnie.
Photos de Laurent Robert
Texte Laurent Robert, avec l'aide très précieuse de l'ossature du report de Diego On The Rocks (Lien en bas de page)
Merci beaucoup à Box Office Spectacles et Euterpe Promotion
LIEN DE LA GALERIE COMPLETE DE SIMPLE MINDS :
LIEN DE LA GALERIE COMPLETE DE KT TUNSTALL :
-----------------------
SETLISTS :
SETLIST DE SIMPLE MINDS :
(Time : 110mn)
01- Intro
02- New Gold Dream (81-82-83-84)
03- See The Lights
04- Glittering Prize
05- Mandela Day
06- Chelsea Girl
07- Big Sleep
08- Stand By Love
09- Someone Somewhere In Summertime
10- Waterfront
11- Andy Warhol (David Bowie cover)
12- Let The Day Begin (The Call cover)
13- The American
14- Don't You (Forget About Me)
15- Sanctify Yourself
16- (Encore)
07- Speed Your Love to Me
18- Promised You A Miracle (with KT Tunstall)
19- For What It's Worth (with KT Tunstall) (Buffalo Springfield cover)
20- Alive And Kicking
SETLIST DE KT TUNSTALL :
(Time : 30mn)
01- Introduction (Jim Kerr speaking)
02- Golden Frames
03- Under The Weather
04- Black Horse And The Cherry Tree
05- It Took Me so Long to Get Here, But Here I Am
06- Feel It All
07- Suddenly I See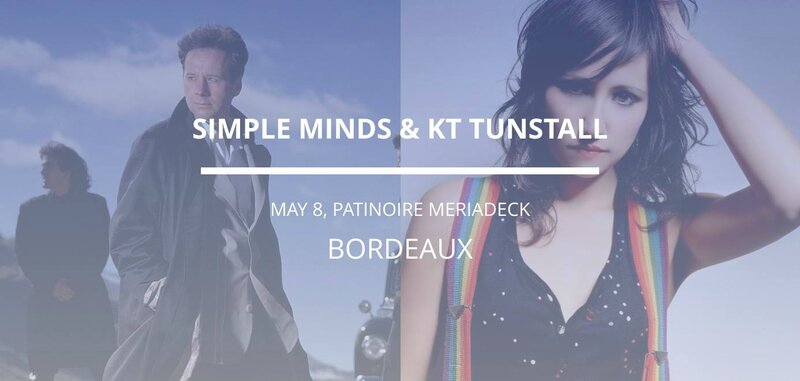 MUSICIENS :
SIMPLE MINDS :
- Jim Kerr : Chant
- Charlie Burchill : Guitare
- Mel Gaynor : Batterie et Percussions
- Andy Gillespie : Claviers et Choeurs
- Ged Grimes : Basse et Choeurs
- Sarah Brown : Choeurs
LIENS OFFICIELS DES GROUPES

:
ECOUTEZ EN PODCAST L'EMISSION "DIEGO ON THE ROCKS"

:
PROCHAINS EVENEMENTS DE BOX OFFICE & EUTERPE PROMOTION

: