GALERIES PHOTOS COMPLETE ET VIDEOS EN BAS DE PAGE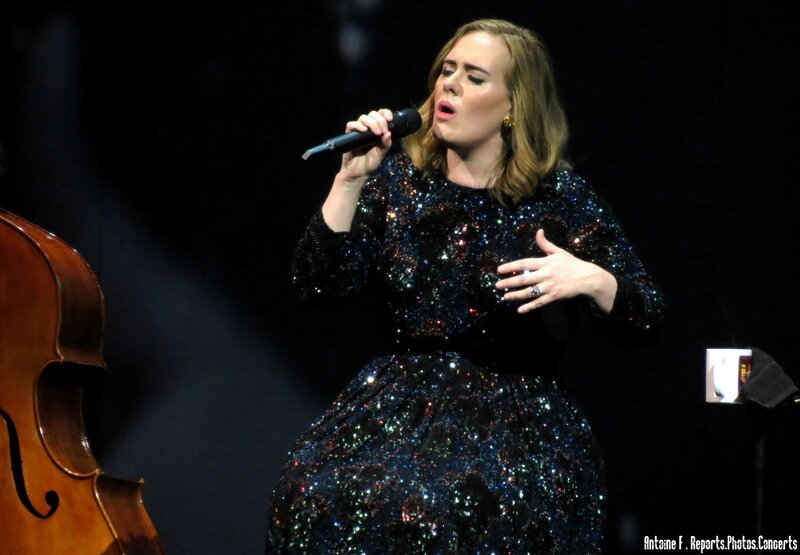 Adele était de passage à Paris les 9 et 10 juin derniers pour la promotion de son nouvel album "25".
Le Adele Live 2016 se joue dans plusieurs pays à guichets fermés. Cette jeune artiste britannique est aujourd'hui mondialement connue après l'énorme de succès "21", son deuxième album sorti en 2012 avec notamment les chansons "Rolling in the deep" et "Someone like you". Cela faisait plusieurs années que le public attendait son retour. En octobre dernier, les premières paroles de "Hello" sont diffusées à la télé britannique. S'en suit alors un raz-de-marée médiatique et commercial. La chanteuse bat de nombreux records de ventes avec son premier single et son troisième album "25" sorti le 20 novembre 2015.
Le 10 juin, j'ai donc eu la chance d'assister à un de ses concerts à l'Accor Hotels Arena de Paris (Bercy). Cela faisait des années que j'attendais ce live. Après un passage rapide au merchandising, je prends place dans la salle, assez proche de la scène centrale, dans les gradins. À ma droite, la scène principale: sobre et classe. On peut y voir les yeux fermés d'Adele, immobiles. À 20h15, la salle est plongée dans le noir, les yeux s'ouvrent, "Hello" commence à raisonner dans la salle… Tellement évident de commencer par ce titre. Adèle apparaît sur la scène centrale, souriante et concentrée, dans une magnifique robe sombre à paillettes, même tenue de scène tous les soirs.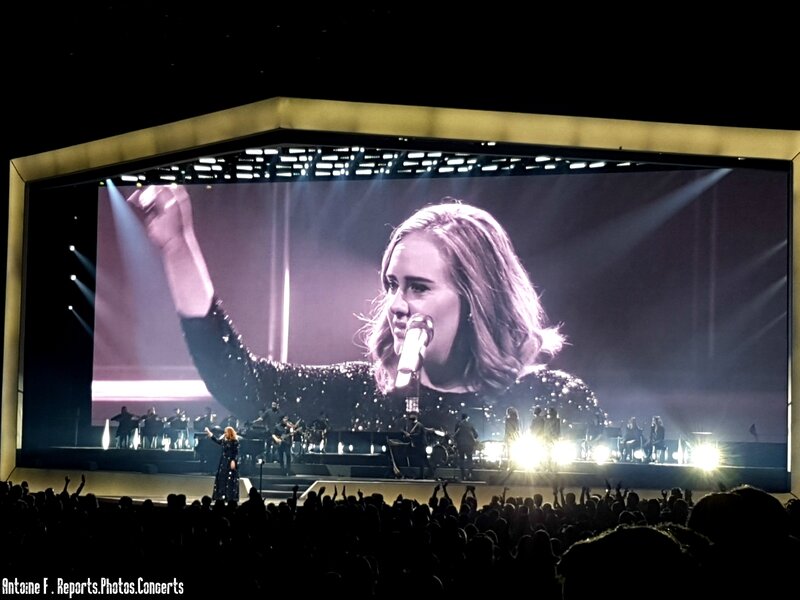 "Hello, it's me", ça y est, elle est là et elle donne déjà le ton de cette soirée : la voix est déjà parfaite et puissante. Elle enchaîne sur "Hometown Glory", une chanson de son premier et magnifique album "19", avec des images de Paris sur l'écran géant de la scène principale. A la fin de "One And Only" elle s'adresse pour la première fois à la foule en Français en demandant d'abord si nous allons bien (Ca va merci), puis en répondant elle même à la question avec un délicieux accent "Ohhh trwès bwien, trwès bwien" puis nous demandant si nous parlons Anglais parce c'est tout ce qu'elle peut faire en Français.... Bon esprit. Quelques chansons plus tard arrive "Skyfall", le titre musical du film éponyme, enième numéro de James Bond. D'ailleurs un clip était prévu pour ce morceau, mais étant enceinte elle a refusé de le tourner. Le film sortant sur les écrans, le clip est resté dans les cartons. Moins puissant que la version studio, il n'en reste pas moins agréable à écouter et aussi à regarder. Juste après "Don't you remember", Adele s'installe pour "Send my love (to your new lover)" en acoustique. On restera dans le thème avec une superbe reprise de Bob Dylan : "Make you feel my love" qu'elle a enregistrée en 2008 pour son tout premier album "19". Il est même sorti en single à la fin de cette même année.
Entre chaque chanson, elle prend le temps de discuter avec le public, prendre des selfies, raconte quelques anecdotes sur l'écriture de ses chansons et même, ce soir-là, diffuser quelques minutes du premier match de la France durant l'Euro 2016 ! Juste avant de revenir sur la scène centrale, "Sweetest Devotion" résonne dans l'arena, incroyable puissance vocale que nous offre Adele sur cette chanson. Une fois celle-ci terminée, elle revient se mettre au coeur du public pour chanter "Chasing Pavements" et "Someone Like You", avec là encore une interprétation excellente qui donne le frisson. Elle finira ici avec "Set fire to the rain" entourée d'un rideau de pluie. Effet simplement magnifique.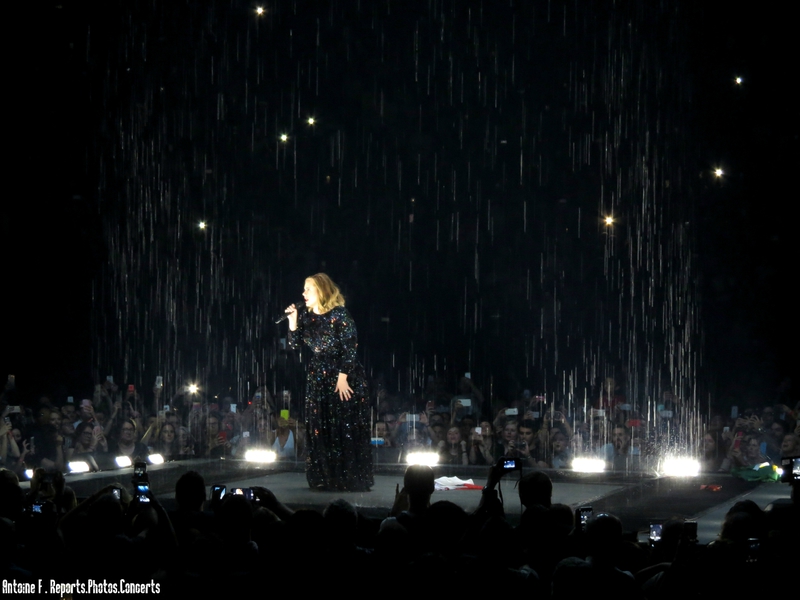 C'est bientôt la fin, il ne restera que 3 chansons… Elle terminera ce magnifique live par "Rolling in the deep" que tout le monde attend, forcément. En bonus, des confettis avec des petits mots, écrits de la propre main de la chanteuse, tels que "Hello" ou "Thank's for coming". Il n'y a pas à dire, elle est très attentionnée auprès de son public. Qui le lui rend bien.
Adele, c'est l'artiste qui a redressé à elle seule l'industrie du CD et pourtant, elle semble bien loin de tout ce business qu'est parfois la musique. D'une simplicité incroyable, je me souviendrais longtemps de ce concert. Des sourires, de la joie, des blagues, des petits signes mais surtout, une voix très puissante et maîtrisée.
Texte et Photos de Antoine F.
GALERIE PHOTOS :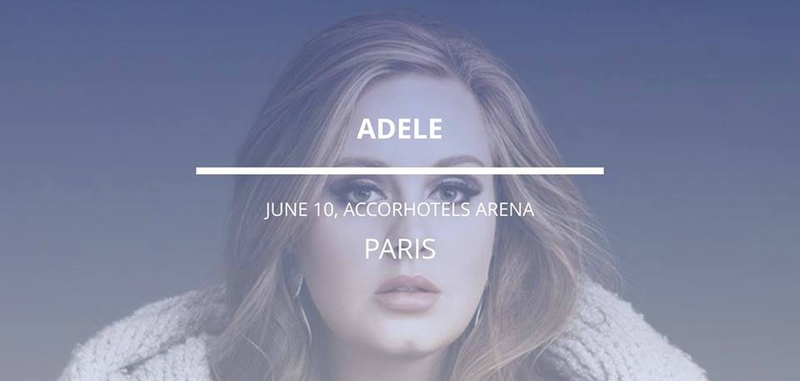 SETLIST :
01. Hello
02. Hometown glory
03. One and only
04. Rumour has it
05. Water under the bridge
06. Skyfall
07. Million years ago
08. Don't you remember
09. Send my love (to your new lover)
10. Make you feel my love (Bob Dylan Cover)
11. Sweetest devotion
12. Chasing pavements
13. Someone like you
14. Set fire to the rain
15. All I ask
16. When we were young
17. Rolling in the deep
---------------
LIENS OFFICIELS DE ADELE :
Site Officiel : http://adele.com/
Facebook : https://www.facebook.com/adele/
Twitter : https://twitter.com/Adele
Instagram : https://www.instagram.com/adele/
Youtube : https://www.youtube.com/user/adelelondon
VIDEOS