GALERIES PHOTOS COMPLETES EN BAS DE PAGE
Calexico, le groupe de Joey Burns et de John Convertino nous a fait le plaisir de venir à notre rencontre le 19 avril dernier au Rocher de Palmer. Et le public avait répondu présent avec une salle bien garnie. Allez, on sort les sombreros !
Le spectacle a débuté avec Gaby Moreno, une folkeuse tout droit venue du Venezuala. Elle nous a proposé de belles ballades à mi-chemins entre accents latino et folk classique à la Joni Mitchell. Ce moment agréable fut ponctué par l'amicale présence de Calexico pour quelques titres.
Place fut faite ensuite au groupe du désert aride de l'Arizona et ses rythmes cuivrés. D'entrée, il nous a enchaîné deux titres délicats, "Frontera" et "Falling From The sky"
Le concert allait ensuite alterner entre moments intimistes et escapades au pays de Fidel Castro. Le point commun dans cet univers, ce sont ces trompettes mariachis qui sont la marque de fabrique du groupe, comme un pont entre Amérique du Sud et Occident. Tout au long du set, elles étaient là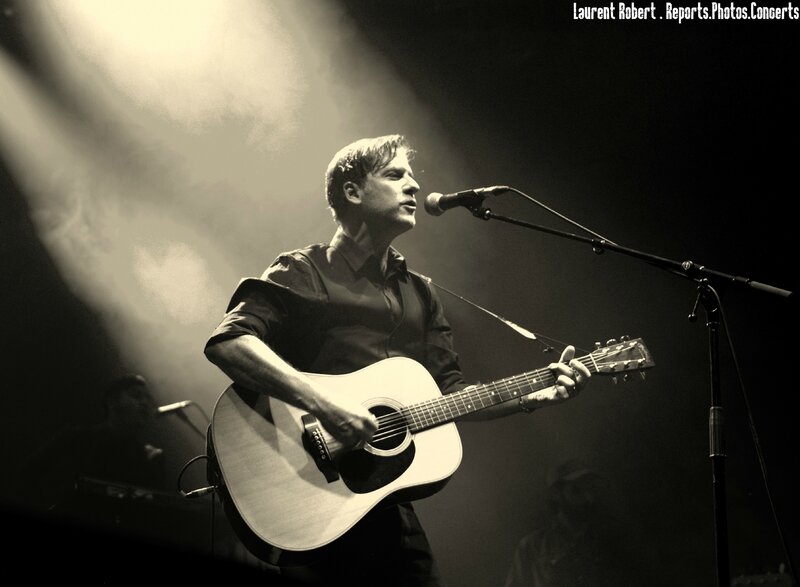 , présentes, réchauffant la salle et faisant bouger le public. Parfois, nous avions l'impression d'assister à une représentation du Buena Vista Social Club? le projet de Ry Cooder ("Cumbia de Donde", "Minas de Combre", "Inspiracion", avec la présence de Gaby Moreno).
Gaby Moreno, à nouveau, a partagé la scène pour une reprise très morriconniene d'un titre de Françoiz Breut, "Si Tu Disais", avant que Calexico ne rende un vibrant hommage au génie d'Arthur Lee et son groupe Love, avec "Alone Again Or". Son groupe avait donné ses lettres de noblesses, en 1967 avec son chef d'œuvre Forever Changes, à une pop psychédélique, baroque… et cuivrée. Du Calexico avant l'heure.
On pensait alors que le concert prenait fin tranquillement. Mais le groupe, généreux et en forme, nous offrit deux rappels. Le premier débutera avec une sublime cover du "Five Years" de David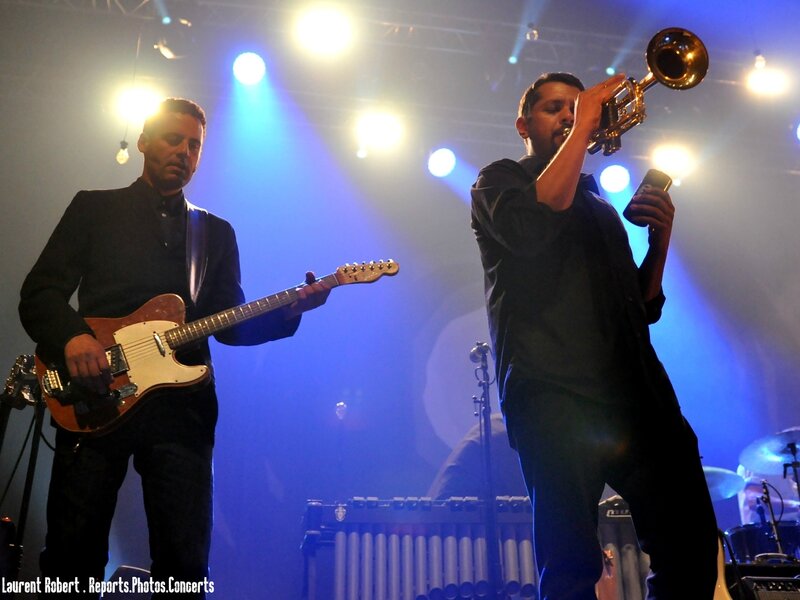 Bowie, repris à l'unisson par toute la salle. La voix de Gaby Moreno sur ce titre rajoutant au charme du moment. Superbe. Puis un titre à nouveau très cubain de 8 minutes, "Guero Canelo", a encore fait danser le public avant qu'une douce berceuse, "The Vanishing Mind", nous comble de bonheur.
Ce soir-là, avec Calexico, nous avons eu notre dose de buritos et de Téquilas.
Photos de Laurent Robert.
Texte de Thomas Camus.
Merci beaucoup au Rocher De Palmer et en particulier à Aurélie pour l'accréditation.
Merci beaucoup à Musiques En Live pour la demande d'accréditation et le partage des photos.
GALERIE PHOTO COMPLETE DE CALEXICO :

GALERIE COMPLETE DE GABY MORENO :


SETLISTS :
SETLIST CALEXICO :
(Time : 100mn)
01. Frontera - Trigger
02. Falling From The Sky
03. Splitter
04. Fake Fur
05 .Cumbia De Donde
06. Maybe On Monday
07. Bullets & Rocks
08. Fortune Teller
09. Minas De Cobre
10. Inspiracion
11. World Undone
12. Moon Never Rise
13. Si Tu Disais
14. Cumbia Soledad
15. Alone Again Or
16. Crystal Frontier
17. Beneath City Of Dreams
18. Five Years
19. Guero Canelo
20. The Vanishing Mind
SETLIST GABY MORENO :
01. Ave Que emigra
02. Since You Came Along
03. Lejos
04. Le Temps De L'amour
05. Fronteras
06. Across The Borderline
---------------
MUSICIENS :
CALEXICO :
- Joey Burns : Voix, Guitares
- John Convertino : Batterie, Percussions, Accordéon
- Jacob Valenzuela : Voix, Trompette, Clavier
- Martin Wenk : Trompette, Accordéon, Guitare, Claviers, Choeurs
- Scott Colberg : Basse
- Sergio Mendoza : Piano, Farfisa
- Jairo Zavala : Bazouki, Guitare, Voix
(+ Gaby Moreno à la voix et Guitare sur 5 titres)
GABY MORENO :
- Gaby Moreno : Guitare / Voix
(+ Calexico sur plusieurs titres)
LIENS OFFICIELS DES ARTISTES :
CALEXICO :
Site Officiel : http://www.casadecalexico.com/
Facebook : https://www.facebook.com/calexico
Twitter : https://twitter.com/casadecalexico
Youtube : https://www.youtube.com/user/casadecalexico
GABY MORENO :
Site Officiel : http://www.gaby-moreno.com
Facebook : https://www.facebook.com/gabymorenoband
Youtube : https://www.youtube.com/user/officialgabymoreno
Twitter : https://twitter.com/gaby_moreno
AGENDA DES CONCERTS DU ROCHER DE PALMER :

Actualité | Le Rocher de Palmer - Cenon
DISPONIBLE AU ROCHER DE PALMER UNIQUEMENT ET SUR LES CONCERTS ORGANISES PAR LE ROCHER Etudiants, - 26 ans, bénéficiaires du RSA, demandeurs d'emploi, intermittents, + 60 ans, personnes en situation de handicap, + de 10 (groupe), adhérents Fnac (nombre limité), comités d'ntreprises, CNAS, carte culture MGEN, carte CEzAM, adhérents MEL, Conservatoire, PESMD, CIAM, OCAC.
http://lerocherdepalmer.fr