GALERIES PHOTOS COMPLETES EN BAS DE PAGE

Le Krakatoa lance Avant-Garde, des soirées pour découvrir le meilleur de la scène indé internationale et locale, avec 3 groupes présentés sur un même plateau. Ce soir c'est la première, et je suis ici afin de couvrir la soirée pour le site Muzzart qui a eu la bonne idée de me demander de faire des photos pour eux. Malheureusement il n y a que 300 personnes dans la salle... Les absents ont toujours torts, et cela va encore se vérifier. Nous avons pourtant droit à une tête d'affiche Suisse, avec les Biennois de Puts Marie qui sont de retour avec "Catching Bad Temper", un nouvel album impressionniste, où les Suisses livrent des chansons d'une troublante force physique et se saisissent à pleines mains de leur musique. Ils sont accompagnés par deux groupes locaux, L'Envoutante et Equipe de Foot. Mais une fois n'est pas coutume, commençons par la tête d'affiche. Malgré l'affluence un peu décevante donc, l'ambiance est excellente, et le public donne de la voix dès les premières notes de guitare. En promenant son regard dans la fosse, on se rend vite compte que Puts Marie a ses adeptes ici à Bordeaux : il suffit de voir avec quel enthousiasme quelques types, dispersés dans toute la salle, chantent les paroles et filent des coups de poing dans l'air en même temps que les pêches de batterie pour se convaincre qu'ils sont au milieu de 10000 personnes faisant la même chose. La musique de Puts Marie ? c'est comme si le punk avait été directement enfanté par le swing, sans passer par les Beatles et autres figurants dispensables. Jouissif. On y retournera.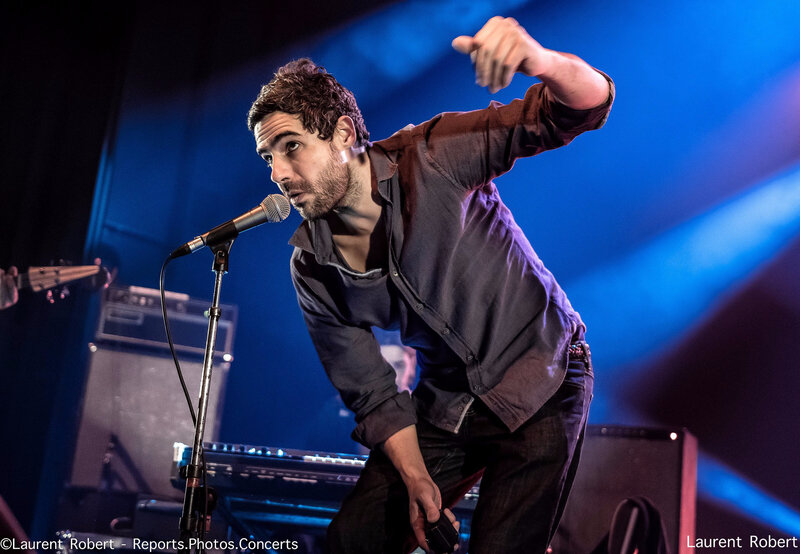 La soirée commencait plus tôt par le duo hip hop L'Envoutante. Leurs prestations scéniques brutes et leur musique inétiquetable dépassent les genres et les catégories. Sur une grosse scène ou dans la cave d'un bar underground, le public est séduit et répond présent. Et ce fût encore le cas ce soir. Composé du batteur-synthé Bruno Viougeas et du slameur Sébastien Tillous ils débutent ensemble l'expérience de la scène avec "Béarn to Be Wild", puis en 2014 c'est sous le nom de l'Envoûtante que le public redécouvre ce duo, mélange de sonorités électro rap couplé à une déferlante de mots. Tout le long du set Sébastien balance un flow déroutant et percutant accompagné de son musicien de talent.. Le deuxième groupe a monter sur la scène du Krakatoa est "Équipe de Foot". Bien connu du public rock Bordelais, le duo étrenne ses nouveaux maillots au superbe logo ancré sur la poitrine. Alex #23 (guitare/chant) et Mike #19 (batterie/chant) révèlent une identité entre pop aux refrains entêtants et rock massif, parfois noise. Ils abordent leurs morceaux avec le flegme et le détachement de popeux britanniques mêlés à l'énergie de rockeurs américains débraillés. On a l'impression qu'ils se demandent ce qu'ils font là. Un peu dans le style "Ben la porte était ouverte alors on est rentrés..." Et pourtant s'il est un groupe de rock qui peut se targuer de mouiller le maillot en concert, c'est bien Équipe de Foot. Même si ils sont là en touristes... Autant influencé par le bruitisme mains dans les poches (à la Weezer) que le psychédélisme tête en arrière (type Black Angels), le duo bordelais définit sa musique comme de la « pop de centrale nucléaire ». Une posture mi-second-degré mi-droit-au-but qui lui a valu de partager la scène avec des concitoyens aussi prestigieux et divers que Mars Red Sky et Odezenne. La montée en Ligue 1 n'est pas loin. Chacun de leur concert fait sensation, et ce sera également le cas ce soir, le public étant souffé par tant d'energie. Pas de chichi, du gros son, des moments imparables, du fuzz et un brin bien large de folie. Un concert mené tambour battant dont on ne sort pas indemne. Mais, laissons maintenant parler les photos...
Texte et photos : Laurent Robert
Merci beaucoup aux équipes du Krakatoa pour l'accréditation, et plus particulièrement à Alice.
Merci beaucoup à Muzzart et plus particulièrement à Joseffeen.
GALERIES PHOTOS :
PUTS MARIE :
EQUIPE DE FOOT :
L'ENVOUTANTE :
-----------------------
LIENS OFFICIELS :
PUTS MARIE :
Site Officiel - Facebook - Instagram
EQUIPE DE FOOT :
L'ENVOUTANTE :
KRAKATOA :
Site Officiel - Instagram - Facebook
PROGRAMME COMPLET DU KRAKATOA :