ET LE 20 C'EST CETTE SEMAINE !!
Et pour que la cerise arrive toute seule sur le gateau, nous aurons en première partie Mantar et Death Alley. Une putain de soioré"e à ,ne rater sous aucun pretexte. Présentation des forces en présence.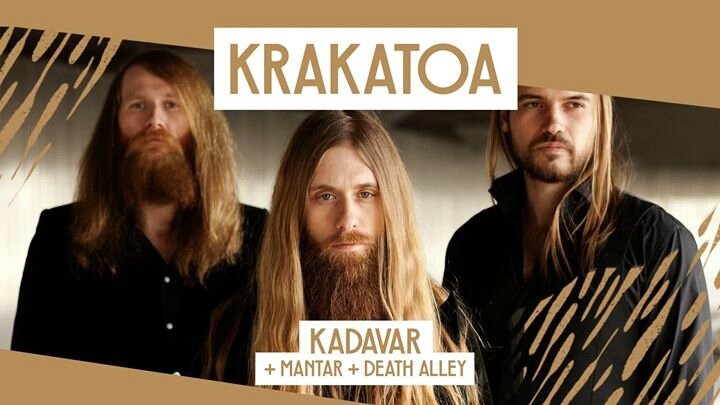 KADAVAR :

Kadavar est un groupe de rock Allemand, formé en 2010 et originaire de Berlin. le groupe possède un style musical inspiré, entre autres, par -Black Sabbath, Pentagram, Hawkind (premier groupe de Lemmy...) Leur musique est souvent qualifiée de hard rock rétro.
En 2010, le batteur Bartelt et le guitariste Philipp

« Mammut »

Lippitz commencent à jouer ensemble. Ils forment le groupe après l'arrivée du bassiste et chanteur Lindemann. Ce dernier décide de passer à la guitare, permettant à Lippitz de jouer à la basse.
En Juillet 2012, le premier album de Kadavar est publié sur les labels This Charming Man Records/Tee Pee Records. À cause de problèmes de passeport, le groupe ne peut tourner ailleurs que en Allemagne qu'au festival South By Southwest à Austin, Texas. Au Texas, le groupe enregistre quelques clips qui seront utilisés pour la vidéo de la chanson "Come Back Life". En juillet 2013, Lippitz quitte le groupe et est remplacé par Bouteloup, ancien membre du groupe metal "The Oath". Après plusieurs performances scéniques, Bouteloup est officiellement annoncé comme nouveau membre du groupe.
Leur deuxième album, "Abra Kadavar", est publié en avril 2013 au label Nuclear Blast, et atteint la 42e place des classements allemands. Suivra en juin 2014, l'album "Live in Antwerp"
En juin 2015, Kadavar annonce son troisième album, "Berlin", sur sa page Facebook. Il est publié par Nuclear Blast en août et comprend une reprise de la chanson Reich der Träume de Nico. Le son s'est assagi, se fait plus propre, mais le gropuipe n'a rien perdu de sa verve. En Octobre 2017 sort le quatrième opus baptisé "Rough Time. C'est à l'occasion de la sortie de cet albium que nous aurons la chance de retrouver Kadavar sur la scène du krakatoa le 20 Octobre
MANTAR :
Mantar est un duo de Sludge fondé à Hambourg en Allemagne en 2012. Très rapidement Erinc (Batterie / Chant) et Hanno (Guitare / Chant) enregistrent deux titres en 2013, se font remarquer par Svart Records et sortent l'album Death By Burning à la croisée d'influences Doom Metal, Black Metal et Stoner en 2014. Le groupe signe chez Nuclear Blast Records et annonce la sortie de leur deuxième album, Ode To The Flame, en avril 2016.
DEATH ALLEY :
Death Alley est un groupe de Heavy Rock influencé par Motorhead, MC5, Blue Öyster Cult ou Black Sabbath fondé en 2013 à Amsterdam par l'ancien guitariste de The Devil's Blood, Oeds Beydals. Il s'entoure alors de Douwe Truijens (Chant), de Ming Boyer (Batterie) et de Dennis Duijnhouwer (Basse) pour la réalisation d'un premier album, Black Magick Boogieland, qui sort chez Tee Pee Records en 2015.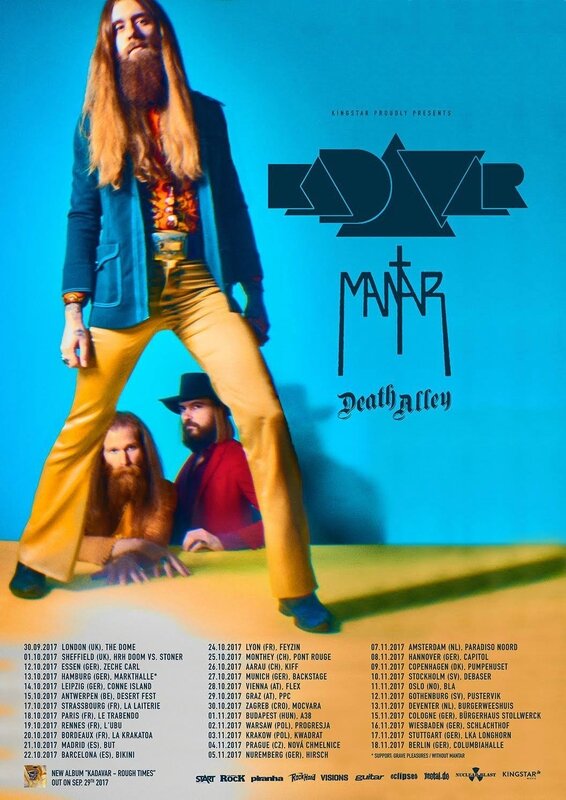 INFOS PRATIQUES :
Réservez dès maintenant vos places:
ici →
www.krakatoa.org
Tarif :
CE: 17€
Prévente : 19€
Sur Place : 22€
Une place achetée = une place offerte pour ce concert avec le pass citicks et la carte jeunes.
Infos et réservations via promo@krakatoa.org
Ⓣ Tram A : arrêt Fontaine d'Arlac
Ⓑ Bus n°48, 42, 23
Ⓥ Vcub : Fontaine d'Arlac
Ⓥ Voiture: Rocade sortie n°12 / St Jean d'Illac
--------------------
ACHETEZ VOS PLACES SUR CE LIEN

:
KADAVAR

:
Kadavar - Live at Levitation Festival 2014 (Angers, France)
Kadavar - Doomsday Machine (Live at Resurrection Fest 2015, Spain)
MANTAR :
MANTAR - Cross The Cross (OFFICIAL MUSIC VIDEO)
Mantar - Live at RockHard Festival 2017 [HD Pro-Shot]
DEATH ALLEY :
Death Alley - Supernatural predator live at Hellfest 2016
Death Alley: "Stalk Eyed" live at Eurosonic Festival 2017 | WDR Rockpalast